Shun vs. Wusthof Knives: What's The Difference?
Shun and Wusthof are among the most well-known knife makers in the world of professional cutlery. Both of these brands are known for excellent knives, each with its own characteristics. Shun offers the best in Japanese kitchen knives, while Wusthof offers the best in German durability and versatility, but how do these knives compare?
Shun knives are made with more exotic steels and methods and boast interesting designs and knife shapes. Shun knives are very hard and sharp but brittle and easily damaged. Wusthof knives are less hard but significantly more durable and useable. Wusthof is the standard in many kitchens.
Shun and Wusthof knives are both very well known as some of the best in the industry, but they both have their own set of advantages and drawbacks. Let's more closely examine Shun and Wusthof knives to find out how they compare.
Shun Knives
Shun is a Japanese manufacturer of high-quality culinary knives intended for chefs and other culinary professionals. These knives are considered to be the gold standard by many but disdained by others.
Shun is known for pushing the boundaries of what is possible with kitchen knives. This company has developed knives that no one thought could be possible. Innovation, style, and functionality define Shun knives, but they are unfortunately far less durable than knives from other manufacturers.
The knives produced by Shun are considered by many to be some of the best knives in the world. Shun creates their knives out of exotic metals and uses modern metallurgy methods to make their knives at the absolute limit of what is possible.
Another notable characteristic of Shun knives is that they are always beautiful to look at. Shun knives are distinctive and distinguishable from other knives due to their unique designs and aesthetics developed from the way these knives are made.
Let's go a little deeper into Shun knives to better understand them and to better compare them to Wusthof knives.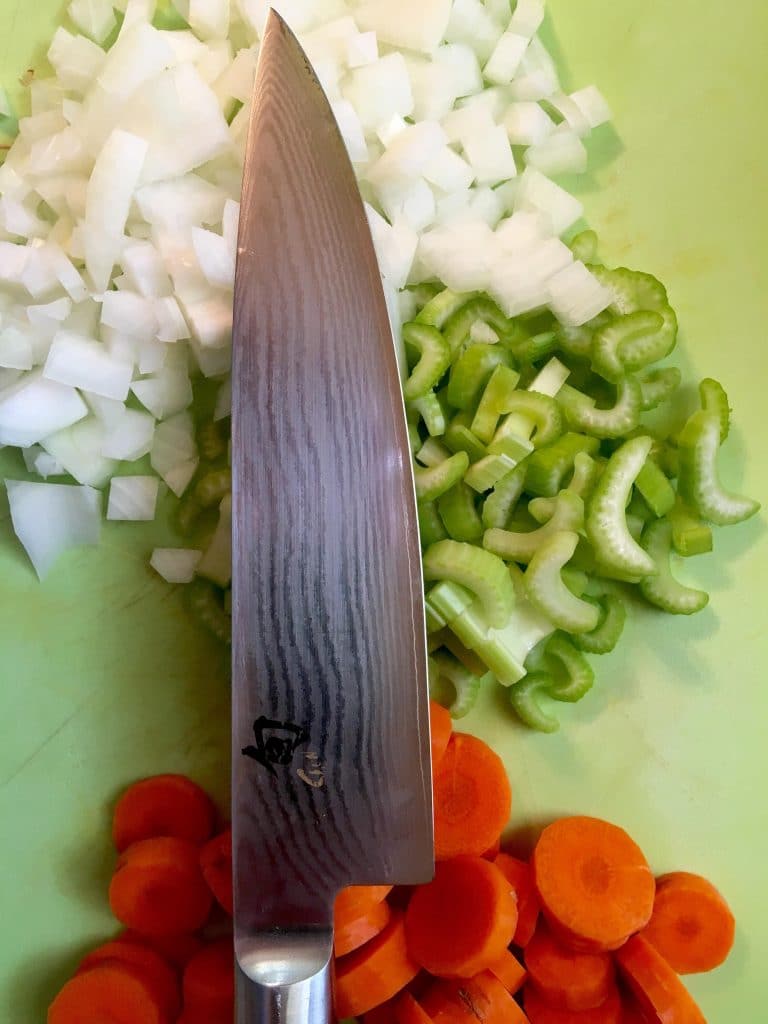 Shun Knife Range
Shun is one of the largest Japanese knife manufacturers and is always pushing the limits of modern knife making. This zeal for innovation mingled with traditional Japanese knife-making skills has resulted in a very extensive range of knives produced by Shun.
Shun produce many knife varieties, including:
Chef knives
Utility knives
Paring knives
Santoku knives
Bread knives
Steak knives
Nakiri knives
BBQ knives
Cleaver knives
Boning and Fillet knives
Kiritsuke knives
Slicing knives
Specialty knives
Petty knives
Yanagi knives
Vegetable knives
Each type of knife made by Shun has several variations within the knife type. The multiple knives in each range mean that Shun produces more than 232 different individual knives.
This is an exceptionally large range of knives. Shun will have the perfect knife for every requirement and to suit every individual preference. If you cannot find a knife in the Shun range that does not appeal to you, finding the right knife for you may be impossible.
The range of cutlery produced by Shun does not stop at knives. This company also produces a range of shears and a range of sharpening and honing tools to keep your Shun knives well maintained and as sharp as possible.
Shun Knife Design
Shun knives are Japanese-made. This style of knife making comes with its own set of design characteristics. However, Shun is also a design innovator and pushes the limits of modern knife design with every new knife that they produce.
Shun knives are beautifully crafted. Each o the knives in the Shun range, be it the most affordable or the most expensive, are all made to excellent standards of quality and craftsmanship.
The premium range of Shun knives typically features exotic steels and steel composites to form the blades and use a blend of traditional Japanese and modern knife-making techniques. The knives are made to work well and also look beautiful.
Shun uses a range of different types of steel for their knives, including very hard VG10 composite steel, Japanese stainless steel, Forge-welded Damascus steel, and a variety of different metals for cutting edges.
The premium range of Shun knives uses a blend of traditional Japanese techniques such as San Mai, which is a method of creating composite blades, and very modern metallurgy manufacturing techniques.
Shun uses a wide range of handle materials, both standard, and exotic materials, as well as several different handle shapes to suit the requirements of every hand and every technique.
The more affordable classic range of Shun knives does not bear the flashy Damascus layering or the hammered textures of the more expensive knives, but they are still classically beautiful in their design and very well made in their construction.
The only downside to the design of Shun knives is that Shun is constantly pushing for absolute sharpness and absolute blade hardness. This means that even though the knives are designed and made very well, Shun knives are known for breaking easily and chipping often.
This is especially true if a Shun knife is used with poor technique or is not maintained well. Shun knives are typically less durable than other knife brands and far more likely to break.
Shun Knife Characteristics
Owning a Shun knife is accepting specific aspects of the knife that are not always ideal for the sake of other aspects of the knife that are incredibly desirable. As with most high-end culinary items, Shun knives are not without their drawbacks, but the positives often outweigh the negatives.
The positive aspects of owning a Shun knife include incredible manufacturing quality, very beautiful design features, and outstanding sharpness.
One of the less desirable characteristics of Shun knives is the fact the knives are not very durable, and keeping Shun knives sharp takes a lot of work.
Most Shun knives cannot be maintained with a simple honing rod but must rather be sharpened by hand with whetstones. This is a substantial investment of time and requires exceptional skill to execute well.
However, owning a Shun knife is a joy. These knives are particularly enjoyable to look at and even more enjoyable to use. There is simply nothing like a good Japanese-made Shun to use in the kitchen.
Shun knives are versatile, very well made, great to use, and beautiful to behold.
Wusthof Knives
Wusthof knives are something special. These knives are known in the industry to be the standard for quality, durability, excellent craftsmanship, sharpness, useability, control, and versatility.
Wusthof is a German knife manufacturer that has become the go-to for chefs all over the world. Many will use nothing but Wusthof knives, and the best chefs in the industry swear by these knives and will prefer them to any other brand.
The knives produced by Wusthof are not as artisanal or beautiful as many other knife brands, but they are solid, reliable, well-made, useable, versatile, and they maintain a level of sharpness and utility that no other knife can match.
If you need a straightforward but solid knife that will last you for many years without losing its usability and one that is easy to maintain, then a Wusthof knife is the best-suited tool for you.
These knives are truly an icon of the industry for a good reason. Let's go a little deeper into the wide range of Wusthof knives and what using these knives is like to better compare them to knives made by Shun.
Wusthof Knife Range
The range of knives produced by Wusthof is extensive. This is perhaps one of the largest and most comprehensive ranges of knives from any knifemaker anywhere in the world. The range of Wusthof knives is so extensive that there is no kitchen task not catered for.
The range of Wusthof knives include:
Santoku knives
Nakiri knives
Chef's knives
Utility knives
Paring knives
Bread knives
Steak knives
Carving knives
Cleavers
Butcher's knives
Fish knives
Fillet knives
Seasonal knives
Boding knives
Peeling knives
Cheese knives
Wusthof produces a very impressive selection of comprehensive knife sets to suit every need, so buying knives in perfectly thought-out combinations is very simple when purchasing Wusthof knives.
The list of knives is very extensive, but Wusthof also manufactures a number of kitchen accessories, including sharpening tools, barbeque tools, a range of kitchen implements including ladles and spatulas, sheers, spreaders, protection gloves, and even a book detailing the main types of kitchen knives and how to use them correctly.
This catalog of products makes Wusthof one of the most comprehensive manufacturers of cutlery and kitchen tools in the world, and the high standard that each implement is made to ensures that every item made by Wusthof is world-class.
There is a Wusthof knife made to suit every individual need, for every individual chef or cook.
Wusthof Knife Design
Wusthof knives are made with almost the exact opposite philosophy as Shun knives. Wusthof knives look incredibly understated and simple and are not flashy in any way.
Wusthof knives are designed much more for utility and function rather than design aesthetics. These knives are fantastic to use and make for the perfect chef tools, but they look very simple and plain compared to other knives in the same price bracket.
The looks of Wusthof knives should not be a factor that prevents you from purchasing these knives, as even though they look very plain, these knives are designed purposefully to be the best knives possible.
Wusthof does not use exotic metals for their knives but rather uses tried and true steels that are known for being versatile and durable while holding an edge that does not fail easily.
These knives hold a cutting edge so well that they can be reined and perfectly maintained by the use of a simple honing rod.
Some very advanced chefs have been known to use a Wusthof for many years and never have it sharpened, but rather keep it in optimum condition with nothing but a honing rod. This is a true testament to the design and quality of these knives.
The design of Wusthof knives is very functional but very versatile. Every knife is purpose-built to maximize usability and is designed by chefs for chefs to solve every problem that a chef may encounter when using a knife.
There are few knives designed better than Wusthof knives, and their reputation is a demonstration of that.
Wusthof Knife Characteristics
Part of owning a Wusthof knife is learning to use Wusthof knife well. There are other knives that are more useable and require less practice to use well, but owning and using a Wusthof knife is a pleasure once acquiring good techniques and knife skills.
Wusthof knives are typically heavier than some of the more artisanal knife brans, especially Japanese brands such as Shun. These knives require more skill and practice to use well, but many would argue that this only pushes the user to become a better cook rather than encouraging poor techniques.
The knives made by Wusthof are very easy to keep sharp, they are a joy to use, they are incredibly well made and set the standard for western knife making, and they are the final word in overall kitchen knife versatility and useability.
Simply put, there are no other knives that are as durable, long-lasting, versatile, and useable as Wusthof knives, especially among large knife manufacturers. Purchasing a Wusthof knife will prove to be a good investment.
How Do Shun And Wusthof Knives Compare?
Comparing Shun and Wusthof knives is a challenge. Both of these manufacturers produce excellent quality, world-class knives, but the knives are very different from one another.
Wusthof knives are focused more on functionality and long-term use, while Shun knives are more focused on knife-making techniques, absolute sharpness, and pushing the limits of what is possible with kitchen knives.
Shun knives are much better looking than Wusthof knives and boast the use of exotic materials and methods, but these knives are far more brittle and fragile than Wusthof knives and do not last nearly as long.
Wusthof knives are less aesthetically pleasing than Shun knives and follow the more standard design and manufacturing standards, but these knives are exceptionally well made, incredibly durable, and will hold an edge and last significantly longer than Shun knives, even if they are misused or not well maintained.
So, What's The difference?
Shun knives are the benchmark for modern Japanese knife manufacturers. These knives are wonderfully beautiful, exceedingly sharp, a pleasure to use, and boast the use of designs and materials that no other knife maker can. However, Shun knives are very brittle and not known for lasting very long at all.
Wusthof knives are German-made and are the benchmark for versatility, usability, and durability. Very few other knives in the industry are as durable or long-lasting as Wusthof knives, and they set the standard for good knives for most chefs internationally.
Both Wusthof and Shun knives are of a world-class standard, but which knife is best for you is very much dependent on what you require from a knife and how long you intend to use your knives.
---
Recent Recipes