Simple Italian Sausage Stuffed Chicken Breast Recipe
Stuffed chicken breast is one of the home cook's little magic tricks for preparing an easy yet upscale entrée. When served, it is both impressive and tasty. This affordable dish never disappoints. And it is ready in less than 45 minutes.
Italian sausage stuffed and rolled chicken breast is also referred to as chicken rollatini. I actually prefer that description because this really is a thin chicken breast cutlet rolled around the stuffing to form a log that is easy to slice and fans out on the plate like fallen dominoes.
This recipe calls for a filling that has sausage, breadcrumbs, cheese, and herbs. The rolls are finished off with an easy and light white wine sauce.
The sliced chicken rolls can be served over a bed of creamy polenta, risotto, or cauliflower purée. Round out the meal with garlicky sauteed greens, such as escarole, spinach, or Tuscan kale. Pair with a dry white wine. Sauvignon Blanc and Pinot Grigio are perfect pairings with chicken rollatini.
This sausage stuffed chicken breast recipe is a lighter version of a more classic recipe that might have ricotta cheese in the stuffing and then is baked in a bath of tomato sauce. Here, the chicken is the star of this dish. And, the sliced rolls are attractive when brought to the table.
The sauce is very simple and elegant. It is a white wine reduction that just coats and moistens the chicken rolls. Use a wine that you would actually drink for the best results.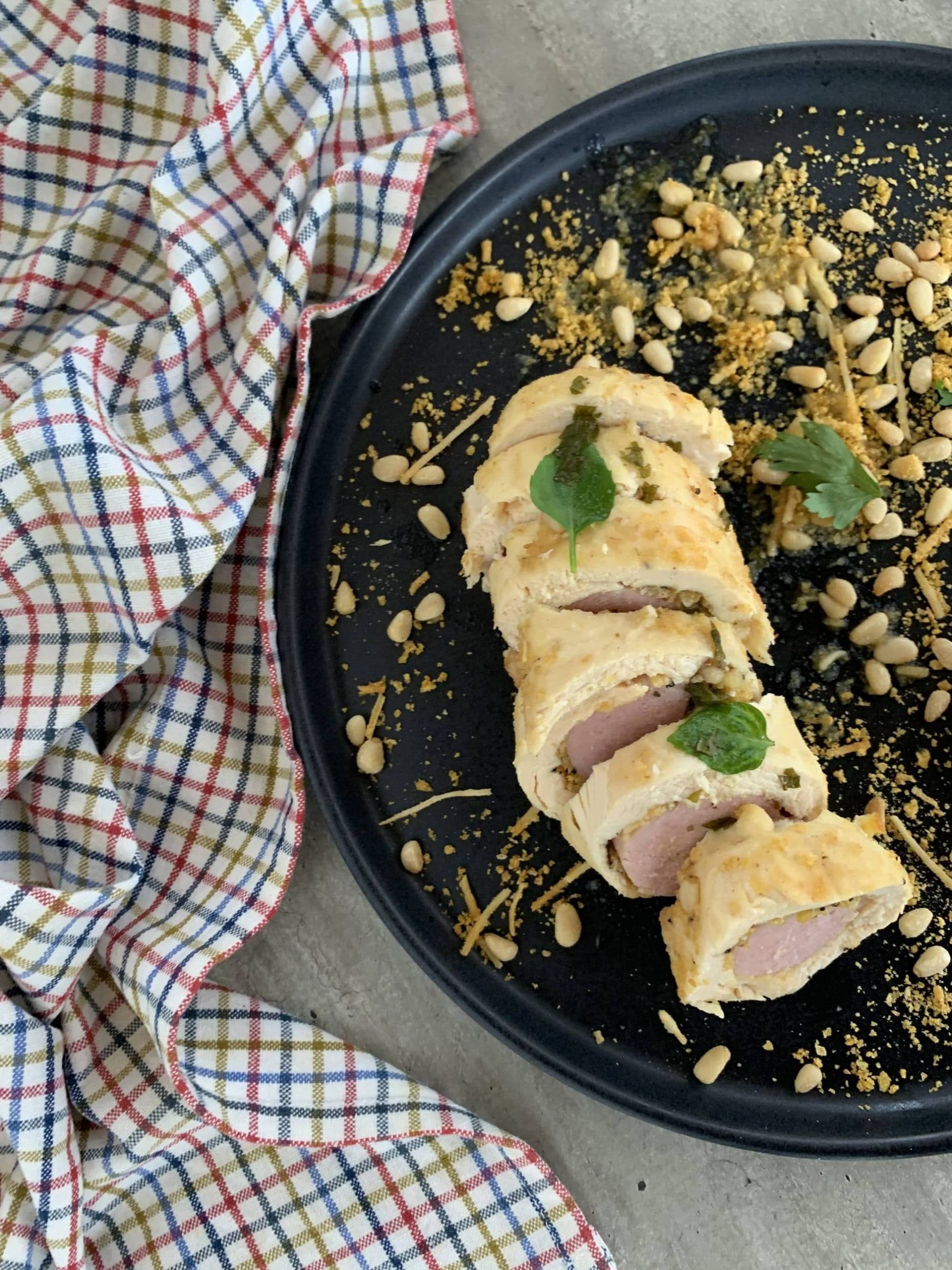 Ingredients
16

ounce

boneless chicken breasts

skinless, 2 breasts

4

ounces

mild Italian sausage

3

TBS

breadcrumbs

3

TBS

chopped fresh basil leaves

2

TBS

toasted pine nuts

1-

ounce

grated parmesan cheese

1/2

tsp

sea salt

1/2

tsp

freshly ground pepper

3

TBS

all-purpose flour

2

tsps

extra virgin olive oil

1

tsp

butter

1/2

cup

dry white wine

3/4

cup

low-sodium chicken broth

2

TBS

chopped fresh parsley leaves
Instructions
Preheat the oven to 400°F and make sure you have all the ingredients together.

In a medium bowl, mix together the breadcrumbs, basil, pine nuts, sausage, and cheese.

Slice the chicken breasts horizontally through the center to form 4 cutlets. Place the chicken between 2 sheets of plastic wrap. Using a meat mallet, pound each cutlet to 1/4-inch thickness without tearing the flesh.

Remove the top sheet of plastic wrap and season each cutlet with salt and pepper. Divide the sausage mixture evenly onto the cutlets. Roll each stuffed chicken breast lengthwise into a log shape. Tie each roll with kitchen twine at 1-1/2 inch intervals. Alternatively, secure with toothpicks. Sprinkle the flour evenly over the rolls.

In a large oven-proof sauté pan over medium-high heat, add the olive oil and butter. As soon as the butter melts, add the rolls to the pan, seam side down. Cook for approximately 5 minutes until golden brown on all sides.

Place the pan in the oven. Roast the chicken for 15 to 18 minutes or until the internal temperature reaches 165°F when checked with a meat thermometer. Remove the stuffed chicken rolls from the pan.

Using a potholder, place the pan over medium-high heat. Add the wine and cook for 1 minute or until the wine is reduced by half, scraping the pan to loosen the browned bits. Whisk in the chicken stock and cook for 3 minutes. Stir in the parsley.

Remove the twine or toothpicks from the chicken rolls and slice them into 1/2-inch pieces. Place the chicken on a serving platter or individual plates and dress with the sauce. Serve with your favorite Italian sides and enjoy.
Video
Nutrition
Calories:
446
kcal
|
Carbohydrates:
12
g
|
Protein:
34
g
|
Fat:
26
g
|
Saturated Fat:
7
g
|
Polyunsaturated Fat:
5
g
|
Monounsaturated Fat:
11
g
|
Trans Fat:
1
g
|
Cholesterol:
99
mg
|
Sodium:
722
mg
|
Potassium:
440
mg
|
Fiber:
1
g
|
Sugar:
1
g
|
Vitamin A:
180
IU
|
Vitamin C:
1
mg
|
Calcium:
115
mg
|
Iron:
2
mg
Substitutions and Shortcuts
You have many options when it comes to choosing the sausage filling for this stuffed chicken breast recipe. Seasoned pork sausage is traditional. I think chicken or turkey sausage also works well, especially if you are looking for a slightly healthier option. Mild sausage works best because hot sausage can overpower the chicken. If you are a spicy gal or guy, by all means, go for the hot Italian sausage.
This recipe calls for parmesan cheese. You can use provolone if you would like a slightly creamier cheese element. For a more filling meal, use ricotta cheese in the stuffing.
As mentioned, the sauce is light. Feel free to use your favorite marinara sauce and top with some extra parmesan cheese for a heartier dish. That would be quite good on a cold winter evening.
To make this a gluten-free dish, there are plenty of gluten-free breadcrumbs and flours on the market these days. Rice flour would be a suitable substitution for all-purpose flour.
Success Tips
For best results, pound out the chicken breast halves to an even thickness, being careful not to tear the meat. If the meat is ripped the filling could leak out into the pan.
Be sure to secure the rolls well with either kitchen twine or toothpicks. Again, this will ensure that the stuffing doesn't escape from the rolls.
Have a reliable meat thermometer nearby to check the internal temperature of the rolls. You want to make sure the filling is cooked through. You are looking for an internal temperature of 165°F.
Don't forget to remove the twine or toothpicks before slicing and serving. There is nothing more unpleasant than biting into string or wood.
---
Recent Recipes