The Benefits Of Using Scissors In The Kitchen
In most homes across the globe, the kitchen is the heart of the home. It is here where family and friends come together to eat, socialize and make beautiful memories. This versatility makes the kitchen the most used space in many homes. If you love cooking and baking as I do, then the kitchen is your domain. I have knives for many different applications. Yet, one day when I needed a knife, I just couldn't find one and I had to turn to a seldom forgotten yet very handy utensil, found in every home, kitchen scissors.
Scissors are often overlooked in the kitchen, but there are many things that you can do with scissors to make things easier in the kitchen. For example, cutting pizza, cutting lettuce, and all kinds of leafy veggies. You can even cut meats and herbs into smaller pieces.
Kitchen scissors are not on most people's list of favorite kitchen utensils, but it has been my trusted kitchen helper for a long time. Kitchen scissors are not just for cutting thin vegetables as they have quite a few different but interesting uses. So, I thought I'd share the benefits of scissors in the kitchen.
Benefits Of Using Scissors In The Kitchen
Food magic happens in the kitchen. We love teaching children all about food and how to prepare it, but knives can be dangerous. Scissors make teaching so much easier and give children more confidence in the kitchen.
There are so many benefits to using scissors in the kitchen, not only for food prep but baking prep and all kinds of things we never thought to use scissors for, so let's explore some of the top benefits and uses of scissors in a kitchen.
Uses For Scissors That Can Replace Knives
While we mostly reach out for knives to cut meats and veggies, there are some benefits to sometimes rather opt for scissors instead of knives.
Chilies and Jalapenos: It should be considered a health hazard to cut these hot spicey fruits (yes, a jalapeno is a fruit, I couldn't believe it either).
The great thing about kitchen scissors is that you can cut hot things like jalapenos and chilies and avoid getting the spicy juice on your hands. This way it saves your eyes too.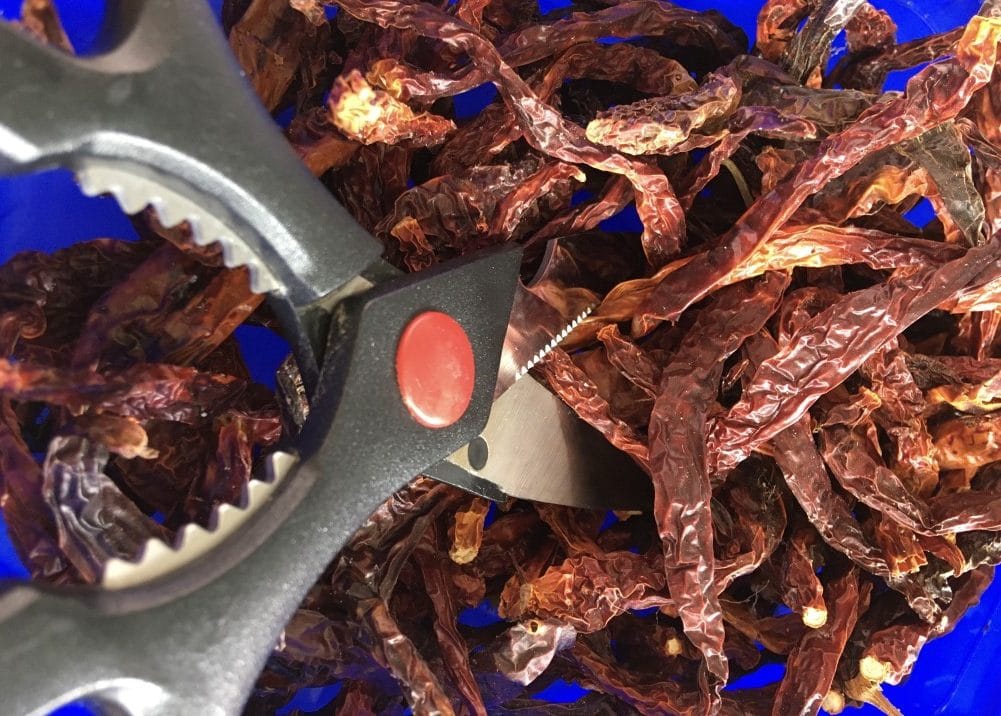 Green beans: Green beans can be a chore to cut because you have to cut the ends, and if you like to put your green beans in stews as I do, you have to cut them into smaller chunks. It is a task that is very time-consuming.
Scissors to the rescue! The stronger shears can help save time on preparing green beans.
Ramen or spaghetti noodles: In my house, we love pasta, but my little girl makes a mess. So, I decided to start cutting her noodles with scissors after they are cooked so she could eat them easier.
Let's face it, we all love fresh herbs but cutting them is a nightmare. Your chopping board looks like a piece of kale was murdered, and the green juice stains are tough to get rid of.
Scissors help so much with this messy task. If you are someone who uses fresh herbs every day, you could invest in the three-bladed shears. They are excellent to use on herbs and leafy greens if you want thin strips.
Pizza: Now, this is the most requested food in many homes, and I don't like to battle to get a piece. Scissors make cutting pizza so much easier.
Pitas, Rotis, and Tortillas: If you love these delicious foods, but you want to try the new tortilla cone or tortilla triangle trend, then using scissors to cut them works perfectly. You can cut pitas in half or open them up, and it doesn't leave jagged edges as some knives do.
Scissors are great if you like to bake too. You can cut the foil, baking paper, or wax paper easier, and some decorations as well.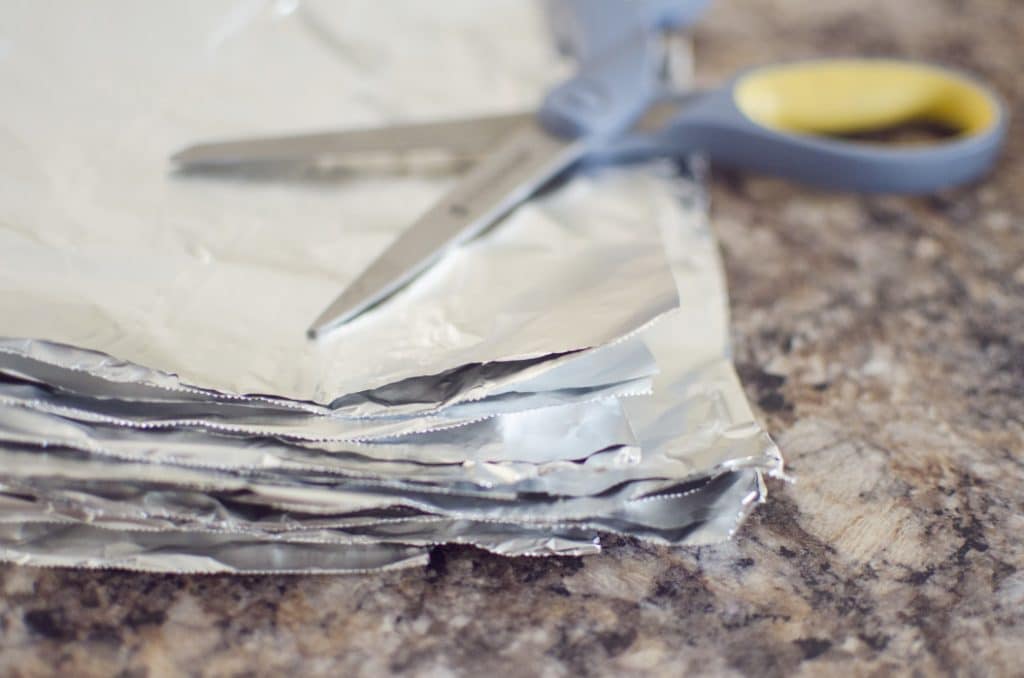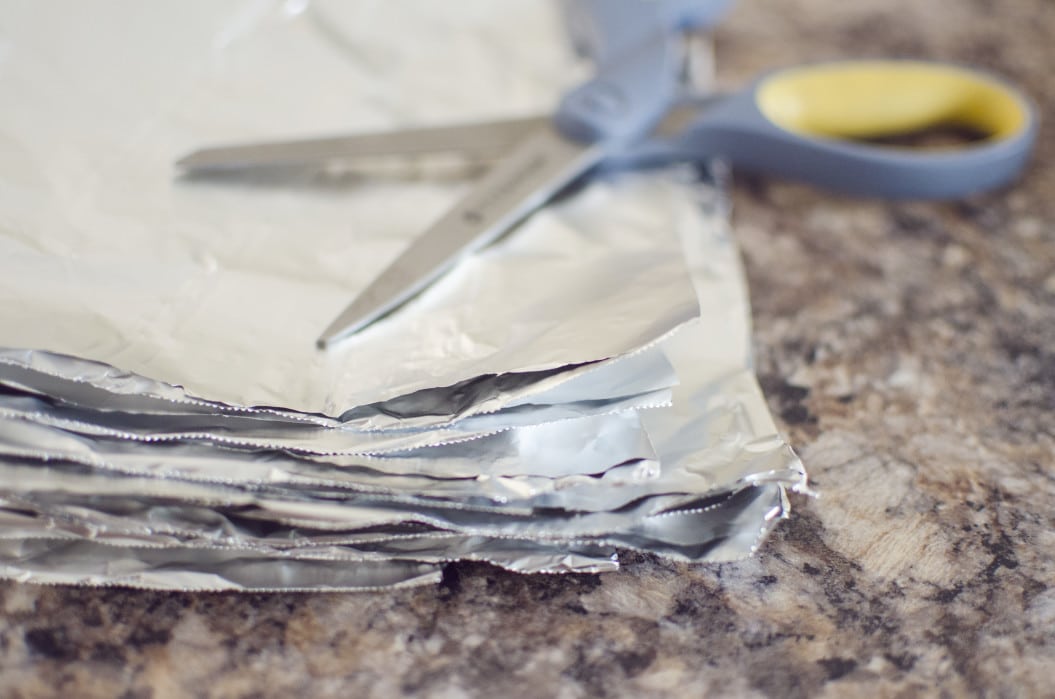 Bacon and Ham slices: If you love bacon but don't like the tedious task of cutting it into tiny pieces for salads or toppings, scissors will make your day. They cut bacon and most meats easily and are much quicker than with a knife.
Green leafy veggies: These veggies are a chore to cut if you want a salad. Using scissors to cut them into tiny pieces is quicker and easier.
Meat: You can use shears or poultry scissors to cut meats like chicken breast, minced beef stuck together, and all kinds of other meats into smaller pieces.
If you like baking and need a helping hand in cutting cookie dough or pastry, using a pair of trusty kitchen scissors helps avoid dough tearing. You get scissors with non-stick blades, and they won't easily pull the dough.
Cutting veggies and meat when it is already cooking and very hot can be impossible, but if you see a piece of meat or vegetable that is too big, you can safely cut it to the correct size with scissors.
Does The Type Of Scissors You Use In The Kitchen Matter?
Years ago, when I started using scissors in the kitchen, I thought you could only get one type of kitchen scissors, but when it was time to replace my pair, I found there are many different types of kitchen scissors.
The type of scissors you use will largely depend on what you want to do with them. Some scissors are made for a specific task. I use shears and all-purpose scissors most of the time, but it does depend on what you cook and bake; here are some different kinds of kitchen scissors:
Types Of Kitchen Scissors
Before I started cooking, I thought my mom used regular everyday scissors in the kitchen. Boy, was I wrong! She used shears. Shears are a type of kitchen scissors. There are a few different types of scissors and it's good to explore them all.
The first type of scissors that you can use in your kitchen is shears. Shears are stronger than regular kitchen scissors. You will find that the one hole is made to fit the thumb and gives you a better grip.
You can use shears for things like cutting red meat and poultry. You can cut up a whole chicken with shears through the bone, and you can cut thick flower stems with them too.
All-purpose scissors are just regular scissors that you can find hidden away in most kitchens. They can be used for most of your cutting needs, from cutting herbs and lettuce to slicing pizza. You can even cut gummy candies with these scissors.
Tripple blade scissors are scissors specially made for cutting herbs and salad greens. They have three blades on each side, making it easier to cut herbs and greens into smaller chunks. You can cut lettuce, spinach, cabbage leaves, and other types of leafy herbs with these scissors.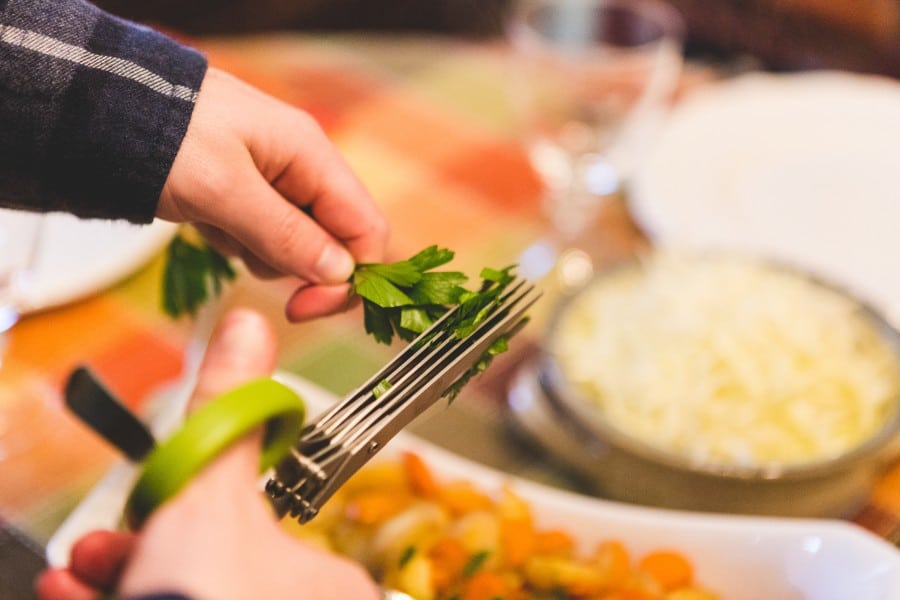 Seafood scissors are made to help cut and prepare fish, shrimp, and other seafood. They are shaped like a paring knife with a thin curved blade, and these scissors are a must-have if you have to devein shrimp and clean calamari. They also have a built-in shell cracker for things like crab shells and nuts.
Pizza scissors are made for cutting pizza slices, and they have a non-stick coating to prevent the cheese from sticking to the scissors and give an even clean cut.
Some Surprising Out Of The Box Benefits Of Kitchen Scissors
You can use the different types of scissors for so many things that the list can go on till next year. Some of the uses of a good pair of kitchen scissors need an open mind, but I thought I would share the most exciting benefits I could find for scissors in a kitchen:
Cutting up marshmallows: This is one I am trying out. Cutting marshmallows with a knife can be a sticky situation for you, your knife, and the cutting board, but I see many people use scissors to cut marshmallows into smaller pieces.
Cutting up tomatoes in a can: Using scissors to cut the tomatoes can save a big mess if you want smaller pieces without messing sauce everywhere.
Small and dried fruits: Cutting small fruits like grapes and dried fruits with scissors is more straightforward than using a knife. It doesn't stick as much and takes less time.
Bread crusts: I don't know why my children don't like the crust on their bread, but the scissors make cutting them off so much easier and more precise.
Cutting meat or sausage into slices or other fatty meats like beef for Korean BBQ for example are fantastic time savers and it saves on mess clean up depending on the meat.
Cutting croutons are so much easier with scissors, and you can get a small cut without squishing the piece of bread.
Bottle Caps: An interesting feature most kitchen scissors have, is a bottle opener on one end. Some people use the nut-cracking part of kitchen scissors to open soda bottles.
Cutting bad pieces off of broccoli or cauliflower: It is easier to target specific areas and cut the dark pieces out of vegetables.
Some kitchen scissors have a piece of steel at the base of the handles you can use to easily cut open boxes or plastic bags without having to use sharp knives.
Cutting Waffles: If your children like to dip their waffles into syrup or chocolate sauce, cutting their waffles into strips or cubes will help them dip the waffles easier.
Do Kitchen Scissors Require Maintenance?
For most of us, it's easy to remember our knives need to be maintained, but your kitchen scissors also require a little bit of maintenance if you want to reap the full benefits of your scissors. Here are some ways to keep you snipping away with your scissors.
Keeping Your Kitchen Scissors Sharp
Keeping our knives sharp is something we tend to remember, but we also need to remember to keep our scissors sharp. A dull blade can be dangerous and get stuck in whatever you are trying to cut.
You can do it yourself; You need to use a sharpening stone with a surface grit of 400 on one side and a 1,000 grit surface on the opposite side.
Wet the stone using water or honing oil, and starting with the 400 grit sharpening stone, lay the inside of the scissors flat against the stone. Then with light downward pressure, drag the scissor blade across the entire length of the sharpening stone from base to tip.
It should take between 10 and 20 strokes to sharpen your kitchen scissors properly. Make sure to check the blades when you are done for burrs so your scissors don't cut with jagged edges.
You can take it to professionals to have your blades sharpened. It does get a bit costly if you have more than one pair of scissors, so the DIY method might be the way to go.
Keeping Kitchen Scissors Clean
Keeping your scissors clean is vital for kitchen scissors because you have the tight part at the base where the screw comes into play. It can be challenging to keep clean but some scissors can be unscrewed and cleaned easier that way.
For those that can't be taken apart, use an old toothbrush and dishwashing liquid. It will help get into the small spaces where food might get stuck. Don't soak your scissors; it might lead to rust and weaken the steel in the process. This can cause your scissors to break later on.
You Should Keep Your Kitchen Scissors Oiled
After sharpening and cleaning your kitchen scissors, you need to oil them. Only a few drops at the hinge are enough to keep your scissors in good shape. Wipe the excess oil, and you should be good to go.
Keep Your Kitchen Scissors Properly Stored
To keep the blades in good shape, you need to store your kitchen scissors in either a protective sheath. a box or use a magnet on the side of the fridge. Your scissors need to be kept away from any ceramics, steel, or glassware.
Cutting To The Chase
Scissors in the kitchen are a must for those of us who love cooking, baking, and teaching our kids how to navigate the kitchen safely. Scissors can replace knives in so many ways, from cutting pizza to making noodles easier to eat. The things we can use kitchen scissors for are almost endless.
While scissors need to be maintained every so often, I would gladly trade the maintenance for the benefits of using my scissors in the kitchen.
---
Recent Recipes