Simple Rhubarb Lavender Shrub
You'd be surprised to find that apple cider vinegar has been a drink of choice for hundreds of years. It's been for many things such as baking, cleaning, cooking, and even weight loss. In fact, apple cider vinegar is known for its antimicrobial properties that can kill bacteria and viruses.
But have you ever tasted the fascinating mixture of apple cider vinegar with fleshy, edible stalks of rhubarb, and springs of fresh lavender? Then this special rhubarb lavender shrub recipe was made for you. Read on to find out just how easy it is to create this delicious recipe that you'll enjoy all summer long.
What makes this Rhubarb Lavender Shrub interesting?
It's the rhubarb ingredient, of course. Not only is it packed with an exquisite blend of flavors, but you can use it to make your favorite jam. And even as a base for your cocktails. When combined with the vinegar, the bursts of flavor creates an easy, yet delicious shrub for you to enjoy.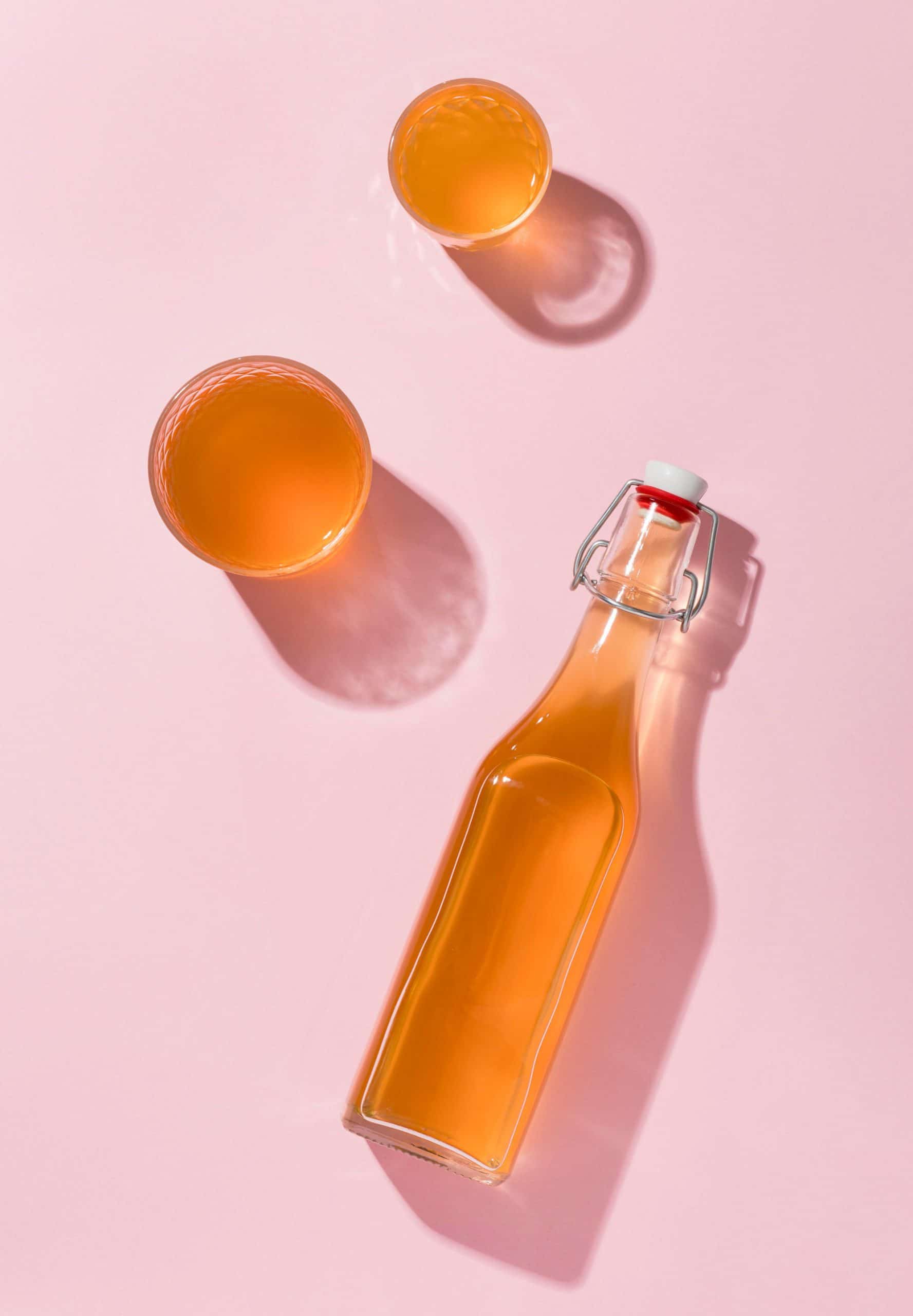 Ingredients
4

cups

rhubarb

split lengthwise, then chopped into 1/2 inch pieces

4

cups

sugar

organic if you can

4

cups

champagne vinegar

or apple cider vinegar

15

sprigs of lavender

no flowers, or 10 lavender flowers
Instructions
You should pour your chopped rhubarb and sugar into a large bowl, then mix them together. Then place a towel loosely on top of your mixture to sit overnight. You should stir no more than twice during this period. Make sure to evenly distribute your sugar until it settles at the bottom.

It's a new day. Be sure to add your lavender sprigs then give your mixture a stir before you place it in your fridge. You might want to use a half gallon jar to decant your mixture before you put it in your fridge. You can carry on with your daily routine or skip town for no longer than 6 days.

If you're too excited to wait for 6 days, you can leave your mixture in the fridge for just over 24 hours. Once your timer hits, you can grab your chinois or fine-mesh colander. You want to strain your mixture carefully while avoiding any spills. Next, you should place your mixture in the fridge overnight. Don't forget to give it an occasion stir if you see any sugar that might be sitting at the top.

It's the last step of your recipe preparation. You can discard your solids and add more apple cider vinegar to your remaining liquid. Now, whisk it until it's smooth. Thereafter, you can pour it into your bottles or jars for storing it in your fridge.

You should consider letting your bottled mixture chill in your fridge for a good week if you want to intensify your flavors. The thing is, your vinegar is just like wine; it gets better with time. The tanginess should mellow out to allow the fresh and fruity blends of lavender and rhubarb to amplify. The great news is that you can keep your mixture in your fridge for up to three months without worrying about any changes to its flavor. In addition, the cold temperature helps to maintain your apple cider vinegar's acidic levels.
Nutrition
Calories:
282
kcal
|
Carbohydrates:
69
g
|
Protein:
1
g
|
Fat:
1
g
|
Saturated Fat:
1
g
|
Polyunsaturated Fat:
1
g
|
Monounsaturated Fat:
1
g
|
Sodium:
9
mg
|
Potassium:
150
mg
|
Fiber:
1
g
|
Sugar:
67
g
|
Vitamin A:
45
IU
|
Vitamin C:
4
mg
|
Calcium:
43
mg
|
Iron:
1
mg
Are there any substitutions or shortcuts?
If you feel like this cold process method is not for you, and you want to try something else, you're not alone. This is why there are two methods to make your shrub. The second one requires you to cook the fruit. You should slow cook it to ensure that it's juicy and soft. Just don't forget to get rid of its toxic leaves before you cook it. They're poisonous if ingested.
---
Recent Recipes