Simple Spicy Calabrian Chili Meat Lasagna
In these cooler Autumn months, we all crave a hearty, comforting meal. In my quest to find the perfect balance between tradition and familiarity, I've tested this delicious recipe so that you can proceed with confidence and ease. Join me on this journey to Flavor town, and let's get cooking.
This recipe for Calabrian Chili Meat Lasagna will take your Lasagna dish to a new, flavorful level! We look at from where Calabrian Chili comes. Find serving suggestions and wine pairing for Spicy Calabrian Chili Meat Lasagna as well as a substitution suggestion for Calabrian Chili Pastes here.
This Spicy Calabrian Chili Meat Lasagna will satisfy even the most distinguished palette. What does Calabrian mean? How do the chilis taste? When to serve Spicy Calabrian Chili Meat Lasagna and what wine to pair with it? Let's explore this familiar staple together.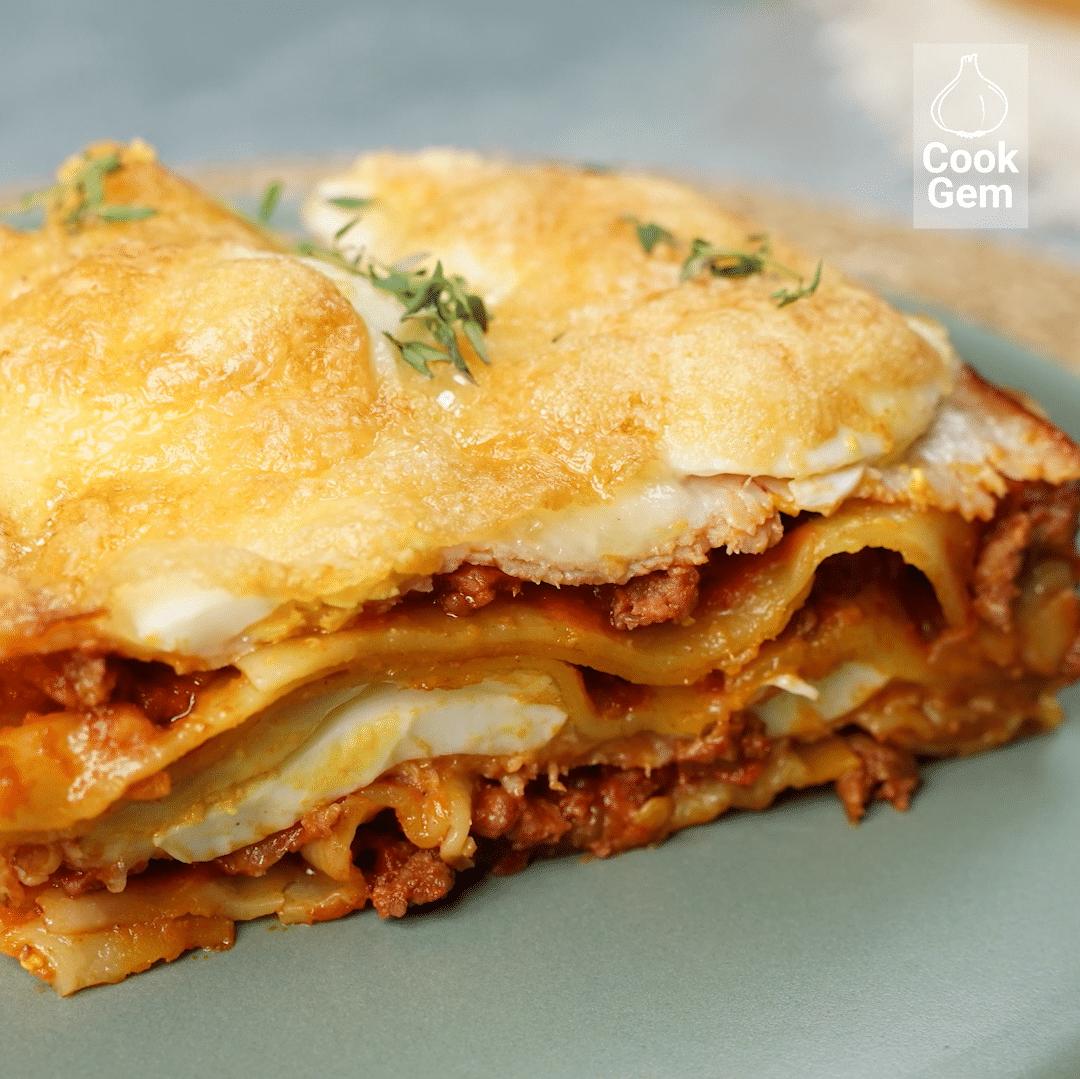 Ingredients
1

Tbsp

extra virgin olive oil

1

large brown onion

finely chopped

3

large garlic cloves

crushed

2

Tbsp

Calabrian chili paste

4

sprigs

fresh thyme

save a little for garnish

1.650

lbs.

pork and veal mince

¾

cups

red wine

4

cups

tomato passata

1 ½

cups

liquid chicken stock

18

sheets

dried lasagna

0.882

lbs.

shaved ham

8

eggs

hard-boiled, peeled, sliced

1.323

lbs.

mozzarella

thinly sliced

1

cup

finely grated parmesan
Instructions
Heat the oil in a large saucepan over medium-high heat. Add the onion and cook. Stir for 5 minutes or until soft. Add the garlic, chili paste, and thyme and cook for a further 1 minute or until aromatic.

Add the mince mixture and fry, breaking up any lumps that form with the back of a wooden spoon for 5 minutes until well browned. Add the wine and cook, stirring, for 2-3 minutes or until the wine reduces slightly.

Combine the passata into your mince and simmer, occasionally stirring, for 15 minutes or until the sauce thickens slightly. Remove the thyme stalks.

Preheat the oven to 356°F with the fan. Spoon 1 cup of the mince mixture over the base of a medium-sized ovenproof dish to lightly cover.

Cover with one-third of the lasagna sheets, slightly overlapping. Top with one-third of the remaining mince mixture, then one-third of the ham, one-third of the egg, and one-third of the mozzarella. Alternating layers of meat, pasta, and egg mixture. Top with a layer of mozzarella.

Pour 1 cup of water carefully over the top of the Lasagna.

Cover with baking paper, then foil—Bake for 40 minutes.

Remove foil and paper from the Lasagna. Sprinkle lightly with parmesan and bake for half an hour or until the top is golden.

Garnish with thyme and salad leaves.
Video
Nutrition
Calories:
1053
kcal
|
Carbohydrates:
66
g
|
Protein:
65
g
|
Fat:
56
g
|
Saturated Fat:
24
g
|
Polyunsaturated Fat:
5
g
|
Monounsaturated Fat:
22
g
|
Trans Fat:
1
g
|
Cholesterol:
334
mg
|
Sodium:
1476
mg
|
Potassium:
1352
mg
|
Fiber:
5
g
|
Sugar:
11
g
|
Vitamin A:
1531
IU
|
Vitamin C:
17
mg
|
Calcium:
606
mg
|
Iron:
6
mg
Notes & Tips
This lasagna can be prepared ahead of time. By storing the lasagna in the fridge overnight you ensure that all the flavors marry beautifully. Remember to remove the lasagna from the fridge well ahead of time to ensure that the lasagna is room temperature before going in the oven.
Be sure to use a deep oven dish for your lasagna as the more layers a lasagna has the better.
Lasagna is suitable for home freezing up to 3 months.
What Is Spicy Calabrian Chili Meat Lasagna Exactly
We know and love the traditional Italian dish Lasagna. Let's have a look at what sets Spicy Calabrian Chili Meat Lasagna apart from its peers.
The three main components of classic Lasagna:
● Filling/Sauce – usually a tomato-based meat sauce
● Cheese Sauce – traditionally a bechamel consisting of butter, flour, and milk
● Pasta – thin sheets of pasta that can be store-bought or homemade
These ingredients are layered and then baked to marry the complimenting flavors.
In this recipe, the addition of traditional Calabrian Chili lends a regional twist to this popular dish. Calabrian Lasagna differs from the conventional as a variety of perhaps unorthodox ingredients can be used. The extra ingredients vary, and every household has its spin on this traditional recipe.
How Is Calabrian Lasagna Different From Conventional Lasagna?
Calabrian Lasagna can include a myriad of ingredients ranging from meatballs, spinach, hard-boiled eggs, ham, or mortadella to be incorporated in the layers depending on seasonal availability. Calabrian Lasagna does not call for bechamel. Instead, a mixture of eggs and cheese is combined to add richness to Calabrian Lasagna.
Add a layer of spinach to Calabrian Chili for special occasions. The red, white, and green layers mimic the Italian flag. You will see this patriotic Lasagna on commemorative days.
What Is Calabrian Chili, And How Does It Taste?
Calabrian Chili is a type of Chili (pepperoncino) that comes from the south of Italy. If you think of Italy as shaped like a boot, Calabria would be at the toe of the boot.
The Chili itself is small with lots of flavors. It has a complex flavor profile that includes notes of salty, smoky, fruity, and spicy. Calabrian chilies are medium to hot, clocking in at 25,000 to 40,000 Scoville heat units. Calabrian Chili paste is a paste consisting of ground Calabrian Chilis and extra virgin olive oil. Sometimes salt and vinegar are added.
This chili paste is shelf-safe and will be stable for months and even years. Some people say the flavor improves with age.
This chili paste is added to many Calabrian dishes and lends a distinct spicy charm typical to the region.
When To Serve Spicy Calabrian Chili Meat Lasagna?
Spicy Calabrian Chili Meat Lasagna works best during the colder months of the year. It makes for a hearty and filling entre that will leave your guests wanting more. With a rich color and a delectable cheese pull, it is sure to be a crowd-pleaser. A hint of nutmeg in your cheese sauce quickly assimilates this recipe for Fall.
What Wine To Pair With Spicy Calabrian Chili Meat Lasagna?
I recommend red wine for this distinct flavor profile. The Calabrian region is well known for its prolific production of Red Gaglioppo veritas. A full-bodied red wine with a good balance of acidity and tannin would suit this Lasagna perfectly.
Considering these factors, here is a shortlist of suitable pairings:
Malbec
Shiraz
Tempranillo
Cabernet Sauvignon
Sangiovese
Suitable Substitutes For Calabrian Chili
Calabrian chilis can be difficult to source if you do not have access to a well-stocked Italian grocer. Anaheim and Serrano peppers can be used as a substitute for Calabrian peppers as they have a similar texture and taste.
---
Recent Recipes