Easy AIP Friendly Cilantro Basil Pesto
I have a small herb garden right outside my kitchen door. On summer evenings, I simply snip a few fresh basil, chive, parsley, or oregano leaves, depending on what I am making for dinner. Near the end of the season, the basil starts to flower and the parsley and cilantro plants get annoyed with the cooler evenings.
Basil is incredibly hardy and prolific throughout most of the summer. As soon as it starts to bolt (produce flowers), I have to figure out what to do with the leaves before they start to turn brown. My go-to recipe is pesto. Traditional pesto recipes often include pine nuts and parmesan cheese. I have become fond of AIP-friendly pesto that is made without nuts or cheese. This resembles a pistou more than a pesto. Pistou is an herb-based condiment that is popular in French cuisine, notably Provençal dishes. It is used to top soups and is slathered on crusty baguette slices.
I like to mix up the herbs in my pesto recipes. Sometimes I will use dark leafy greens, such as spinach or kale. My AIP-compliant pesto recipe is a combination of 2 of my favorite herbs – basil and cilantro. The only other ingredients are extra virgin olive oil, lemon juice, garlic, salt, and nutritional yeast.
Pesto has so many uses. My favorite is to make AIP pesto dressed "pasta" by spiralizing zucchini into zoodles. I give the zoodles a quick dip in boiling water, drain them, and toss them with pesto. Roasted spaghetti squash is also a perfect base for pesto "pasta". There is also a commercially available cassava flour pasta that is AIP-friendly. You can top an AIP cassava or cauliflower pizza crust with pesto. I also enjoy spooning pesto onto hot soups and stews.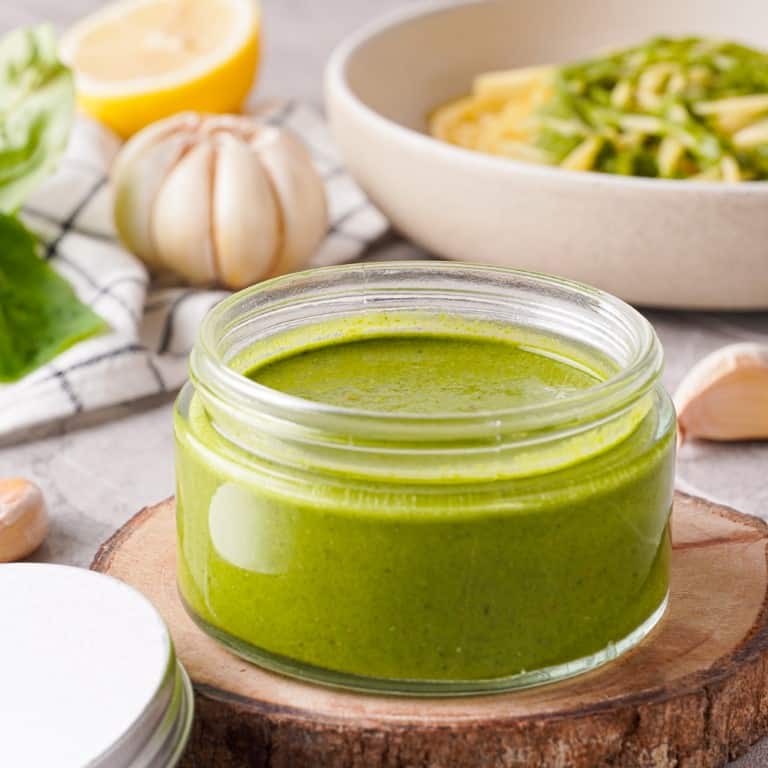 Ingredients
1

cup

of packed fresh basil leaves

1

cup

packed fresh cilantro leaves

1

clove

of garlic

peeled and roughly chopped

Juice of 1 whole lemon

½

cup

good quality extra virgin olive oil

1

Tbsp

nutritional yeast

optional

½

tsp

sea salt
Instructions
All ingredients ready? Let's begin!

Place the herbs, garlic, lemon juice, olive oil, nutritional yeast, and salt in a high-speed blender.

Process until the pesto is either chunky or very smooth, depending on what texture you prefer.

Scrape down the sides of the blender jar periodically with a silicon spatula to make sure everything gets processed.

Check the consistency. If the pesto is too thick, add a little purified water one tablespoon at a time until it thins just enough to your liking.

Store the pesto in a sealed container in the refrigerator for a few days.
Nutrition
Calories:
100
kcal
|
Carbohydrates:
1
g
|
Protein:
1
g
|
Fat:
11
g
|
Saturated Fat:
1
g
|
Polyunsaturated Fat:
1
g
|
Monounsaturated Fat:
8
g
|
Sodium:
117
mg
|
Potassium:
35
mg
|
Fiber:
0.3
g
|
Sugar:
0.1
g
|
Vitamin A:
235
IU
|
Vitamin C:
2
mg
|
Calcium:
6
mg
|
Iron:
0.2
mg
Notes & Tips
When using cilantro, you can actually include some of the stems. There isn't any reason to completely remove the delicate leaves from the stems. Though, I would discard the lower thicker portions of the stems.
If you don't have a high-speed blender, you can make this pesto in your smoothie processor or in a food processor.
1 ½ cups of pesto goes a long way. I generally place some of the pesto into sealable sandwich baggies and freeze them to enjoy during the winter. It keeps surprisingly well for about 4 months.
Substitutions & Variations
Basil and Cilantro: Pesto can be prepared with almost any leafy herb and leafy greens. You can try parsley, baby arugula, spinach, kale, or any combination of these. Kale is an especially nutritious ingredient in pesto and it is easier to digest when processed than raw kale leaves.
Garlic: Good substitutions for garlic in pesto include shallots and fresh chives. If you love garlic, add 2 cloves. In springtime, I will make pesto with garlic scapes. These are the green shoots or stalks that grow out of the ground before the bulb completely forms.
Lemon Juice: You can definitely substitute lime juice for lemon juice. You can also use raw, unfiltered apple cider vinegar. Just use a little less and taste to see if the pesto is acidic enough.
Nutritional Yeast: This product is a nutrient-dense yeast that has a naturally cheesy flavor. I like it because traditional pesto has parmesan cheese in the ingredient list. Nutritional yeast gives AIP-friendly pesto a more traditional flavor. However, it is completely optional.
More Pesto Recipes
There are many pesto recipes to choose from. Most of them are vegetarian or vegan and not all of them are green in color. Some pestos are made with tomatoes. Other recipes include nuts and cheese. And, there are the ones that cater to specific dietary needs, like this AIP-friendly pesto that complies with the Autoimmune Protocol. Here are a few more pesto recipes that we like.
Ways to Use Pesto
Pesto isn't only for tossing with pasta or topping a pizza. I can think of several ways to include pesto in a recipe. Pesto is delicious in layered casseroles, spread over fish and poultry as a marinade, and added to a sandwich in place of mayonnaise or mustard. Here are some recipes we enjoy that include pesto.
---
Recent Recipes