Best Vegan Chocolate Truffle Chip Ice Cream
Our vegan chocolate truffle chip ice cream can be made without an ice cream maker and comes out smooth and creamy thanks to the addition of corn syrup. Dispersed in between delicious plant-based ice cream made primarily from coconut are decadent dark chocolate truffles granting large chunky chewy bites and superb contrast of flavor. Each milk chocolate-coated truffle delivers a satisfying snap as the three different types of chocolate fuse together and form a chocolate explosion that no one will be able to say no to.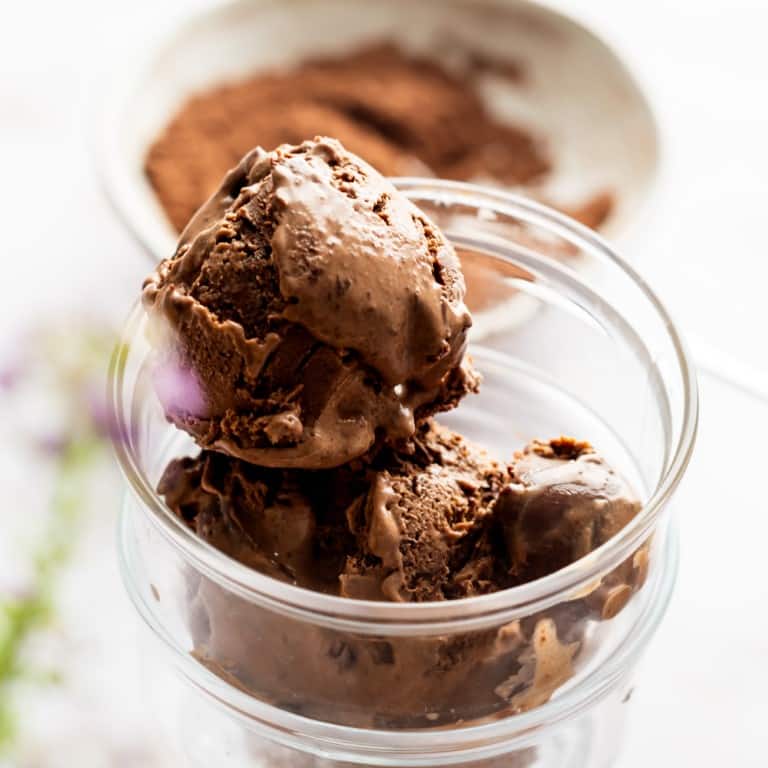 Ingredients
1

Pint

NadaMoo! Organic Chocolate Ice Cream or any vegan/dairy-free ice cream of your choice

4

Ounces

Dark Chocolate

½

Cup

Coconut Cream

2

Tablespoons

Corn Syrup

½

Teaspoon

Vanilla Essence

Unsweetened Cocoa Powder For Dusting

4

Ounces

Milk Chocolate

1

Tablespoon

Coconut/Vegetable Oil
Instructions
On the day before you intend to make vegan chocolate truffle chip ice cream, allow the NadaMoo! ice cream to thaw in the refrigerator overnight.

Begin making the truffles a day in advance by chopping up your dark chocolate into small blocks. The smaller, the better.

Make shavings if you have the time. Place into a mixing bowl.

Combine the coconut cream (while discarding the clear liquid) and corn syrup in a small pot or saucepan over medium heat and bring to a simmer.

Pour the warm coconut cream mixture and vanilla essence over the chocolate.

Allow the cream and chocolate to stand for five minutes and then stir well until smooth. You now have a ganache. Allow the ganache to cool. Once room temperature, transfer to the refrigerator for 2 to 3 hours or until firm.

Scoop a teaspoon's worth of ganache at a time and quickly roll each into a ball dusted with cocoa powder using your hands.

Repeat until you've formed truffle balls from the whole batch of ganache.

Heat three-quarters of your milk chocolate in a heat-proof bowl and suspend it over a saucepan or pot of boiling hot water. Alternatively, use a double boiler.

Allow the chocolate to melt slowly without stirring it. Once halfway melted, stir in a tablespoon of coconut or vegetable oil and the last quarter of your chocolate. Continue stirring to help it finish melting.

Dip each truffle into the melted chocolate and place chocolate truffles onto a baking tray lined with parchment paper.

Allow to cool for an hour at room temperature before refrigerating the truffle balls for 24-hours.

Once the truffle balls are set, and the ice cream has reached soft-serve-like consistency, ready a large airtight container big enough to hold the ice cream and truffles. Alternatively, ready multiple containers if dispensing into smaller serving sizes.

Sprinkle out a layer of chocolate truffle balls.

Scoop a layer of softened ice cream over and disperse until even and covering the truffles completely.

Continue laying out layers of truffle balls followed and packed closed by layers of ice cream.

Once all the ice cream and truffles are dispensed, smooth out the top and freeze for a total of 4 to 6 hours or until set.

Remove from the freezer every thirty minutes and whisk quickly to prevent crystallization, and smooth out your ice cream until it's eventually set.
Nutrition
Calories:
625
kcal
|
Carbohydrates:
69
g
|
Protein:
14
g
|
Fat:
38
g
|
Saturated Fat:
24
g
|
Polyunsaturated Fat:
3
g
|
Monounsaturated Fat:
9
g
|
Trans Fat:
0.03
g
|
Cholesterol:
37
mg
|
Sodium:
119
mg
|
Potassium:
876
mg
|
Fiber:
13
g
|
Sugar:
48
g
|
Vitamin A:
542
IU
|
Vitamin C:
3
mg
|
Calcium:
273
mg
|
Iron:
8
mg
Vegan Chocolate Truffle Chip Ice Cream Tips
While teaspoon-sized measures are recommended for forming the truffles, consider going a little smaller so that you occasionally are left with a solid truffle when dishing up the ice cream. If you own an ice cream maker, instead of freezing the chocolate truffle mix once combined, rechurn according to manufacturer instructions. Rechurning will prevent crystallization which gives your ice cream a silky smooth consistency exactly the same as before it was melted.
Vegan Chocolate Truffle Chip Ice Cream Substitutions
Coconut milk can be substituted for coconut cream. Maple syrup can be used in the place of corn syrup. Alternatively, leave out the additional sweetener completely for a darker flavor profile with bitterish undertones from the dark chocolate. Instead of dark chocolate slabs, dark or semi-sweet chocolate chips can be used in their place.
NadaMoo! Organic Chocolate Ice Cream is low in calories and has amazing texture and taste. Between the deep, rich chocolatey flavor and the healthy composition, you'll struggle to find a better ice cream to use as a base for this recipe. However, feel free to use other varieties of vegan or dairy-free chocolate ice cream if preferred. Jenni's, Breyers, Ben & Jerry's and Cado are great ones.
Vegan Chocolate Truffle Chip Ice Cream Variations
Instead of coating the truffles in melted chocolate alone, try dusting them with ground nut powder. Ground hazelnuts work well with the flavor of chocolate and dark chocolate, imbuing your ice cream with an unmistakably sweet nutty taste and subtle texture whenever you bite into a truffle. However, any variety of powdered nuts are tasty. From pistachios to almonds, cashews, chestnuts, and pecans, pulse them to powder in a blender, and each makes for a tasty truffle coating that'll imbue your ice cream with extra flavor.
How To Prevent Truffles From Melting
The best way to prevent your truffles from melting as you form them is to work quickly, wear catering cloves and ensure that your kitchen is cold. Dust your hands with cocoa powder and shape the truffles fast. You want to handle them as little as possible to prevent melting.
How To Temper Dipping Chocolate
If you have a candy thermometer and want to ensure that your dipping chocolate is properly tempered, check the temperature when melting the first three-quarters of the chocolate and remove the bowl from the heat when the temperature hits 118°F. Stir in the remaining quarter and continue stirring while monitoring the temperature.
When it reaches 84°F, return the chocolate to over the heat and stir until it heats to 90°F. Your chocolate is now tempered and ready for dipping immediately. Tempering prevents the cocoa fat from separating, which will give your truffle coating the light, crisp crunch that it needs to make biting into it in ice cream a pleasure. Otherwise, the chocolate coating can end up too hard while also running the risk of cracking as it sets.
What To Serve With Vegan Chocolate Truffle Chip Ice Cream?
As with all ice cream, our vegan chocolate truffle chip ice cream goes great with brownies. Give our Tahini Vegan brownies a try. Otherwise, serve aside a cake like homemade Haitian butter cake or aside our delectable Halloween Bundt cake. There's no need to wait for October when a cake tastes that good
---
Recent Recipes