Homemade Stir Fry Shanghai Rice Cake
I like to use grocery store apps to compose my shopping lists so I have something to go by and can stay within my budget once I get to the market. I was using Trader Joe's shopping list app last week and saw some interesting items that I hadn't noticed before. One of them was frozen rice cakes that piqued my curiosity.
I used to be able to find savory brown rice mochi cakes at Whole Foods, but they stopped carrying them. I would toast or pan-fry them until they puffed up and would eat those warm with a little maple syrup for breakfast. Yum. These TJ's rice cakes looked to be the next closest thing, but I wasn't sure.
Turns out, frozen rice cakes, also known as tteok, are steamed white rice that has been pounded into smooth and chewy discs or small cylinders that can be used as a starchy base for both savory and sweet dishes. The concept is similar to mochi (not to be confused with the sweet mochi frozen dessert) but it is used in the same manner you might use pasta.
I did in fact buy a bag of rice cakes to try out for a quick weeknight dinner. I have eaten them twice now. The first time they were definitely chewier than I liked. The second time, I twice cooked them for a better texture. I boiled them in water for 4 minutes, drained them, and then added them to a really saucy stir fry dish where they simmered in the liquid and thickened it up from the extra starch. This method worked really well.
The dish I made was pork stir fry with greens and a sweet and savory tamari-based sauce that was finished with a drizzle of toasted sesame oil. This is a dish that is my take on one that is on the menu of an international Asian restaurant chain known as Din Tai Fung. My version seems pretty close, but I did play around with many substitutions to meet the needs of different dietary preferences which I will offer at the end of the recipe.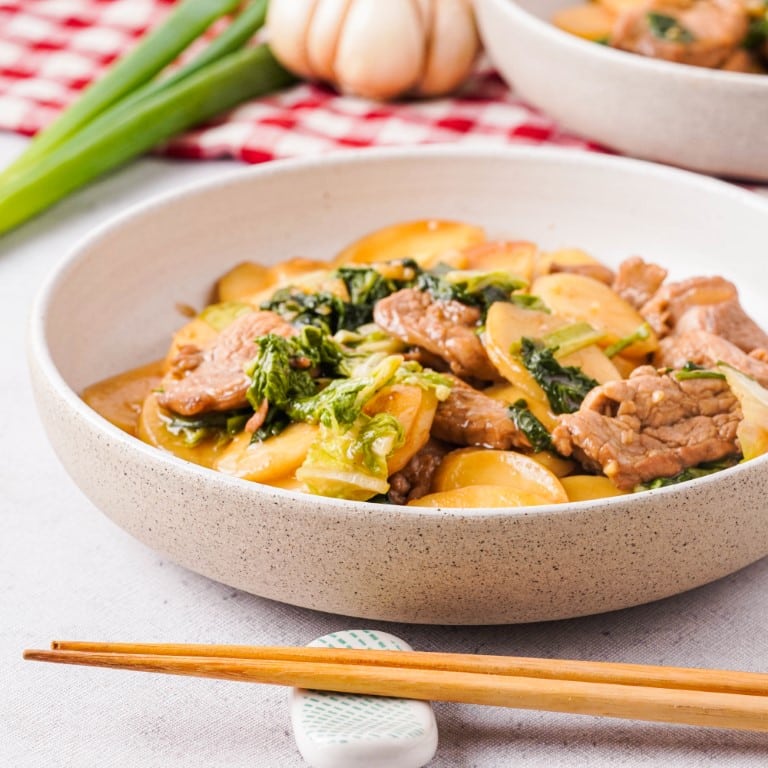 Ingredients
16

ounces

of dried or frozen rice cakes

3

cloves

of garlic

peeled and minced

¼

cup

tamari

gluten-free soy sauce

2

Tbsp

oyster sauce

¾

tsp

Chinese black vinegar

2

tsp

brown sugar

Chicken stock or water for thinning

3

Tbsp

avocado or sunflower oil

1

pound

pork tenderloin

sliced into thin strips

3

cups

napa cabbage

sliced thinly

3

cups

baby spinach leaves

3

scallions

sliced into 2-inch pieces

1

Tbsp

or more toasted sesame oil for finishing
Instructions
All ingredients ready? Let's begin!

Boil or soak your rice cakes according to the package directions to soften them. Drain the cakes and pull them apart if they become stuck together and set them aside.

In a small mixing bowl, whisk together the garlic, tamari, oyster sauce, vinegar, and brown sugar to combine well. Set the sauce aside so the sugar can dissolve.

In a wok or large skillet over high heat, warm the oil.

Once hot, add the pork strips and cook for 1 minute, tossing a few times.

Add the scallion and cook for another minute, tossing a couple of times.

Stir in the rice cakes and 4 tablespoons of the sauce. Cook for about 2 minutes until the cakes start to soften and the sauce reduces.

Add the cabbage, spinach, and the remaining sauce and stir fry until the greens have wilted, approximately 2 to 3 minutes. If the sauce is too thick, thin it with a spoonful (or more) of chicken stock or water. Test a rice cake to make sure it has softened but is still a little chewy.

Serve immediately while hot with the toasted sesame oil drizzled over the top.
Nutrition
Calories:
762
kcal
|
Carbohydrates:
102
g
|
Protein:
38
g
|
Fat:
22
g
|
Saturated Fat:
4
g
|
Polyunsaturated Fat:
5
g
|
Monounsaturated Fat:
12
g
|
Trans Fat:
0.04
g
|
Cholesterol:
76
mg
|
Sodium:
1255
mg
|
Potassium:
1171
mg
|
Fiber:
6
g
|
Sugar:
5
g
|
Vitamin A:
2385
IU
|
Vitamin C:
24
mg
|
Calcium:
105
mg
|
Iron:
4
mg
Notes & Tips
There is a little bit of a learning curve when working with rice cakes. The dehydrated ones really need to soak for at least 3 hours. The frozen ones, which I prefer, need to be boiled for about 5 minutes and then simmered in the sauce to further soften. These little ovals are supposed to be chewy, so don't overthink the texture.
Substitutions & Variations
Rice Cakes: The chewy and sticky texture of rice cakes can be off-putting for some. I actually didn't enjoy them the very first time I tried them. But I think that is because I didn't allow them to soften long enough. If you just don't care for them, this dish is excellent with rice vermicelli noodles or even just steamed white or brown rice.
Tamari: I use tamari in this dish because it is gluten-free. You can use liquid aminos or soy sauce. Aminos are gluten-free also. Soy sauce has wheat in it.
Oyster Sauce: Oyster sauce is, as the name implies, made with oysters. If shellfish doesn't agree with you, I recommend using coconut aminos. This is a fermented sauce made from coconut meat that is salty, sweet, and umami. It is also gluten-free. The last time I made this dish, I substituted fish sauce mixed with molasses, because that is what I had. It was a good alternative to oyster sauce.
Chinese Black Vinegar: Chinese black vinegar is made from fermented sticky black rice. I openly admit that I rarely have this ingredient in my pantry only because I can't seem to use it enough to justify keeping it around. I do always have both rice wine vinegar and balsamic vinegar in my fridge. Both will work in this recipe.
Pork Tenderloin: The first time I made this recipe, I used pre-cooked pork belly and it was excellent. You can use sliced chicken tenders, filet mignon, chicken thigh meat, or shrimp. If you are vegetarian, try extra firm tofu or shitake mushrooms.
Napa Cabbage: Savoy cabbage works just as well as napa cabbage as does baby bok choy. If using basic green cabbage, add it at the beginning of the cooking with the pork so it will soften.
Spinach: One of my favorite greens that my farmers market carries is tatsoi. It tastes a little like spinach with a bit more texture. It is nutritionally dense and has a deep green color that compliments the bright white of the rice cakes.
---
Recent Recipes