Easy Instant Pot Haitian Rice & Beans
This is another Haitian dish that has become a staple at our dinner table. It is a simple dish of rice and beans and an interesting blend of spices and seasoning that is filling and healthy. It is basically a delicious bowl of carbs and protein that keeps you loaded and ready to go.
I made this dish using the Instant Pot, because let's face it, the Instant Pot makes everything easier and faster. I made a few tweaks to make this more Instant Pot friendly and to cut the cooking time down even further. Traditionally, the dry beans will be soaked in water overnight. Then you have to cook it first in the Instant Pot or stove and then cook it all together again with the rice and seasoning. But because I am using canned beans and because I am using the Instant Pot, I made it a one-pot dish.
This recipe calls for rice and beans, and while I used canned beans, if you are using dry beans, it needs to be soaked overnight and it takes a longer time to cook. The Instant Pot more than halves the time.
I used basmati rice, red kidney beans, scotch bonnet peppers and a smattering of assorted seasoning. You can make this Easy Instant Pot Haitian Rice and Beans with pinto or black beans too and it tastes amazing. The soft rice, the tender beans, a little bit of heat from the spices, every mouthful is flavorful and filling. From prep to cook, this Easy Instant Pot Haitian Rice and Beans takes less than an hour to make its way to the table.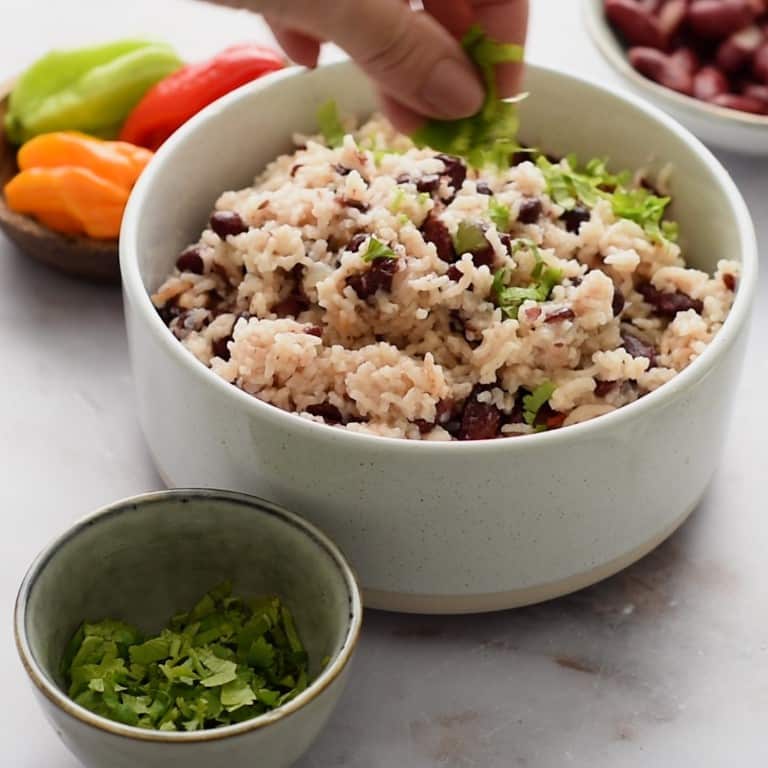 Ingredients
2

cups

basmati rice

1

can red kidney beans

drained and rinsed

1

scotch bonnet pepper

diced

1

bouillon cube

3

cloves

1

onion

chopped finely

2

cloves

of garlic

minced

1

cup

coconut milk

Water

Oil

Salt
Instructions
Wash the rice at least three times until the water runs clear and set aside.

Switch on the sauté mode on the Instant Pot and heat oil. Add the onions and garlic and sauté till they turn fragrant.

Add the kidney beans and scotch bonnet pepper and sauté for a few minutes.

Add 1 cup of coconut milk, 3 cups of water, the cloves and the bouillon cube and mix well.

Add salt and stir again.

Close the Instant Pot, make sure the vent is sealed and set it to pressure cook. Set the timer to 20 mins.
Nutrition
Calories:
566
kcal
|
Carbohydrates:
96
g
|
Protein:
14
g
|
Fat:
14
g
|
Saturated Fat:
11
g
|
Polyunsaturated Fat:
1
g
|
Monounsaturated Fat:
1
g
|
Trans Fat:
0.01
g
|
Cholesterol:
0.04
mg
|
Sodium:
544
mg
|
Potassium:
585
mg
|
Fiber:
8
g
|
Sugar:
4
g
|
Vitamin A:
25
IU
|
Vitamin C:
8
mg
|
Calcium:
80
mg
|
Iron:
4
mg
Tips & Tricks
You have to wash the rice very well, otherwise the rice comes out squishy and sticky and makes the whole dish mushy
You can use Epis if you have, to give this Easy Instant Pot Haitian Rice and Beans some extra Haitian flavoring
You can use ground cloves
Storage:
The Easy Instant Pot Haitian Rice and Beans can be stored in the fridge for up to 2-3 days. It will continue to taste amazing, but after a long time in the fridge, it will start drying out. Let it sit out before reheating. You can add a little bit of water or butter to keep it from getting too dry. You can also freeze the Easy Instant Pot Haitian Rice and Beans. Keep it in an airtight container and keep in the freezer for about 3 months. Let it thaw in the fridge overnight before consuming.
FAQs
What is scotch bonnet pepper?
A scotch bonnet is a type of chili pepper found in the Caribbean and West Africa. It is quite spicy, and it is necessary to remove the seeds before using in cooking if you don't want it too hot. It is most similar to the habanero. If you don't have scotch bonnet peppers available or you find them too spicy, you can always replace them with habaneros or jalapenos. In a pinch you can use Tabasco sauce instead.
How do I make the Haitian Rice and Beans with dry beans?
So, if you are using dry beans, whatever beans they may be, soak 1 cup of beans overnight. To cook them, drain and wash them. Add the beans and 4 cups of water. Cook in the Instant Pot in pressure cooker mode for about 20 mins. Quick release the pressure once it is done. Drain the beans and reserve the water. Now sauté the onions and garlic in the Instant Pot. Add the scotch bonnet peppers and sauté. Add the beans and rice. Add 3 cups of reserved beans waters, 1 cup coconut milk, cloves and bouillon cube. Add salt. Stir well. Close the Instant Pot and cook it in the Rice setting for about 10-12 minutes. Again, quick release the pressure, fluff with a fork and enjoy.
Substitutions
Beans: I have use red kidney beans, but you can use pinto beans, black beans, black-eyed peas or any other bean or lentil of your choice. If you are using dry beans you have to soak them overnight.
Rice: Use basmati or any long-grain rice
Cloves: They are essential to this recipe; you can use ground cloves if you want
Scotch bonnet peppers: You can use habanero peppers or jalapenos.
Bouillon cube: you can use bouillon powder or miso paste.
Coconut milk: This adds a little creaminess and sweetness to the Easy Instant Pot Haitian Rice and Beans. You can always just use water.
Epis: If you have this authentic Haitian seasoning, add a couple of spoons of it.
Accompaniments
The Easy Instant Pot Haitian Rice and Beans is a rich and hearty main course. It is extremely filling because it is packed with carbs and protein. A nice side for this would be a nice vegetable or meat gravy. You can also just add a couple of sliced avocadoes to it, it makes it delicious.
For more delicious Caribbean flavors, try the delicious Haitian Mac and Cheese and the Caribbean Pork Tenderloin with Rice and Beans.
---
Recent Recipes