The Everyday Sunday Chocolate Cake
Chocolate cake is the best food in the world. I'll fight anyone over this. It's what we have for celebration, for comfort, to fight the blues, perfect with coffee on a rainy evening or after a meal on a summer afternoon. It's as decadent as it is soulful. And good old-fashioned chocolate cake is a must have, must make, must bake and must inhale in our household. Admittedly there are a gazillion chocolate cake recipes out there, of every kind, every variation, with all kinds of substitutions and allergy-friendly options, with fancy ganache, frosting, icing, toppings and fillings. And don't get me wrong, they all sound amazing but nothing tops a simple, chocolate cake with old-fashioned boiled icing on top.
This recipe calls for whole milk, butter, sugar and all the other good stuff. Of course, it can be made without dairy, substituted with oil and almond milk, made "lite" or gluten-free or vegan; but this cake is a simple, luscious treat, dripping with ooey, gooey goodness and chocolate. The Everyday Sunday Chocolate Cake is so simple and uses ingredients you most likely have in your pantry that it can be made and enjoyed every day. You can even make it in small batches, or into cupcakes. There are no layers, fuss or frills. What makes the cake simple and nostalgic is the way the icing is made and added, it uses a simple boiling technique to mix the icing together and then poured over hot cake. This a cake from childhood, when we used to have homemade cakes for birthdays and dessert, often topped with vanilla ice cream. There are no layers or extra steps to follow, it is pretty straight forward- bake, pour, slice and enjoy.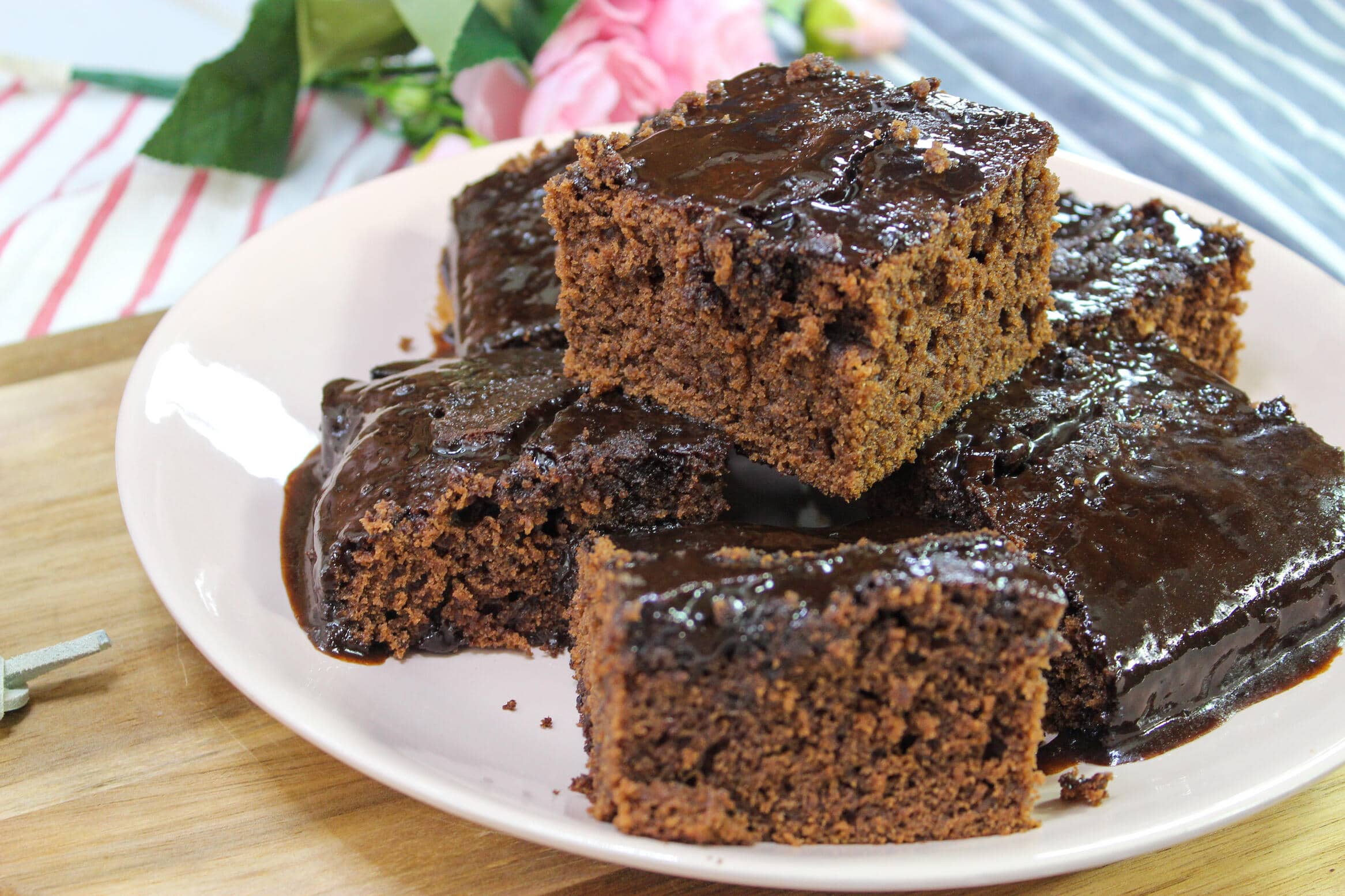 Ingredients
Cake:
2

cups

all-purpose flour

2

cups

sugar

2

eggs

room temperature

1

cup

butter

1 ½

cups

of whole milk

3

heaped tablespoons of cocoa powder

1

tablespoon

white vinegar

1

teaspoon

baking soda

½

teaspoon

of salt

2

teaspoons

vanilla essence or extract
Icing:
½

cup

butter

3

tablespoons

of cocoa powder

¼

cup

milk

1

cup

sugar

1

teaspoon

vanilla essence
Instructions
Cake:
Preheat oven to 400 degrees. Spray a baking pan and set aside

In a large bowl mix these dry ingredients together: sugar, flour, salt and baking soda and set aside.

In another bowl mix together the milk, eggs, vanilla essence and vinegar. Whisk together.

In a saucepan mix the butter and cocoa powder until fully melted and combined. Now add this to the flour mixture and mix well.

Now add the milk, eggs, vanilla and vinegar to this and mix till well combined.

Pour into the pan and bake for 30 minutes or until a toothpick inserted in the middle comes out clean.
Icing:
Start making the icing right before the cake is done baking.

In a saucepan mix together the butter, cocoa powder and milk. Mix and let boil. Reduce the heat, add the sugar and vanilla. Mix well and take off heat.

Pour over the hot cake.

Let it cool before slicing and enjoy!
Video
Nutrition
Calories:
648
kcal
|
Carbohydrates:
140
g
|
Protein:
11
g
|
Fat:
6
g
|
Saturated Fat:
3
g
|
Polyunsaturated Fat:
1
g
|
Monounsaturated Fat:
2
g
|
Trans Fat:
1
g
|
Cholesterol:
68
mg
|
Sodium:
493
mg
|
Potassium:
281
mg
|
Fiber:
2
g
|
Sugar:
107
g
|
Vitamin A:
293
IU
|
Calcium:
168
mg
|
Iron:
3
mg
Tips & Tricks
Ensure the flour and baking soda are not old, the cake gets heavy if you use old ingredients.
Use unsweetened cocoa powder
You can use salted or unsalted butter
The reason we pour the icing on the hot cake is so that some of the icing melts into the cake and settles well. You can pour it after it is cooled, but then it just stays on top, like regular icing. It tastes just as delicious, though.
Storage:
The cake can easily last in the fridge for up to a week. To freeze the cake, place cooled cake in the freezer for couple of hours till the icing hardens. Then cover in two layers of plastic wrap and put it back in the freezer. To thaw, unwrap the plastic and let it stay out for a couple of hours.
Questions
Why is there white vinegar in a cake recipe?
The vinegar helps the cake rise and remain soft. It reacts well with the baking soda to make the cake airy and fluffy. Vinegar was first used in baking during the Great Depression when most ingredients were in short supply. Vinegar can also be used in place of buttermilk in many recipes. You can use white, distilled or even apple cider vinegar.
Can I use sweetened cocoa powder or chocolate chips instead of unsweetened cocoa powder?
Unsweetened cocoa powder is ideal because you can control the amount of sugar that goes into it. The cocoa to sugar ratio is not equal in most recipes so you most often than not will end up with a very sweet cake or icing. But it will work in a pinch. Chocolate chips on the other hand is a whole other beast. It cannot be a substitute for cocoa powder, as it contains, sugar and fat as well, so if you are using chocolate chips you have to adjust the amount of sugar and butter correspondingly.
Substitutions
Cake is cake is cake, no matter what shape it takes, cake comes down to taste. There are a number of substitutions you can make, which will not alter the taste significantly but can make the cake denser or less fluffy.
Butter: This is the most commonly substituted ingredient. So, yes you can replace butter with margarine or any other shortening. You can also add nut butters, but they do come with their own flavors, so be aware of that. You can also use vegetable oil; the cake tastes the same but definitely much denser.
Baking soda: If you don't have baking soda, you can use just the vinegar, but this recipe works best with both.
Cocoa powder: Unsweetened cocoa powder works best for this cake. And baking chocolate chips is not an adequate substitution, as the chocolate chips also contains butter and sugar so your measurements will be off, and the consistency will also change.
I have not tried a completely vegan or gluten-free variation of this cake so I can't recommend appropriate substitutions.
Toppings: You can add nuts like walnuts or pecans or even shaved coconut on top of the icing.
Accompaniments
The Everyday Sunday Chocolate Cake works well for any meal of the day as dessert or a side. It can be a dessert after a family meal, but it also works perfectly with an afternoon coffee or tea with some finger sandwiches.
---
Recent Recipes