Torrejas is like French toast without being French. It originated in Spain but grew popular throughout Latin America as well, with different variations in different countries. I first experienced this dish in Honduras. The hotel I was at had an amazing breakfast buffet and every other day I would load up my plate with torrejas and fried plantains. They also had some of the best coffee I've ever had and I think about those breakfasts often, they were delicious!
There are two main ways to make torrejas that I have found and I will include how to do both. The first way is more Spanish influenced and closer to what I ate in Honduras, while the second method is more Salvadorian themed and syrupy.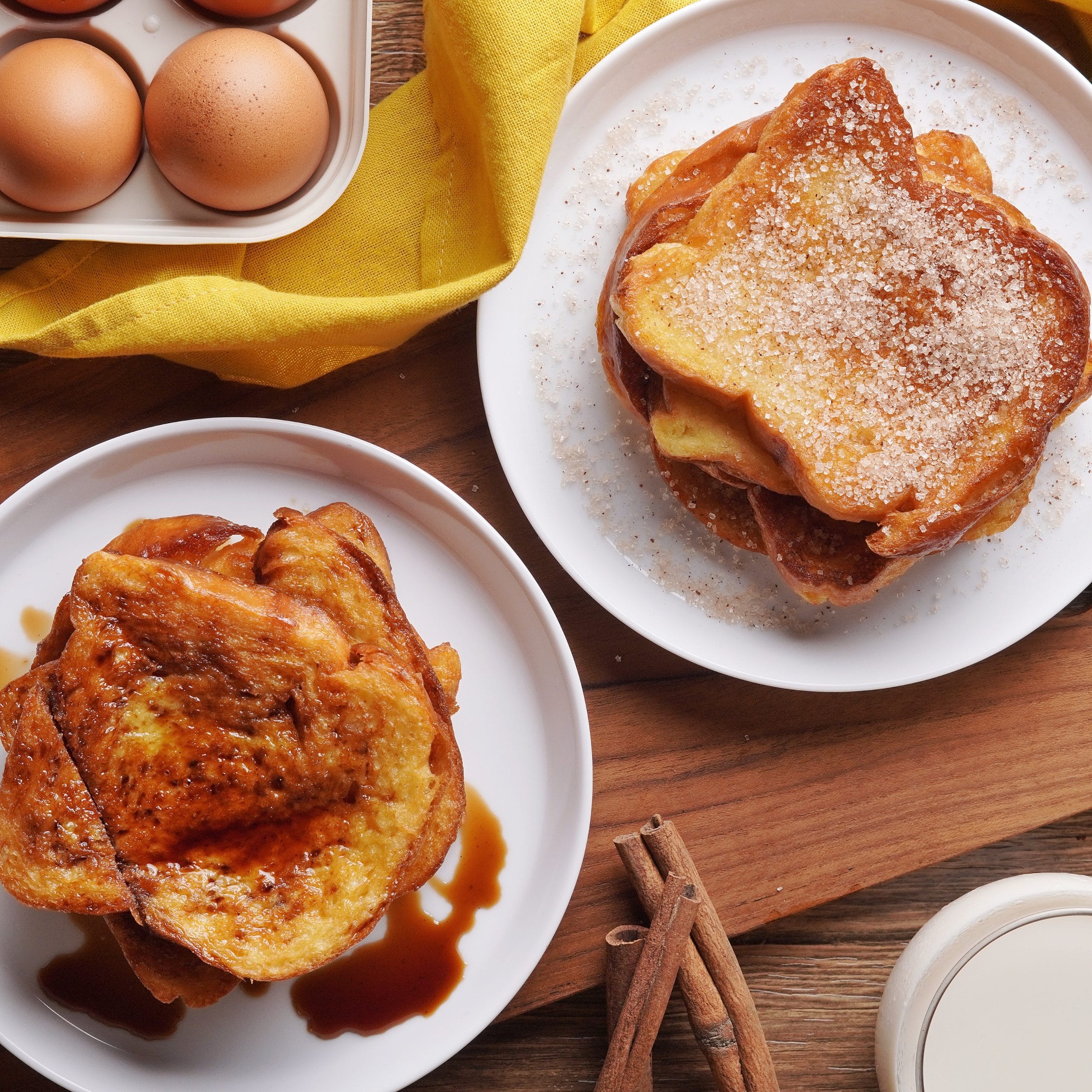 Ingredients
1

loaf stale brioche bread

3

eggs

1

tsp

vanilla extract

1 ½

cup

milk

½

tsp

cinnamon

Vegetable oil
For Topping:
¼

cup

granulated sugar

1

tsp

cinnamon
For Syrup:
4

cups

water

½

tsp

cinnamon

5

black peppercorns

¼

tsp

ginger

¼

tsp

nutmeg

2

cups

brown sugar
Instructions
Slice the bread into thick slices. If your bread isn't stale, you can always slice it and toast it until it is drier for the same effect.

In a large bowl or a baking dish with a high lip add the eggs, vanilla, milk, and ½ tsp of cinnamon. Whisk together until completely mixed.

In a large skillet over medium heat add enough oil to coat the bottom of the pan.

While waiting for the oil to heat, place the bread in the egg mixture. Make sure to turn each piece so they can soak evenly.

Once the oil is hot, place the soaked bread slices into the pan, leaving just enough room to flip them.

Cook each side of the bread for about 3-5 minutes or until each side is crisp and golden.

Repeat for any remaining bread and add a little more oil to the pan if needed. Place finished bread on a cooling rack or paper towels to absorb extra oil.

To make a dry topping, in a small bowl mix the sugar and cinnamon.

Sprinkle the cinnamon sugar across the fried bread.

To make the syrup topping, use a small sauce pan and add in the water, cinnamon, peppercorn, ginger, nutmeg, and sugar. Stir.

Put the pan over medium heat and bring to a boil before turning the heat to low.

Let the mixture simmer for about 10 minutes or until all the sugar has dissolved and the mixture becomes thicker. Make sure to keep a close eye on it though, as it can easily burn.

Remove from heat and let it cool a bit before pouring over the toast. The syrup will get thicker as it cools.

Spoon or pour the syrup over the toast and serve warm.
Video
Nutrition
Calories:
297
kcal
|
Carbohydrates:
65
g
|
Protein:
4
g
|
Fat:
3
g
|
Saturated Fat:
1
g
|
Polyunsaturated Fat:
1
g
|
Monounsaturated Fat:
1
g
|
Trans Fat:
1
g
|
Cholesterol:
67
mg
|
Sodium:
79
mg
|
Potassium:
174
mg
|
Fiber:
1
g
|
Sugar:
62
g
|
Vitamin A:
165
IU
|
Vitamin C:
1
mg
|
Calcium:
125
mg
|
Iron:
1
mg
Notes & Tips
The toast can be kept in an airtight container in the fridge for four days or so. Store the syrup separately, also in the fridge. To reheat, I recommend toasting the bread again in the oven to bring back the crispiness while warming up the syrup in the microwave.
Substitutions
This recipe is really easy, so you can easily adjust ingredients according to your taste. If you really like cinnamon, add more! If you don't like a strong cinnamon taste, add less.
When making the syrup, feel free to leave out the peppercorns if you want. Or use a pinch of ground pepper if you still want the kick.
If you can't find brioche, challah, or a similar eggy bread, try using a baguette instead. Of course, this can be used with regular leftover bread (which is what I usually do) but keep in mind it won't be quite as tasty or authentic.
There is another version of torrejas that uses alcohol instead of milk. If you want to try it that way, use red wine or a liquor like brandy. The flavor will come similar to mulled wine. However, keep in mind that the time required to cook torrejas will not be enough to burn off all the alcohol content, so you probably should save this version for brunch with friends instead of breakfast with children.
What is the Difference between Torrejas & Torrijas?
As far as I can tell, there is no difference. I typed both into a Spanish-to-English translator and only torrijas translated to French toast but I think both words refer to the same thing.
History of Torrejas
Torrejas has been a traditional Holy Week food for centuries. Holy Week is the week leading up to Easter Sunday. Torrejas is also popular on Christmas in Spain. Some cultures serve torrejas with different toppings such as cream, dried fruit, or a different kind of syrup. It is also commonly served with red wine, which has a surprising amount of health benefits.
While I can't endorse booze for breakfast, I will say that mulled wine does taste excellent alongside torrejas.
Other Serving Suggestions
Torrejas is sometimes served cold instead of hot, so you could always try it that way too. While you're probably used to this type of dish being an indulgent breakfast food, it is also served as an after-dinner dessert.
If you're looking for a healthier breakfast side, these prosciutto egg cups are a great compliment.
It is not particularly traditional, but I like adding fresh fruit to my torrejas as I would with French toast. Blueberries and sliced strawberries are a personal favorite for me. As I mentioned at the beginning, I originally enjoyed this dish with fried plantains which are super easy to make.
To make a side of plantains, thickly slice a ripe plantain and add it to the pan over medium heat once you've made the toast. Fry each side until golden brown then remove from heat and sprinkle with cinnamon sugar. Or, sprinkle the cinnamon sugar while the plantains are still over heat and let the sugar melt into a nice caramel glaze.
However you enjoy these traditional torrejas it is sure to be delicious!
---
Recent Recipes