Hopia is a delicious Filipino dessert that is believed to have Chinese origins. It can be described as a stuffed pancake or filled biscuit. You'll understand once you try one. Regardless, they are absolutely delicious and make great snacks for picnics or packed lunches because they are easy and mess-free to transport.
Because this treat has a filling, there are a few different versions you can make. The traditional filling is mung bean paste (also called munggo), but it is also popular to make an ube filling. I absolutely love ube and its amazing vibrant purple color, so of course that's my go to filling, however, this recipe will teach you how to do both. If you end up with leftover ube, you can use it for an easy ube smoothie!
If you choose to make the munggo filling, please note that the red beans will need to soak overnight, so plan accordingly.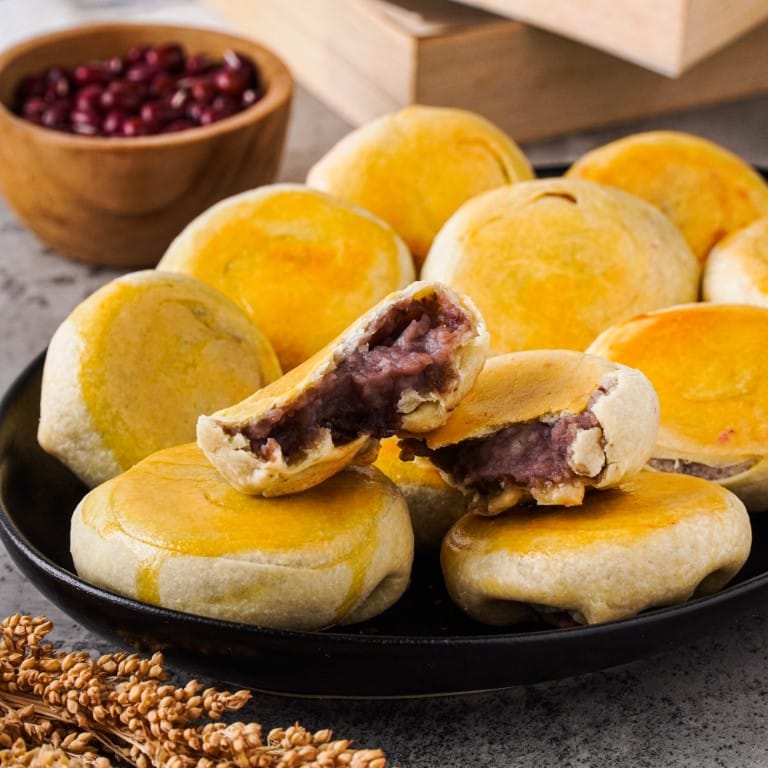 Ingredients
For munggo filling:
1

cup

red mung beans

¼

cup

sweetened condensed milk

¾

cup

sugar

¼

cup

flour
For ube filling:
¾

cup

butter

1

lb

bag frozen ube

1

can coconut milk

1

can sweetened condensed milk

1

can evaporated milk

½

cup

white sugar
For dough:
1 ½

cups

flour

1

tablespoon

sugar

½

cup

butter

1/8

teaspoon

salt

1

egg
Instructions
All ingredients ready? Let's begin!

Set the butter out to reach room temperature.
To make the munggo:
Place the beans in a large bowl and cover with several inches of cold water. Cover and leave to soak overnight.

The next day, drain the old water and transfer the beans to a pot. Fill the pot with water to rest a few inches above the beans.

Bring the water to a boil over high heat. Reduce heat to medium and continue cooking until the water evaporates to rest slightly above the beans (about 30 minutes or more).

Put the sugar into the pot and stir. Continue cooking until it becomes thick and most if not all of the liquid has been absorbed by the beans, up to an hour.

Transfer the contents of the pot to a high-powered blender or food processor and pulse to mix until you have a smooth puree.

Use a spatula to move the paste back into the pot and put over medium low heat.

Add the sweetened condensed milk and the flour. Stir with a spatula or wooden spoon for 30 minutes or until the puree thickens into a heavy paste.

Remove from heat and allow to cool completely. You can put it in the fridge to speed up this process.
To make the ube filling:
Heat a large skillet over medium heat and add the butter.

Once the butter has melted, add the ube and coconut milk.

Turn the heat up to high until it begins to boil then reduce back to medium.

Stir every few minutes for 15 minutes or until the ube is soft enough to pierce through easily with a fork.

Transfer the contents of the skillet to a high-powered blender or food processor and pulse until thick and smooth.

Transfer the puree back to the skillet and place over medium-low heat. Add the sweetened condensed milk, evaporated milk, and sugar.

Stir to combine and allow the puree to simmer for 30 minutes, stirring occasionally. The puree should become very thick and stodgy.

Remove from heat and allow to cool completely. You can speed up the process in the fridge if you want.
For the pastry:
Preheat oven to 350F and line a large baking tray with parchment paper.

In a large bowl, add ¼ cup of hot water and 1 tablespoon of sugar. Mix to dissolve the sugar. Add 1 cup of flour and the salt. Cut ¼ cup of butter into the bowl too.

Mix using your hands until the butter is well distributed and the dough forms a ball. If it is too dry, you can add a little bit of water. Roll into a ball and then cover with a clean towel.

In a separate bowl, add the remaining flour and cut in the remaining butter. Mix with your hands until it forms a dough.

Lightly flour a clean surface and roll out the bigger dough to a half inch thickness in a rectangle shape.

Separately, roll out the second dough to a rectangle 2/3rds the size of the first. Place it on one side of the larger dough.

Fold the opposite end of the first dough 1/3rd of the way over, then fold the other edge over similarly (like a letter).

Turn the dough so the long end is facing you and roll it back out. Fold into thirds again. Allow the dough to rest for 10 minutes.

Roll the dough into a triangle again then cut it in half long ways.

Roll up each half long ways like a hotdog. Cut each dough roll into 12 even chunks. Cover them while you work to prevent them dying out.

Flatten a dough piece into a thin circle.

Add a tablespoon of your chosen (cooled) filling into the center. Fold all the edges of the dough over to meet in the middle then pinch closed.

Place the dough ball in a biscuit cutter and press down to get the dough to seal and shape.

Place the circle onto the baking tray, pinched side up, and repeat with remaining dough.

Bake for 15-20 minutes. They should turn golden on top.

While the hopia is baking, crack an egg into a bowl with a little bit of water and beat with a fork.

Remove the hopia from the oven and turn over. Brush the top with the egg wash and return to the oven for another 10 minutes until lightly browned.

Remove from oven and cool before serving.
Nutrition
Calories:
264
kcal
|
Carbohydrates:
41
g
|
Protein:
6
g
|
Fat:
9
g
|
Saturated Fat:
7
g
|
Polyunsaturated Fat:
0.3
g
|
Monounsaturated Fat:
1
g
|
Trans Fat:
0.001
g
|
Cholesterol:
15
mg
|
Sodium:
60
mg
|
Potassium:
434
mg
|
Fiber:
2
g
|
Sugar:
23
g
|
Vitamin A:
119
IU
|
Vitamin C:
4
mg
|
Calcium:
93
mg
|
Iron:
2
mg
Notes & Tips
Hopia can be stored in the fridge in an airtight container for up to a week. They do not need to be reheated.
Substitutions
Because the ube filling is essentially just a jam, you can buy ube spread at a store and use that instead of making your own. It is quite easy to find at most Asian food shops, even if you can't find it at your local grocery store.
You can also find sweetened red bean paste at a lot of Asian stores, too. Both ube jam and red bean paste should be available online as well, even on amazon.
---
Recent Recipes