Best Chitarra Pasta with Lamb Ragu
Chitarra pasta is square-sided spaghetti that is made using an implement that resembles the strings of a guitar, hence the name chitarra (guitar).
The tool is a rectangular framed wooden box with many thin wires stretched across the top edges. The pasta is made with semolina flour and eggs and is cut into 4 portions and rolled out into sheets. The sheets of dough are placed over the strings of the chitarra and a rolling pin is used to push the dough over the strings. This forces the pasta through the wires, cutting it into square spaghetti-like noodles.
Not many of us have access to a chitarra box to cut the pasta. The spaghetti attachment on your pasta machine or roller is a perfectly acceptable substitution. We made them by hand and they turned out a little wider than the traditional type.
Saffron is a prized spice that is harvested from the crocus flowers that are grown in the Abruzzo region of Italy. This very expensive ingredient is sometimes added to the eggs before making the chitarra pasta. I happen to love saffron. Though it is strong in flavor and only a pinch is needed if you choose to use it in the recipe. It is an optional ingredient.
Chitarra is often accompanied by a sturdy and flavor-forward sauce, such as a ragu with lamb, veal, or pork. The Abruzzo region is mountainous and chitarra with lamb ragu seems a fitting and hearty dish. Plenty of pecorino cheese is used to top the dish off. This recipe goes perfectly with a glass of Montepulciano red wine from grapes grown in the same area.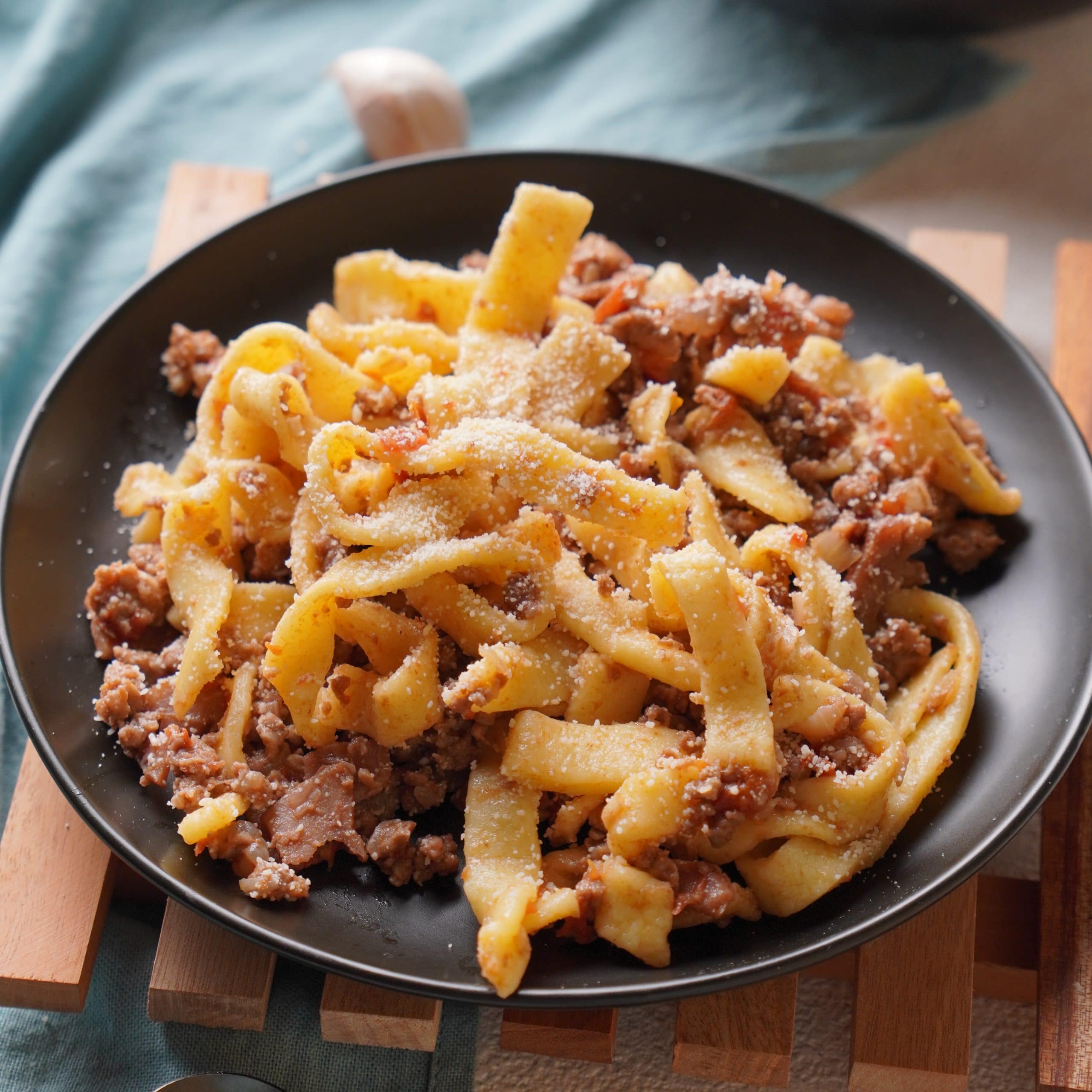 Ingredients
3

cups

semolina flour

plus more for kneading and dusting

4

whole eggs

¼

tsp

sea salt

1 ½

Tbsp

kosher salt

1

Tbsp

water

Pinch

of saffron threads

optional

2

Tbsp

extra virgin olive oil

1

medium onion

finely chopped

2

ounces

diced pancetta

or guanciale

1

clove

garlic

minced

1

pound

ground lamb

½

cup

dry red wine

15

ounce

can diced tomatoes with liquid

1

cup

chicken stock

1-2

pinches

sea salt to taste

Grated pecorino cheese for serving
Instructions
All ingredients ready? Let's begin!

Place the flour in a mound on a clean work surface. Make a well in the center of the flour. Crack the eggs into the well. Add the salt, water, and saffron (if using). Using a fork, whisk the eggs together. While still whisking, slowly incorporate the surrounding flour until the mixture becomes wet and starts to come together into a ball.

Using your hands, keep bringing the flour and wet ingredients together until you can knead the dough with the heels of your hands. Knead for at least 5 minutes until the dough is no longer sticky and it starts to bounce back. You can dust with more flour if needed.

Wrap the dough in plastic film and allow it to rest for at least 30 minutes while you make the ragu.

In a large skillet over low heat, warm the olive oil. Sauté the onion, pancetta, and garlic until the onion is translucent, approximately 5 minutes or more.

Add the lamb to the skillet and cook until it is browned, breaking it up with a wooden spoon.

Turn the heat up to medium and add the wine. Allow it to simmer to reduce slightly. Stir in the tomatoes with juice and the chicken stock.

Turn the heat back down and allow the sauce to simmer, covered, for approximately 35 minutes while you cut and cook the pasta. Check the ragu periodically and add a little water if needed. Season to taste with salt.

Cut the ball of pasta dough into 4 equal portions. Roll out the pasta into thin sheets with a rolling pin or pasta rolling machine to about ⅛-inch thickness. Let the pasta sheets rest for a few minutes to dry out a little before cutting.

Lightly dust the chitarra strings with flour. Place a sheet of pasta on top of the strings of the chitarra and roll with a rolling pin to cut into the noodles. Dust the cut noodles with flour and remove them from the box of the chitarra, shaking off any excess flour.

Transfer to a floured sheet pan while you continue to cut the rest of the sheets of pasta. Alternatively, use your pasta machine or attachment to roll the sheets into spaghetti or linguini.

Bring a large pot of water to a boil over high heat. Season the water with 1 ½ tablespoons of kosher salt.

Cook the pasta for about 3 minutes until al dente.

Remove ⅓ cup of pasta water and add it to the ragu. Drain the pasta and toss it into the ragu to coat evenly.

Serve immediately with plenty of pecorino cheese on top.
Video
Nutrition
Calories:
689
kcal
|
Carbohydrates:
68
g
|
Protein:
30
g
|
Fat:
30
g
|
Saturated Fat:
11
g
|
Polyunsaturated Fat:
4
g
|
Monounsaturated Fat:
14
g
|
Trans Fat:
1
g
|
Cholesterol:
172
mg
|
Sodium:
2215
mg
|
Potassium:
588
mg
|
Fiber:
4
g
|
Sugar:
3
g
|
Vitamin A:
246
IU
|
Vitamin C:
8
mg
|
Calcium:
73
mg
|
Iron:
6
mg
Shop Ingredients
Notes & Tips
As mentioned in the recipe, you can make your pasta using a pasta machine or the pasta attachments for your stand mixer if you don't have access to a chitarra. You can also roll out the dough and slice it into noodles by hand with a sharp knife.
Don't skip adding a bit of the pasta water to your ragu. The starch in this water will help the sauce to adhere to the noodles. The salinity of the water will season your ragu.
Substitutions & Shortcuts
While semolina flour is traditional in this pasta, you can make it with all-purpose flour. You don't actually have to make your pasta from scratch. There are plenty of high-quality dried pastas that would work with this dish. Though, fresh pasta is silky and always worth making in my book. You can definitely make the pasta dough a day ahead and allow it to rest in the fridge overnight.
When it comes to the ragu, the lamb can be small cubes rather than ground. If you can't find lamb, beef can be used in a pinch. Pancetta and guanciale are generally available. Otherwise, use smoky bacon. The wine can be white instead of red if desired.
This dish can be vegetarian and gluten-free if appealing to those with special dietary needs. Just leave the lamb out of the dish and add another can of tomatoes or diced bell peppers for vegetarian. There are some excellent gluten-free pastas available. I strongly recommend the ones that are made with brown rice flour and water because they hold their shape and cook to a nice al dente.
---
Get Foodie Deals
We collect great foodie-focused deals from across the web daily. Get yourself or your favorite foodie a great deal at big name stores.
Recent Recipes