Simple Suppli al Telefono
Suppli al telefono is a rustic street food popular in Rome. It is basically deep-fried stuffed rice balls with mozzarella. When you pull the fried rice balls apart it is held together by a string of gooey mozzarella resembling a telephone cord, hence the name. You can make suppli with different kinds of meats, with mushrooms or even tomatoes. But I have made a basic Simple Suppli al Telefono with the most essential ingredients making it both simple and delicious.
I have used arborio rice and fresh mozzarella with no extra fillings and stuck to a simple antipasto.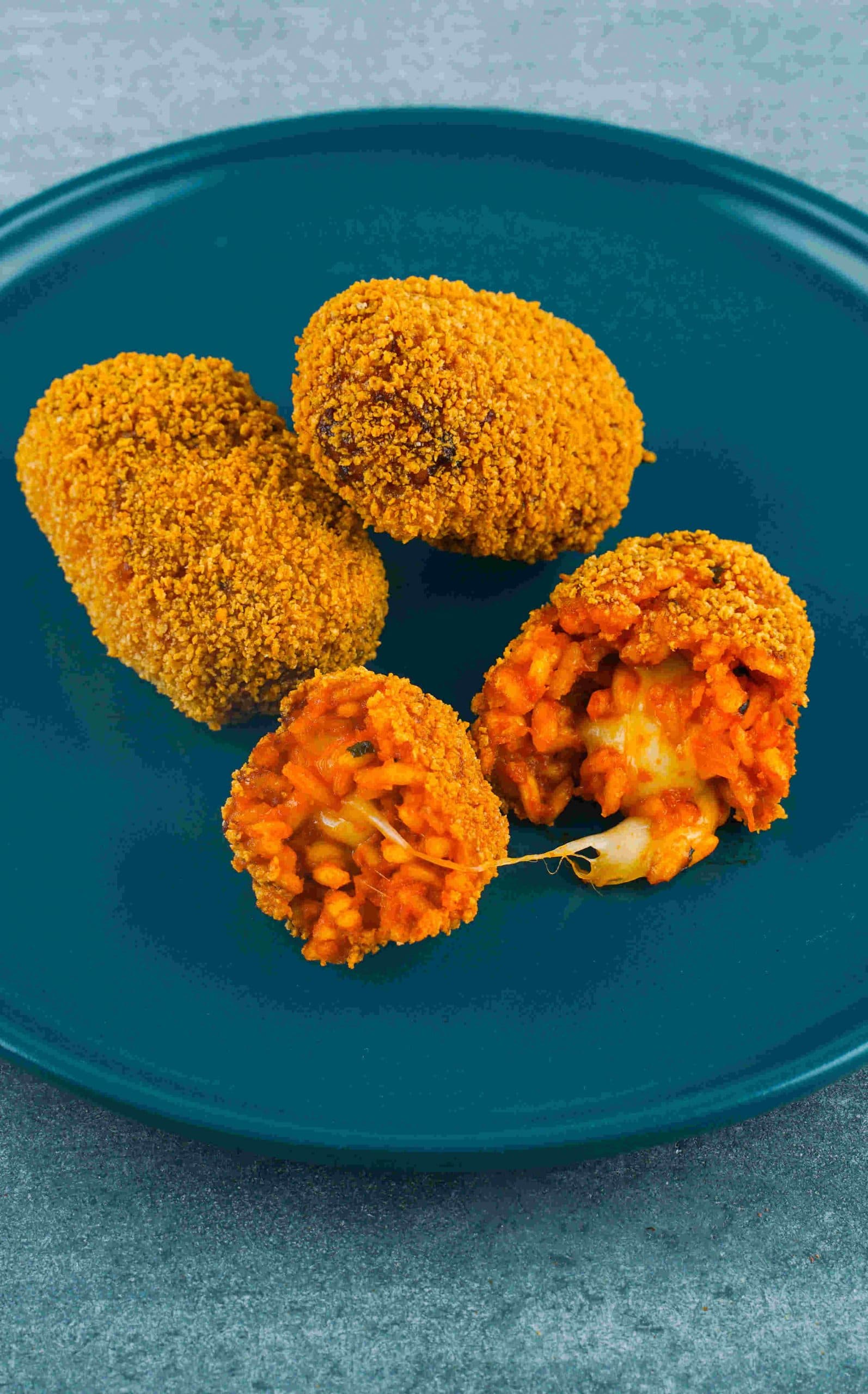 Ingredients
1

cup

arborio rice

2

cups

of vegetable stock

1

cup

of fresh mozzarella cut into small cubes

2

cups

of tomato sauce

1

small onion

finely chopped,

2

cloves

garlic

minced

1

tablespoon

of parmesan

2

teaspoons

of chopped basil

2

tablespoons

of olive oil

1

tablespoon

of butter

2

eggs

Breadcrumbs

Vegetable oil for deep frying

Salt and pepper
Instructions
Heat olive oil in a large pan

Add the onions and garlic and sauté for a couple of minutes.

Add the tomato paste and let it simmer for about 15 minutes on low heat. Season well with salt and pepper.

Now add in the arborio rice and keep stirring till it is well coated in the tomato paste.

Add the vegetable stock, ladle by ladle till all the stock is absorbed by the rice. Wait till the stock is absorbed before adding more stock. The rice should be almost cooked, it should have an al dente texture to it. And the stock should have been completely absorbed.

Take the rice off the heat. Stir in the butter, parmesan, and basil and give it a quick mix.

Allow the mixture to cool down completely

Once it has cooled completely take a handful of rice and flatten it out into an oval shape. Place a piece of mozzarella in the middle and then cover it with the rice. It is basically an oval rice ball with mozzarella filling.

In the meantime, whisk the eggs and keep it in a bowl. Place the breadcrumbs in another bowl.

Take a rice ball, dip it in the egg and then roll it on the breadcrumbs till the ball is completely coated. Repeat for each ball.

Heat the vegetable oil in a deep pan

Fry the rice ball in oil, should take about 5-6 minutes, and then place on paper towels so that the excess oil gets absorbed.

Repeat for each rice ball

Serve immediately
Video
Nutrition
Calories:
431
kcal
|
Carbohydrates:
51
g
|
Protein:
15
g
|
Fat:
19
g
|
Saturated Fat:
7
g
|
Polyunsaturated Fat:
2
g
|
Monounsaturated Fat:
9
g
|
Trans Fat:
1
g
|
Cholesterol:
112
mg
|
Sodium:
1365
mg
|
Potassium:
529
mg
|
Fiber:
4
g
|
Sugar:
7
g
|
Vitamin A:
1189
IU
|
Vitamin C:
10
mg
|
Calcium:
194
mg
|
Iron:
4
mg
Tips & Tricks
Don't overcook the rice
You have to ensure that the stock is absorbed before you add more, else the rice will get squishy, and it won't hold as well when you fry it. It should not be watery.
Make sure the rice has completely cooled down before you start shaping them into balls
You can use some flour for the batter before frying the suppli. Roll the rice balls in the flour first, then the eggs and breadcrumbs to get an extra crisp Suppli al telefono.
This is a simple dish, so you don't need any fancy garnishes
Storage
This Simple Suppli al Telefono tastes best when eaten hot and fresh but they can be stored in the fridge for 2-3 days. But because they have been deep-fried, I wouldn't recommend refrigerating them for longer.
You can freeze it though. Place any of the leftovers in an airtight container and freeze for up to two months. Heat in microwave or oven.
FAQs
Is This Arancini?
The Roman suppli is very similar to its Sicilian counterpart the arancini. The arancini are more circular in shape, while the suppli is oval. The arancini are often made with meat fillings along with mozzarella, while authentic suppli has just mozzarella in it. While tastes are very similar, they are quite distinctive.
Can The Suppli al Telefono Be Baked?
The fried Simple Suppli al Telefono uses a bit of oil and so, you can bake it for a healthier alternative. Preheat the oven to 350 degrees. Follow the recipe till Step 10. Then place the breaded suppli in a lined baking tray. Spritz a little olive oil on top and place in the oven. Bake for 20-30 minutes. Serve immediately.
Substitutions
Arborio: Arborio rice uses a lot more water than regular rice, so you want to take that into account before substituting the arborio. Arborio is super fine rice used specifically for dishes like risotto and suppli. You can try using any other small rice but getting the consistency that you get with arborio is important.
Olive Oil: Butter is a great alternative. You can use salted or unsalted.
Mozzarella: You can substitute the mozzarella with anything else. You can add other fillings along with it, but the mozzarella is irreplaceable.
Fillings: You can add parmesan to it. Or ground beef, chicken, peas, mushrooms, or heirloom tomatoes.
The Batter: Besides the egg and breadcrumbs, you can also use some flour. It gives an extra binding to the suppli, making it crispier. Roll the rice balls first in the flour, then the egg, and finally the breadcrumbs before frying.
Vegetable Oil: You can use canola, Mazola, or even peanut oil for frying the Simple Suppli al Telefono.
---
Recent Recipes