Fam Favorite Cuban Black Beans
These Instant Pot black beans are the bomb! They are highly nutritious, packed with flavor and incredibly easy to make. I make them so often that I have started experimenting with newer flavors, textures and additions that this has become a family favorite. Bottom line, this Fam Favorite Cuban Black Beans is delicious!!! Imagine making a fantastic one pot dish that is quick, simple, filling, healthy, delicious and beloved. This is everything. I can guarantee that you are going to come back again and again to this recipe.
The Instant Pot makes it a breeze to make. I am big on beans and legumes in the house, and I always have canned stuff or dried beans in the pantry.
The advantage of using the Instant Pot is even if you forget to soak the black beans, no problem, this magic appliance will handle it. I have made these Fam Favorite Cuban Black Beans in a big pot, in a pressure cooker and the Instant Pot, they all taste fantastic, but the Instant Pot is the easiest. The big plus is I can used soaked black beans, dry black beans as well as canned beans and it works. For the pressure cooker and pot or pan I can only use soaked or canned black beans. Here's your new go-to family recipe, the Fam Favorite Cuban Black Beans.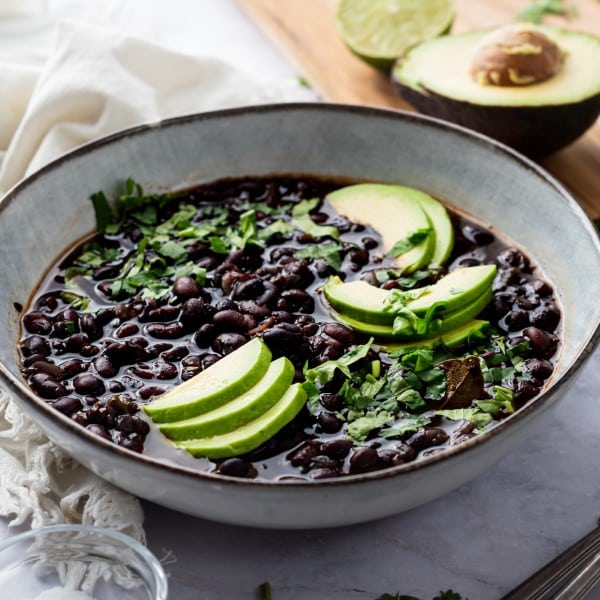 Ingredients
1 ½

cups

dried black beans

soaked 3 hours or overnight

1

cup

onions

diced

4

cloves

garlic

minced

1

jalapeno

chopped

1

tablespoon

of tomato paste

1

teaspoon

cumin powder

1

teaspoon

paprika

1/2

teaspoon

oregano

1

bay leaf

4

cups

of water

1

lime wedge

2

avocados

diced

Cilantro for garnish

2

tablespoons

of olive oil

Salt
Instructions
All ingredients ready? Let's begin!

Drain and rinse the soaked black beans and set aside.

Switch on the Instant Pot and heat two tablespoons of oil in the sauté mode.

Now add the bay leaf, onion and garlic and sauté for about 3-5 mins or till they soften.

Add the jalapenos and sauté.

Now add the tomato paste and mix till everything is lightly coated in the paste.

Add the paprika, cumin, oregano and sauté well till everything is well combined.

Now add the black beans and 4 cups of water and stir till everything is combined.

Close the lid of the Instant Pot, make sure the vent is sealed, and switch to Pressure Cook mode. It will auto select 30 mins.

Once it is done, let it depressurize before you open.

Add salt and if it is too thick, add a little bit more water until it reaches desired consistency.

Give the lime a quick squeeze over it.

Add the avocado on top when you are ready to eat.
Nutrition
Calories:
501
kcal
|
Carbohydrates:
61
g
|
Protein:
19
g
|
Fat:
23
g
|
Saturated Fat:
3
g
|
Polyunsaturated Fat:
3
g
|
Monounsaturated Fat:
15
g
|
Sodium:
58
mg
|
Potassium:
1712
mg
|
Fiber:
19
g
|
Sugar:
5
g
|
Vitamin A:
393
IU
|
Vitamin C:
22
mg
|
Calcium:
138
mg
|
Iron:
5
mg
Tips and Tricks
If you haven't soaked the black beans, cook for an additional 10-15 mins
If you are using canned beans, then just sauté in a pan or cook in the Instant Pot for 10-12 minutes, it gets very mushy otherwise
Add salt after the beans are done cooking, else they harden and don't cook as well
If you are using canned beans, drain and rinse the beans before using
If you want to make it thicker, add a few of the cooked black beans in a blender and make into a paste before adding it.
Storage
Can be stored in the fridge for up to a week and can be frozen for months. But remember when cooked black beans thaw, they do tend to get mushy. If you do have leftovers of the Fam Favorite Cuban Black Beans, add some eggs and cheese and roll it in a soft tortilla and you got yourself a breakfast burrito. Garnish with avocados and onion.
FAQs
I don't have jalapenos, what do I do?
You can, of course not add any chili or you can use chipotle peppers from the adobo sauce or even serrano pepper.
My beans were still hard, even after soaking and cooking for 30 mins, why is that?
Sometimes if the beans are old stock, this may happen or if you have added too much salt during the cooking process. If the black beans are still hard, add water and cook for an extra 10-15 minutes.
Substitutions
Besides the black beans, almost everything else can be replaced. Even the spices, the flavor changes in intensity but it still tastes fantastic.
Onions: you can use red or white onions. And you can also caramelize onions to garnish on top.
Tomatoes: Again, this is a matter of preference. You can use canned tomatoes, fresh tomatoes or no tomatoes at all.
Water: If it is too watery, just drain a little bit off. You can also use vegetable stock instead.
Spices: I make it a little bit spicy but modify according to your taste. If you want to have a Cuban Black Bean Dish, you need that hit of fire that comes from the jalapeno and paprika. You can also use cayenne or red chili powder in a pinch. Jalapenos can be eliminated or substituted with chipotle, serrano or even Thai green chili.
Vegetables: Green peppers are a great addition to this dish, really elevates the taste. I sometimes like to add broccoli to it, and it definitely gives it some depth.
Garnish: Parsley is a great garnish for this. A dollop of sour cream right before serving gives it an added creaminess.
Other garnishes you can try: sliced onions, caramelized onions, pickled onions, diced tomatoes, shredded or crumbled cheese. A dash of lemon juice or wedge of lime or lemon. I know this already carries a bit of heat, but to ramp it up drizzle a bit of hot sauce or tobacco sauce on top. It's blisteringly good.
Accompaniments
White or brown rice is a perfect side for this Fam Favorite Cuban Black Beans. It also makes a great filling for soft tacos. It can also be paired with fresh tortilla chips and fresh guac.
End the meal on a sweet note with this Orange Loaf Cake or this Haitian Cake.
---
Recent Recipes