Hot & Spicy Vegan Taco Cupcakes
Our spicy vegan taco cupcakes are packed with Mexican flavor and are immensely rewarding to eat. From the moment that you lay eyes on these crispy layered cups filled with ground mince, you'll be craving the burn that's soon to come. They are just spicy enough with the perfect texture of taco filling offset by crunchy cups.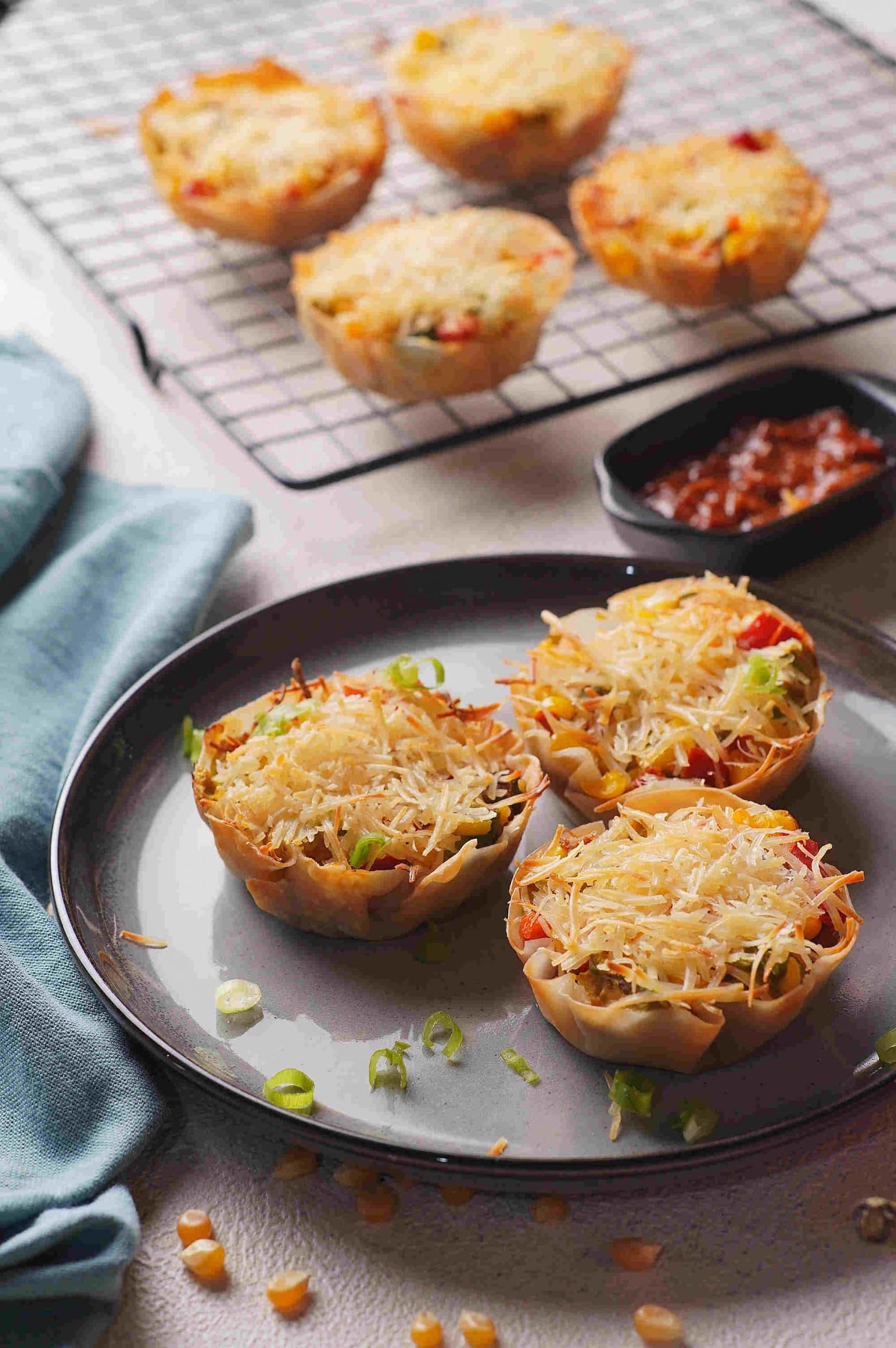 Ingredients
2

Cans / 13 Ounces Black Beans

2 ½

Shallots

Finely Chopped

4

Cloves

Garlic

Finely Chopped

6

Jalapeno Chilis

Finely Chopped

1

Teaspoon

Red Pepper Flakes

2

Teaspoon

Salt

1 ½

Tablespoon

Black Pepper

1

Teaspoon

Paprika

1

Teaspoon

Cumin

½

Teaspoon

Dried Oregano

1

Tablespoon

Lime Juice

4

Tablespoon

Lemon Juice

2

Tablespoons

Red Wine Vinegar

3

Cups

Raw Corn Kernels

1

Tablespoon

Olive Oil

1

Red Bell Pepper

Finely Chopped

2

Jalapeno Chilis

Finely Chopped

1

Bell Pepper

Finely Chopped

3

Large Avocados

Peeled, Pitted, Cleaned & Cubed

12

Wonton Wrappers

12

Tortilla Chips

2

Cups

Grated Vegan Cheese
Instructions
Start by getting all you need together.

Rinse and drain the black beans. Set aside in a colander until later needed.

Heat a large saucepan or skillet containing three tablespoons of oil over medium-high heat and saute the shallots for 2 to 3 minutes or until the first signs of translucency.

Add the garlic and saute for 2 to 3 minutes or until aromatic.

Add the four chopped chilis and red pepper flakes and saute for 2 to 3 minutes.

Stir in the rinsed black beans.

Mix in the salt, pepper, paprika, cumin, and dried oregano and saute for 4 to 5 minutes while stirring constantly.

Mash the beans to the consistency desired with a fork or potato masher while gradually pouring in the lime juice, lemon juice, and red wine vinegar.

Reduce the heat to low, cover, and cook for 2 to 3 minutes. Remove from the stovetop and set aside.

Cook the corn and set it aside. Grilled freshly shucked corn is best but boiled or steamed frozen corn is suitable.

Heat a large saucepan or skillet containing a tablespoon of olive oil over high heat.

Saute half a shallot for 3 to 4 minutes until it starts to brown on the edges.

Add the bell pepper and two chopped jalapenos to the pan, cover, and remove from the heat.

In a separate bowl, combine the browned shallot, avocado, pepper, and chili mix with the corn, cilantro, a teaspoon each of salt and black pepper, and three tablespoons of lime juice.

Mix well until the salsa is well combined.

Preheat your oven to 375°F and oil or apply nonstick cooking spray to 12 muffin cups (two trays.)

Press one wonton wrapper into each recess to form a cup while folding the edge inward and repeat with the remaining muffin cups.

Scoop two tablespoons of refried beans into each cup and disperse evenly.

Crush a tortilla and scatter it over the beans evenly.

Fill each cup with two tablespoons of avocado salsa on top of the crushed tortilla.

Top up the vegan taco cupcake with grated cheese.

Bake at 375°F for 15 to 20 minutes or until the cheese has melted and the taco has crisped up and browned.
Video
Nutrition
Calories:
240
kcal
|
Carbohydrates:
27
g
|
Protein:
5
g
|
Fat:
14
g
|
Saturated Fat:
3
g
|
Polyunsaturated Fat:
2
g
|
Monounsaturated Fat:
6
g
|
Trans Fat:
1
g
|
Cholesterol:
1
mg
|
Sodium:
645
mg
|
Potassium:
473
mg
|
Fiber:
6
g
|
Sugar:
5
g
|
Vitamin A:
939
IU
|
Vitamin C:
48
mg
|
Calcium:
43
mg
|
Iron:
2
mg
Tips & Tricks
If you have the time and have dried black beans available, they're a vast improvement over anything canned. You'll have to soak your beans overnight for the best results, and it'll take boiling them softly before you can start your cupcakes, but it is worth it. The difference in flavor is immense.
For an even greater flavor lift, cook black beans until soft and then roast them in the oven. All it takes is a coating of oil, a little salt, and pepper, and ten minutes in the oven to toast the skins of your beans, canned or not, and make them taste even more amazing. The elevated flavor and texture will blow you away.
Whenever you're baking with wonton wrappers, oil, or apply nonstick spray generously, or you'll run the risk of struggling to get your cups out. The liquid is prone to seeping out no matter how well made your cup may be. Silicon molds are foolproof and highly recommended. All other bakeware stands the chance of baked goods getting stuck.
If you're truly struggling with a lack of good nonstick bakeware and standard greasing procedures aren't working, give this tip a try. Apply vegetable oil to your pan. We like applying a thin layer with the help of a paper towel – just spread out a tiny blob everywhere. It prevents excess oiliness. Once oiled, scatter in a little flour and give the pan a few knocks against a kitchen counter or similar hard surface so that the flour scatters and creates a thin layer across the whole pan.
This coating ensures that nothing will get stuck to your baking surface. However, don't lay on too much oil or flour, or the residue will get stuck to the taco cupcakes or whatever else you may be baking with the help of this technique.
Substitutions
Canned chilies can be used instead of fresh chilies. Those who prefer onion powder and chili powder can substitute them in the place of freshly chopped ingredients.
Shortcuts
Canned refried beans save a lot of time but sacrifice a lot of flavor. Another time-saver is premixed taco seasoning. If you can't find taco seasoning, look for any available Mexican spice blend if you prefer including a single large helping of one kind of spice instead of individual ingredients.
Variations
We haven't included tomato, but one can put a twist on the basic recipe by leaving out the avocado and including tomatoes instead. Halved or quartered cherry tomatoes are the tastiest and are low in moisture. Otherwise, opt for finely chopped Roma tomatoes or any variety of elongated tomatoes as they have the lowest water content.
Instead of salsa, consider including texturized vegetable protein as a layer. It makes the flavor a lot meatier but requires preparing the TVP separately. Soak your soya mince or other texturized vegetable protein in dissolved vegetable bullion at a 1:1 ratio for ten minutes. Saute onions, garlic, and an earthy herb like dried thyme and fry the soaked vegetable protein until cooked.
Season according to taste, perhaps adding a little barbecue sauce to increase the beefy flavor and use it as you would ground meat. Scoop two tablespoons to each cup and either omit the salsa or sprinkle a little on top before coating with cheese and you've got elevated vegan taco cupcakes that'll give any taco a run for its money.
What To Serve With Vegan Taco Cupcakes?
Vegan taco cupcakes are surprisingly filling. As finger food, they pair well with other light snacks like homemade olive oil popovers and mirch pakora green fritters. Don't forget to serve them with sauce. For those who like things spicy, sha cha sauce is a must-try.
---
Recent Recipes