Homemade Rosemary Ice Cream
My family has made our own ice cream since I was young. Of course, it was mostly for special occasions. The best was when we went strawberry picking in the summer and my mom would make strawberry ice cream for dessert. I don't usually like strawberry ice cream, but it is totally different when you make it yourself.
A lot of flavors that you might not usually like can be so much better when you make it yourself. This method of ice cream making involves steeping raw ingredients into the milk which results in a pure, clean taste. The first time I made ice cream on my own, I used Egyptian mint from my garden and steeped it in the milk. I also added chopped chocolate later. That was the best mint ice cream I have ever had and I still think about it. This rosemary ice cream is no different. Steeping the herb in the cream for so long means there is no need for artificial flavors or even extracts. If you don't want to brave rosemary ice cream right now, try vanilla potato milk ice cream instead.
Ice cream takes a long time to make, so make sure you start it well in advance. It will need to sit in the fridge for several hours before it can even turn into ice cream and will need a further several hours in the ice cream machine. I recommend starting it the night before so you can leave the milk mixture in the fridge overnight then begin the freezing process in the morning so your ice cream is ready to eat during the hot part of the day.
This ice cream recipe does require the use of an electric ice cream machine. Before you begin, go over the instructions for your machine to make sure it is prepared. Some machines require the bowl to be stored in the freezer for several hours before use. I have forgotten to do that before and then realized I won't have ice cream until the next day! It was very disappointing.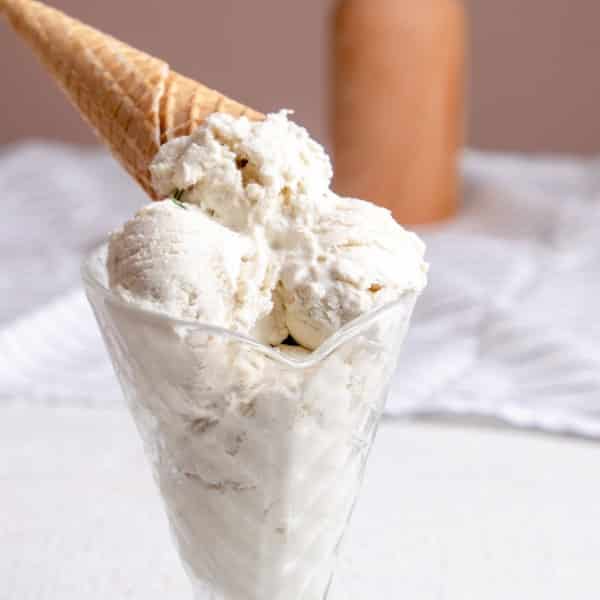 Ingredients
2

cups

heavy whipping cream

¾

cup

sugar

¼

tsp

salt

1

vanilla bean

4

large sprigs rosemary

1

cup

milk
Instructions
Put a medium pot over medium heat. Add half of the heavy whipping cream, the sugar, and the whole rosemary springs.

Cut the vanilla bean in half and use the edge of a knive or spoon to scrape out the inside bit. Add the part you just scraped out to the pot.

Cook while slowly stirring constantly for about 6 minutes. The sugar should dissolve and the cream will begin to simmer. Turn heat down to low before it boils.

Add the rest of the heavy whipping cream and the milk. Allow to simmer for 10 minutes, still stirring frequently. Do not let it boil. Remove from heat and transfer to a bowl.

Cover and put in the fridge for a minimum of 2 hours. Before taking out of the fridge, make sure the mixture is cold. The longer you leave in the fridge, the better the flavor becomes and the more effectively it turns into ice cream.

After the milk mixture has fully steeped and cooled in the fridge, take it out and strain to remove the rosemary springs and any skin that may have formed.

Pour it into your ice cream machine and follow the manufacturer's instructions. It will probably take several hours.

Once the mixture has thickened enough, you can serve it immediately or, if you prefer a harder ice cream, scoop it into a safe container and leave it in the freezer for a few more hours.

Enjoy!
Nutrition
Calories:
391
kcal
|
Carbohydrates:
29
g
|
Protein:
4
g
|
Fat:
30
g
|
Saturated Fat:
19
g
|
Polyunsaturated Fat:
1
g
|
Monounsaturated Fat:
8
g
|
Cholesterol:
95
mg
|
Sodium:
134
mg
|
Potassium:
138
mg
|
Fiber:
0.03
g
|
Sugar:
29
g
|
Vitamin A:
1234
IU
|
Vitamin C:
1
mg
|
Calcium:
104
mg
|
Iron:
0.1
mg
Notes & Tips
To store this ice cream, put it in an airtight, freezer-safe container and leave it in the freezer. It will save for several months, but it may develop freezer-burn faster than other items.
Flavors that Go Well with Rosemary
If you want to make your ice cream have a little more panache, you can add some complimentary flavors to it. Already use in this recipe is vanilla, though you need not add it if you don't want to. Honey goes well with rosemary if you want a sultrier taste. Add a couple tablespoons to the milk while it is over heat. Depending on how sweet you like it, add a little bit less sugar alongside it.
Another flavor that pairs well with rosemary is olive oil. I know it might sound silly to add olice oil to ice cream, but it can create an incredible depth of smooth flavor. Add about ¼ cup of olive oil after you have removed the milk from heat and before you put it in the fridge. Make sure to stir well to incorporate.
If you want to try some extra unique ingredients, consider matching some ingredients from this sweet onion ice cream into your rosemary ice cream. The sweet onion ice cream recipe does not require an ice cream machine, but I find its texture is not my favorite.
If you want to combine the sweet onion and rosemary flavors, follow the first two steps of that recipe to make the onions. Combine the onions with a little bit of your allotted milk and blend in a high-powered blender or food processor until smooth. Add it to your cream over heat and continue normally from that point.
Substitutions
There are not a lot of substitutions to be made here because the ingredient list is already pretty short. That being said, I can always find alternatives. If you do not have vanilla beans, you can use a bit of vanilla bean paste or just use 1-2 tsp of vanilla extract.
Undoubtedly the highlight of this ice cream is the fresh rosemary flavor, but you could also make this using dried rosemary. Add about 4 tbsp (or more) of dried rosemary instead of the fresh rosemary sprigs. Make sure to run through a strainer with small holes to catch all the dried rosemary before putting it in your ice cream machine.
---
Recent Recipes