Sweet buns are delicious little pillowy dinner rolls that are risen with both yeast and eggs. While the yeast rises the dough, the egg adds the airy and fluffy texture achieved when the buns are baked. If you haven't ever made rolls or even bread, this recipe is a good place to start. Sweet buns are light on the inside and golden brown on the outside. They are a little sweet and go well with butter when warm soon after coming out of the oven.
You do need time for the rolls. Don't let that discourage you. Most of the time is spent just waiting for the dough to rise 2 times for an hour each time. You can run errands or do your chores while the dough is proofing. I place my rising dough in a turned-off oven with the light left on. This way, it is safe from breezes, humidity, and even banging doors that can cause the dough to deflate.
The ingredient list is simple. You will need:
Whole milk
Active dry yeast
Granulated sugar
Honey
Salt
Unsalted butter
Egg
All-purpose flour
Oil for greasing the bowl and pan
The equipment list is also fairly standard. I make these rolls by hand because I really enjoy getting my hands into the dough. To me, kneading dough is meditative and I believe it imparts a little TLC that helps it rise better. By all means, use a stand mixer with a dough hook attachment if you have one and don't want to get your hands messy. Here is what you will need:
Large mixing bowl
Small mixing bowl
Small saucepan
Whisk
Measuring cup
Measuring spoons
Silicon spatula or wooden spoon
Pastry cutter
Plastic wrap
9×13-inch baking dish
These buns aren't overly sweet. You could have them with butter and jam for breakfast. They are also excellent for dinner with roasted chicken, pork tenderloin, or a steaming bowl of either butternut squash or crab soup. The only problem with these lovely little rolls is that they often don't make it to the dinner table. They smell so good when they come out of the oven that everyone wants to grab a roll, slather it with butter and eat it hot. That isn't the worst thing that can happen. Think of it as the complimentary pre-dinner bread basket you used to get at a restaurant.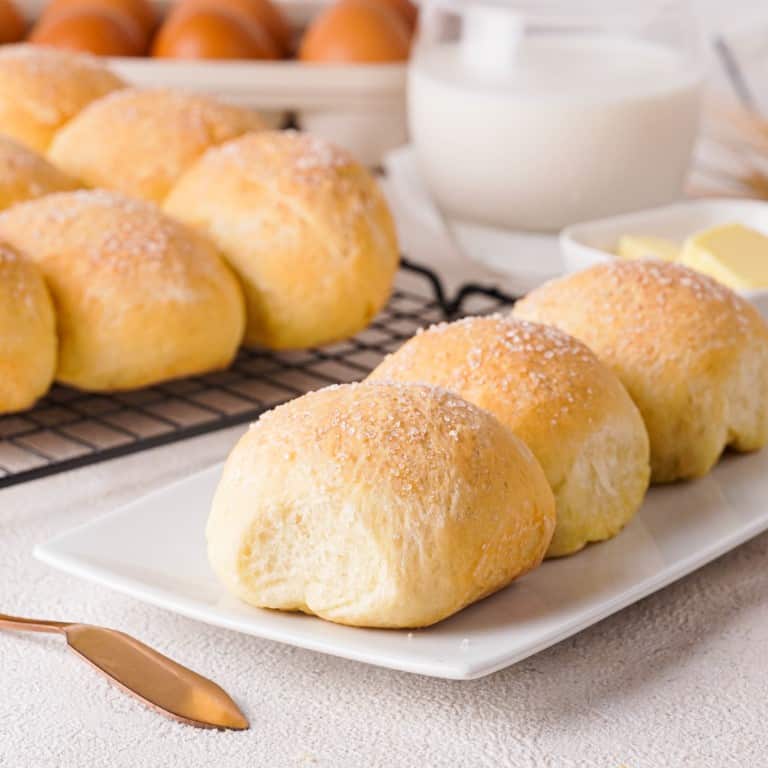 Ingredients
3 ½

Tbsp

unsalted butter

at room temperature, divided

1

cup

whole milk

warmed slightly

1

packet of active dry yeast

2

Tbsp

raw or granulated sugar

3

Tbsp

runny honey

1

large whole egg

1

tsp

sea salt

3 ½

cups

all-purpose flour + more for kneading

1 ½

tsp

neutral oil

1 ½

tsp

granulated sugar

optional
Instructions
All ingredients ready? Let's begin!

In a small saucepan over low heat, melt the butter. Turn off the heat and proceed with proofing the yeast.

In a large mixing bowl, place the lukewarm milk. Gently stir in the yeast. Sprinkle the sugar over the milk and set the bowl aside for 5 to 10 minutes until the yeast starts to bubble.

In another bowl, whisk together the egg and 2-1/2 tablespoons of melted and cooled butter.

Add the honey, salt, and egg mixture to the yeasted milk and stir gently to just combine.

Stir the flour into the liquid ingredients. Using your hands, work the dough so that it gathers into a ball. It will be sticky. Lightly dust a clean work surface with flour. Turn the ball of dough out onto the work surface and knead with the heels of your hands for at least 5 minutes, adding a little more flour if needed. The dough should feel elastic and smooth. Alternatively, you can mix the dough in a stand mixer with a dough hook attachment.

Wipe the bowl out with a paper towel. Oil the boil with a little neutral flavored oil. Place the ball of dough back in the bowl and roll it over to coat with the oil. Cover the bowl with plastic wrap or a clean kitchen towel. Place it in a warm area, like a turned-off oven with the light on. Allow the dough to rise until doubled in size for 60 minutes.

Punch the risen dough down gently to deflate it. Turn the dough out onto a lightly floured work surface. Cut the dough into 12 equal-sized portions. Grease a 9×13-inch baking dish. Roll each piece of dough into a ball and place them in the baking dish. Cover with plastic wrap or a towel and place the dish back into the warm area. Allow the rolls to rise again for 60 minutes.

If the dish is in your oven, remove it. Preheat the oven to 375°F. Brush the tops of the rolls with the remaining 1 tablespoon of butter and sprinkle the sugar over the tops of the rolls, if using.

Place the dish in the preheated oven and bake for about 20 minutes until the rolls are golden brown. Give them a gentle tap to see if they sound hollow.

Remove the baking dish from the oven to a wire rack and allow the rolls to cool until easy to handle but still warm.

Serve while warm with butter.
Nutrition
Calories:
213
kcal
|
Carbohydrates:
36
g
|
Protein:
5
g
|
Fat:
5
g
|
Saturated Fat:
3
g
|
Polyunsaturated Fat:
0.5
g
|
Monounsaturated Fat:
2
g
|
Trans Fat:
0.1
g
|
Cholesterol:
27
mg
|
Sodium:
209
mg
|
Potassium:
85
mg
|
Fiber:
1
g
|
Sugar:
8
g
|
Vitamin A:
157
IU
|
Vitamin C:
0.03
mg
|
Calcium:
34
mg
|
Iron:
2
mg
Notes & Tips
It is important that the milk be lukewarm and not hot. Hot milk will destroy the yeast. If the milk is too cold, the yeast won't bloom. The temperature of the milk should be around 90°F.
If using a stand mixer to make the dough, mix and knead it with the dough hook attachment for best results.
Be sure to proof the dough in a warm area that is free of breezes, high humidity, and loud noises. I like to use my oven with just the light left on. You can also place the dough in a turned-off microwave. If using the oven, make sure to remove the dish of risen rolls from the oven before you preheat it.
You might have to rewarm the remaining tablespoon of butter to brush on the rolls.
Substitutions
Butter and Milk: If you want to avoid dairy, you can try plant-based butter and non-dairy milk. You do want to choose a milk beverage that contains a little fat. I recommend nut milk or light coconut milk.
Honey: I keep a jar of raw organic honey in my cupboard. It is fairly solid, so I have to warm it for it to become runny. If you don't have honey, you can use maple syrup or agave nectar. You could also make sweet buns with just sugar in place of the honey.
All-Purpose Flour: There really is no way to make this recipe with gluten-free flour, though I have made rolls with cassava flour that does seem to react to yeast. However, they definitely aren't as fluffy. You can make the rolls with other gluten flours, such as whole wheat pastry flour, spelt flour, or kamut flour. For best results, I recommend using 1/2 unbleached all-purpose flour and 1/2 whole grain gluten flour.
---
Recent Recipes