Homemade Vegan Butter Recipe
Countless recipes call for butter, but what do you do if you don't consume animal products, nuts or dairy? Give our homemade vegan butter a try for one of the healthiest, most versatile butter substitutes available. Five simple ingredients come together into a delicious plant-based fatty spread that solidifies when refrigerated. It is nut-free, soy-free, dairy-free, highly affordable, and easy enough for anyone to make.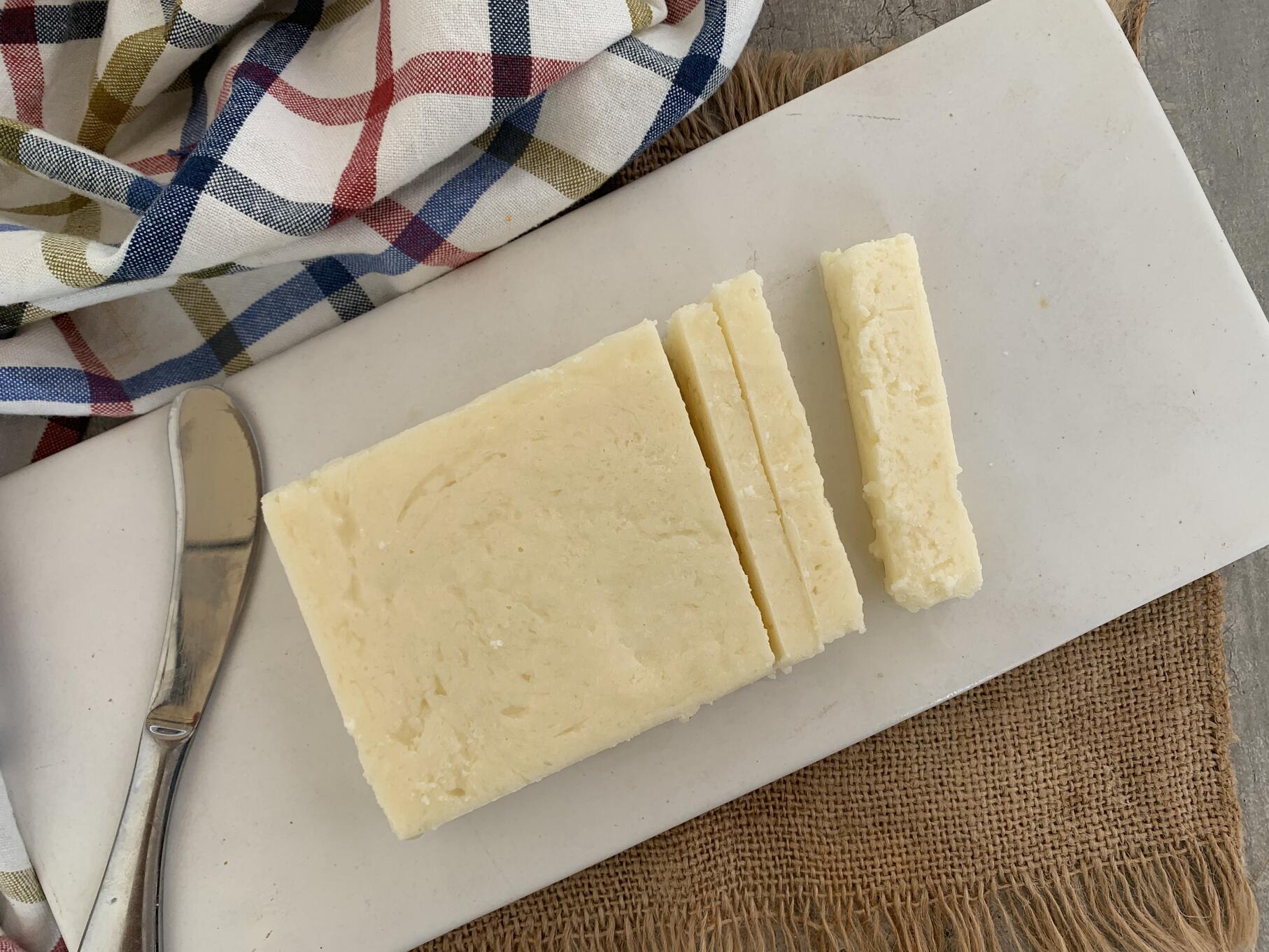 Ingredients
1/4

Cup

Of Coconut Butter

1/3

Cup

Of Coconut Oil

2

Tablespoons

Of Olive Oil

Aquafaba From One Tin Of Chickpeas

Chickpea Brine

1/3

Teaspoon

Of Miso
Instructions
Assemble your ingredients.

Measure out the olive oil and let it cool in the fridge. Feel free to use canola, avocado, almond, grapeseed, sunflower oil or another plant-based oil in the place of the olive oil.

Refrigerate the measured coconut oil in a container.

Dispense the aquafaba and let it cool in the refrigerator.

Melt 1/4 cup of coconut butter and allow it to cool for at least an hour.

Re-melt the coconut butter and let it cool down totally. The coconut butter must be completely cold before proceeding.

Mix the coconut butter, coconut oil, and olive oil in a container ready to be blended.

Blend the aquafaba using a stick blender, food processor, or whisk until it all turns to foam.

While blending, slowly drizzle in the coconut butter and oil mixture you made earlier.

Work the oil in adding more as it emulsifies in a manner similar to making mayonnaise – the whole process takes around 6 minutes on average.

Blend in the miso paste once all the oils have emulsified.

Transfer the butter mixture into a baking tray or similar-sized vessel lined with plastic wrap.

Refrigerate for 2 to 4 hours or until solidified.
Video
Nutrition
Calories:
28
kcal
|
Carbohydrates:
1
g
|
Protein:
1
g
|
Fat:
3
g
|
Saturated Fat:
2
g
|
Polyunsaturated Fat:
1
g
|
Monounsaturated Fat:
1
g
|
Sodium:
2
mg
|
Potassium:
1
mg
|
Fiber:
1
g
|
Sugar:
1
g
|
Vitamin A:
1
IU
|
Vitamin C:
1
mg
|
Calcium:
1
mg
|
Iron:
1
mg
What Is Vegan Butter?
Vegan butter is a non-dairy, plant-based substitute for butter that's normally made by emulsifying a plant oil like coconut, olive, or canola until its a dense, buttery consistency. As a fatty spread that's not churned, vegan butter is actually a type of high-fat margarine.
What Does Vegan Butter Taste Like?
The flavor of vegan butter depends on the plant oils it's made from. Our homemade vegan butter uses a blend of coconut butter, coconut oil, and olive oil. This gives it a neutral, mildly earthy flavor with subdued hints of olive. Added miso grants an umami quality that makes up for the lack of savory dairy sweetness found in butter.
Is Vegan Butter Healthy For You?
Plant-based butters like our homemade variety are lower in saturated fat than dairy butter. Vegan butter is also higher in monounsaturated fats, which are connected with better overall cardiovascular health. Research shows that diets rich in coconut fat lead to a far lower apoB-containing lipoprotein production rate, one of the foremost contributing factors towards atherosclerotic cardiovascular disease.
Vegan Butter To Butter Ratio
This homemade vegan butter recipe, and just about every store-bought vegan butter substitute out there, is a one-to-one butter replacement. Swap out butter for vegan butter directly.
How Long Does Vegan Butter Last?
This homemade dairy-free butter lasts safely for up to three weeks in the fridge. You will notice that it cools far harder than regular butter. Thawing will be necessary before spreading, but it's ideal as-is for baking, sauteing, grilling, basting, and in sauces.
Can Vegan Butter Be Frozen?
Store vegan butter in an airtight container in the freezer safely for up to three months. By itself, coconut butter can be frozen for up to two years. The emulsification and blending shortens the duration before spoiling, but vegan butter will normally still be safe to eat for a long time to come.
Can Vegan Butter Be Substituted For Regular Butter?
This Vegan butter works especially well for baking but can take the place of butter in just about any dish. We've found that it works particularly well for puff pastry. Give it a try first hand and bake up something irresistible like a flaky savory tomato pepperoni Galette or a ham and asparagus quiche – if you don't eat meat, make a few substitutions like swapping out the pepperoni or ham for homemade smoky vegan salami.
Can Vegan Butter Be Browned?
Unfortunately, this vegan butter and most other varieties don't brown well. Butter substitutes lack the sugar needed to create glycosylamine and both the lactose and milk protein necessary to create enough Maillard reaction products for browning. The only way to compensate for the toasted flavor of brown butter is to add a large pinch of nutritional yeast to melted homemade vegan butter.
Can Vegan Butter Be Left Out Overnight?
Our homemade vegan butter and most good quality store-bought varieties are shelf-stable without refrigeration for up to two days, heat and humidity-dependent. Most will want to refrigerate their batch after a day at room temperature.
Is Vegan Butter Hydrogenated?
The homemade vegan butter recipe listed here does not use hydrogenated oils. Not all vegan butters are free from hydrogenation, so please pay attention to the ingredients listed if you opt for a commercially produced variety. Similarly, if you opt to substitute canola oil or another vegetable oil like soy in the place of olive oil, your Vegan butter will therefore also become hydrogenated.
Margarine Vs. Vegan Butter
While margarine and homemade vegan butter largely involve the same core vegetable oils as the main ingredients, margarine isn't always dairy-free. The density is also often different. Margarine is smoother. Many manufacturers include milk-derived ingredients like whey, casein, and lactose to fortify their recipes. Marine oil is another risk, as is lecithin and ever-questionable palm oil.
The Best Vegan Butter – Infusing Your Own Flavor
You'll be astounded by the taste & cooking performance of this versatile butter substitute. Some chefs choose to add a touch of turmeric to add color and an extra level of flavor to the otherwise flat, neutral taste. Olive oil imparts strong flavor notes. Feel free to adjust and experiment using a variety of different oils in its place to see which you prefer the taste of the most.
---
Recent Recipes