Are you looking for a delicious, belly warming meat and vegetable stew? Look no further than Filipino menudo! This dish has it all, from soft, melt in your mouth pork to healthy veggies to that delectable umami flavor. Even though the recipe takes a while to cook, it is still fairly simple. Most of your work will be tossing things in a pot and letting them cook together.
The pork needs a minimum of 30 minutes to marinate before cooking it, but I find it helpful to prepare it the day before and leave it to marinate in the fridge overnight. That way you can be sure to get the maximum flavor from your pork and you don't have to sit around waiting and wondering if it's marinated enough.
If you love this Filipino pork menudo recipe (which I'm sure you will), you should check out these Filipino cookbooks for more amazing Filipino recipes. There's even a whole cookbook just for pork!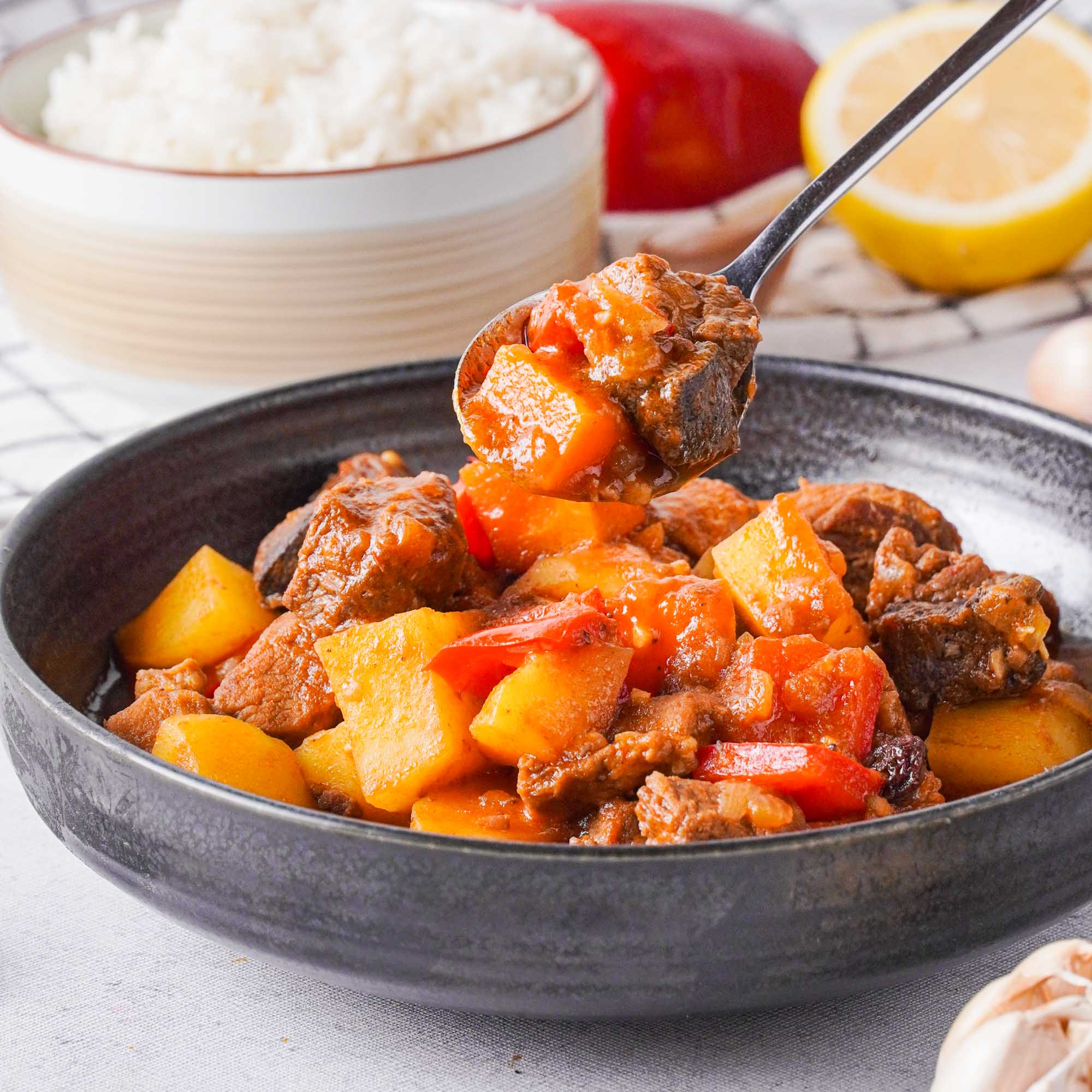 Ingredients
2

lbs

pork

½

lemon

3

tablespoons

soy sauce

1

tablespoon

fish sauce

1

tsp

salt

½

tsp

pepper

3

dried bay leaves

4

potatoes

1

carrot

1

bell pepper

2

onions

4

garlic cloves

2

tablespoons

vegetable oil

½

cup

tomato paste

½

cup

pork liver

1

tablespoon

brown sugar

¼

cup

raisins
Instructions
All ingredients ready? Let's begin!

Trim your meat of any undesirable gristle then cut into bite-sized chunks.

In a large bowl, add the juice of half a lemon, the soy sauce, fish sauce, salt, pepper, and bay leaves. Use a fork to whisk together until mixed.

Add the pork chunks to the bowl and toss to coat each piece with sauce. Cover the bowl and leave to marinate in the fridge for a minimum of 30 minutes or up to several hours.

Chop the potatoes into chunks. Cut the bell pepper in half, remove the stem and seeds, then chop into chunks. Chop the carrots into chunks or rounds. Set aside.

Peel the onion and garlic. Dice the onions and finely chop the garlic.

In a large pot or Dutch oven, add the oil and heat over medium high heat. Once the oil is hot, add the onions and cook for 5 minutes, stirring constantly, or until the onions begin to turn translucent. Add the garlic to the pot and stir for another 2 minutes.

Remove the pork from the fridge and add it to the pot, including any juices that have accumulated. Cook for 10 minutes or until all sides of the pork are brown.

Add 1 ½ cups of water. Cover the pot and let cook for 10 minutes.

Add the tomato paste and stir. Add more water until all of the pork is covered. Cover again and cook for another 35 minutes. Stir every so often. If the pot starts to bubble or overflow, turn the heat down to medium low.

After 35 minutes, add the previously chopped carrot and potatoes. Also add the brown sugar. If the liquid has fallen below the pork, top it off with some more water.

Stir well to incorporate then cover and cook for 15 more minutes. Add the bell pepper chunks and raisins.

Roughly chop the pork liver (if it isn't already in pieces) and add to the pot.

Cover and cook for another 15 minutes or until the pork liver is fully cooked.

Check to make sure the pork is finished by piercing it through with a fork-it should fall apart pretty easily. Once it does, it is finished.

Remove from heat and serve!
Nutrition
Calories:
655
kcal
|
Carbohydrates:
44
g
|
Protein:
36
g
|
Fat:
38
g
|
Saturated Fat:
13
g
|
Polyunsaturated Fat:
6
g
|
Monounsaturated Fat:
15
g
|
Trans Fat:
0.03
g
|
Cholesterol:
168
mg
|
Sodium:
1421
mg
|
Potassium:
1540
mg
|
Fiber:
6
g
|
Sugar:
9
g
|
Vitamin A:
6969
IU
|
Vitamin C:
73
mg
|
Calcium:
79
mg
|
Iron:
9
mg
Notes & Tips
This dish can be saved in the fridge for up to 5 days. When you are ready to eat again, you can reheat it quickly in the microwave or, in the case of multiple servings, you can pop it back into a pot and heat it through on the oven.
Filipino pork menudo is a good dish to freeze. You can put it all in one large container or separate it into smaller portion-sized containers then put it in the freezer where it can keep for several months. The best way to reheat from frozen is to leave it in the fridge overnight to defrost, then reheat using the above methods of a microwave or stove top.
If you are making the menudo with the intention to freeze it for later use, I recommend undercooking it, especially the vegetables. Potatoes in particular can get super soft and mushy when fully cooked, then frozen, then reheated. That means once you've reheated them, they are likely to turn into a bit of mess and add an unpleasant texture. To avoid that issue entirely, it is best to undercook before freezing.
If you don't like potato skin, you can peel them before chopping. I leave the skin on because it saves time and adds just a touch more flavor.
Substitutions and Additions
While it is traditional to add raisins to Filipino pork menudo, I never do because I have a strong dislike for them. The dish is just as good without them, though (if you like raisins) they offer a bit of sweetness to the dish.
It is traditional to add pork liver to the menudo, but if you don't like liver or just don't want to spend out on something else, you can leave it out without affecting the overall taste. If you want to add liver but can't find pork specifically, you can use a different type of liver for a similar effect.
What Kind of Pork to Use?
The fattier the pork, the better. Boston butt is the perfect cut to use for this, but if you have to use a leaner meat, consider adding some fatty pork belly to help balance it out. If you do choose to add some pork belly, you could also experiment with some of it and make these delicious pork belly burnt ends (you won't regret it). If you don't want to use pork belly, you can add extra pork liver to up the fat levels. Pork liver is usually cheaper than pork belly anyway, so you could save yourself some money.
---
Recent Recipes