Easy Smoky Thai Eggplant Salad
Deciding what salad to make to please the picky eaters at the table is quite the task. You might keep throwing together some raw or blanched veggies at the last moment but that won't work for too long. Soon those eaters will start pushing the salad bowl away.
Not to worry! All you need to do is amp up your salad game and that bowl will be empty before you know it. To help you accomplish that, here is a wholesome Thai eggplant salad that scores both in terms of taste and nutrition.
What Makes This Recipe Interesting?
The best part of this recipe is the fine balance of flavors. The crunch and freshness of cherry tomatoes, cucumber, and raw carrots go well with the smoky and soft eggplant. Adding soy and lime juice as seasoning puts the much-needed zing to the dish.
Traditionally, Thai eggplant salad does not have roasted cashews, but they have been added for the crunch. Grilled eggplant is soft and gooey and the cashews bring a textural balance that makes the salad pop.
All in all, it is an assortment of flavors and textures that is really filling and full of nutrition.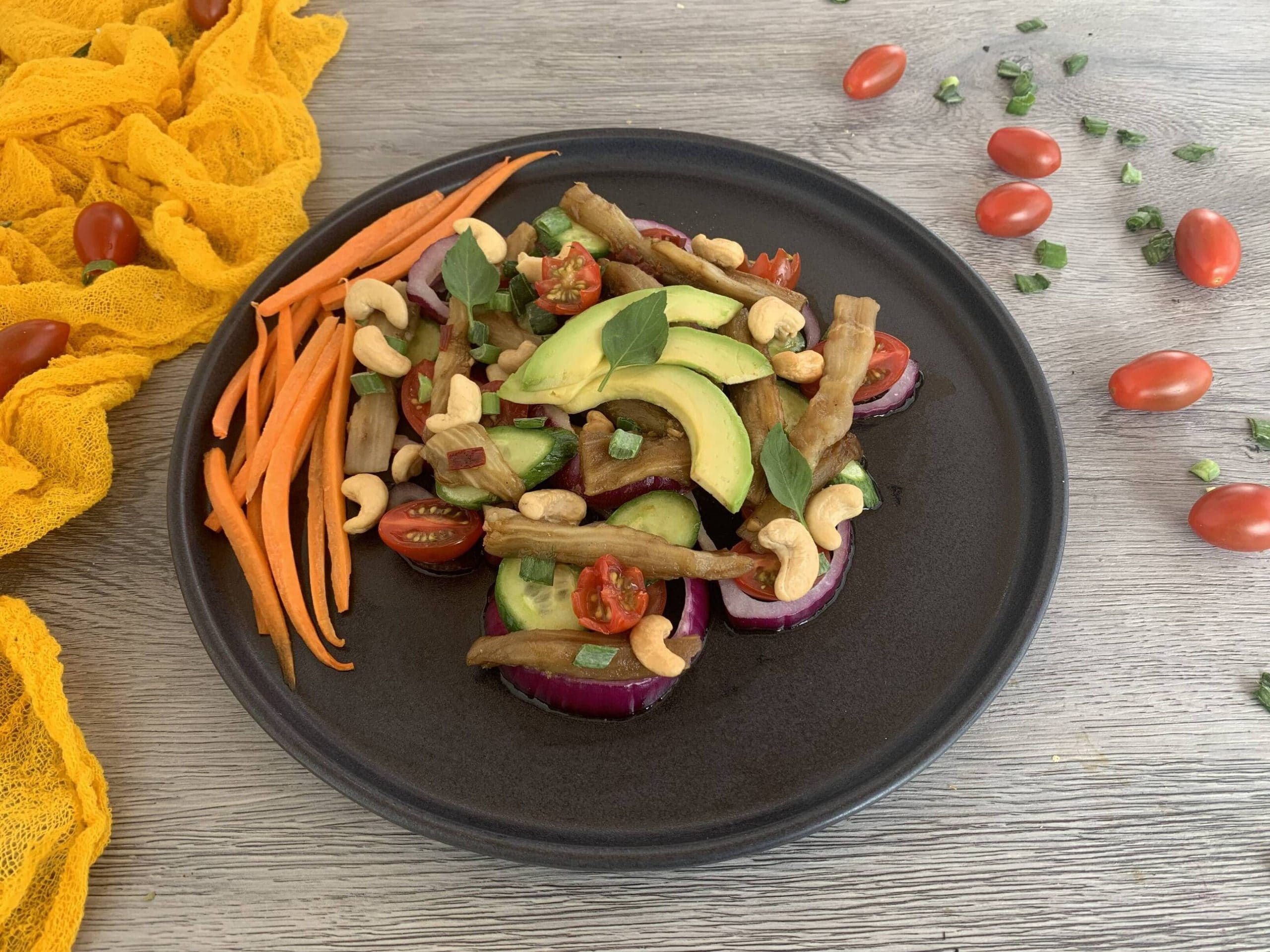 Ingredients
2

long purple eggplants of 1½ pounds each

1

teaspoon

of lime zest

finely grated/7 fresh leaves of kaffir lime

½

cup

of fresh lime juice

¼

cup

of soy sauce

1

red Thai chili

minced

1

tablespoon

of light brown sugar

1

small garlic clove

minced

1

teaspoon

of lemon zest

finely grated

1

avocado

Pitted and thinly sliced

1

large carrot

cut into thin strips

1

medium English cucumber

crosswise, thinly sliced

½

pound

cherry tomatoes

cut in half

½

of medium red onion

cut in thin slices

3

tablespoons

of chopped mint

½

cup

of roasted cashews

chopped coarsely

Salt to taste

Snipped chives

garnishing
Instructions
Use a fork to prick the eggplants in a number of places. Then, light your grill to put the eggplants over it on high heat. Keep turning them occasionally till they are blackened and soft all over. It should take about thirty-five minutes.

Transfer the eggplants to a baking sheet to let them cool down slightly. Next, cut off their stems and get the charred skin off. Tear the grilled eggplants in thin, long strips before discarding the seeds. Transfer it to a big bowl.

Take a small bowl to mix the garlic, brown sugar, chili, soy sauce, lime zest, kaffir lime leaves, salt, and lime juice. Three tablespoons of this dressing have to go into the eggplant that you have kept aside.

Get the red onion, cherry tomatoes, cucumber, carrot, avocado, and eggplant arranged on a plate. Take the rest of the dressing and spread it all over the veggies. Finally, sprinkle the cashews, mint, and chives over your salad and serve.
Nutrition
Calories:
292
kcal
|
Carbohydrates:
36
g
|
Protein:
9
g
|
Fat:
16
g
|
Saturated Fat:
3
g
|
Polyunsaturated Fat:
3
g
|
Monounsaturated Fat:
10
g
|
Sodium:
843
mg
|
Potassium:
1218
mg
|
Fiber:
12
g
|
Sugar:
17
g
|
Vitamin A:
3499
IU
|
Vitamin C:
30
mg
|
Calcium:
69
mg
|
Iron:
3
mg
Substitutions & Shortcuts
Toasted peanuts or walnuts can be substituted for the roasted cashews. The point is to have something in the recipe that can cut through the consistency of an eggplant. Both cashews and peanuts work well for that.
You can grill the eggplant the day before and refrigerate it overnight. Dressing made ahead will stay in the fridge for 2-3 days.
Success Tips
The recipe is not too complicated, and you will be just fine if you follow the recipe to the T.
The most important thing to do here is to keep a close eye on the eggplant while they are on the grill. All the sides should be evenly grilled with the skin completely blackened to avoid any hardened eggplant.
Where To Source The Ingredients From?
Any well-stocked food store and supermarket will have all the ingredients mentioned in this recipe. Since long, thin Japanese or Chinese eggplants are best suited for the dish, you might need to check out the Asian markets near you to source that.
Is It A Gluten-free Salad?
Thai eggplant salad is perfect gluten sensitivities or if you're trying to avoid it for weight loss reasons. Most soy sauce is gluten free, but check the label. In a p inch, you can use tamari sauce in place of the soy sauce.
What Goes with Thai Eggplant Salad?
This Thai eggplant salad is the perfect dish to prepare on a curry night. It brings the right bit of freshness that balances out creamy, rich curries. But this is a substantial salad that's filling on its own.
Try the salad by itself for breakfast or put it between two bread slices to make a sandwich. This way, it can be a healthier alternative to the usual mayo and cheese sandwiches that you might have.
What Are The Health Benefits Of Thai Eggplant Salad?
Along with having a variety of minerals and vitamins, eggplants are a rich source of antioxidants. A particular antioxidant called nasunin is present in eggplants that helps protect your cells from damage by free radicals. Eggplant also has a protective impact on your heart. Several studies have shown that regular consumption of eggplants improves heart functions and reduces the severity of heart attacks. Moreover, this salad has plenty of veggies, and none of the ingredients are deep-fried, which makes it a healthy option for your dinner table.
---
Recent Recipes