Simple Finnish Spinach Pancakes
Pancakes are among the most loved breakfast of all time. They can be made in so many different ways, making them versatile. In many countries, you will find their own version of a pancake, and Finland is no different. Pinaattipannukakku is the traditional pancake of Finland but with a healthy twist. In this article, we will share the Finnish Spinach Pancakes.
What's So Interesting About Spinach Pancakes?
Pancakes, in general, are quite an interesting dish. The interesting thing about Finnish spinach pancakes is that they are super healthy and delicious. Whether you want to have it for breakfast or a midday snack, the delicacy will never disappoint you. Moreover, they are super thin and easy to make. Finnish spinach pancakes are crispy on the outside and soft on the inside. While it may be from Finland, they are popular across the world. The rich green color of the pancakes makes them a must-have.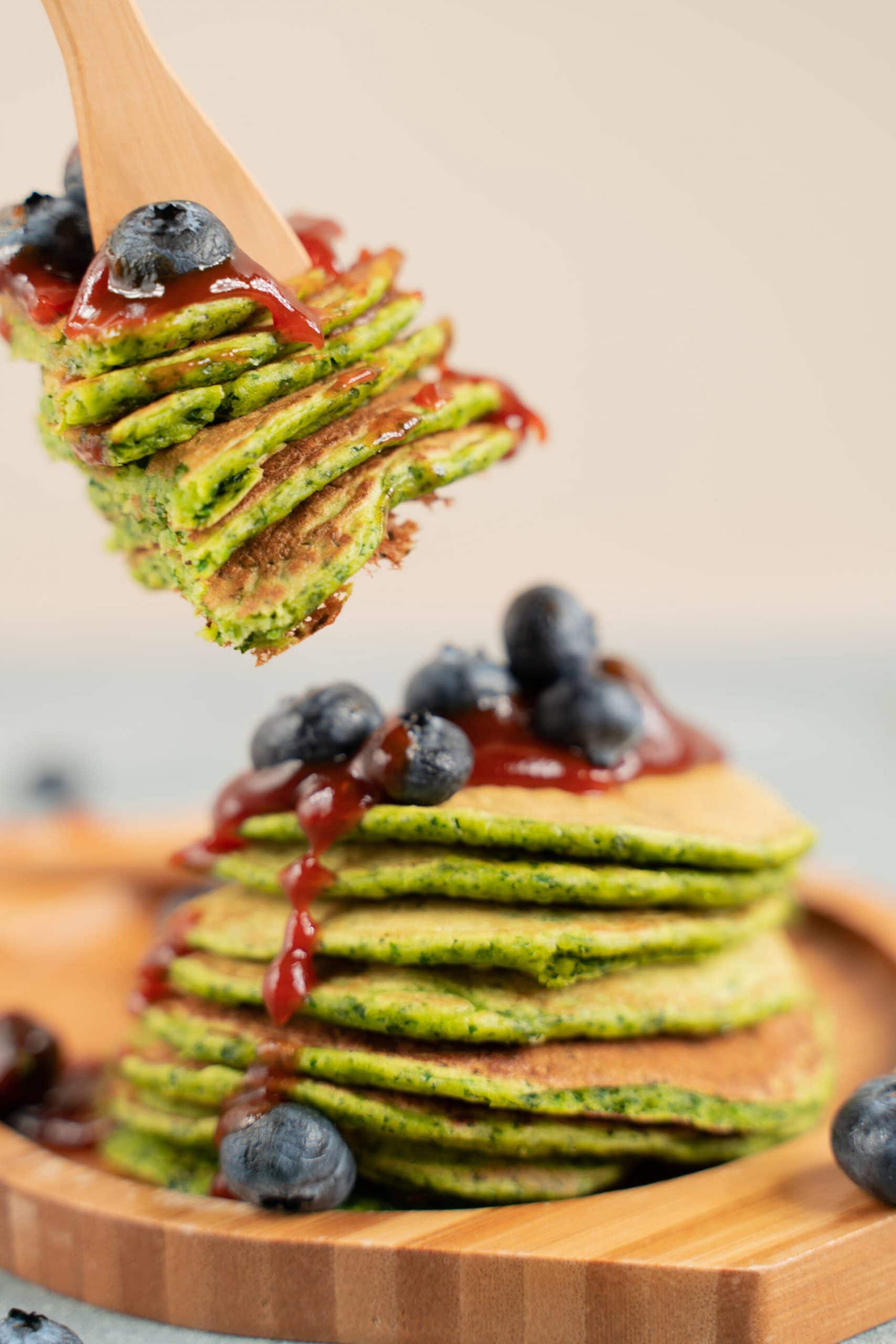 Ingredients
4

ounces

of baby spinach

¼

teaspoon

salt

½

cup

+ 2 tablespoons of flour

or ¾ a cup.

¼

teaspoon

sugar

A pinch paprika

Freshly grated nutmeg

¾

cup

milk

1

egg

2

tbsp

butter
Instructions
Puree spinach with butter and milk with a food processor.

Take a big bowl, sugar, combine flour, paprika, and nutmeg. Add your pureed spinach and egg. And combine again until you get a smooth batter.

Place your skillet on the heat and apply butter over it. Pour batter on the skillet to make pancakes. Fry each side until they are slightly brown.
Video
Nutrition
Calories:
121
kcal
|
Carbohydrates:
7
g
|
Protein:
5
g
|
Fat:
9
g
|
Saturated Fat:
5
g
|
Polyunsaturated Fat:
1
g
|
Monounsaturated Fat:
2
g
|
Trans Fat:
1
g
|
Cholesterol:
24
mg
|
Sodium:
425
mg
|
Potassium:
439
mg
|
Fiber:
1
g
|
Sugar:
5
g
|
Vitamin A:
5640
IU
|
Vitamin C:
16
mg
|
Calcium:
161
mg
|
Iron:
2
mg
The Best Way To Serve Finnish Spinach Pancake
Traditionally, Finnish spinach pancakes are served with Lingonberry jam. Although they are available to buy at stores, what's the fun in that? Here is a recipe for lingonberry jam: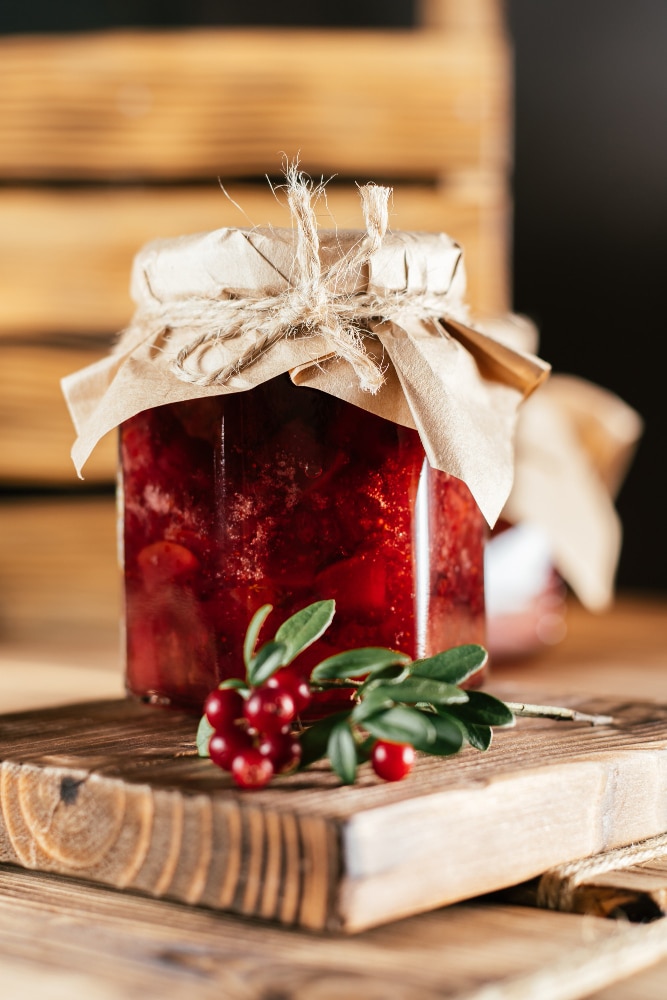 Ingredients
½

kg

Dansukker jam sugar

1

kg

Lingonberries

50

ml

water

½

pot chopped rosemary
Instructions
Rinse as well as hull the berries.

Place jam sugar, berries, and water in a saucepan. Add rosemary for flavoring.

Boil the mix for 3 to 4 minutes.

Skim off the foam and now transfer the jam into a cleaned and warm jar.

Seal the jar and store the jar in a cool place.
Nutrition
Calories:
619
kcal
|
Carbohydrates:
150
g
|
Protein:
1
g
|
Fat:
1
g
|
Sodium:
1
mg
|
Sugar:
119
g
|
Vitamin A:
225
IU
|
Vitamin C:
53
mg
|
Calcium:
65
mg
|
Iron:
1
mg
Other Side Dishes To Try With Finnish Spinach Pancakes
Below are some of the side dishes that you can make with Finnish spinach pancakes:
Scrambled Eggs
Fluffy scrambled eggs and pancakes are an epic breakfast combination. It will take the health factor of the spinach pancake a notch higher. Additionally, they are extremely easy to make.
Maple Syrup
Pancakes are delicious, but they're even better when paired with maple syrup. Maple syrup is a popular topping for pancakes because it pairs well with almost anything. It can be poured on top of the pancake or used as a dipping sauce to complement the flavors inside. Pour some over your pancakes and enjoy this sweet breakfast treat.
Bacon
Pancakes and bacon go hand in hand. Serve crisp, thick-cut strips of bacon with pancakes for breakfast or brunch — the savory flavor and hearty texture of pork pairs well with sweet buttermilk pancakes. You can also serve a side dish like hash browns made from shredded potatoes, onions, and peppers to round out your meal.
Egg Muffins With Pancakes
Egg muffins are a great way to start the day. With pancakes, they can be made into an easy breakfast sandwich that will hold you over until lunch. You can make them ahead of time and freeze them for later or enjoy them right away with your favorite pancake recipe.
Sausages
Sausages go well with pancakes because they give a great blend of flavor and texture. They're also easy to cook. Just sauté them in some butter, add maple syrup or honey if you like sweet flavors, and make sure the sausages get crispy brown on all sides (about five minutes). You can serve them over your favorite type of pancake.
Nuts
Nuts go great with pancakes because they're crunchy, sweet, and salty. For example, you could sprinkle over some chopped walnuts or pecans on your stack of buttermilk pancakes for a nice added texture! You can also add nuts to the batter itself before cooking them up in a skillet. They work well if you do this too. That way, everything is cooked together just right so that the flavors are mixed perfectly into each bite!
Tips To Make The Perfect Batch Of Pancake
Want to make the perfect pancake every time? Follow these tips:
Your Baking Powder Should Be Fresh
Pancakes are a simple dish that can be made with few ingredients. And you need to make sure that the ingredients are fresh, especially your baking powder. If you are using old or expired baking powder, you will end up with a flat batter. So ensure that you check the expiration date before using the baking powder.
There Should Not Be Any Big Lumps In the Batter
Lumps are not good for the quality of your batter. And, you don't want to overmix your batter also. To avoid lumps and overmixing, de-lump the dry ingredients with a few whisks. Moreover, you can also sift the dry ingredients to ensure that your batter comes out smooth. While big lumps are bad, having small lumps in the batter is not so bad.
Allow The Batter To Rest
Once you have properly mixed the batter, allow it to rest for at least 15 minutes (30 minutes if you have time). This will allow stubborn lumps to blend into the mixture slowly. Additionally, it will give you sufficient time to prepare the side dish.
Wipe The Pan In-Between Batches
When you are frying pancakes in butter, the butter will burn on the pan or skillet. Simply wipe the pan clean better batches to avoid any burned bits.
Conclusion
A perfect batch of pancakes makes your breakfast satisfying. If you have been making plain old pancakes, it is time to try something new. We have shared an easy recipe for Finnish spinach pancake, which is worth the try.
---
Recent Recipes