Deliciously Vegan Tofu "Butter" Masala
Growing up Paneer Butter Masala was my favorite thing to eat. It was what I ordered every time we went to restaurant, what I wanted as a treat, what I'd beg my mother make every weekend. If paneer was involved, I wanted it. Once I started cooking, paneer butter masala was obviously what I turned to for comfort food. Unfortunately, the store-bought paneer was not cutting it, I was also trying to eat healthier and looking into going vegan. Besides I had family with dairy intolerances and tofu was turning up more and more frequently on my dinner table. The Deliciously Vegan Tofu "Butter" Masala was a natural progression. Despite differences in taste, I have come to love tofu, I have a borderline tofu addiction, and while it might be an acquired flavor for many, if cooked and spiced right, it is downright delicious.
My Deliciously Vegan Tofu "Butter" Masala is a culmination of numerous experiments over the years, and I think I have finally landed on something that tastes perfect every single time. It is also super easy to make besides being extremely versatile and welcoming to most substitutions and allergies. This is a completely vegan recipe.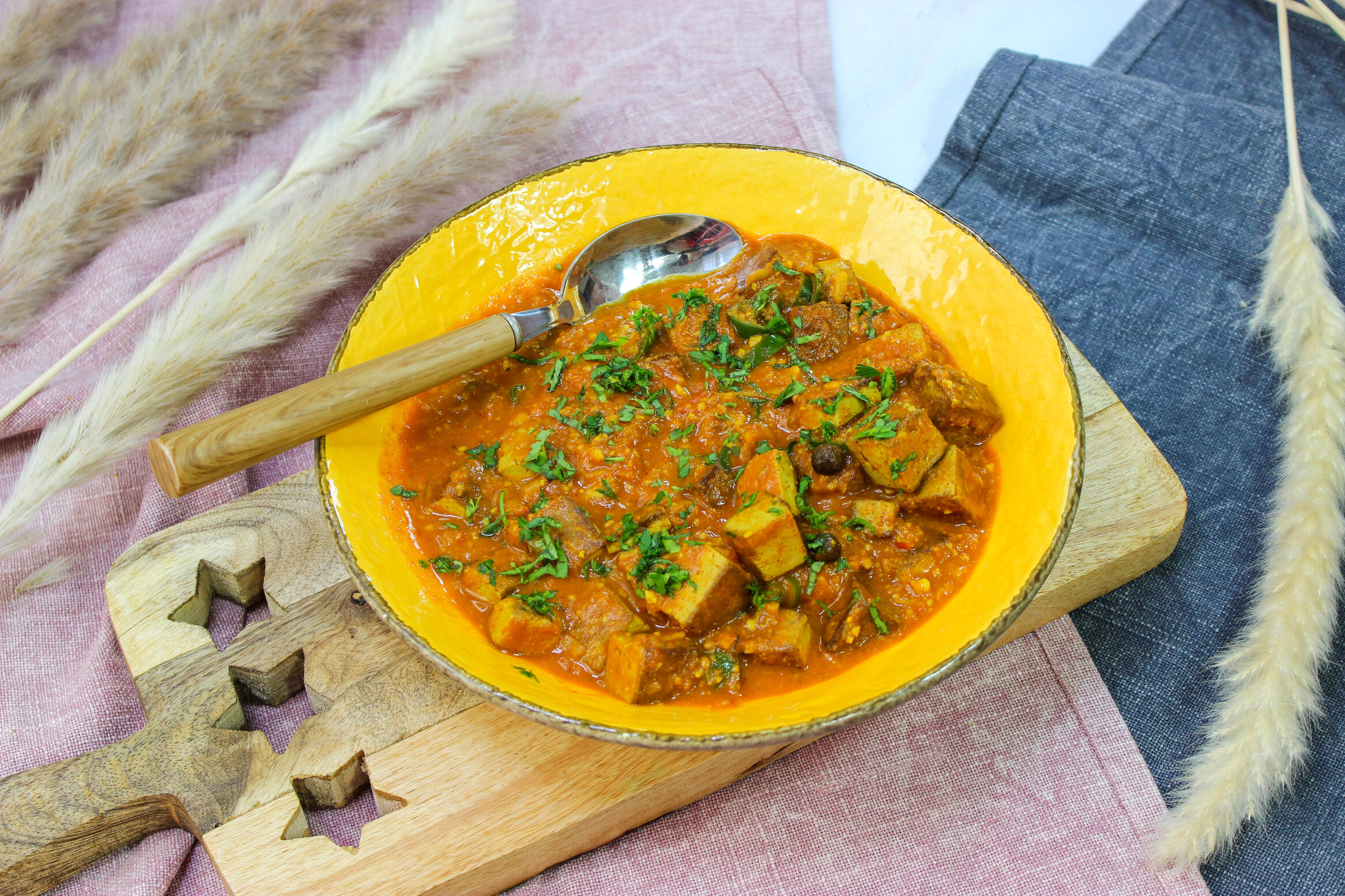 Ingredients
1

block of extra firm tofu

1

medium onion

chopped

1

large tomato

chopped

5-6

raw cashew nuts

2

green chilis sliced

2

cloves

2

pods of cardamom

1

bay leaf

1

teaspoon

ginger-garlic paste

1

teaspoon

turmeric powder

1

teaspoon

red chili powder

1

teaspoon

cumin powder

1

teaspoon

coriander powder

1

teaspoon

garam masala

store bought is fine

5

tablespoons

of vegetable oil

1

teaspoon

sugar

1

cup

of water

Salt

Cilantro for garnish
Instructions
Take the block of tofu, press all the water out of it and cut into cubes.

Heat 2 tablespoons of oil in a pan and add the cubed tofu. Cook till they brown evenly on all sides and set aside. They need to get a little bit crisp.

In the same pan heat another 2 tablespoons of oil

Add the chopped onions and sauté till the color changes. Sprinkle a little salt to speed up the process.

Now add the cashew nuts to the onions and sauté for about a minute

Now add the tomatoes and cook till it gets soft

Now add the turmeric powder, the chili powder, the cumin powder, the coriander powder and the garam masala.

Mix well and sauté on low heat till it becomes aromatic

Take it off heat and let cool. Transfer to a blender, add ½ a cup of water and blend till everything is pureed into a smooth paste.

In the same pan, heat the remaining oil.

Add the cloves, cardamom, bay leaf and the green chilis

When they begin to sizzle, add the ginger-garlic paste.

Sauté till the raw smell goes away

Now add the blended paste and the remaining water.

Add the sugar and salt and let it simmer till it thickens.

Reduce the heat and add the fried tofu.

Let it simmer for about 5 minutes.

Switch it off and garnish with cilantro.
Video
Nutrition
Calories:
264
kcal
|
Carbohydrates:
11
g
|
Protein:
9
g
|
Fat:
21
g
|
Saturated Fat:
2
g
|
Polyunsaturated Fat:
6
g
|
Monounsaturated Fat:
12
g
|
Trans Fat:
1
g
|
Sodium:
78
mg
|
Potassium:
427
mg
|
Fiber:
2
g
|
Sugar:
6
g
|
Vitamin A:
750
IU
|
Vitamin C:
41
mg
|
Calcium:
57
mg
|
Iron:
2
mg
Tips & Tricks
Make sure the onions and tomatoes are not overcooked, if they are the gravy develops a bitter taste
Drain all the water out of the tofu, else it won't fry evenly
There are a lot of spices, whole and powdered used in the recipe, make sure they're fresh, only then does the flavor and aroma come out
You can make the onion-tomato sauce ahead of time and freeze it and thaw right before you need to use it.
Storage
The Deliciously Vegan Tofu "Butter" Masala can be refrigerated for up to 2 days. It can be frozen for up to a week after being completely cooked. The gravy alone (without the whole spices and tofu) can be frozen for up to a month.
Questions
Can I do it without the cashew nuts?
Yes, of course. Because it is vegan, the cashew nuts add a nice texture and a nutty-milky taste, which makes the masala "rich". You can replace it with a couple of tablespoons of coconut milk if you prefer. Or do away with it completely, no replacements.
Can I make it non-vegan, but with the tofu?
Certainly. Replace the oil with ghee or butter (salted or unsalted work). You can still add the cashew nuts, but you can also add half a cup of heavy cream or half-and-half to it after step 14. Once it is off the heat, add a generous dollop of butter on top. The heat makes it melt and gives the sauce a shimmer and extra flavor.
Do I have to sauté the tofu first?
You don't absolutely have to, but non-fried tofu in a gravy is too soft and doesn't have enough of a bite. Crisping the tofu first (you can air fry or even bake them) gives it a more appealing texture.
Substitutions
Oil: If you want a non-vegan option, ghee and butter are great options.
Spices: This recipe calls for a ton of spices and while you can do away with some of them, others are an absolute must. Turmeric, chili powder and ginger-garlic paste are absolutely essential. Ginger-garlic can be used in their powder form also as well as fresh ginger and garlic.
Also, if you have any of the spices only in the seed form, like cumin or coriander, you can always grind them yourself, either a rough blend with a mortar and pestle or a fine powder with a blender/food processor.
Vegetables: Tofu pairs well with a number of vegetables, green pepper and green peas are good options for this recipe. Sauté the sliced peppers first.
Green chilis: Depending on your spice preference, you can reduce, increase or eliminate them completely
Cashew nuts: Not necessary, this is a personal preference.
Dairy and Thickeners: If you don't have any dairy allergies add a little bit of heavy cream or half-and-half, right before you add the tofu. It makes the Tofu "Butter" Masala so much creamier. If you still want the creaminess without the dairy, then try coconut milk.
Accompaniments
This pairs well with naan, pulao or any kind of basmati or long-grained rice.
If you still haven't got your tofu fix, try the tofu chickpea curry or this tofu korma.
---
Recent Recipes