Simple Risotto Alla Pizzaiola
Risotto is a dish I used to fear making correctly. It is one of those preparations that often stumps even the best chefs in cooking competitions. I have learned that there really isn't anything to fear when it comes to making risotto. You need only a few good ingredients and the patience to nurse the rice while it cooks.
At its core, risotto is rice, fat, wine, broth, seasonings, and cheese. A more complex risotto might have cream and mushrooms or lobster. In this version, we are staying vegetarian but adding tomatoes, herbs, and cheese to make a risotto alla pizzaiola. It isn't vegan because of the dairy.
In Italy, the only rice used for risotto is typically Arborio rice which is round and starchy, giving risotto its classic creamy and chewy texture. Arborio is a polished short-grain white rice that is grown mainly in the Piedmont region of Italy. There are growers who are now producing this rice in California and Texas. I recommend using arborio rice for this recipe but we will discuss substitutions after the recipe notes and tips.
Pizzaiola basically refers to a base food, such as steak or grains, that is topped with tomato sauce and cheese. Think of this as pizza without the dough or crust. What I like a lot about anything pizzaiola is that you can make a gluten-free alternative to standard pizza without losing all that tomato and cheesy goodness.
In this case, risotto is the canvas for tomato sauce and cheese. I make this rich and fairly easy by using a combination of tomato paste, tomato purée, and fresh tomatoes. The cheese is parmesan and mozzarella. The fat in the dish is olive oil and butter. The risotto alla pizzaiola is finished with cream for added richness and silkiness.
Risotto alla pizzaiola is for sure a filling and comforting dish. It is the main entrée of the meal. I like to offset and compliment that with a bitter greens salad or simply steamed asparagus.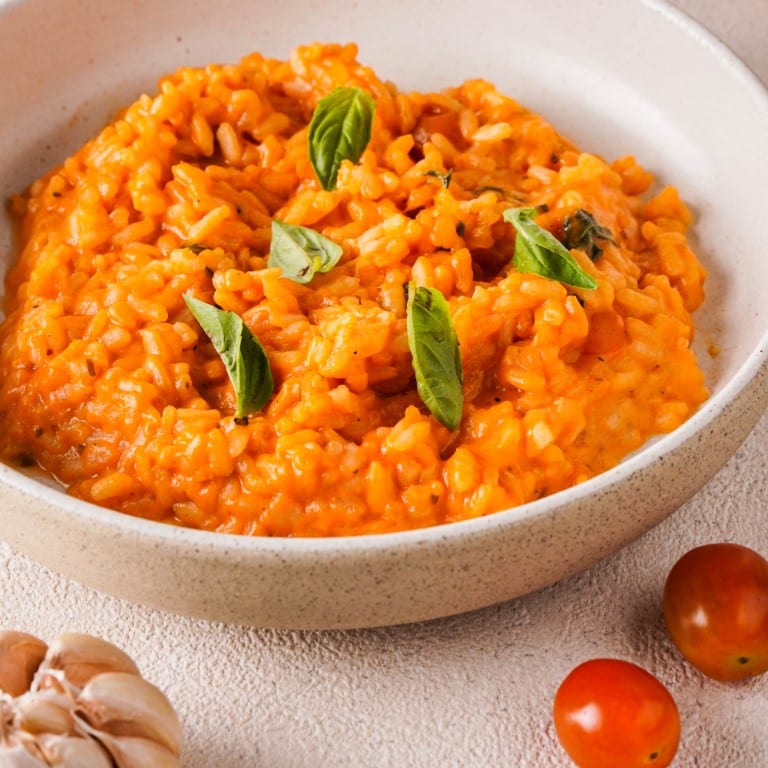 Ingredients
1

Tbsp

extra virgin olive oil

2

tbsp

unsalted butter

divided

1

shallot

peeled and finely chopped

2

garlic cloves

peeled and minced

1

tsp

dried oregano

1

tsp

sea salt

1

tsp

freshly ground black pepper

1

Tbsp

tomato paste

10.5

ounces

Arborio rice

rinsed very well

1/4

cup

dry white wine

1 ½

cups

hot vegetable broth

more or less

¾

cup

tomato purée or passata

10

grape tomatoes

sliced in half lengthwise

¼

cup

heavy cream

1

ounce

finely grated parmesan cheese

1

large mozzarella ball

diced into ½-inch cubes

2

Tbsp

chopped fresh basil leaves
Instructions
The best way to approach this recipe is to prep all of your veggies and cheese before you start the dish. You also want to heat up your vegetable broth. Have everything measured out and ready to go so you can focus on cooking the risotto which involves a good amount of stirring and paying attention to the moisture content and texture.

In a very large skillet or Dutch oven over medium heat, warm the olive and 1 tablespoon of the butter. When the butter melts, add the shallot and garlic. Sauté until the aromatics start to turn translucent, approximately 2-1/2 minutes.

Add the oregano, salt, and pepper to the shallots and stir to coat the herbs and spices well with the oil and butter. Cook until fragrant for about 30 seconds.

Stir the tomato paste into the shallots and garlic. Then, add the rice and stir well until the rice is coated evenly with the tomato paste. Cook this for 1 minute so the rice toasts and the tomato paste deepens in flavor.

Deglaze the pan with the white wine until it bubbles and almost evaporates.

Add a ladle of the hot broth to the rice and stir until the liquid is absorbed. Add another ladle of broth and cook until absorbed again. Continue doing this until the rice is cooked to al dente, approximately 15 minutes total. You might not need all of the broth. You are just cooking the rice and don't want the risotto to be soupy.

Stir in the tomato purée and the fresh tomato halves. Simmer the risotto for another 5 minutes until the rice is creamy and the sauce is thick. If needed, add more broth to loosen the sauce just a little to your liking.

When you have the texture of a silky and creamy risotto, stir in the remaining tablespoon of butter, the cream, and the parmesan cheese.

Taste and season with salt and pepper if needed.

Then, fold in the mozzarella and basil.

Cover the skillet or Dutch oven, turn off the heat, and allow the mozzarella to melt and the risotto to rest for 4 minutes while you prepare your table.

Serve the risotto warm with a side of green veggies or a salad.
Nutrition
Calories:
650
kcal
|
Carbohydrates:
71
g
|
Protein:
22
g
|
Fat:
30
g
|
Saturated Fat:
16
g
|
Polyunsaturated Fat:
1
g
|
Monounsaturated Fat:
10
g
|
Trans Fat:
0.2
g
|
Cholesterol:
81
mg
|
Sodium:
1456
mg
|
Potassium:
522
mg
|
Fiber:
4
g
|
Sugar:
6
g
|
Vitamin A:
1737
IU
|
Vitamin C:
13
mg
|
Calcium:
416
mg
|
Iron:
5
mg
Notes & Tips
Be sure to rinse your rice several times under cold running water to remove excess starch and dust.
Risotto is very easy to cook in about 20 to 30 minutes as long as you are stirring frequently and adding the broth in small increments. The goal is a creamy sauce and rice that is just slightly chewy but cooked through.
Leftover risotto can be reheated the next day just by adding a little water to loosen it up.
Substitutions & Additions
Arborio Rice: I personally think Arborio rice is superior for making risotto. However, I have made this dish with short-grain brown rice for added fiber. I soak and sprout my brown rice so that it cooks faster. This takes a couple of days by soaking and rinsing it until it germinates. Yes, this is a seed that is alive and more easily digestible once sprouted. If you can't find Arborio rice, try some of these substitutions.
Wine: If you don't want alcohol, just use a little more broth instead of wine. If you do use wine, make sure it is one that you will actually drink with this dish. The quality does matter.
Vegetable Broth: I admit that I often make risotto with my homemade chicken bone broth because it is so concentrated in flavor and full of nutrients. Feel free to substitute the vegetable broth with a meat stock if you aren't making a vegetarian meal. Another favorite of mine for risotto is mushroom broth that I can get at 2 of my local markets. Mushroom broth is intense and earthy in favor.
Grape Tomatoes: Grape tomatoes have a little more flavor than cherry tomatoes in my opinion. If you can't find them, use cherry tomatoes. You can also leave them out completely.
Additions: This risotto is a variation of pizza at its essence. For that reason, you can add any pizza toppings into the mix. I think crumbled and cooked Italian sausage is a great addition.
Try sliced and sautéed cremini mushrooms. Baby spinach or small broccoli florets add brightness to the risotto. I like pizza topped with bacon on occasion. For this risotto, I think crispy fried prosciutto is a perfect topping.
---
Recent Recipes