Easy Turkish Rice Pudding (Sutlac)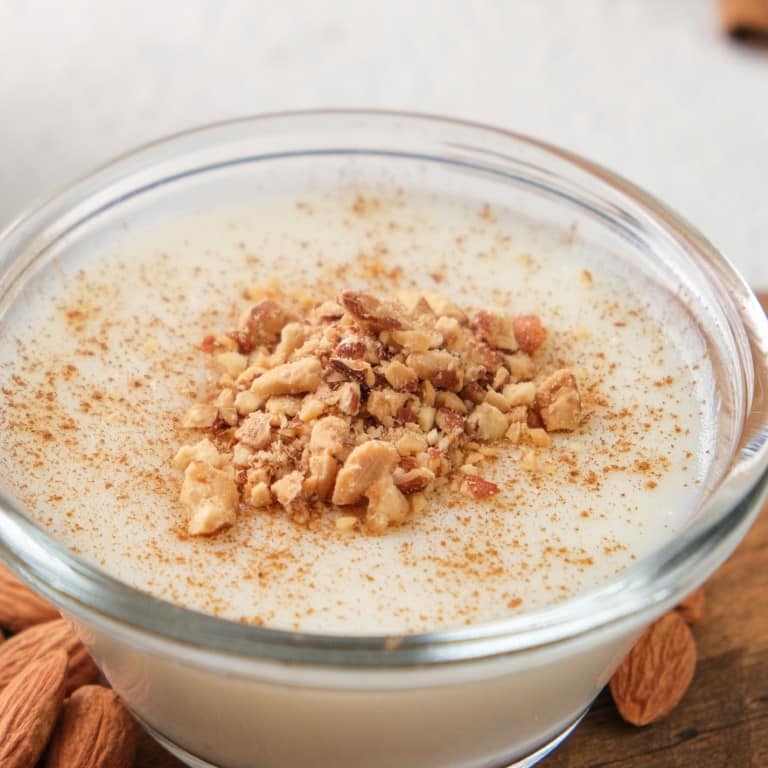 Ingredients
2

cup

water

2

cup

milk

½

cup

medium grain rice

rinsed and drained

½

cup

milk

¼

tbsp

rice flour

¾

cup

sugar

Ground cinnamon

for serving

Nuts

for serving
Instructions
Put the rinsed rice and water into the pot and cook until the rice is softened.

Pour the 500 ml milk into the pot after the rice is soft. While the waiting for milk is boiled, mix the rice flour and ½ cup of cold milk to make a slurry in a separate bowl.

Add the slurry into the pot when the rice and milk mixture is boiled. Cook them for about 10 mins stirring constantly.

Add the sugar to the pot, cook for about 3-4 mins, then turn off the heat.

Divide into bowls and rest for 1 hour at room temperature.

You can serve it at this stage if you want, or you can rest it in the refrigerator for 3 hours to get even more consistency.

You can serve with ground cinnamon and chopped hazelnuts on top after the rice puddings are cold.
Tips, Notes & Substitutes
This Turkish rice pudding recipe is a delicious, creamy, and easy-to-make dessert. It is made with rice, milk, and sugar. You can top it with cinnamon, nuts, or even fresh fruits. It is an excellent dessert for any occasion.
You don't need to soak the rice when making rice pudding; just rinse them. If you wash it too much, the starch of the rice itself will go away, and it will cause the consistency not to thicken while making the rice pudding.
Do not overcook the rice. It should be cooked just tender; overcooked rice will make the pudding mushy.
Stir constantly while cooking. This will prevent the pudding from scorching.
If the pudding is too thick, you can thin it out with additional milk. Keep in mind the consistency of the rice pudding should be a little runny because it will gelatinize and solidify as it cools.
You can serve the rice pudding warm or cold. You can store the rice puddings for 4 days in the refrigerator.
You can use buffalo milk for a higher flavor rice pudding.
It is important to add sugar to the rice pudding at the last stage; if added in the first stage, it can prevent the rice from releasing its starch. You can put vanilla extract or vanilla sugar in your rice pudding along with sugar at the last stage.
---
Recent Recipes