Homemade Fish & Chips (No Beer Batter)
I have been to the UK a few times and during each visit I made a point of seeking out the best fish and chips I could find. I think the small street shops that make only fish and chips are the best. Commonly, white flaky cod or haddock is the fish of choice.
The perfect chips are made with baking potatoes that are fully grown with dry floury flesh. This ensures a fluffy interior and a crisp exterior. In the UK, these would be Maris Piper or King Edward potatoes. In the States, Russets are preferable and more widely available.
Fish and chips is a deep-fried dish. The fish is generally dipped in a beer batter before frying. This is a nice light batter. But you don't have to use beer. You can use another carbonated beverage, such as club soda or unflavored seltzer to achieve the same light and crisp batter.
You will definitely need a home deep fryer or a Dutch oven that can hold a fair amount of oil for making this recipe. You will want to have a thermometer handy. The oil will be hot, so you do want tongs to take the fish from the batter to the pot. It is also helpful to have a spider to transfer the cooked fish and potatoes from the hot oil to a rimmed baking sheet with a wire rack insert for draining.
Traditionally, fish and chips are served with malt vinegar. This is a grain-based vinegar that is a fermented product. It is basically ale that has been allowed to ferment and age until it turns to vinegar. It is used to dunk chips (French fries) into rather than ketchup. It can also be used to make salad and slaw dressings.
The ingredients in this recipe are fairly straightforward and available at most markets. You will need Russet potatoes, salt, and vegetable oil for the chips. For the fish, you need white fish fillets, all-purpose flour, baking powder, salt, pepper, paprika, seltzer, and cornstarch. That's it.
There are a few steps needed to achieve the perfect fish and chips, so leave yourself plenty of time. The chips need to be cooked twice. The fish batter is best if it is made ahead of time and allowed to chill in the refrigerator. I suggest giving yourself an hour to make this recipe.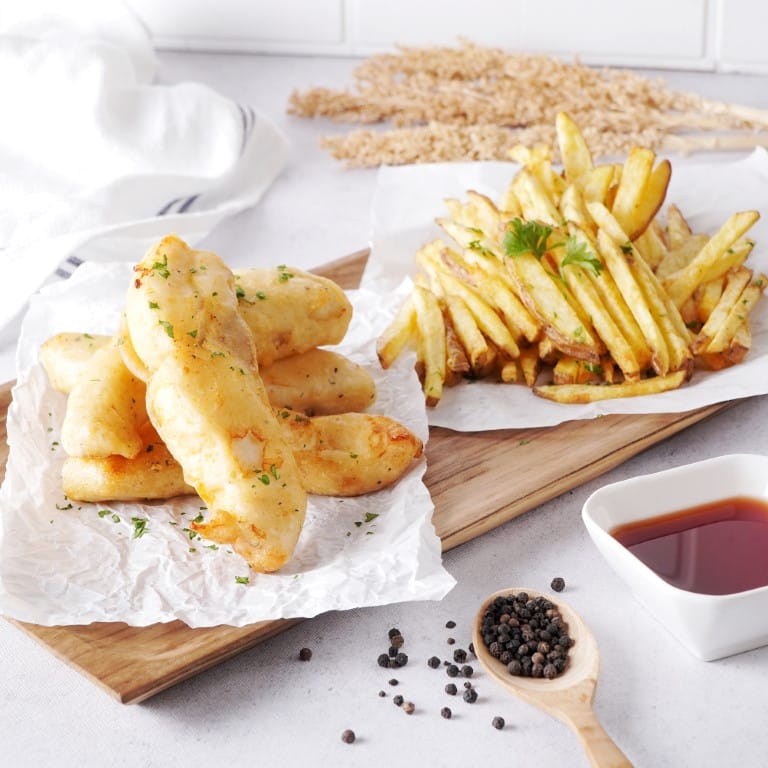 Ingredients
Chips
3 to 4

quarts

of vegetable oil

canola, safflower, or grapeseed

4

large Russet potatoes

washed well and unpeeled

Kosher salt to taste
Fish
2

cups

all-purpose flour

1

Tbsp

aluminum-free baking powder

1

tsp

sea salt

½

tsp

freshly ground black pepper

¼

tsp

paprika

⅛

tsp

cayenne pepper

optional

12

ounces

cold plain seltzer or club soda

1 ½

pounds

of fresh cod

½

cup

cornstarch

Malt vinegar for serving
Instructions
All ingredients ready? Let's begin!

Fill a large bowl with icy cold water. Slice the potatoes into French fries with a sharp knife, or use a special fry slicer. Submerge the potatoes in the water and set them aside.

Preheat your oven to 200°F. Pour the oil into a deep pot or Dutch oven over medium-high heat. Bring the oil to 320°F

While the oil is coming to temperature, mix your fish batter. In a large bowl, whisk together the flour, baking powder, salt, pepper, paprika, cayenne, and seltzer until very smooth. Place this in the refrigerator for 15 to 30 minutes.

Drain all the water from the potatoes and dry them well on paper towels or a kitchen towel. Working in batches, fry the potatoes for 2-1/2 minutes. Don't overcrowd the pot. Using a spider, Transfer the limp potatoes to a rack inserted into a rimmed baking sheet to drain. Set the potatoes aside until they come to room temperature.

Slice the fish into 8 equal long strips that are at least 1-inch thick. Set aside.

Increase the oil temperature to 375°F. Again, working in batches, refry the chips until golden brown and crisp, approximately 3 minutes. Transfer the cooked fries to the rack inside the baking sheet and season with kosher salt while hot. Place the chips in the oven to keep them warm.

Bring the oil to 350°F. Lightly coat the fish strips in cornstarch.

Working in small batches, dip the fish strips in the batter and then into the oil. Turn the fish over as soon as the bottom side is golden. Cook the fish completely until the batter is crisp, approximately 3 minutes total.

Using the spider, transfer the cooked fillets to the rack on the baking sheet with the potatoes to drain. Serve while hot and crisp with malt vinegar.
Nutrition
Calories:
785
kcal
|
Carbohydrates:
130
g
|
Protein:
45
g
|
Fat:
9
g
|
Saturated Fat:
2
g
|
Polyunsaturated Fat:
5
g
|
Monounsaturated Fat:
2
g
|
Trans Fat:
0.05
g
|
Cholesterol:
73
mg
|
Sodium:
959
mg
|
Potassium:
2316
mg
|
Fiber:
7
g
|
Sugar:
2
g
|
Vitamin A:
109
IU
|
Vitamin C:
23
mg
|
Calcium:
312
mg
|
Iron:
7
mg
Notes & Tips
There is no reason to peel the potatoes. The skins have a lot of vitamins and minerals and they help the potatoes crisp up when fried in oil.
Follow each step for cooking the chips. The cold water helps remove some of the excess starch. Double frying is important because the lower temperature first fry cooks the interior of the potatoes and the higher temperature second fry crisps the exterior.
Don't over batter the fish. Doing that could result in the batter not crisping up completely.
If you are using frozen fish, defrost it in the refrigerator overnight and pat it dry with paper towels to remove any excess moisture.
Substitutions
Flour: To make the fish with more of a tempura-style batter, use fine rice flour instead of all-purpose flour. This also affords you the opportunity to make this a gluten-free meal.
Cod: I am very fond of cod and how flaky and delicate the cooked flesh is. However, some people find it hard to work with for that very reason. Haddock is a tiny bit less flaky. Or, go for a sturdier white fish, such as hake or pollack. Some recipes call for tilapia. This is actually a freshwater whitefish that is a very affordable alternative.
Seltzer: The bubbles in the seltzer help form some air pockets in the batter so it is crispy and not doughy. You can go the classic route and use beer or ale in this recipe to achieve the same result.
Malt Vinegar: Malt vinegar may be foreign to many palates in the states. If you prefer, use ketchup or tartar sauce for the condiment. Also, malt vinegar is not gluten-free, if that is a concern.
---
Recent Recipes