There are some differences of opinion about the origins of this brilliant salad. Many believe the Caesar salad was invented in Mexico. But the common story is that the salad was first made by the Italian chef Caesar Cardini who emigrated to California in 1910 and then relocated to Tijuana, Mexico during prohibition. Apparently, Caesar salad was featured on his French-inspired restaurant menu located south of the border where Americans could go to eat and have alcohol. The salad seems to have been invented at Caesar's Restaurant in Mexico using crunchy lettuce ribs that would normally be discarded and whatever was in the fridge and pantry during uncertain times and food shortages. It was made tableside to impress the guests and get them to order it for the show. The bottom line is that it was a hit in both preparation and taste.
A few times a year, my father would make a Caesar salad that he learned from a favorite restaurant where the salad was made tableside and he paid close attention. I got to witness that special showmanship a couple of times and it was exciting. The maître d' would crack an egg, separate the white from the yolk, and drop the yolk into a wooden salad bowl. He added lemon juice. Anchovies, garlic, Dijon mustard, and Worcestershire sauce and whisked with a fork until the egg yolk was creamy. Olive oil, salt, and pepper came next. Torn romaine hearts, parmesan cheese, and crunchy croutons were tossed in the dressing and everyone was served a small plate of salad to start the meal. It was fun to watch and even better to eat.
My dad's homemade salad was just as good. He went so far as to make his own croutons from a loaf of Italian bread. He also added fresh garlic to the dressing, which was something we didn't have much of in our home. However, he coddled his egg and used the soft yolk, rather than adding a raw egg yolk. This made the dressing so creamy that it clung to the lettuce beautifully. Dad's croutons were so crunchy and delicious that I have never enjoyed packaged croutons. So, this recipe includes a step for making croutons.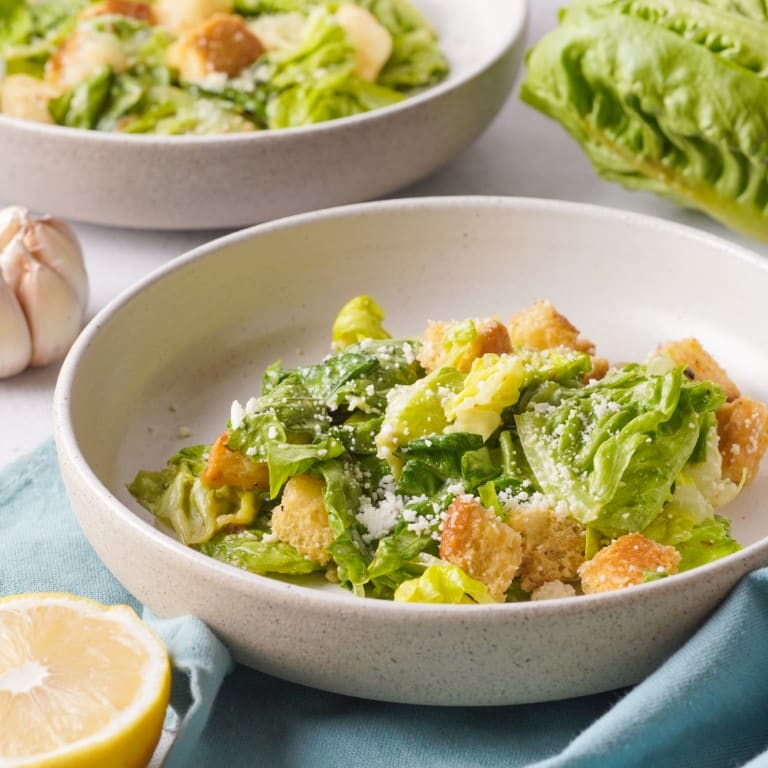 Ingredients
Croutons
3

Tbsp

extra virgin olive oil

½

tsp

garlic powder

¼

tsp

sea salt

2

cups

1-inch cubes cut from a baguette
Dressing & Salad
1

large whole egg

at room temperature

1

large garlic clove

finely minced

4

anchovy fillets

finely chopped

1

tsp

Dijon mustard

1

tsp

Worcestershire sauce

3

Tbsp

fresh lemon juice

⅓

cup

extra virgin olive oil

1

tsp

freshly grated black pepper

¼

tsp

sea salt

2

heads romaine hearts

washed and torn into bite-size pieces

⅓

cup

finely grated parmesan cheese
Instructions
All ingredients ready? Let's begin!
Croutons
Preheat your oven to 400°F.

In a mixing bowl, whisk together the olive oil, garlic powder, and salt. Add the bread cubes and toss to coat with the oil and seasonings.

Spread the cubes out on a sheet pan. Place this in the oven and bake for 5 minutes. Turn the bread cubes over and continue to bake until they are golden and crunchy, approximately 5 more minutes.
Dressing & Salad
Have a bowl of ice-cold water ready. In a small pot over high heat, bring enough water to fully cover the egg to a boil. Using a spider or slotted spoon, gently lower the egg into the boiling water. Turn the heat off and allow the egg to cook for just 1 minute. Using the spider or spoon, transfer the egg to the bowl of cold water so it can cool down.

In a large salad bowl, preferably wood, mix together the garlic and anchovies.

Add the mustard and Worcestershire sauce and mix again. Crack the egg and add the yolk to the bowl. Mix with a fork or whisk to combine again.

Add the lemon juice to the bowl. Using a whisk for mixing, pour the olive oil in a slow stream into the bowl while whisking until the dressing begins to emulsify and is creamy.

Add the torn lettuce to the dressing and toss to coat the leaves. Add the parmesan and croutons and toss gently to incorporate it all.

Using tongs or salad serving utensils, transfer the salad to 4 serving plates and enjoy.
Nutrition
Calories:
408
kcal
|
Carbohydrates:
20
g
|
Protein:
9
g
|
Fat:
33
g
|
Saturated Fat:
6
g
|
Polyunsaturated Fat:
4
g
|
Monounsaturated Fat:
22
g
|
Trans Fat:
0.01
g
|
Cholesterol:
55
mg
|
Sodium:
683
mg
|
Potassium:
259
mg
|
Fiber:
2
g
|
Sugar:
3
g
|
Vitamin A:
5061
IU
|
Vitamin C:
7
mg
|
Calcium:
171
mg
|
Iron:
2
mg
Shop Ingredients
Notes & Tips
You can make your croutons in a large skillet over medium-high heat, tossing often until golden and crisp.
If you are comfortable with the source of your eggs, or use pasteurized eggs, you can use a raw egg yolk in this recipe. Coddling an egg just cooks the yolk enough to remove any bacteria from the outer shell and does help the yolk to set just enough to make it super creamy. Just don't cook for too long. It needs to be runny. Having the egg at room temperature is the best way to successfully coddle an egg.
It is important to add the olive oil in a slow stream as you are whisking, otherwise the dressing will not emulsify and will separate.
If you have large whole heads of romaine, remove the outer leaves and use them to make another salad later. A Caesar salad is meant to be crisp and crunchy.
Substitutions & Shortcuts
Croutons: If you are pressed for time, you can use store-bought croutons, preferably ones that don't have a lot of extra added ingredients.
Egg: You can eliminate the egg and make the dressing in a food processor to emulsify it if you are vegan or allergic to eggs. Likewise, you can make this dressing with a tablespoon of vegan mayonnaise.
Anchovy Fillets: Some people just don't like anchovies or are vegan. If that is the case, I recommend using chopped capers. They are briny and salty. Or, try some of our other recommended anchovy substitutions.
Worcestershire Sauce: This is a tricky ingredient because it does have anchovies in it. There are lots of substitutions for Worcestershire sauce. The one I like is miso paste. Another is umeboshi paste.
Parmesan Cheese: Again, if you are vegan, you will want to replace the cheese with either plant-based grated cheese or simply use nutritional yeast.
---
Get Foodie Deals
We collect great foodie-focused deals from across the web daily. Get yourself or your favorite foodie a great deal at big name stores.
Recent Recipes