Easy Gluten-Free Vegan Cornbread
Here we have an easy recipe for a classic, wholesome, homemade gluten-free vegan cornbread. Who says that you can't enjoy cornbread if you're eating gluten-free and vegan?
Cornbread is a perfect snack or side dish. Cornbread is delicious with a schmear of jam and also tasty when dipped into a big bowl of warm chili. It goes well with so many meals, so it makes sense to keep this recipe handy.
Some very popular cornbread recipes contain ingredients that don't comply with a vegan or gluten-free diet (butter, sour cream, and/or milk). But in this recipe, we're going to make some smart substitutions while keeping it a user-friendly recipe.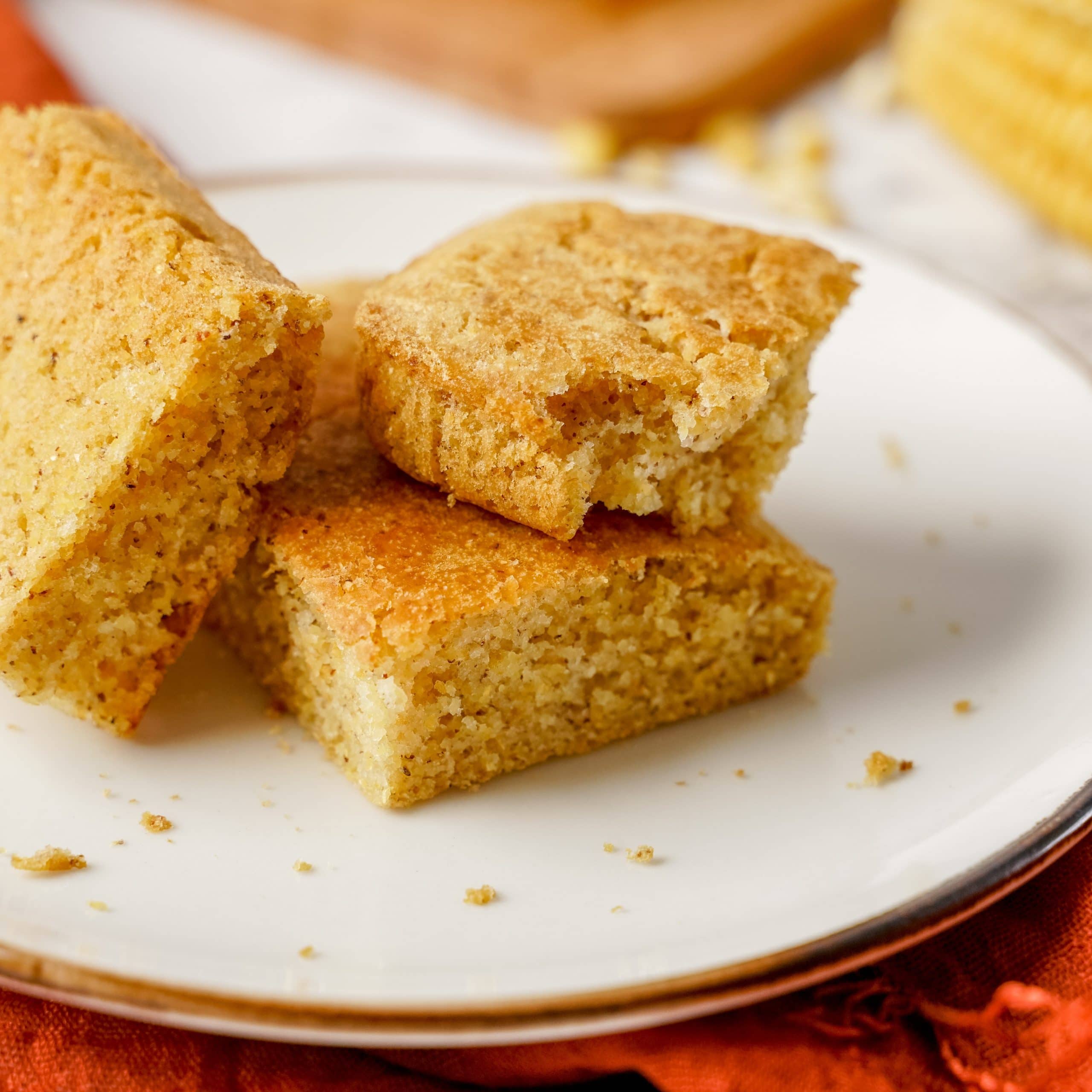 Ingredients
1

tablespoon

ground flax seeds

3

tablespoons

water

1

cup

gluten-free flour blend

¾

cup

medium grind cornmeal

1

tablespoon

baking powder

½

teaspoon

kosher salt

3

tablespoons

maple syrup

1

cup

coconut milk

full fat, from a can works best, room temperature

¼

cup

vegan butter

melted and brought to room temperature
Instructions
Preheat the oven to 350F. Grease an 8×8 or 9×9 baking dish with cooking spray or vegan butter.

Mix together the water and ground flax seeds in a small bowl. Set aide and the mixture will start to thicken.

In a separate bowl, mix together the gluten-free flour, cornmeal, baking powder, and salt.

In a small bowl, whisk together the maple syrup, coconut milk, and melted vegan butter.

Pour the wet ingredients into the dry ingredients. Using a rubber spatula, fold the ingredients together and mix very genty. You do not want to over-mix the dough or the cornbread will be tough and dry.

Pour the batter into the baking pan. Place the pan into the oven and bake for 25 minutes.

When the bread is done, remove from the oven and allow it to cool for at least 20 minutes before cutting into it.

Cut the bread into 9 squares and serve warm.
Video
Nutrition
Calories:
204
kcal
|
Carbohydrates:
25
g
|
Protein:
3
g
|
Fat:
11
g
|
Saturated Fat:
6
g
|
Polyunsaturated Fat:
2
g
|
Monounsaturated Fat:
2
g
|
Trans Fat:
1
g
|
Sodium:
316
mg
|
Potassium:
121
mg
|
Fiber:
3
g
|
Sugar:
5
g
|
Vitamin A:
240
IU
|
Vitamin C:
1
mg
|
Calcium:
102
mg
|
Iron:
2
mg
Notes & Tips
For the best results, use a gluten-free flour blend and not just one flour (like almond flour, coconut flour, etc.). Krusteaz and Bob's Red Mill are two notable brands. 
You can also use this recipe to make about 9 regular-sized gluten-free cornbread muffins. 
It's important that your milk and butter are at room temperature. If they are not, the butter will stiffen up once it's mixed with the cold milk and become chunky. 
Make sure that your coconut milk hasn't separated. It's a good idea to run the unopened can under hot water and then shake it vigorously to mix up the contents. Sometimes, the milk fat separates and comes to the top. But, for this recipe, you want everything mixed together. 
Substitutions & Add Ins
You can add in things to this cornbread to elevate the flavor. Some items to consider are chopped jalapenos, fresh corn kernels, bacon, fresh herbs, or garlic.
You can use white sugar instead of maple syrup.
To make the cornbread slightly sweeter, add more maple syrup or a drizzle of honey to the batter. You could also add ½ teaspoon of vanilla to the recipe.
You can use oil instead of vegan butter. Coconut oil would be a suitable substitute. Better yet, coconut butter would also be delicious.
Storing & Freezing Gluten-Free Vegan Cornbread
You can make this recipe ahead of time and either store at room temperature or freeze for future use.
The best way to store at room temperature is in an air-tight container. The cornbread will stay fresh for 3-4 days at room temperature.
You can also freeze the bread. You'll need to wrap the cornbread tightly in plastic wrap and then store in an air-tight container or freezer bag. These silicone bags are a great option. Gluten-free vegan cornbread can be stored for up to 3 months in the freezer.
Using a toaster oven or standard oven is going to be the best way to warm up the cornbread to eat. But you can also use a microwave if necessary.
Can You Make Gluten-Free Vegan Cornbread Without Flour?
It's always best to use a gluten-free flour blend when baking things like cornbread. It's the best item to use in order to achieve the same texture and to be consistent with standard gluten bread. The blends have been crafted carefully and will provide a better baked product instead of using just rice flour, almond flour, or other single-item flour.
The perfect gluten-free flour really depends on your baking application. Most blends will contain a mixture of various things like rice flour, sorghum gum, buckwheat, tapioca, or oats. There is a wide world of gluten-free products out there for you.
If you're looking for an all-around good baking gluten-free flour, use Bob's Red Mill Gluten Free 1-1 Baking Flour. It has great reviews and is user-friendly. There is no need to figure out fancy rations. The 1-1 means that you can substitute equal amounts of gluten-free flour to regular flour. This gluten-free flour has a rice flour base, which has really great baking results compared to other types of gluten-free flour.
How To Make Gluten-Free Vegan Cornbread Stuffing?
Did you know you can make stuffing (or some call it dressing) with cornbread? Using cornbread along with or in place of standard white bread for a stuffing recipe is a great way to mix up a traditional recipe.
This cornbread recipe is delicate and crumbly. So, to avoid ending up with a mushy dressing, it's best to find a crunchy gluten-free white bread to pair alongside it. Use equal parts cornbread to white bread in your favorite stuffing recipe.
When preparing your gluten-free vegan cornbread for stuffing, first cut it into large 1×1" cubes. Then, toast them under a medium broiler in the oven for a few minutes. You want to create cornbread croutons. Then, simply follow your favorite stuffing recipe and you're good to go.
---
Recent Recipes