As part of a keto or gluten-free diet, a delicious Palmini Lasagna is a great way to get in all your fats and proteins while cutting out the unwanted fat-inducing carbs.
A Palmini Lasagna is a low-carb substitute for traditional wheat-based pasta that's incompatible with those on a keto diet or who suffer from gluten intolerance. Palmini is made from the core of a bud found in certain palm trees and is classified as a high fiber, low carb vegetable.
There is no need to skip the comfort-inducing taste of a meaty pasta with this mouth-watering lasagna creation. Try this pork and beef low carb, low guilt recipe that is sure to hit the right spot when it comes to taste.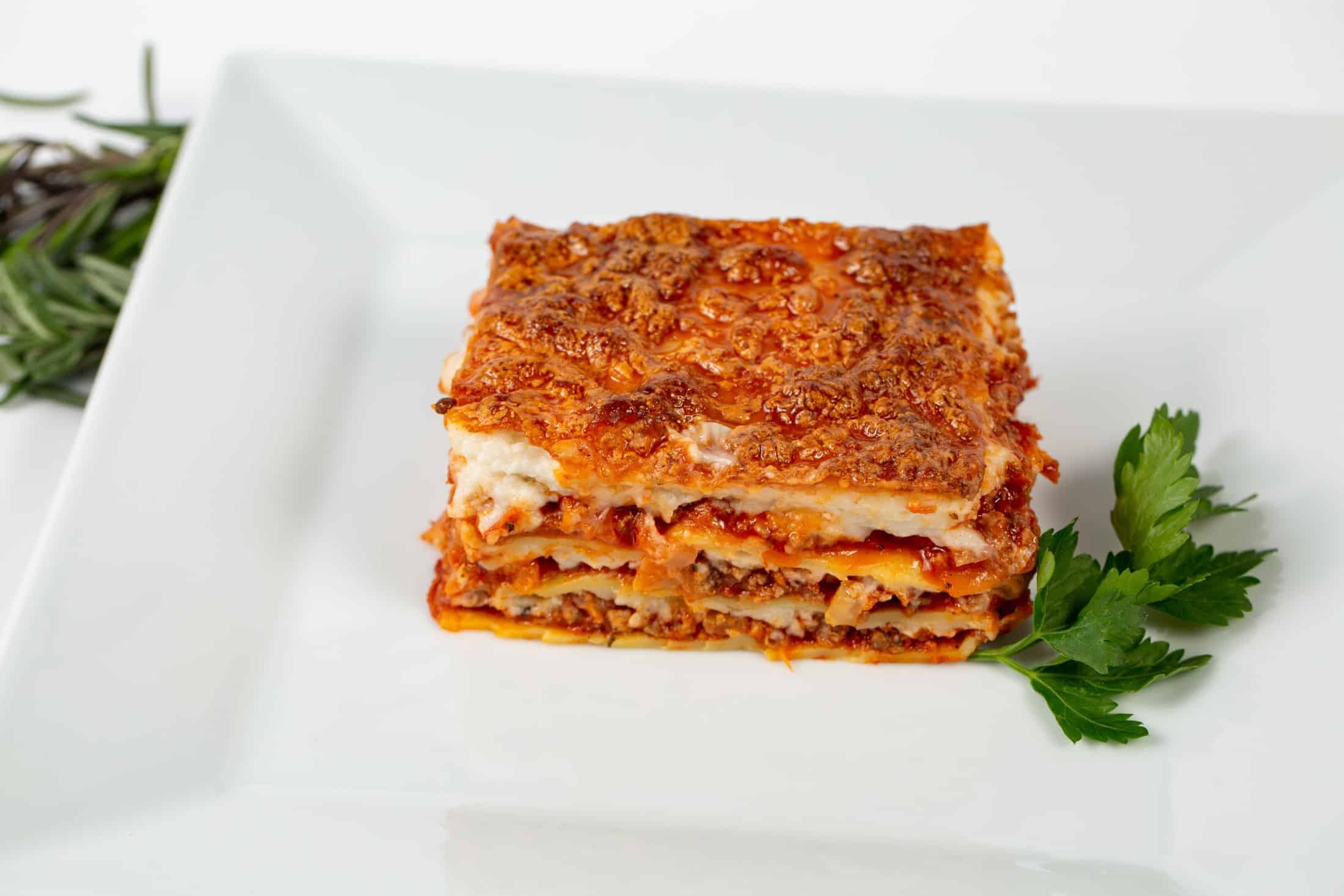 Ingredients
½

pound

ground beef mince

½

pound

ground pork mince

2

garlic cloves

crushed and chopped

3

tbsp

fresh flatleaf parsley

finely chopped

2

tbsp

Italian seasoning or plain dried oregano

½

tbsp

of smoked paprika

optional

1

large egg

beaten

Olive oil

for frying

1

cup

parmesan cheese

grated

1

medium onion

finely chopped

1

jar Passata or Marinara sauce

1

tbsp

tomato paste

puree

2

handfuls of fresh basil

2

cans Palmini lasagna

2 to 3

cups

mozzarella cheese

grated

1

cup

ricotta
Instructions
Preheat the oven to 360⁰F

Prepare the Palmini sheets by draining from the can and immersing them in milk for 30 minutes to remove their natural acidity

Remove Palmini from milk and lay on paper towel until dry, turning over to speed up the drying process

Heat the olive oil and gently fry the onions in a medium saucepan until translucent, all the while stirring gently

Add the garlic and tomato paste and continue stirring

Add the ground beef and pork and the Italian seasoning or oregano. Mix well

Season with salt and pepper, according to preference

Stir the meat and seasoning mix until cooked through, evenly

Add the Passata or Marinara sauce, reserve around ¼ cup for later

Mix the Ricotta and parmesan, and the egg in a bowl

Spread a thin layer of the reserved sauce on the bottom of a 16 x 9-inch baking dish

Layer the ingredients in the following order: Palmini strips, meat mixture, Ricotta mixture, Mozzarella cheese, and repeat the process

Sprinkle the smoked paprika on top of the final layer for some additional taste and color

Place the prepared dish in the preheated oven and bake for approximately 1 hour or until the cheese starts to bubble

Turn the oven selector to broil and grill the dish until it starts to brown slightly while keeping an eye on it. It should take only a few minutes

Remove from your oven and garnish with basil, leaving to cool for around 10 minutes

Your dish is ready to serve!
Nutrition
Calories:
352
kcal
|
Carbohydrates:
4
g
|
Protein:
25
g
|
Fat:
26
g
|
Saturated Fat:
13
g
|
Polyunsaturated Fat:
1
g
|
Monounsaturated Fat:
9
g
|
Trans Fat:
0.4
g
|
Cholesterol:
110
mg
|
Sodium:
463
mg
|
Potassium:
294
mg
|
Fiber:
1
g
|
Sugar:
1
g
|
Vitamin A:
837
IU
|
Vitamin C:
4
mg
|
Calcium:
374
mg
|
Iron:
2
mg
Notes & Tips
The recipe calls for either Passata or Marinara sauce, but any savory pasta sauce will do. Many roast pepper, garlic, or tomato varieties are available, including a classic Bolognese or Amatriciana.
Make your own Passata using canned baby tomatoes and tomato puree.
You can skip the port mince and only go for a pound of beef if you prefer. This recipe uses both as pork fat contains more unsaturated fats (Omega 3 fatty acids), considered healthier than beef. Pork does have a milder flavor than beef.
To ensure the dish doesn't get waterlogged, use a glass baking dish. Glass is also not reactive, meaning it doesn't pick up any flavors from remnants of previously cooked dishes. A ceramic baking dish is the next best choice.
Can I substitute any of the cheeses?
The Ricotta bulks up the dish and adds a distinct texture. More so than any extra flavor. Although usually harder to find, goat's cheese is a worthy contender. Or try coarse-textured cottage cheese instead. You may leave the Ricotta altogether, although this will take away some of the dish's volume and mass. Perhaps add more mozzarella?
Most lasagna recipes call for the dry pizza type mozzarella, but you can use the wet buffalo style mozzarella balls that Italians typically call for. However, it is usually a little more expensive and naturally contains more water than the dry variety.
Mozzarella itself can be easily swapped for a gouda or cheddar. Any cheese with similar melting characteristics can be used. Use your discretion on this one.
Substitutes for parmesan are numerous. See what's available in the store. Grana Padano, pecorino, or any hard cheese with a distinctly strong flavor will do.
I'm Not Sure About Palmini, How does It Compare To Pasta?
Palmini Pasta is readily available in stores such as Walmart and Trader Joe. Most reputable grocers will keep it. Palmini has a remarkably similar taste and smooth texture as regular wheat pasta, albeit with a nutty and sometimes lightly lemony zest.
Although a little denser than regular pasta, the differences will be mostly undetectable when properly rinsed and cooked in a good quality pasta sauce.
Being grain-free and hence low carb, the extra effort for those seeking to avoid a post-meal insulin spike is worth the effort. And although usually more expensive than regular pasta noodles, it is worth the investment for most.
Why Is Palmini A Staple In Keto Diets?
The point behind a ketogenic diet is to force your body to use fat instead of glucose to burn fat. This metabolic state is known as ketosis and is driven by the absence of carbohydrates in your food intake.
Palmini has around 3 to 4 grams of carbs per serving, compared to regular wheat pasta, which contains around 40 grams, hence the obvious advantages of eating Palmini. Keto diets also call for high fat and protein intake, which this dish provides in the meat and cheese used, making this a perfect Keto-friendly dish. Eat and enjoy!
---
Recent Recipes