Once you've tasted the way that Pappu Charu blends the earthiness of lentils into a spicy but tangy creaminess with dimensions of flavor, you'll soon be hunting down more Indian soups. This South Indian staple pops with tanginess and a subtle but lingering burn that makes you crave more. Traditionally, split yellow lentils, or 'toor dal' are used but feel free to substitute any variety you may have on hand. There are three core components to preparing our Pappu Charu recipe – the lentils, which are combined with sweet-sour Charu broth, and finally, a tempering of Tadka, a delicately infused oil.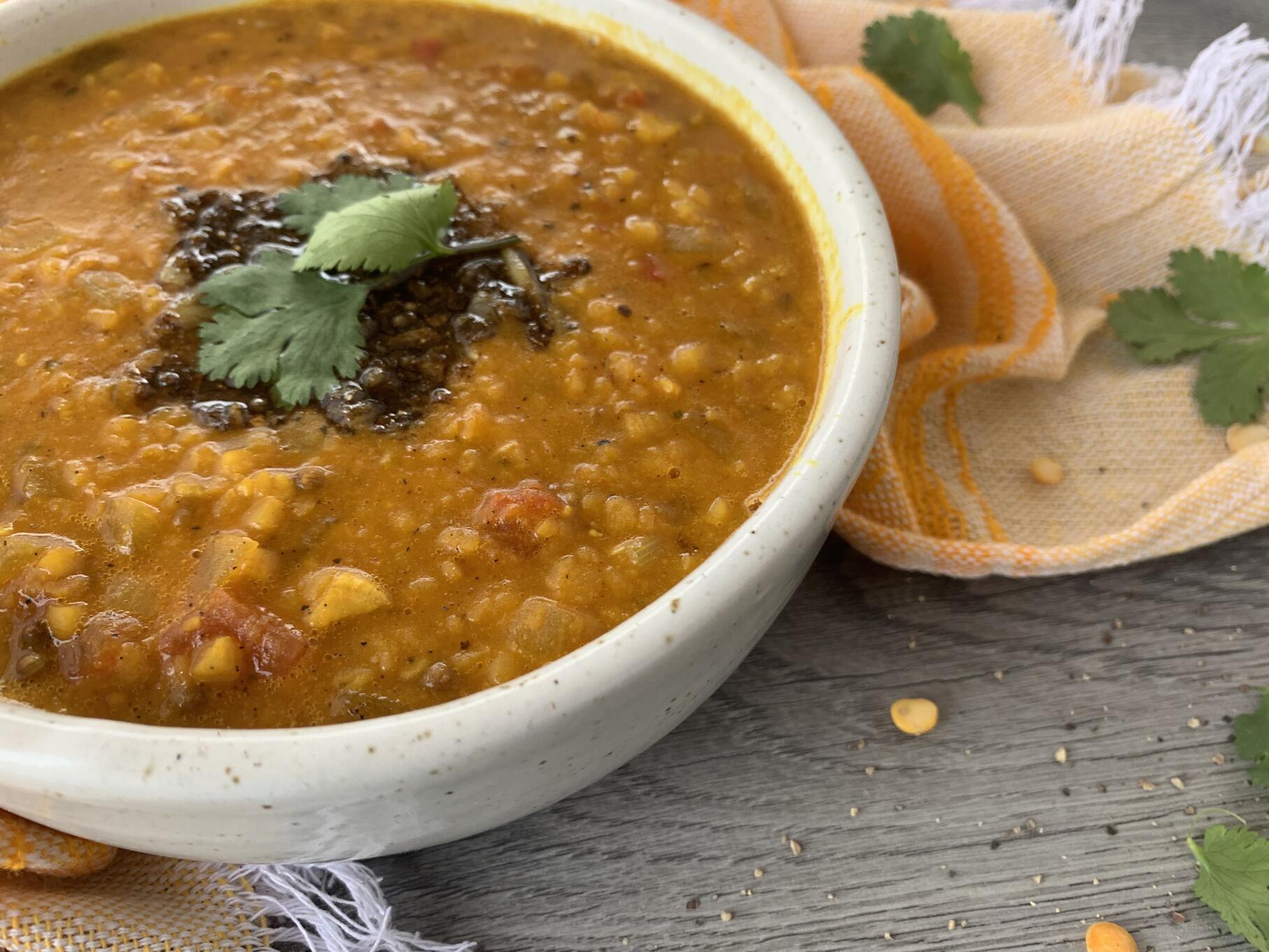 Ingredients
1

Cup

Split Yellow Lentils

1

Large Tomato

Minced

1

Large Onion

Minced

1

Large Bulb Of Garlic

2

Cups

Of Water

6

Tablespoons

Ghee

4

Red Chillies

4 – 5

Curry Leaves

1

Teaspoon

Fresh Coriander

Finely Chopped

½

Teaspoon

Turmeric

½

Teaspoon

Coriander Seeds

½

Teaspoon

Cumin Seeds

½

Teaspoon

Mustard Seeds

1

Teaspoon

Ground Cumin

1

Teaspoon

Fenugreek

1

Tablespoon

Kashmiri Spice

3

Tablespoons

Tamarind Paste

1

Pinch

Asafoetida

½

Teaspoon

Ground Black Pepper
Instructions
Wash the split yellow lentils until the water runs clear, and soak them for 30 minutes.

Boil the lentils in a pot or pressure cooker with clean, salted water for 20 to 25 minutes or until soft and mushy. Drain, mash and set aside.

Heat three tablespoons of ghee in a large pot over medium heat.

Add the cumin seeds and mustard seeds and fry for a minute before adding the curry leaves.

Once the curry leaves curl, add the onion and allow it to saute for a minute before adding the garlic and chopped chilies.

Continue to saute the mixture until the onions begin to show signs of translucency, and add the tomato, fenugreek, turmeric, and a pinch of black pepper.

When the tomato starts cooking to a pulp, add the Kashmiri spice and let it fry for 1 or 2 minutes while mixing well.

Add two cups of water and the tamarind paste.

Transfer the smoothly mashed cooked split yellow lentils and a pinch of asafoetida to the pot and stir well.

Season according to taste, adjusting the amount of Kashmiri, tamarind, salt, and pepper before turning the heat to high and bringing the mixture to a boil.

Stir constantly, and once boiling, reduce the heat to low.

Allow the Pappu Charu to steadily simmer away for 10 to 15 minutes or more while stirring infrequently or until the correct smooth consistency desired is reached. Pappu Charu is cooked when the lentils have boiled to a thick soup.
Tadka Preparation:
Heat 3 tablespoons of ghee in a small pot or metal ladle (known traditionally as a Tadka spoon) over medium heat.

Toss in a teaspoon of mustard seeds and a teaspoon of cumin seeds.

Quickly add 5 to 6 large curry leaves making sure they're submerged in ghee.

When the seeds start popping, and the leaves begin to curl, add two cloves of crushed garlic and one large red chili finely chopped with its stem removed.

Pour the hot Tadka over the Pappu Charu just before serving.
Video
What Is Pappu Charu?
Pappu Charu is a spicy South Indian soupy curry that's one of the Indian state Andhra Pradesh's favorite meals. Lentils are cooked soft and then mushed so that they can disperse into a smooth textured broth with a prominent level of heat that's offset by the sour-sweetness of tamarind.
What Does Pappu Charu Mean?
The Telugu term 'Pappu translates to lentils, while 'Charu' refers to the tangy tamarind pulp that is responsible for this meal's unmistakable flavor.
Pappu Charu Shortcuts
The fastest way to cook lentils to soupy consistency is in a pressure cooker. It takes 10 minutes flat to get split yellow lentils to the right consistency for mashing when you want to cook up Pappu Charu or any other lentil soup. If you're pressed for time, feel free to skip making Tadka but keep in mind, the tempering is the final step needed to fuse the flavors together and bring the integral tastes to the fore.
Pappu Charu Tips
You can boil the lentils hours beforehand. Most chefs find it much easier to mash them by hand once cool anyway. While non-traditional, blending the lentils will give you the perfect consistency for soup. Just be sure to bring it to just before a puree otherwise, your Pappu Charu won't have any texture at all.
Pappu Charu Substitutions
If you can't find the tamarind paste, look for tamarind extract or tamarind juice instead. Alternatively, if tamarind is out of reach, the simplest substitute is lemon juice. However, a mixture of lime juice and an equal quantity of brown sugar gives a balance between sour and sweet that's very similar to tamarind and a much better option. In both cases, you'll need to double on the quantity adding six tablespoons instead of paste. Those without access to Kashmiri spice should use chili spice instead.
Asafoetida Alternatives
Asafoetida, also known as Hing, is a vital ingredient in Southern Indian cuisine with a flavor that's hard to replace. Those forced to substitute should add a quarter teaspoon of onion powder and a quarter teaspoon of garlic powder in its place. If you have ground celery on hand, use a quarter teaspoon instead of onion powder as it brings the flavor much closer to the bitterish favorite. The only downside to removing asafoetida from the recipe is that you don't get the lowered bloating benefits and aid to digestion that this powerful aromatic adds.
What To Serve Pappu Charu With
Pappu Charu is best served with plain steamed white rice and freshly made poppadoms. Another great option is Mirch Pakora green chili fritters. Short-grain and basmati rice work equally well. This spicy, soupy curry is the ideal type of meal to eat as-is as a soup as well. The only other serving suggestion we'd recommend, regardless of how you plan to enjoy it, is to chop up a tablespoon of fresh coriander and add it to your curry just before pouring over the tempering.
Can You Freeze Pappu Charu?
Pappu Charu and most other lentil-based soups freeze extremely well. Lentil soup can be safely refrigerated for up to 5 days. Frozen lentil soup stores safely in the freezer for 4 to 5 months. We suggest you whip up a small quantity of Tadka fresh after reheating to re-enliven the flavors.
---
Recent Recipes