Homemade Low FODMAP Meatballs
Include breadcrumbs made from gluten-free bread, and anyone on a low FODMAP diet can continue enjoying tasty meatballs. Our recipe incorporates sourdough breadcrumbs. Not only do they satisfy dietary requirements while granting the ideal texture we're all looking for, but sourdough enhances the flavor of all the other ingredients included with an unmistakable tanginess. Our low FODMAP meatball recipe serves up enough meatballs for any weeknight meal in a jiffy, with gourmet flavor that'll blow guests away.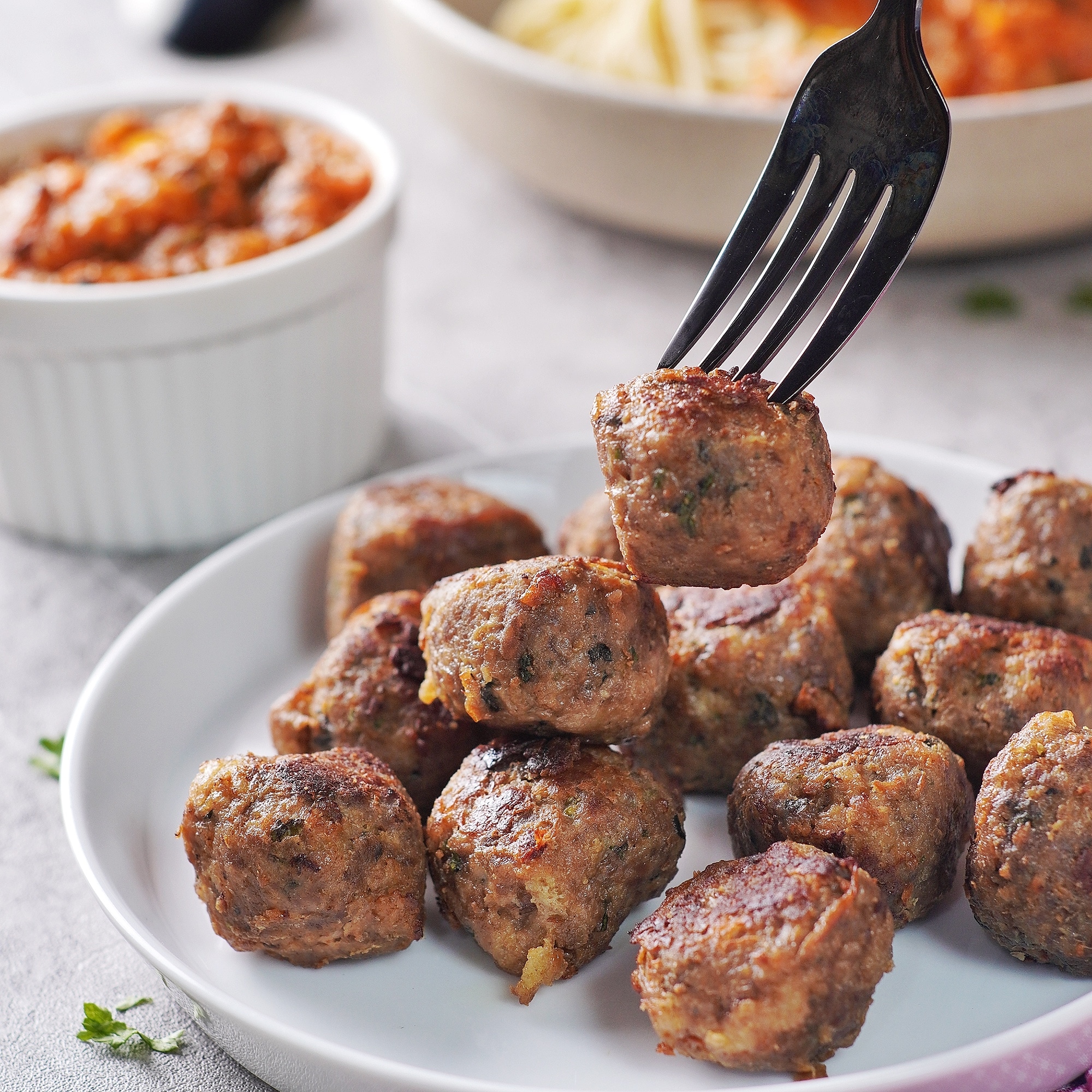 Ingredients
3-4

Slices

One Cup Gluten-Free Sourdough Bread / Low FODMAP Sandwich Bread, Toasted

¼ Cup Low FODMAP Milk

¾ Pound Lean Ground Beef

¼ Pound Lean Ground Pork

1 Large Egg

2 Tablespoons Worcestershire Sauce

Optional

¼ Cup Parmesan Cheese

Grated

4 Tablespoons Chives

Finely Chopped

2 Tablespoons Fresh Basil

Finely Chopped

2 Tablespoons Fresh Parsley

Finely Chopped

2 Tablespoons Fresh Oregano

Finely Chopped

1 Teaspoon Salt

½ Teaspoon Ground Pepper

3 Tablespoons Garlic-Infused Olive/Vegetable Oil

Oil For Frying
Instructions
All ingredients ready? Let's begin!

Either pulse the gluten-free sourdough bread or sandwich bread in a blender or grate carefully and then pass the mixture through a sieve to receive fine crumbs.

In a small mixing bowl, combine the breadcrumbs with just enough milk to submerge and soak them. Set aside for 10 minutes.

In a large bowl, whisk together the egg, Worcestershire sauce, parmesan cheese, chives, fresh herbs, salt, and black pepper.

Combine the ground beef and pork by hand and mix well.

Add the mixed ground meat to the egg, cheese, and herb mixture while slowly adding breadcrumbs and infused or regular oil.

Mix by hand to form a workable dough.

Form 32 meatballs that are roughly each the size of a golf ball.

Allow the meatballs to rest for 5 minutes in the fridge.

Heat a little oil in a large skillet or saucepan over medium-high heat and fry the meatballs, frequently turning for roughly 15 minutes or until browned on all sides and cooked through.

Enjoy your Homemade Low FODMAP Meatball!
Video
Nutrition
Calories:
397
kcal
|
Carbohydrates:
7
g
|
Protein:
21
g
|
Fat:
31
g
|
Saturated Fat:
11
g
|
Polyunsaturated Fat:
5
g
|
Monounsaturated Fat:
12
g
|
Trans Fat:
1
g
|
Cholesterol:
111
mg
|
Sodium:
173
mg
|
Potassium:
329
mg
|
Fiber:
1
g
|
Sugar:
1
g
|
Vitamin A:
111
IU
|
Vitamin C:
1
mg
|
Calcium:
100
mg
|
Iron:
2
mg
Are Meatballs Low FODMAP?
Meatballs are not conventionally low in FODMAPs because of the inclusion of gluten-containing breadcrumbs, garlic, and onion. Our low FODMAP meatballs use gluten-free sourdough bread as a binding agent and garlic-infused oil, and an array of herbs for flavor. There aren't any ingredients containing copious concentrations of fructans. Follow our recipe, and you can safely enjoy meatballs without any risk of triggering an upset stomach.
How To Make Low FODMAP Meatballs
Making low FODMAP meatballs starts with eliminating the raw garlic and onion while retaining the fresh, pungent flavor thanks to the inclusion of chives and the optional ingredient, garlic-infused oil. Breadcrumbs can't be omitted, so they're instead replaced with a gluten-free alternative that fortifies the recipe with extra flavor. All the classic herbs are included, and the cooking procedure is exactly the same as for regular meatballs.
Tips
Don't overwork the meatball mixture, or your meatballs will be too dense and lacking in texture. While these meatballs are certainly not lacking in flavor, one can add a touch of onion, elevating the recipe even further by frying them off in onion or shallot-infused vegetable or olive oil. We'd always suggest infused olive oil for Italian food but either works.
Those who want to eliminate fat can oven broil these low FODMAP meatballs instead. If your oven has a broiler, switch it on and give the meatballs 8 to 10 minutes a side before turning and broiling for a further 8 to 10 minutes. Otherwise, preheat your oven to 375° and use the top element only while following the same instructions.
Substitutions
Basil, parsley, and oregano are a treasured combination that features throughout Italian cuisine. Try thyme or sage along with rosemary and parsley for another blend that you can't go wrong with. Thyme is a fantastic herb to include when you're making vegan or vegetarian meatballs as it helps bring the flavor closer to something meaty.
Recipe Variations
The ultimate transformation for low FODMAP meatballs is to include a variety of meats, Ground chuck grants unbeatable flavor. Go for half ground chuck and half ground sirloin blended with a 50/50 mix of ground pork and fried off, then finely chopped or blender-pulsed pancetta. With just the right amount of fat and fall apart but firm texture, it'll be meatballs that no one can say no to. Another idea is to take the meatballs after you make them to make meatball stuffed biscuits (recipe is not Low FODMAP but can substitute any problem ingredients).
Which Meats Are Low FODMAP?
Unprocessed red meat, poultry, and fish are all free from FODMAPs. However, processing techniques such as marinating, spicing, reconstituting, and various additives used in seasoning products and methods can make various varieties of meat suitable for a low FODMAP diet. Therefore, one should always stick to lean meats that are easily digestible without any risk of causing gas.
How Can I Make This Recipe Vegan?
Switch out the pound of meat for two cans of lentils, rinsed, roasted, and mashed, and a cup of cooled, cooked quinoa. Instead of egg, combine a tablespoon of flaxseed with two tablespoons of water and add this to your mix along with a cooked mashed potato. Use a quarter cup of nutritional yeast instead of cheese. Combine with the rest of the ingredients as per our instructions but add a quarter cup of rolled oats as you're mixing to help the meatballs firm up. You'll find they fry to perfect form, retaining a meaty but spongy interior just like meatballs made from beef, pork, or poultry.
What To Serve With Low FODMAP Meatballs?
Meatballs and spaghetti are still possible despite dietary restrictions. Brown rice or wholewheat spaghetti is the top recommendation, but any gluten-free pasta tastes great served with this spaghetti sauce. Top with our easy-to-make low FODMAP pesto, and you'll have a dish that'll be asked for time and time again. Meatball sandwiches are a quick snack that everyone enjoys. We'd cook up a batch of meatballs specifically for sandwiches. Just give our low FODMAP sandwich bread and meatballs a try, and you'll soon see why.
---
Recent Recipes