Key Takeaways
The simplest way to describe OmniPork is vegan Spam, but this only truly applies to OmniPork Luncheon. OmniPork Strips are almost identical, while OmniPork Ground is very similar to a neutral-tasting pork mince with a slightly softer texture than ground poultry. 
Pick OmniPork Luncheon for vegan Spam. Opt for OmniPork strips for pulled pork-style strips. OmniPork Ground is the ever-versatile plant-based mince that you'll wonder how you ever did without.
For vegan seafood alternatives that are worth trying, pick up OmniSeafood. The fillets and burgers are growing in popularity at a similar rate to OmniPork's explosion, and there are lots of new exciting options soon to enter the range.
It generally hasn't been easy to find good vegan replacements for pork and pork products that tick all the boxes that shoppers are looking for. That's until you discover OmniPork's quick-cooking plant-based pork and its near-perfect taste and texture. With quick-cooking vegan luncheon meat, "pulled pork," and a ground pork alternative that packs flavor, as well as a "seafood" subsidiary, this is one brand that could easily become a staple in any household. Let's take a closer look at OmniPork, a brand described as Buddhist-friendly.
So, What Is OmniPork?
OmniPork is a plant-based meat-free mock-pork meat alternative made from a proprietary blend of shiitake mushroom, non-GMO soy, peas, and rice that is becoming increasingly popular among vegetarians and vegans, as well as those looking to reduce their meat consumption. It is the very first vegan "pork" launched in Asia and is today distributed throughout the UK, Hong Kong, China, Taiwan, Singapore, Malaysia, Japan, Korea, Macau, Philippines, Thailand, United Arab Emirates, Vietnam, and Australia. Not only is OmniPork a complete protein, but vegan Spam, as it's known by fans, reportedly packs some of the best mock-pork flavor and mouthfeel around.
OmniPork Origin
David Yeung, founder, and CEO of OmniPork heads up the food technology firm OmniFoods, which is based in Kowloon City, Hong Kong. The company originally developed OmniPork as a vegan protein specifically for Asian markets. OmniFoods is a subsidiary of Green Monday Holdings, a social venture aimed at shifting consumers towards a totally plant-based lifestyle. After two years in research and development by the company's Canadian food research division, OmniPork eventually launched in April 2018.
What Does OmniPork Taste Like?


OmniPork is designed to have a similar taste and texture to traditional pork. It has a savory, slightly salty flavor with a hint of umami and a subtle, somewhat sweet, and nutty flavor. Many describe it to be very similar to Spam, just with far less fattiness and a more subdued taste. While edible without cooking, heating OmniPork improves its flavor by bringing out a much more complex, richer, meatier taste. Think of it as the black sheep of the "pork" family, but in a good way. There's nothing quite like it.
One has to remember that OmniPork was developed to satisfy the overwhelming demand for pork from Asian markets. The Pig Farming industry bred around 450 million pigs in 2021, which grew by 13.5% over five years through 2022. That's grown to around half of all planet Earth's pigs as of 2022. In order to capture this market, OmniFoods did their utmost to mimic the taste of pork, and it only took a matter of years for OmniPork Lunch, Ground, and Strips to dominate local markets. It's a far, far better, albeit more neutral, flavor than almost all the plant-based mock pork out there.
OmniPork Texture
The texture of OmniPork is moist and tender, with a slightly chewy bite similar to traditional pork, just a little spongier but with a similar stringiness when pulled apart. It's akin to squishy ground pork once cooked, but the cooked flesh looks strikingly similar to ground chicken or turkey. Unlike many other vegan mock meats, OmniPork runs juices in a similar manner to the way that any piece of meat bleeds, but it has a soft bite instead of the firm flesh familiar to animal-derived meat.
OmniPork Product Line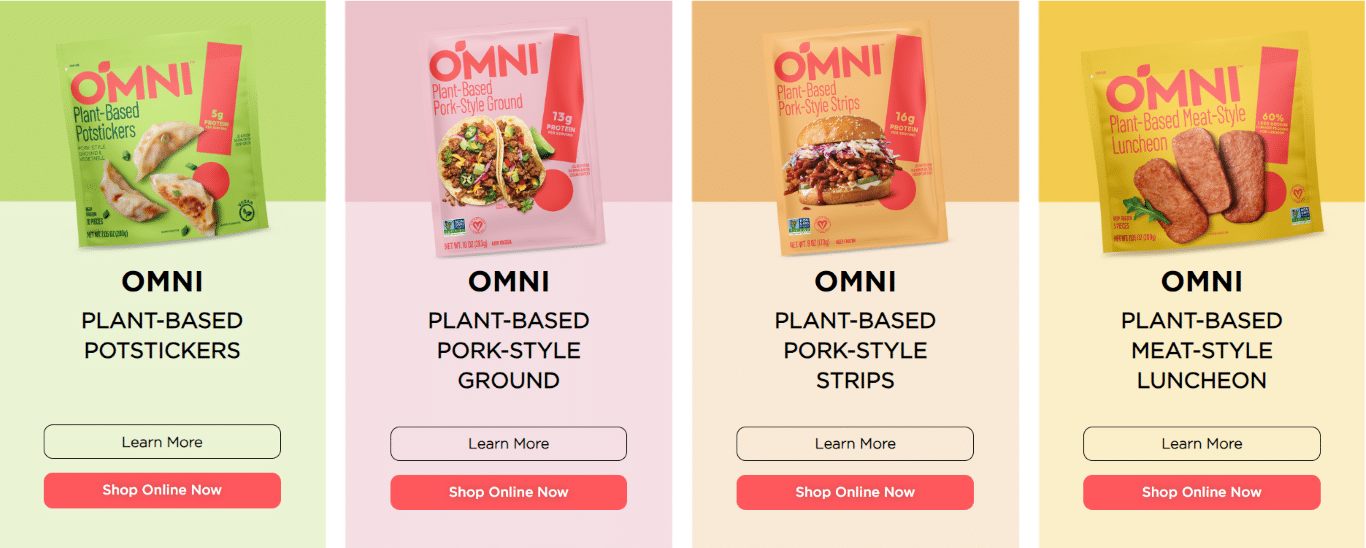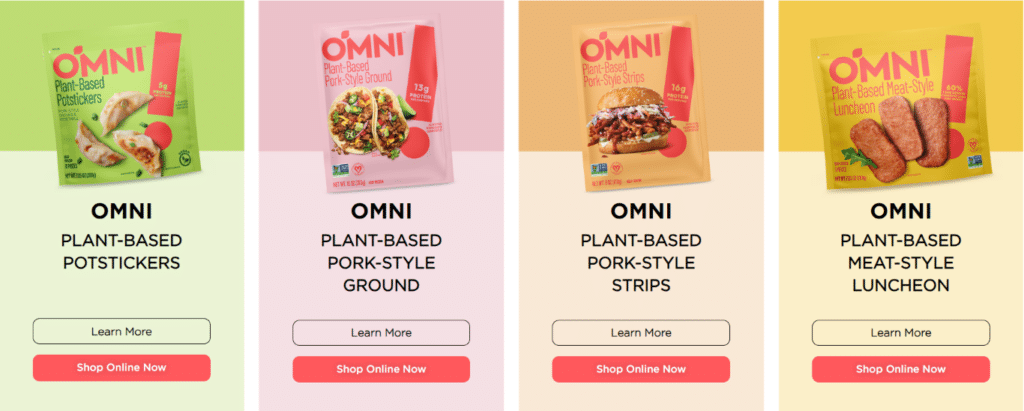 None of the OmniFoods product range, including all OmniPork and OmniSeafood products, are suitable to be consumed raw. Each is made from its own unique recipe, but most share similar ingredients. Anyone on the hunt for good plant-based meat alternatives should also take the time to check out our extensive test of the eighteen best vegan & plant-based chicken nuggets. You're sure to find a new tasty brand to try. Here is a breakdown of OmniPork's selection.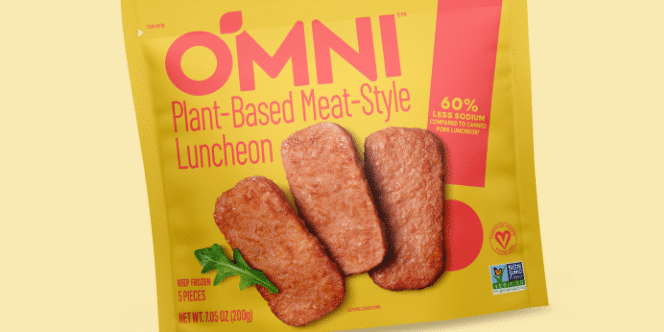 Vegan deli meat doesn't get better than ultra-low sodium OmniPork Luncheon. Just one to two minutes in a pan, much akin to Spam, is all that it takes to be fried to a crispy exterior with a soft, chicken-like interior. Every pack of six OmniPork Luncheon slices weighs 8.4 ounces (240 grams) and comes frozen, and is ready to cook from frozen without defrosting required. There's also a larger 28.2-ounce (800-gram) pack available.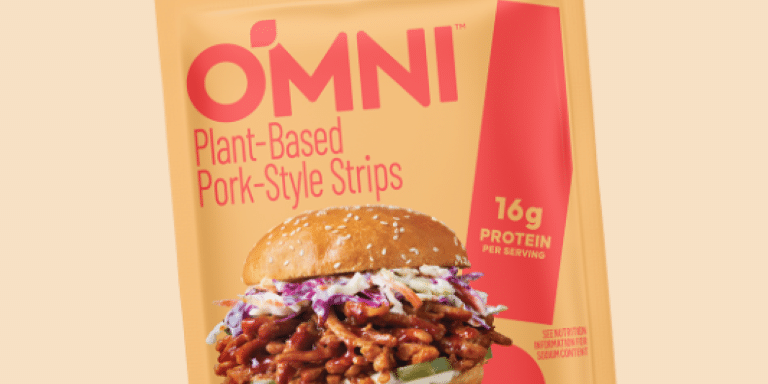 Say goodbye to run-of-the-mill veggie strips and hello to some of the best plant-based "pork" you'll ever taste. They're ideal for stir-fries and salads and are delectable enough to be enjoyed on their own, carrying a texture resembling pulled pork. Not only are these tasty pre-seasoned pork-style strips well-suited to frying, but they come out great boiled in soups, stews, curries, and similar dishes as well. The texture offers a similar grain to pulled pork, just with larger shreds of flesh. Both standard 6 ounces (170 grams) frozen packs and larger 22.9-ounce (650-gram packages) of OmniPork Strips are available.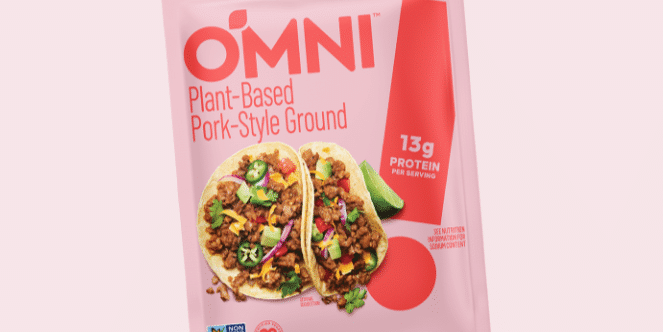 OmniPork Ground is the brand's most versatile mock-pork offering. It can be used across all of the culinary applications of non-plant-based ground meat and even cooks similarly. With a very dense texture that's more akin to ground poultry than ground pork, after defrosting (refrigerator defrost recommended), it cooks in under five minutes or a little more when being cooked simultaneously with other ingredients. Both 5.3-ounce (150-gram) and 35-ounce (1-kilogram) packages of OmniPork Ground are on sale but take advantage of available stock because this is one tasty product that's frequently sold out.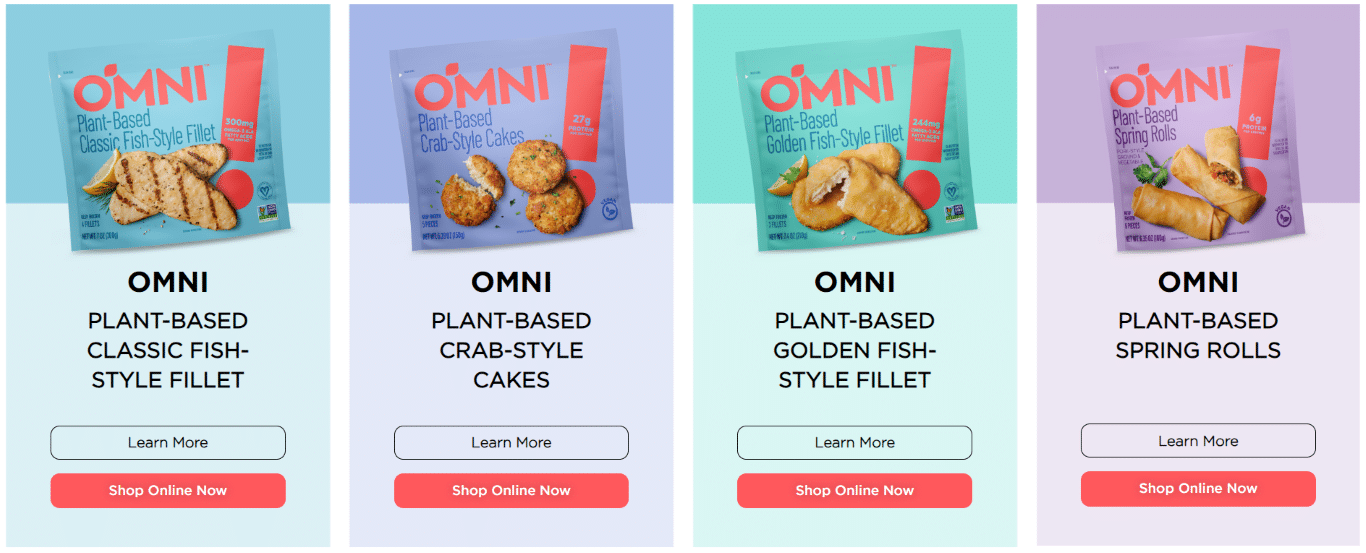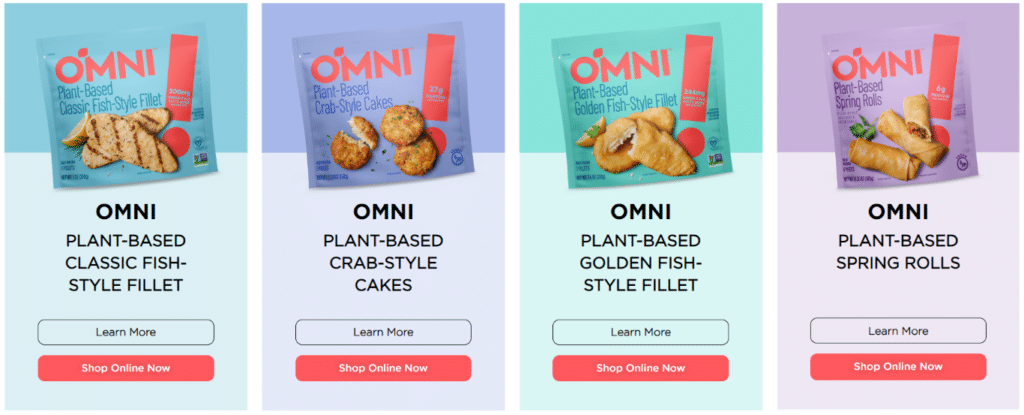 Additionally, OmniFoods recently launched the OmniSeafood Series launched on World Ocean Day on June 8th in, 2021, which spans the following products: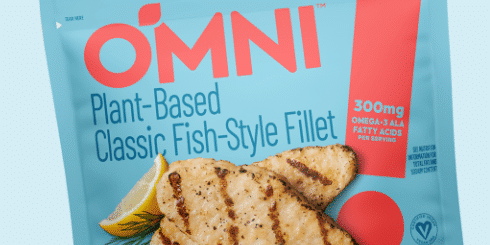 OmniSeafood Classic Fillets appear set to change the trend of bland mock-fish alternatives for vegans. They're juicy and flaky with a taste that resembles fish very well, with just enough neutrality of flavor to suit all meal types. The classic range carries an extremely light coating that's ideal for shallow frying, grilling, and roasting. The standard package size is 7 ounces (200 grams) and contains four plant-based fish fillets that cook in 2 minutes per side.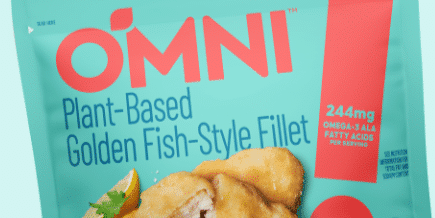 The OmniSeafood Golden Fillet and Classic Fillet are almost identical, except where the Classic is made for pan frying, the Golden Fillet is designed to be deep fried. As a result, they come battered and coated instead of lightly coated or bread like the company's Ocean Burgers. Each fillet cooks in five minutes, and every 7.4 ounce (210 gram) pack comes with three plant-based fried fish fillets.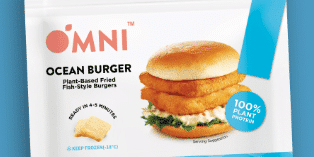 The OmniSeafood Ocean Burger, sold in 7.9-ounce (225-gram packs) with three pieces per pack, is thicker than the fillets and comes in the ideal size to fit on a standard-sized hamburger bun. With flakiness just like a fillet of fish and a similar degree of fattiness felt on its flesh before cooking, it's one of the best-tasting, best-textured mock-fish burger patties out there. Ocean Burger patties cook in just 4 minutes when pan-fried.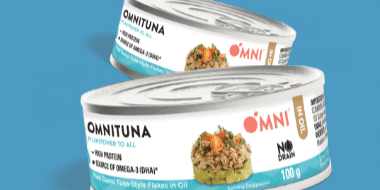 OmniTuna is a high-protein plant-based mock tuna that delivers the same range of omega-3s commonly found in fish. From its appearance to its flaky feel, it's nearly impossible to tell that OmniTuna is actually soy-based, plus there's zero mercury. The standard size of a can is 3.5 ounces (100 grams), and it comes ready to open and eat.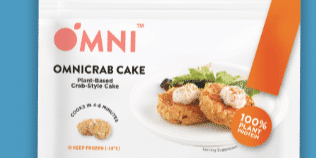 OmniCrab Cakes look, taste and flake like real crab meat while packing similar levels of omega-3. They're ultra-high in protein and cook in three minutes flat per side when pan-fried. Each package weighs 5.3 ounces (150 grams) and contains five crab-style cakes.
OmniSeafood Golden Sticks
OmniSeafood Golden Sticks emulate fish sticks with the same texture and taste as the rest of the range. These quick-frying snacks or main when serving the whole pack
OmniSalmon
It will be a while before the world sees OmniSalmon, but it is soon to arrive and will give customers a viable, firm but flaky, juicy plant-based mock salmon.
What OmniPork Is Made Of & OmniPork Nutrition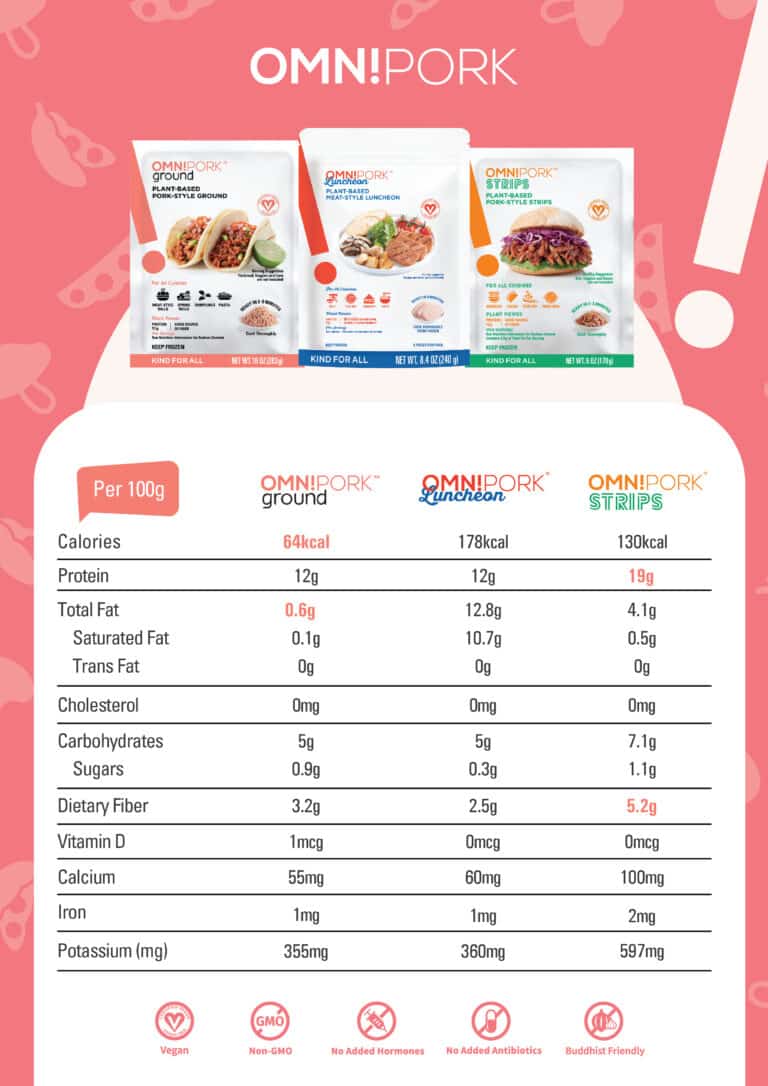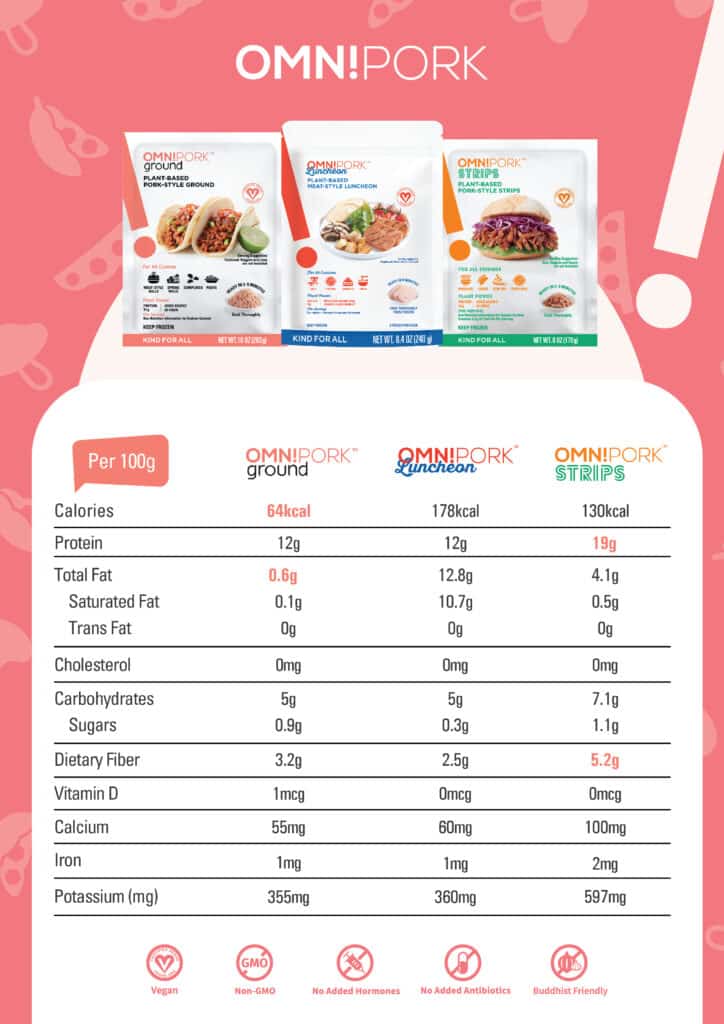 All OmniPork variations carry similar nutritional benefits. OmniPork's products contain 68% less fat than ground pork. There are no antibiotics, GMOs, saturated fat, nitrites, or hormones in OmniPork. Not only does the brand feature vegan products only, but the ingredients are all sourced sustainably and without cruelty which makes them Buddhist-friendly.
Every OmniPork product, namely OmniPork Luncheon, Strips, and Ground, utilizes the same core blend of shiitake mushrooms, non-GMO soy, pea protein, and rice, but each lists slightly different ingredients. Here is the breakdown for each. OmniSeafood is based around a similar composition, but not all upcoming products have their nutritional information and ingredient breakdown available until they launch globally.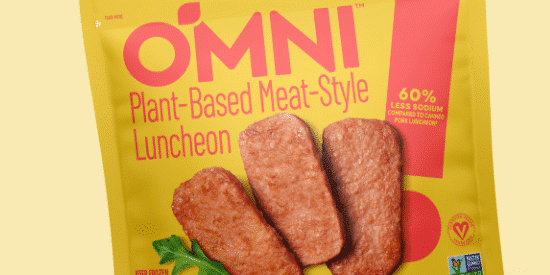 Water, Protein Blend(Soy Protein Concentrate, Vital Wheat Gluten, Soy Protein Isolate), Coconut Oil, Yeast Extract, Thickeners (Methylcellulose, Gum Arabic), Potato Starch, Natural Flavour, Salt, Sunflower Oil, Maltodextrin, Anticaking Agent (Silicon Dioxide), Natural Colour (Beet Red), Antioxidants (Citric Acid, Ascorbic Acid).
Allergens: Contains Tree Nuts, Soybeans & Cereals Containing Gluten.
| | |
| --- | --- |
| Calories (Per 100 Grams) | 199 kcal |
| Protein | 12.9 g |
| Total Fat | 15.6 g |
| Saturated Fat | 10.8 g |
| Carbohydrates | 1.9 g |
| Dietary Fiber | 1.1 g |
| Sugar | 4.0 g |
| Sodium | 485 mg |
| Potassium | 290 mg |
Ground OmniPork
Water, Soy Protein Concentrate, Methylcellulose, Yeast Extract, Natural Flavor, Potato Starch, Salt, Sugar, Soy Protein Isolate, Barley Malt Extract, Beet Powder (For Color), Pea Protein, Rice Protein, Shiitake Mushroom Powder,Myceliated Oats.
Allergens: Contains Soy. May Contain Wheat.
| | |
| --- | --- |
| Calories (Per 94 Grams) | 70 kcal |
| Protein | 11 g |
| Total Fat | 0 |
| Saturated Fat | 0 |
| Carbohydrates | 5 mg |
| Dietary Fiber | 3 mg |
| Sugar | 1 g |
| Sodium | 320 mg |
| Iron | 1.2 mg |
| Calcium | 50 mg |
| Vitamin D | 1 mcg |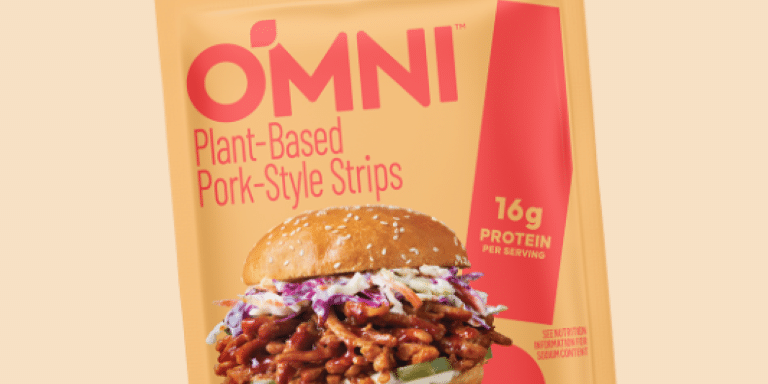 Water, Soy Protein Concentrate, Sunflower Oil, Yeast Extract, Salt, Sugar, Wheat Starch, Acidity Regulator (Sodium Hydrogen Carbonate), Thickener (Maltodextrin), Natural Flavour, Natural Colour (Beet Red), White Pepper, Barley Malt Extract.
Allergens: Contains Soybeans & Cereals Containing Gluten.
| | |
| --- | --- |
| Calories (Per 100 Grams) | 120 kcal |
| Protein | 16 g |
| Total Fat | 3.5 g |
| Saturated Fat | 0 |
| Carbohydrates | 6 g |
| Dietary Fiber | 4 g |
| Sugar | 1 g |
| Sodium | 450 mg |
| Potassium | 510 mg |
| Calcium | 90 mg |
| Iron | 2.1 mg |
OmniSeafood Series
In order to most accurately emulate the nutrient content, consistency and flavor of fish, you'll find that the OmniSeafood series contains small quantities of saturated fat.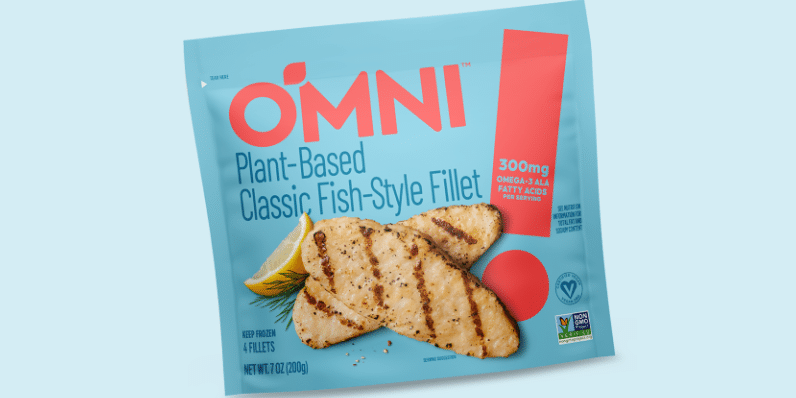 Water, Soy Protein Concentrate, Canola Oil, Potato Starch, Corn Starch, Methylcellulose, Salt, Natural Flavor, Cane Sugar, Yeast Extract, Pea Protein, Rice Protein, Shiitake Mushroom Powder, Oats, Wheat Starch.
Allergens: Contains Soybeans & Cereals Containing Gluten.
| | |
| --- | --- |
| Calories (Per 100 Grams) | 160 kcal |
| Protein | 11 g |
| Total Fat | 9 g |
| Saturated Fat | 0.5 g |
| Carbohydrates | 9 g |
| Dietary Fiber | 3 g |
| Sugar | 0 g |
| Omega-3 ALA | 302 mg |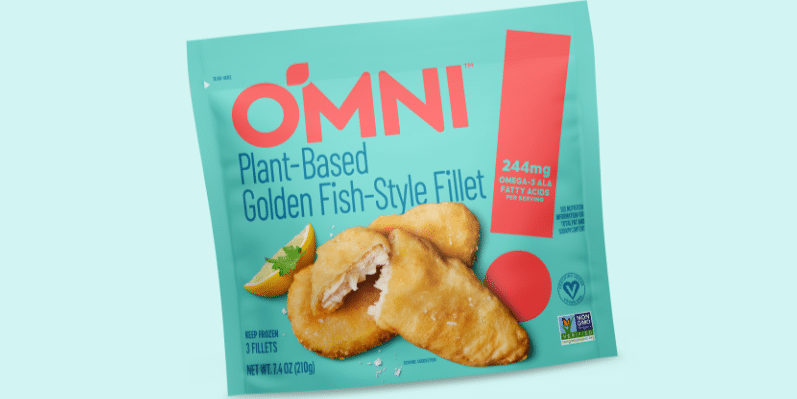 Fillets [Water, Soy Protein Concentrate, Canola Oil, Potato Starch, Methylcellulose, Salt, Natural Flavor, Cane Sugar, Yeast Extract, Pea Protein, Rice Protein, Shiitake Mushroom Powder, Oats], Batter [Water, Enriched Unbleached Wheat Flour (Flour, Niacin, Reduced Iron, Thiamine Mononitrate, Riboflavin, Folic Acid), Wheat Starch, Cane Sugar, Salt, Baking Powder (Sodium Acid Pyrophosphate, Sodium Bicarbonate, Corn Starch, Monocalcium Phosphate)].
Allergens: Contains Soy & Wheat.
| | |
| --- | --- |
| Calories (Per 100 Grams) | 160 kcal |
| Protein | 6 g |
| Total Fat | 10 g |
| Polyunsaturated Fat | 1.5 g |
| Monounsaturated Fat | 3 g |
| Carbohydrates | 11 g |
| Dietary Fiber | 2 g |
| Sugar | <0 g |
| Omega-3 ALA | 349 mg |
| Sodium | 280 mg |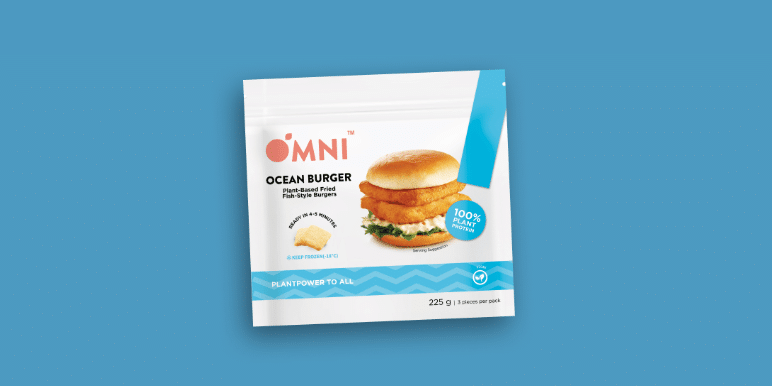 Burgers [Water, Protein Blend (Soy Protein Concentrate, Pea Protein, Rice Protein), Canola Oil, Potato Starch, Thickener (Methyl Cellulose), Salt, Flavours, Cane Sugar, Yeast Extract, Shiitake Mushroom Powder, Oats], Breading [Wheat Flour, Water, Wheat Starch, Cane Sugar, Yeast, Salt, Raising Agents (Disodium Diphosphate, Sodium Hydrogen Carbonate, Monocalcium Orthophosphate), Corn Starch].
Allergens: Contains Soybeans & Cereals Containing Gluten.
| | |
| --- | --- |
| Calories (Per 100 Grams) | 160 kcal |
| Protein | 11 g |
| Total Fat | 9 g |
| Saturated Fat | 0.5 g |
| Carbohydrates | 9 g |
| Dietary Fiber | 3 g |
| Sugar | 0 g |
| Omega-3 ALA | 450 mg |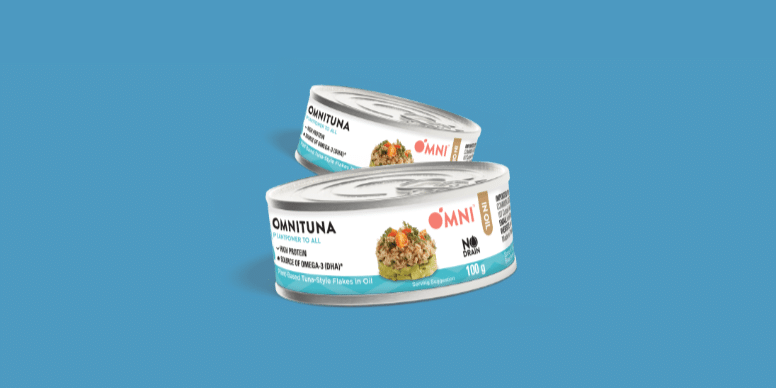 Water, Soy Protein Concentrate, Soy Protein Isolate, Canola Oil, Wheat Gluten, Seasonings [Flavors, Maltodextrin, Yeast Extract, Salt, Potato Starch, Algal Oil], Soybean Meal, Wheat Starch, Flavours, Salt, Algae Oil, Carrot Juice Concentrate, Vegetable Extract (Soybean, Carrot, Celery), Yeast Extract.
Allergens: Contains Gluten And Soy
| | |
| --- | --- |
| Calories (Per 100 Grams) | 165 kcal |
| Protein | 12.7 g |
| Total Fat | 11 g |
| Saturated Fat | 1.2 g |
| Carbohydrates | 3.8 g |
| Dietary Fiber | 2 g |
| Sugar | 1 g |
| Omega-3 ALA | Unspecified |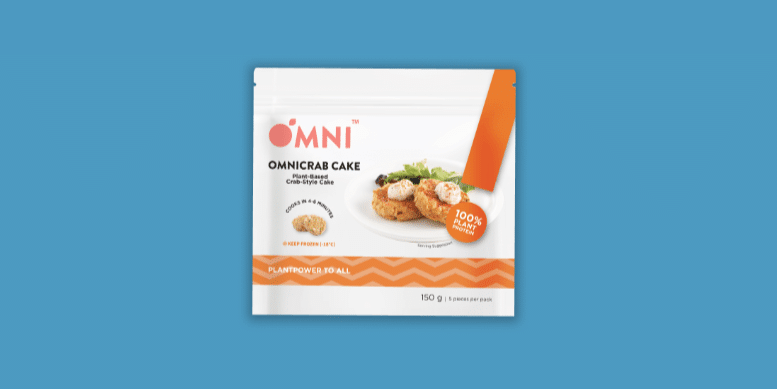 Texturized Vegetable Protein (Soy Protein Isolate, Wheat Gluten, Soy Protein Concentrate, Wheat Starch, Soybean Meal), Breadcrumbs [Wheat Flour, Rice Bran Oil Shortening, Sugar, Salt, Yeast, Flour Treatment Agent (Calcium Carbonate, Calcium Sulfate, Ascorbic Acid, α-amylase)], Vegan Mayonnaise [Water, Canola Oil, White Vinegar, Modified Starch, Salt, Yeast Extract, Colour (Beta-Carotene), Thickener (Guar Gum, Xanthan Gum), Flavour, Antioxidant (Ascorbyl Palmitate)], Flavours, Salt, Mustard (Vinegar, Water, Mustard Seed, Salt), Parsley, Canola Oil [Canola Oil, Antioxidant (Ascorbyl Palmitate)], Black Pepper Powder.
Allergens: Contains Soybeans and Cereals Containing Gluten
| | |
| --- | --- |
| Calories (Per 100 Grams) | 150 kcal |
| Protein | 18.1 g |
| Total Fat | 5.6 g |
| Saturated Fat | 0 g |
| Carbohydrates | 9.1 g |
| Dietary Fiber | 3.5 g |
| Sugar | 1 g |
| Sodium | 519 mg |
| Omega-3 ALA | 129 mg |
OmniPork Ingredient Breakdown
When taking a closer look at the ingredients, most are clearly identified as natural additives. The only relatively unfamiliar components are explained here so that conscientious customers can safely consume one of the best vegan pork products in production.
Methylcellulose
Methylcellulose is derived from the cell walls of plants. This effective thickener, emulsifier, and gelling agent is typically sourced from wood pulp or cotton.
Maltodextrin
The flavor carrier and bulking carbohydrate maltodextrin is derived from various starches like corn, potato, and rice by means of hydrolysis. Consuming large quantities can cause a rise in blood sugar levels, but you'd have to excessively binge. Otherwise, it's a safe thickener, filler, and sweetener.
Sodium Hydrogen
Sodium hydrogen carbonate is nothing more than basic bicarbonate of soda – baking soda. Bicarb's natural form is nahcolite, a mineral found in springs, but commercially it is synthesized from salt, ammonia (made from methane reactions), and water. No animal products, harm, or dangerous effects involved.
Gum Arabic
Gum arabic, also known as acacia gum, is another thickener, emulsifier, and stabilizer that also acts as a binder and glaze derived from the sap of certain acacia trees. The flow/anti-caking agent silica, or silicon dioxide, occurs in various types of rock. It's typically sourced from diatomaceous earth or synthesized from sodium silicate.
Guar Gum
Guar gum is a natural thickening agent derived from the seeds of the guar bean plant. Commercially it is obtained by grinding, sifting, and polishing the endosperm of the seeds. It is a polysaccharide composed of galactomannans and an ingredient that's completely safe for consumption.
Ascorbic Acid
Ascorbic acid, otherwise known as vitamin C, grants a slight nutrient boost to food but also prevents discoloration, off-flavors, and nutrient loss over time and during cooking. Most ascorbic acid is lab-synthesized from corn-starch-derived glucose.
Ascorbyl Palmitate
Ascorbyl palmitate is a form of water-soluble vitamin C that is often used as an antioxidant in the food industry to preserve the freshness of food. It is made by combining ascorbic acid (vitamin C) and palmitic acid, a saturated fat derived from palm oil.
Disodium Diphosphate
Disodium diphosphate, also known as disodium hydrogen phosphate, is a food additive and buffering agent that effectively helps balance PH levels within food while also acting as a sequestrant and emulsifier. It keeps the flavor, color, and general composition of food shelf-stable for longer. It is most often synthesized by reacting phosphoric acid (from phosphate rock) with sodium carbonate, which makes it vegan-friendly.
Monocalcium Orthophosphate
The leavening agent monocalcium orthophosphate causes expansion within food products while fortifying them with calcium. Just like disodium hydrogen phosphate, it is synthesized from phosphoric acid derived from rocks that react with calcium hydroxide, better known as lime.
Where To Buy OmniPork
OmniPork Luncheon, OmniPork Ground, and OmniPork Strips were stocked at Sprouts and Walmart stores across the US. OmniPork Ground and Strips are also sold at most Whole Foods Market outlets, so be sure to check for stock in your vicinity. There are also roughly twenty-five or more other supermarkets in the USA with in-store availability. Check out OmniFood's 'Where To Find' page for more information.
Additionally, OmniPork and OmniSeafood products are available from the online retailer GTFO It's Vegan. European shoppers, particularly those in the UK, can turn to MightyPlants.com as another reputable online store that keeps the entire OmniFoods range, plant-based pork, and seafood.
OmniPork Affordability
Depending on where you shop, OmniPork arrives at roughly a little cheaper than sliced deli ham. A pack of OmniPork Luncheon is just under double the price of a can of Spam. Expect to pay about the same price for OmniPork Strips as most vegan nuggets. Ten ounces of OmniPork Ground sells for approximately the same price as a pound of ground pork, but it's still considerably cheaper than most other plant-based mince products.
Similar Products To OmniPork
There are tons of processed vegan proteins made to emulate beef and chicken, but only a few have pork-style products similar to OmniPork.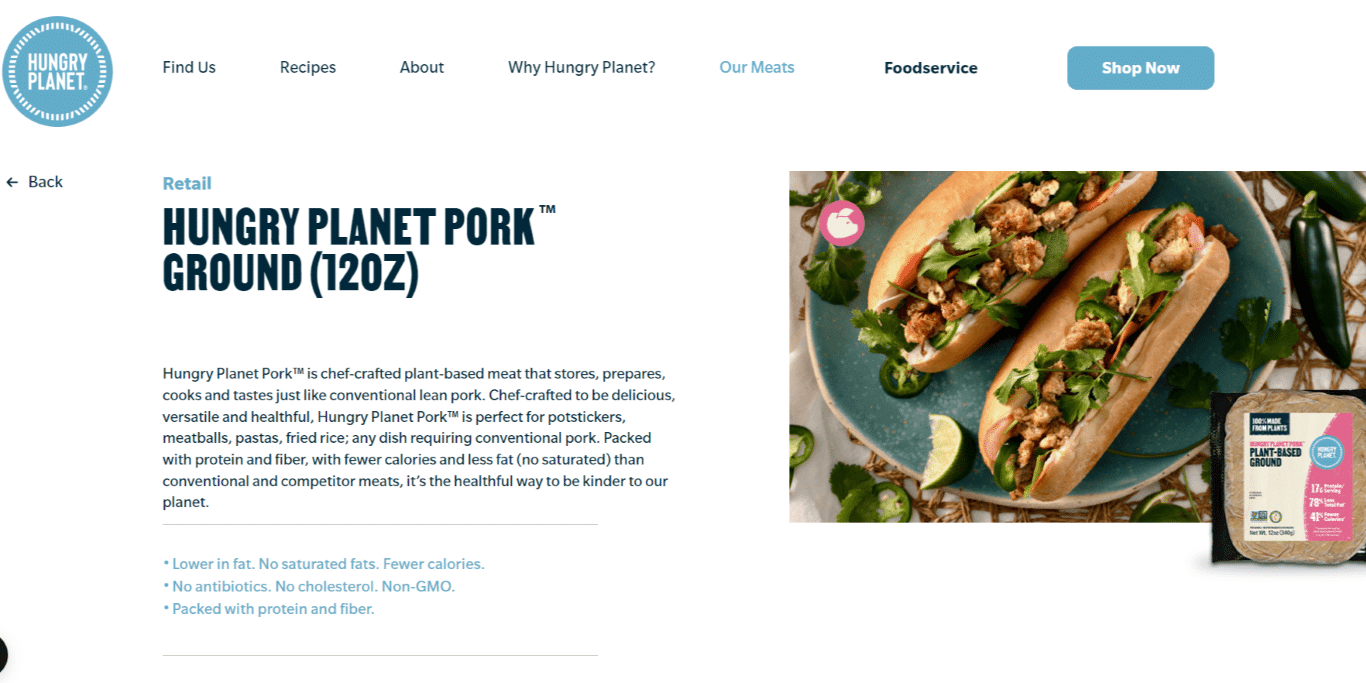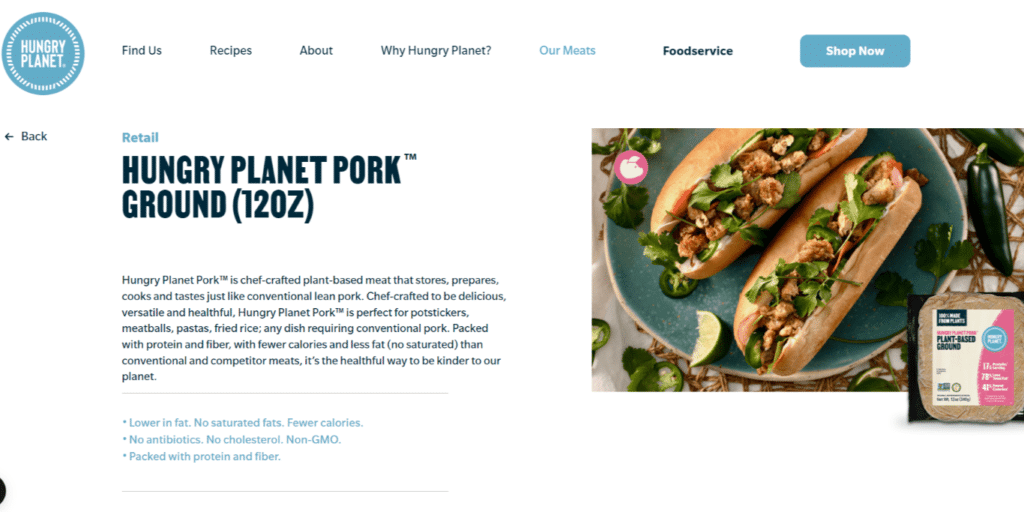 Hungry Planet Foods has a fine range of mock pork products branded Hungry Planet Pork, all made from a proprietary blend of textured wheat protein and soy protein. Hungry Planet Pork ground looks and tastes like lean pork mince, just with a far more rubbery texture that's been compared to Seitan.
With half the fat of real pork and 30% fewer calories, Hungry Planet Pork Gyoza does a great job of emulating lean pork within a potsticker. It's not lunch meat, but the taste of pork is rather defined.
Hungry Planet's Pork Thai Meatballs are affordable, nutritious, juicy, and packed with flavor. Be prepared for a similarly dense texture to the rest of the range, but the taste is a leading favorite.
While criticized for requiring a basting sauce or marinade to compare to meat, Verisoy Taiwanese Texturized Imitation Pork is known to fry well and have a good flavor, albeit a little subdued for most tastes. They're ideal for frying, baking, and barbecuing, thanks to their firmness.
Asante Plant-Based Pastor mimics the flavor of slow-roasted rotisserie pork. It's one of the best precooked shelf-stable plant-based meats available due to capturing the traditional flavor of Central Mexican Al Pastor split-grilled pork slices exceptionally well. Try it for tacos.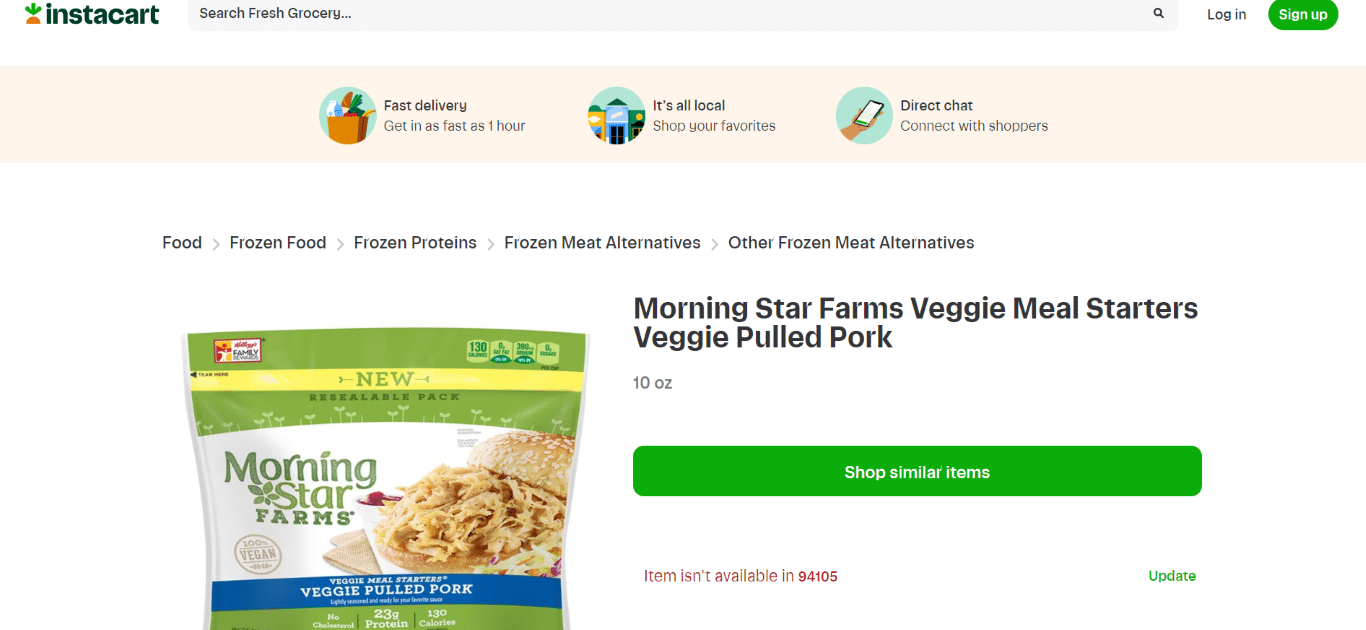 Veggie Pulled Pork from Morningstar Farms is another reliable option made from soy protein isolate and wheat gluten from a producer of a massive number of plant-based meat alternatives. They're much chewier than OmniPork Strips, and the "stringiness" isn't quite on par, but the flavor draws countless fans back over and over again.
While far from a pork-style strip or luncheon meat, MorningStar Farms Breakfast Veggie Bacon Strips are ideal for certain meals and perfect for imparting the flavor of pulled pork to whatever you may be cooking.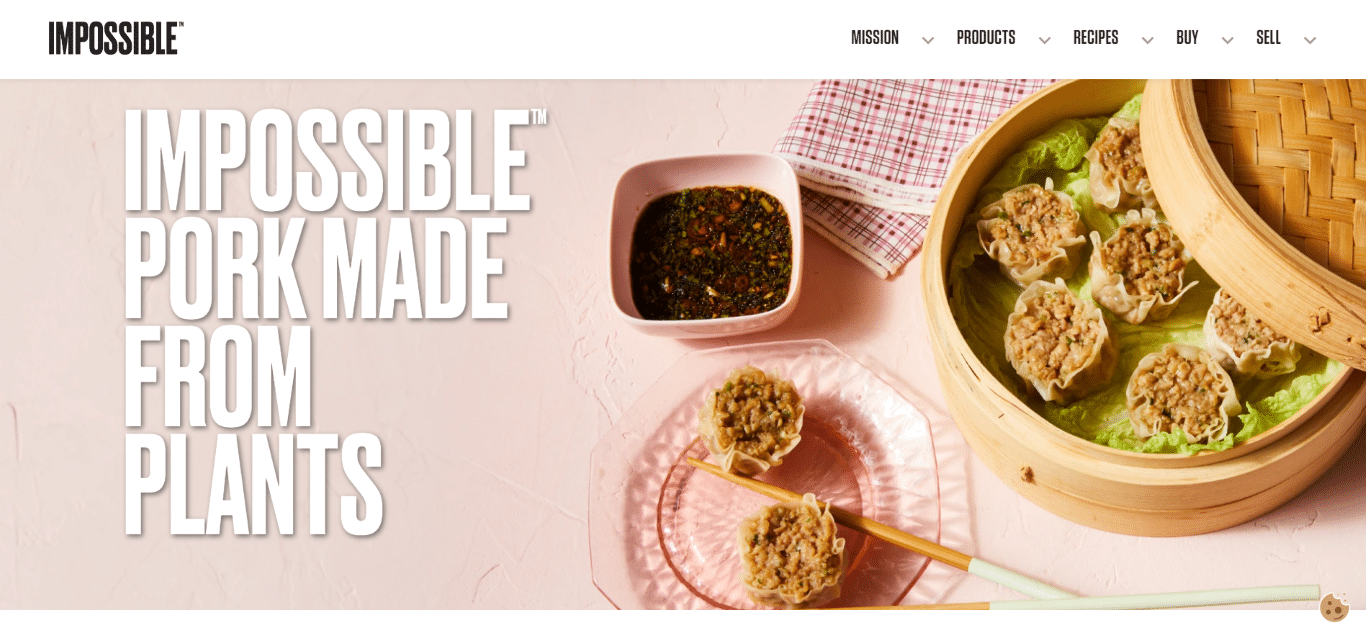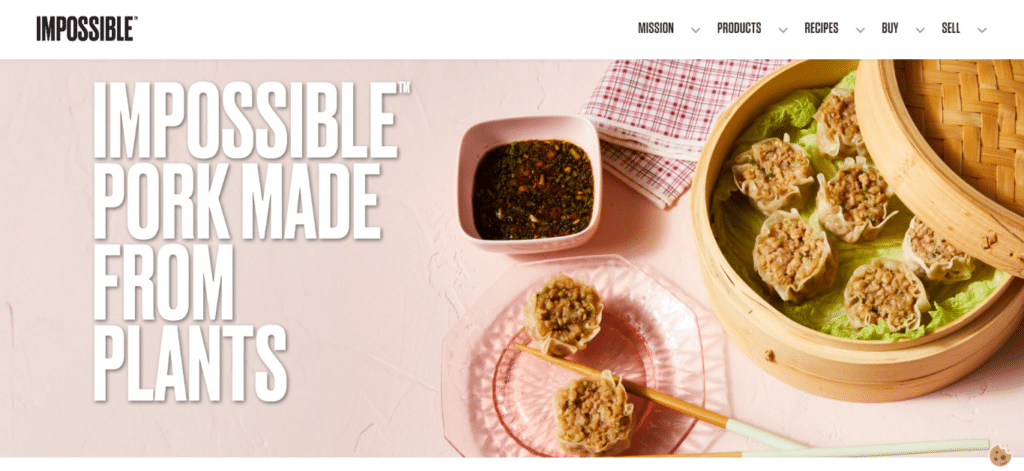 At the time of writing, Impossible Pork from Impossible Foods was only available in select restaurants across the US. It's made from soy, potatoes, heme, coconut, sunflower oils, methylcellulose, and starch and is said to resemble ground pork in every way. Check out the 'Store Locator' to find a restaurant with Impossible Pork near you.
Most will struggle to believe that they're eating something totally plant-based when sampling the Impossible Sausage, made mainly from soy protein isolate and heme. It's an excellent breakfast, lunch, and dinner meat.
Beyond Sausage is a plant-based sausage alternative produced by Beyond Meat. It is designed to mimic the taste, texture, and appearance of traditional pork sausage. It is made from a blend of pea protein, rice, and various spices and cooks in 6 minutes flat – perfect for lunch.
Don't expect frozen or shelf-stable vegan protein for Jada Spices Vegan Porkless Vegan Ground Pork Mix is a soy-free dry blend with spices included that lets you mix on your own plant-based ground protein similar to mince. This can then be shaped into any style preferred, from meatballs to patties.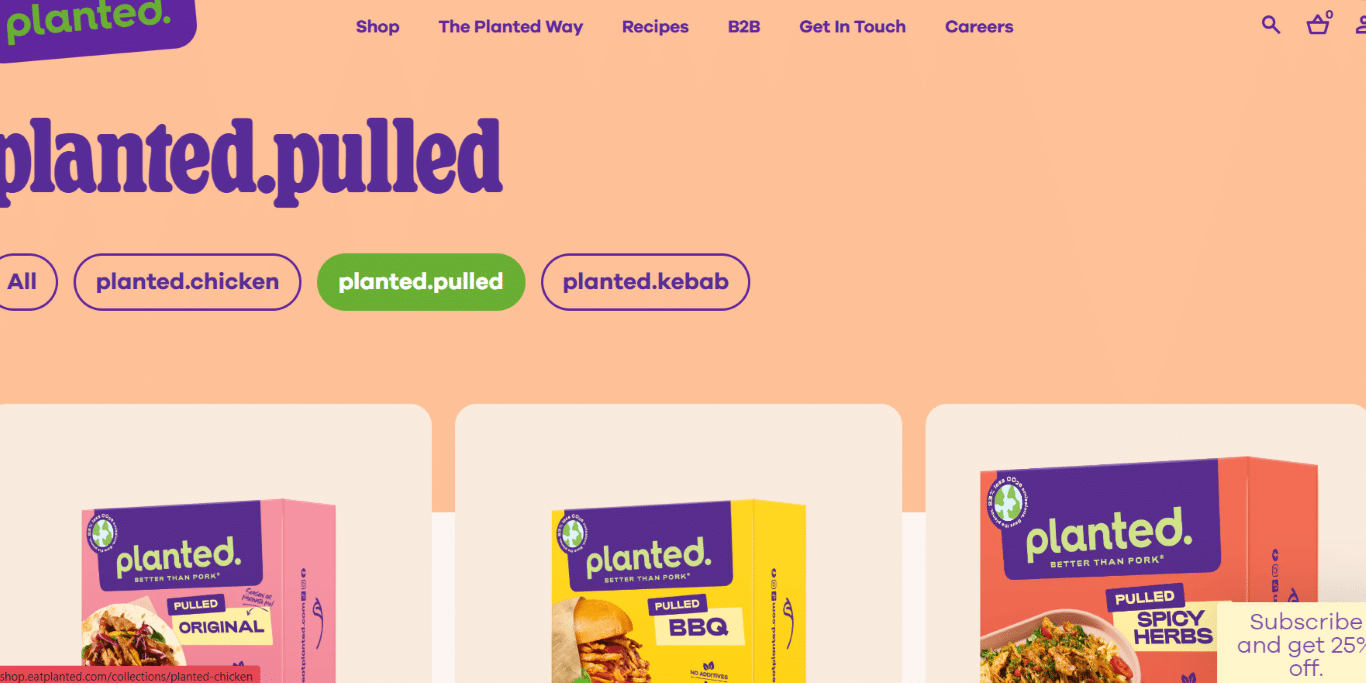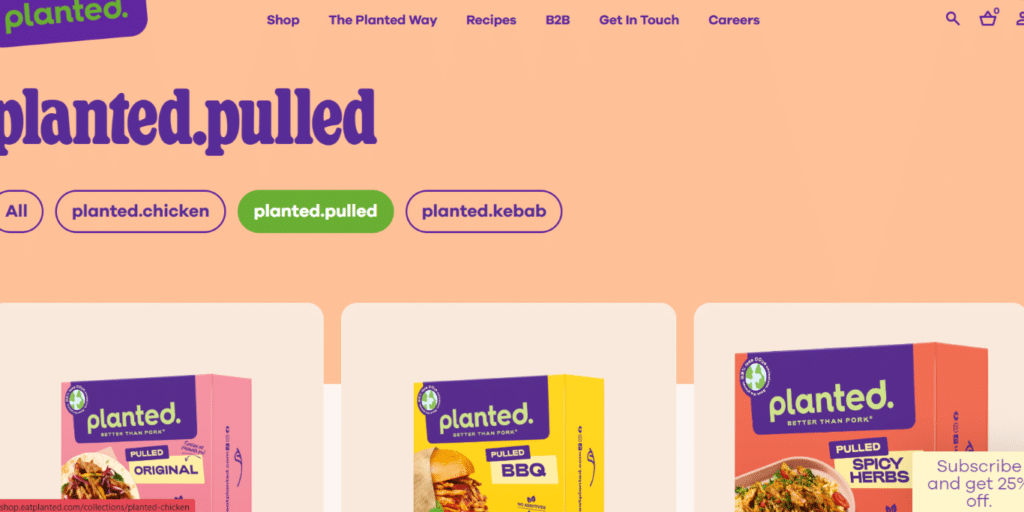 We're not sure if EatPlanted will land on US shores, but for UK-based shoppers, the entire range comes highly recommended. Available in original, barbecue, and spicy, EatPlanted's plant-based pork comes highly seasoned but reportedly has a great texture and texture that's very similar to the bearer of bacon.
Tips For Preparing OmniPork
As long as you stick to the cooking times advised on each package, it's hard to go wrong with OmniPork. Here are some tips to make sure your OmniPork Luncheon, Strips, or Ground plant-based pork always comes out perfect.
OmniPork Cooks Very Quickly
Always check your meal for doneness at roughly 30 seconds to a minute before the package says it'll be done so that you remove it from the heat immediately as it's ready. Overcooked OmniPork becomes dry and loses much of its inherent flavor.
OmniPork Strips Need 1 ½ Minutes In Soup
Whenever you add OmniPork strips to soup or a stew, time them. Only cook for a maximum of a minute and a half, then remove from the heat. Any longer, and you'll spoil both their consistency and taste.
Don't Over Oil When Frying
If you decide to pan-fry your OmniPork, do it with a light coating of oil only. They don't need more than a tablespoon or two of oil at the most otherwise, you'll be spoiling the texture, taste, and crisp of the exterior.
OmniPork – Frequently Asked Questions
Are you still confused about any aspect of OmniPork? Here are the answers you may need.
Is OmniPork Vegan?
Is OmniPork vegan? Well, it's not pork, that's for sure, but it is the closest non-living thing to it. In all seriousness, OmniPork is indeed a vegan product, made from a blend of plant-based ingredients only that are all sustainably sourced without any degree of cruelty imparted to any party involved.
What Type Of Meat Is OmniPork?
OmniPork is a plant-based meat alternative made from a blend of pea protein, non-GMO soy, shiitake mushroom, and rice. It is designed to mimic the texture and taste of pork and can be used in a variety of dishes in place of traditional pork. Out of the many vegan mock-pork products, few compare to the superb balance of flavor and texture supplied by OmniPork's range. 
How Long Does OmniPork Last In The Fridge?
Once opened, all OmniPork should be consumed within 3 to 4 days and can be stored in the refrigerator. If it has been vacuum-sealed, it can last up to 6 to 8 weeks in the refrigerator if uncooked. Frozen OmniPork products have a shelf life of one year. OmniPork Ground must be consumed within 13 days of defrosting. Store leftover OmniPork meats in an airtight container and make sure the temperature of your refrigerator is below 40°F to keep it fresh. Always check the expiration date on the packaging and do not consume if it has expired.
---
Recent Recipes