Simple Low FODMAP Shortbread
Everyone loves sweet and crumbly shortbread, which is a great afternoon treat or even a light dessert to enjoy after a heavy dinner. While you could try to find low FODMAP shortbread at the grocery store, you can also make your own low FODMAP shortbread recipe right in your own kitchen with a few basic ingredients. We should know, given our other tasty cookie recipes.
In fact, we've got a tasty and easy-to-whip-up low FODMAP shortbread recipe that only requires four ingredients in total: sugar, rice flour, tapioca flour, and butter. Naturally, each of these ingredients is very low in FODMAPs, so you don't need to worry about fermentable carbs messing up your digestive system.
Even better, this recipe means you can snack on several shortbread cookies without cheating on your diet. Interested? Great – let's take a look at this low FODMAP shortbread recipe in detail.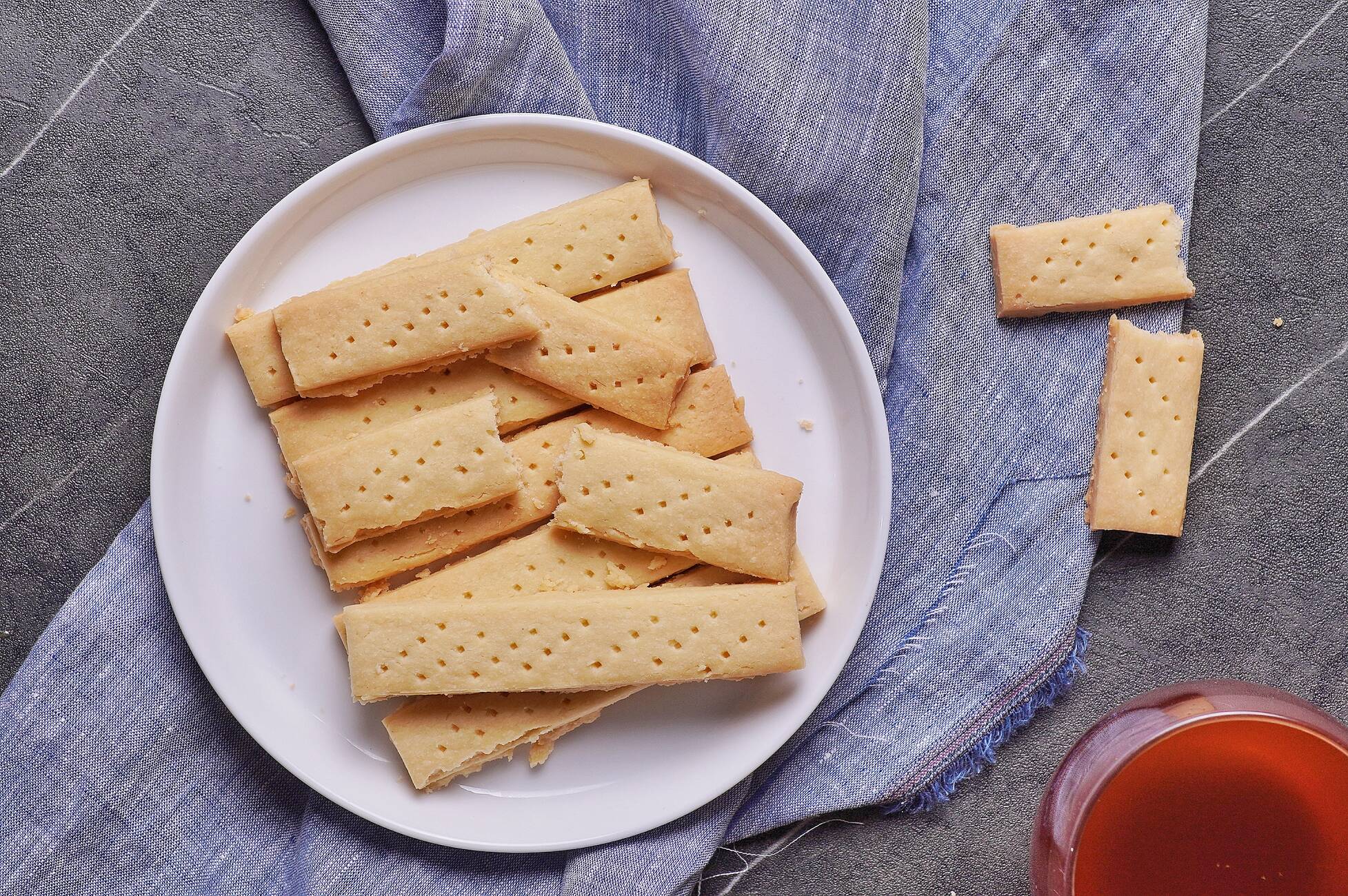 Ingredients
17 ½

tablespoons

butter

yes, we know it's a lot!, softened and cubed beforehand

1

and ½ cup rice flour

½

cup

icing sugar

1

cup

tapioca flour
Instructions
Assemble your ingredients together.

To begin, preheat your oven to 320°F. While the oven is preheating, take a large mixing bowl and mix in the softened butter and icing sugar using a kitchen mixer. Continue mixing these ingredients until it has a light and creamy texture. If you don't have a kitchen mixer, you can melt the butter then use a wooden spoon to mix the ingredients until you get the desired texture.

Next, combine both the tapioca flour and rice flour and sieve it slowly and carefully into the sugar and butter mixture. Continue to mix in the flour as you add more to the sugar and butter, using one hand for each part of the process to mix simultaneously. Mix all four ingredients until the consistency is that of a thick dough.

Take either one large baking tray or two medium-sized baking trays and line them with baking paper. Cut your shortbread dough into two halves and flatten the pieces into the tray. As you do this, ensure that the dough height is consistent across the tray(s) – this way, each cookie will taste just as delicious as the others.

Take a knife and cut the dough into rectangular sizes of your choosing. For our recipe, we cut the dough into 24 finger-length shortbread cookies. Then take a fork and score holes in each shortbread cookie piece. Each piece should have a handful of holes in total, but don't go overboard.

Stick your baking tray(s) into the oven for between 15 and 20 minutes. The cookies should be golden brown at this point. However, you might need to make them bake for another five minutes or so depending on how thick your resulting dough is.

Let your cookies cool for 30 minutes before serving. Once cooled, these low FODMAP shortbread cookies should be good for anywhere between three and five days when stored properly in an airtight container. Do not refrigerate the cookies because this could make them overly brittle.
Video
Nutrition
Calories:
79
kcal
|
Carbohydrates:
17
g
|
Protein:
1
g
|
Fat:
1
g
|
Saturated Fat:
1
g
|
Polyunsaturated Fat:
1
g
|
Monounsaturated Fat:
1
g
|
Cholesterol:
2
mg
|
Sodium:
23
mg
|
Potassium:
31
mg
|
Fiber:
1
g
|
Sugar:
6
g
|
Vitamin A:
36
IU
|
Calcium:
28
mg
|
Iron:
1
mg
Notes & Tips
One of the places where people frequently get stuck with this low FODMAP recipe is softening the butter. The fact is most people simply keep their butter in the refrigerator, and they then have to wait for over an hour for the butter to be suitably softened so they can start cooking shortbread cookies.
Your best bet to overcome this hurdle is to keep your butter out in a butter dish at room temperature. Alternatively, you can simply warm your butter by microwaving it for about 10 to 20 seconds. This should be enough to soften the butter without making it fully melt.
Substitutions
If you don't want to use tapioca flour in this recipe, you can always use low FODMAP flour, such as Lo-Fo Pantry Plain Flour. This is another great way to cut down on FODMAPS in your diet. Once again, however, regular tapioca flour doesn't have a lot of FODMAPs already. So this is really up to your personal taste preferences.
Shape Changes
As with many other baking recipes, you can make your shortbread cookies in whatever shape you desire if you have the right cookie cutter or a butter knife. They can be rectangles, stars, circles, or anything else. Just cut them into the desired shape before you stick the dough in the oven.
Common Questions
How many holes should I score in the shortbread cookies with a fork?
It's up to your discretion, but we've achieved the best results by scoring anywhere between 10 and 12 holes with the twin prongs of a standard fork. The key is not to make so many holes that you weaken the cookies and make them fall apart too easily, but also make sure you make enough holes that the cookies bake properly. Odds are you'll figure out the perfect hole frequency with a little experimentation.
Can I use butter to grease the bottom of a baking sheet?
Absolutely. This may allow you to get away with not using baking paper. However, this depends on how your oven bakes and how much butter you use. Adding more butter will give the bottom of your shortbread cookies a little extra flavor.
Can I add toppings to my shortbread cookies?
Sure you can, though you'll want to avoid any syrups or toppings that cover the holes you score in the cookies with your fork. Sprinkles, chocolate toppers, and so on are great ways to customize the taste of your cookies without overly increasing their FODMAPs content.
Shortcuts
Just like with practically all baking recipes, you can cut down on time by having your butter pre-softened and ready to go. Stick it in a room-temperature butter dish and keep it on the counter for the best results. Then you can cube the butter while the oven is preheating and makes everything so it's ready to be baked as soon as your oven beeps affirmatively.
---
Recent Recipes