Simple AIP Friendly Zucchini Fritters
When I was in college and on a budget, my roommate and I sometimes took the local train to a nearby city that had a giant Saturday farmers' market. This was actually a pretty new concept for urban environments at the time. An entire street was closed down for this weekly summer event.
There was a science to navigating this market to get the best deals. We arrived around 2:00 PM and walked the entire street looking for the vendors with an excess of produce. At 4:00, the market would start closing down and the farmers would hawk their unsold produce for a bargain to unload it. One weekend, we scored an entire box of zucchini for $5.00. I mean, it was probably 20 large zucchini!
I had to figure out what to do with this bounty before it all went bad. We made copious amounts of ratatouille, zucchini parmesan, zucchini bread, and quiche with zucchini and bacon. Most of it went into the freezer for the winter. It was awesome, but I burned out on zucchini until a few years later when vegetable fritters and zoodles came into vogue.
I admit to being a zucchini noodle devotee. But I also love veggie fritters made with shredded zucchini and sometimes shredded yams added into the mix. I know I have mentioned this in other recipe posts, but zucchini may be my favorite vegetable. It is both crisp and moist, healthy, easy to grow, affordable, and soaks up any flavor profile you throw at it.
I keep my zucchini fritters fairly simple, but I do jazz them up with spices and herbs. I also add AIP allowable flour to help hold the veggies together. I sometimes shred the zucchini, place it in a colander, add a little salt, and allow it to drain for about an hour. Then, I squeeze the water out. Zucchini has a fair amount of moisture. But sometimes I don't really bother if I want to get an appetizer or dinner on the table quickly. However, this is an Autoimmune Protocol (AIP) compliant recipe, so there aren't eggs or flax seeds added to provide a binder and some structure. As well, this recipe is both vegan and gluten-free.
Along with the fritters, I like to serve an avocado mash that is similar to guacamole but without any nightshade fruits added to the mix. It is mild and compliments the zucchini nicely.
On that note, this recipe is first fried to get a good sear on the exterior and then baked to help the fritters to cook through and hold together. These are not fritters that you eat with your hands. You will need a fork. I have no problem with that and I don't think you will either. So let's get to this super easy and tasty zucchini fritter recipe.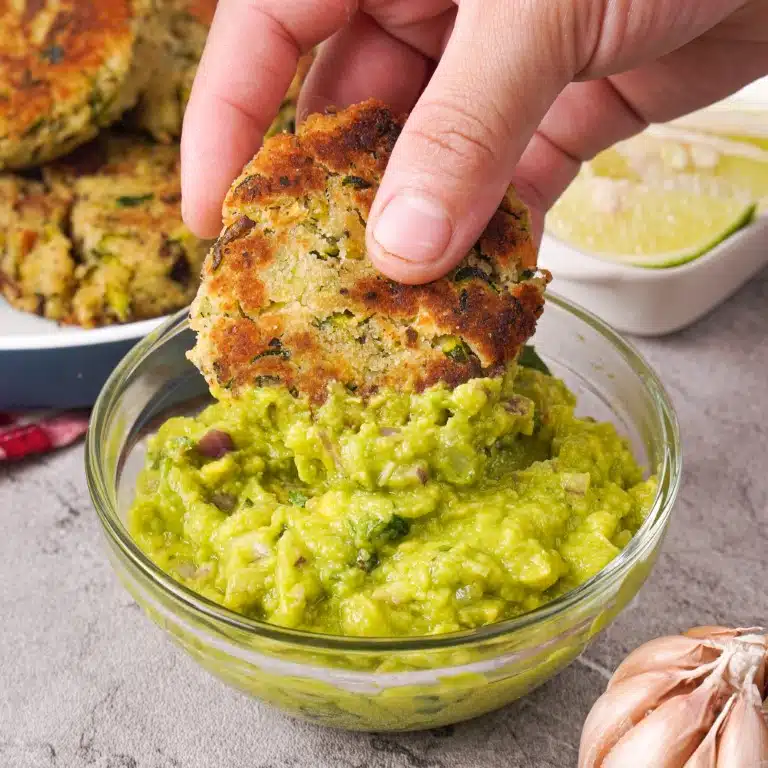 Ingredients
4

medium zucchini

3

scallions

sliced very thinly

2

tsp

Italian seasoning

2

tsp

garlic powder

2

tsp

onion powder

½

tsp

sea salt

½

cup

+ 2 Tbsp coconut flour

see notes

2

Tbsp

cassava root starch

4

Tbsp

olive oil

1

large ripe avocado

diced

¼

red onion

peeled and diced

Juice of ½ a lime

1

tsp

garlic powder

1

tsp

onion powder

½

tsp

sea salt

2

tbsp

roughly chopped fresh cilantro leaves

1

lime cut into wedges for serving
Instructions
All ingredients ready? Let's begin!

Trim the ends off of the zucchini. Grate it on a box grater and place it in a colander. Using clean hands, squeeze as much moister from the zucchini as you can possibly extract. Dry the pulp with paper towels.

In a large bowl, mix together the zucchini, scallions, Italian seasoning, garlic powder, onion powder, and salt.

Add in the flour and starch and stir well to combine.

Roll the mixture into 12 equal size balls. Press each one slightly to form a patty.

Preheat your oven to 350°F. Line a sheet pan with parchment paper.

In a large skillet or griddle pan over medium heat, warm 1/2 the olive oil.

Sear the fritters in batches until golden brown on both sides, turning once. This should take about 5 minutes per batch. Add more oil, if needed, and continue until all the fritters are fried. Transfer them to the lined sheet pan.

Place the pan in the oven and bake until cooked through, approximately 10 to 15 minutes.

While the fritters are baking, make the avocado mash: In the mixing bowl, mash the avocado well with a fork. Fold in the onion.

Add the lime juice, garlic powder, onion powder, salt, and cilantro. Stir well and set aside.

Transfer the fritters to a serving platter with lime wedges placed around the perimeter. Place the avocado mash in a small serving bowl. Serve immediately while warm.
Nutrition
Calories:
696
kcal
|
Carbohydrates:
58
g
|
Protein:
14
g
|
Fat:
49
g
|
Saturated Fat:
11
g
|
Polyunsaturated Fat:
5
g
|
Monounsaturated Fat:
30
g
|
Sodium:
1285
mg
|
Potassium:
1701
mg
|
Fiber:
26
g
|
Sugar:
15
g
|
Vitamin A:
1176
IU
|
Vitamin C:
88
mg
|
Calcium:
145
mg
|
Iron:
5
mg
Notes & Tips
If you don't have a box grater, you can pulse the zucchini in a food processor.
I did say in the intro that I don't always squeeze the moisture out of my zucchini for fritters if I am being lazy or the zucchini are very small. Large zucchinis have more moisture, so be sure to squeeze the moisture out if you see an excess.
Add the flour and starch a little at a time just until the fritter dough holds together to form patties.
You can make the avocado mash ahead of time and just keep it in a sealed container in the fridge until ready to use. A trick I learned to keep avocado and guacamole from turning brown is to place the pit in the mash. Just remove it before serving.
Substitutions
Zucchini: You can substitute yellow summer squash for the zucchini in this recipe. Yellow squash sometimes has more seeds than green squash, so you need to give an extra squeeze to remove the moisture around the seeds.
Italian Seasoning: This ingredient is a convenience item that I keep in my pantry. You can add dried oregano and dried basil if that is what you have. Any dried herbs are actually fine. Just don't add spices derived from nightshades or seeds, such as black pepper, cayenne, or cumin to remain AIP-compliant.
Cassava Root Starch: I believe you could use arrowroot in place of the cassava. Or, just use more coconut flour.
Olive Oil: If you prefer, you can fry the fritters in coconut oil or avocado oil. Avoid vegetable and seed oils.
Storage & Reheating
Store leftover zucchini fritters and avocado mash in separate airtight containers in the refrigerator for up to 3 days.
To reheat the fritters, preheat your oven to 350°F and place the fritters on a lined baking sheet. Heat for about 10 minutes or until warmed through.
You can also reheat the fritters in a skillet over medium heat with a little olive oil, cooking for about 3-4 minutes per side until heated through.
The avocado mash can be eaten cold, or you can gently warm it in a microwave on low power for 30 seconds to 1 minute, stirring at intervals to avoid overheating.
Serving Suggestions
Serve these AIP-friendly zucchini fritters with a side salad of mixed greens and a simple vinaigrette.
Enjoy the fritters as a light lunch or dinner, paired with a bowl of homemade vegetable soup.
Serve them as an appetizer or finger food for parties, alongside other AIP-compliant dishes.
Variations & Customization for Common Dietary Restrictions & Diets
Paleo or Whole30: To make these fritters compliant with a Paleo or Whole30 diet, add one egg to the fritter mixture to act as a binder. This will make the fritters easier to handle and cook.
Low-FODMAP: Omit the scallions and garlic powder from the fritter recipe and replace with chives and a pinch of asafoetida powder. Use garlic-infused oil instead of regular olive oil for frying the fritters.
Common Mistakes
Not squeezing the moisture out of the zucchini: This step is crucial for creating a fritter with the right texture. Excess moisture will make the fritters too soggy and difficult to cook.
Overcooking the fritters: Be careful not to overcook the fritters in the skillet or oven, as they can become dry and lose their flavor. Watch them closely and remove them from the heat when they are golden brown and cooked through.
Health Risks & Benefits
Benefits
Zucchini is a low-calorie vegetable that is high in vitamins A and C, potassium, and fiber. It can support healthy digestion and may help reduce inflammation.
Avocado is rich in healthy fats, vitamins, and minerals, and has been linked to improved heart health, lower cholesterol levels, and better weight management.
Risks
While this recipe is AIP-compliant and suitable for those with autoimmune conditions, it may not be appropriate for all individuals. Always consult with a healthcare professional before making significant changes to your diet.
Common Questions
How can I store leftover zucchini fritters?
Store leftover zucchini fritters in an airtight container in the refrigerator for up to 3 days. To reheat, place the fritters on a baking sheet and warm them in a preheated oven at 350°F for about 5-10 minutes or until heated through.
Can I freeze zucchini fritters?
Yes, you can freeze zucchini fritters. After they have cooled completely, place them in a single layer on a parchment-lined baking sheet and freeze until solid. Once frozen, transfer the fritters to a freezer-safe bag or container and store for up to 3 months. To reheat, place the frozen fritters on a baking sheet and bake in a preheated oven at 350°F for 15-20 minutes or until heated through.
Can I make zucchini fritters ahead of time?
While it's best to serve zucchini fritters fresh and warm, you can prepare the mixture up to a day ahead of time. Store the mixture in the refrigerator in an airtight container. When you're ready to cook the fritters, give the mixture a good stir and proceed with frying and baking as directed in the recipe.
How can I make these fritters more protein-packed?
To add more protein to these AIP-friendly zucchini fritters, you can incorporate shredded cooked chicken, ground turkey, or other AIP-compliant protein sources into the fritter mixture. Just make sure to adjust the seasonings accordingly.
Can I bake the fritters instead of frying them?
Yes, you can bake the zucchini fritters instead of frying them. Preheat your oven to 400°F and line a baking sheet with parchment paper. Place the formed patties on the prepared sheet and bake for 20-25 minutes, flipping them halfway through, or until golden brown and cooked through. Keep in mind that the texture might be slightly different than when fried.
---
Recent Recipes