Have you ever wanted an easy and delicious dessert with a fruity, summery tang? Look no further than this durian float! Not only does it utilize the often overlooked durian, it also includes fresh mango. Do you know about all the health benefits of mango? There are quite a few (in addition to it being very tasty), so if you're interested in learning more you can start with the top 8 health benefits of mangos.
Although the recipe is simple enough, it does require several hours of refrigerated resting time before it is ready to serve, so please keep that in mind when planning meals or events.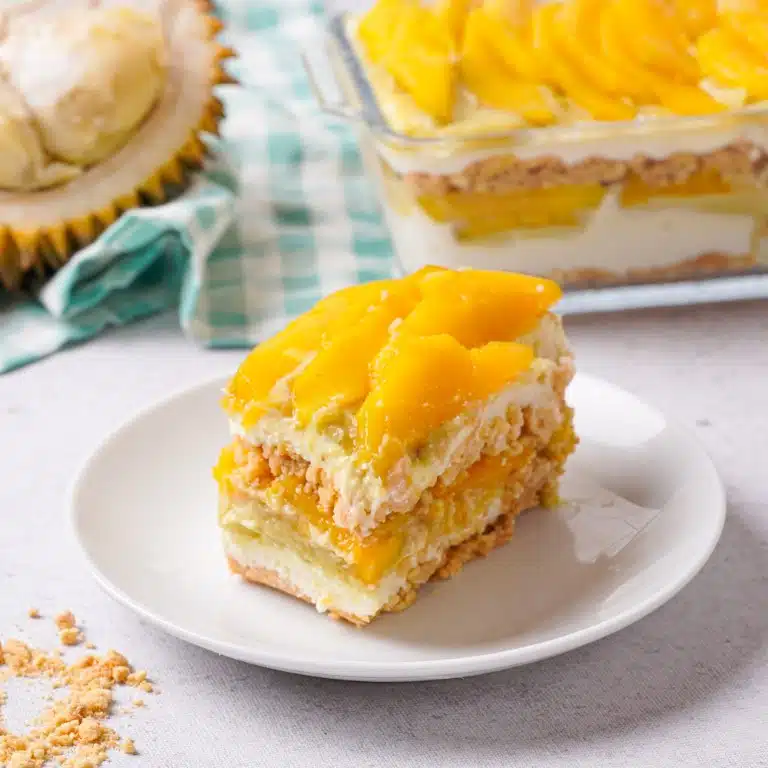 Ingredients
3

tbsp

butter

1 8-

oz

block cream cheese

2

cup

durian puree

3

tbsp

sugar

1

package honey graham crackers

2

cups

of heavy whipping cream

1

can sweetened condensed milk

3

mangos
Instructions
All ingredients ready? Let's begin!

Allow the butter and cream cheese to sit out at room temperature until soft. Heat a pan over medium low heat and add the durian puree and sugar.

Stir constantly with a wooden spoon or spatula for about 5 minutes. The sugar will dissolve and the durian should begin changing to look a bit more translucent. If this has not happened in 5 minutes, keep cooking until it does.

Once the sugar has melted and the durian has cooked a bit, remove from heat and set aside to cool. If you want it to cool faster, you can scrape it into a bowl and leave it in the fridge until chilled through.

Crush the graham crackers. You can do this one of two ways; the first way is to put them in a food processor or high powered blender and pulse until all it breaks into small crumbs. The other way is to put the crackers in a large ziplock bag and press all the air out before sealing. Then use a rolling pin to smash the crackers into crumbles. To prevent the bag from accidentally breaking and making a mess, you can also wrap a kitchen towel around it before smashing.

Pour the graham crumble into a bowl and add the softened butter. Mix together using a spoon or spatula until well mixed. It will still be clumpy. Spread the mixture in the bottom of a large dish. If you want more layers, use a smaller dish; size is up to you. If you have an electric mixer, use a whisk attachment to whip the cream into stiff peaks. If you do not have an electric mixer, you can do it by hand but it will take longer.

Add the softened cream cheese to the cream and continue whipping until it's incorporated and stiff again.

Add the sweetened condensed milk to the whipped mixture and use a spatula to fold it in, trying to avoid the cream deflating.

Peel the mangos. You can do this carefully with a knife. Discard the peels. Cut the mangos into thin slices and set aside.

Spread a layer of the cream mixture on top of the graham cracker layer.

You want the cracker layer fully covered by at least ½ inch, but if you want less layers, you can use half of the whipped cream mix.

Next, spread the fully cooled durian in an even layer across (again, judge by how many layers you want).

Place mango slices side by side as the next layer, trying to avoid too many gaps. Add the next layer of whipped cream mix and spread evenly, making sure to get the edges of the pan. Repeat with the next durian layer. Add another layer of mango slices. Repeat using the rest of the ingredients! Aim to end with the mango on top.

Cover the pan with plastic wrap and place in the fridge to set.

Allow the float to chill for at least 3 hours before serving.

When you're ready, simply slice and enjoy!
Nutrition
Calories:
579
kcal
|
Carbohydrates:
76
g
|
Protein:
12
g
|
Fat:
27
g
|
Saturated Fat:
14
g
|
Polyunsaturated Fat:
1
g
|
Monounsaturated Fat:
7
g
|
Cholesterol:
71
mg
|
Sodium:
517
mg
|
Potassium:
545
mg
|
Fiber:
3
g
|
Sugar:
47
g
|
Vitamin A:
1508
IU
|
Vitamin C:
28
mg
|
Calcium:
279
mg
|
Iron:
2
mg
Notes & Tips
Leftover durian float can be stored in the fridge for up to five days. Avoid leaving it at room temperature for too long at any point as that can ruin the texture.
If you want to be extra careful that the whipped cream mix doesn't deflate, you can whip or beat the room temperature cream cheese separately before adding to the whipped cream.
If you want to put a twist on this fun treat, you can even put it in the freezer instead of the fridge! The cream mixture will freeze to a creamy ice cream consistency while the fruit gets pleasantly icy. It's not much different from an ice cream cake, so it makes sense that it works just as well frozen.
What is Durian?
Durian is a unique fruit native to Southeast Asia and is most notably recognized for its peculiar scent. Some people say it smells as bad as rotting meat, though a few claim it has a mild, sweet scent. The fruit itself is covered with a hard prickly rind that encases the pungent yellow flesh.
If you don't like durian or aren't quite ready to try it, there's plenty of other options for you! This dish could even be enjoyed with only mango, but if you're looking for something a little different but in the same vein, try chocolate pudding banana lasagna!
Where to Find Durian
Durian is probably not a common ingredient in your local supermarket, so where can you find it? Your best bet is checking out your nearest Asian food market. Some shops are quite small and may not have a large selection of fresh produce, but they may still have some frozen durian in the freezer section, which is usually easier to work with anyway.
Regardless of what format the durian comes in, you will need to get it into a puree or pulp before commencing with this recipe. If you buy frozen, it will likely come in chunks, which makes it super easy to simply defrost and pop it into a blender, pulsing until smooth. 
Storage & Reheating
To store leftover durian float, cover it tightly with plastic wrap and refrigerate for up to 5 days.
To maintain the texture of the float, avoid leaving it at room temperature for extended periods.
If you wish to reheat the durian float, please note that it is best enjoyed cold, and reheating may affect the texture and taste.
Serving Suggestions
Durian float can be served as a dessert at parties, family gatherings, or as a treat for yourself.
Enjoy it chilled, or you can also freeze it to achieve an ice cream-like consistency.
Customization For Common Dietary Restrictions & Diets
For a dairy-free version, replace the cream cheese and heavy whipping cream with dairy-free alternatives such as cashew cream cheese and coconut cream.
For a vegan-friendly version, use vegan cream cheese and a plant-based sweetened condensed milk substitute.
Common Mistakes
Not allowing the durian mixture to cool completely before layering it in the float can cause the whipped cream to deflate.
Overmixing the whipped cream mixture after adding the sweetened condensed milk can lead to a less fluffy texture.
Health risks & benefits of this recipe
Durian is high in antioxidants, vitamins, and minerals, which can help support the immune system and overall health.
Mango is rich in vitamins, minerals, and antioxidants, providing numerous health benefits, such as improved digestion and a stronger immune system.
This dessert is high in sugar and fat, so it should be enjoyed in moderation.
Recipe Context
Durian float is a modern twist on the traditional Filipino dessert, Mango Float. The original recipe uses layers of graham crackers, whipped cream, and mango slices.
The inclusion of durian in this dessert is a nod to Southeast Asian cuisine, where the fruit is widely consumed and enjoyed for its unique flavor and texture.
Common Questions
Can I use frozen durian instead of fresh?
Yes, frozen durian can be used. Simply defrost the durian and blend it into a smooth puree before using it in the recipe.
Can I substitute the durian with another fruit?
Yes, you can replace the durian with another fruit of your choice, such as bananas, strawberries, or even chocolate pudding.
Can I make this dessert ahead of time?
Yes, you can prepare the durian float ahead of time and refrigerate it for at least 3 hours before serving. This will allow the dessert to set and develop its flavors.
---
Recent Recipes