Best Middle Eastern Online Specialty Grocery Stores
Key Takeaways
Between our two top Middle Eastern online grocery stores, shoppers can find just about every Arabic and Mediterranean food product they may be looking for. Our best Middle Eastern e-grocer, Kalustyan's, has all the scarcest ingredients in stock and carries hard-to-find ethnic cuisine from all around the world, not just Arabic nations and the Mediterranean Basin. Kalamala Persian Grocery comes in as a close second and is technically the slightly better choice for Iranian, Jewish, and Afghani delicacies with excellent all-around affordability and a flat rate for shipping that's hard to beat.
Even though these two reliable retailers carry an all-encompassing range, there's a wealth of alternate brands with almost as much product diversity waiting at both Sadaf Foods and Parthenon Foods. For any other specific groceries from exact locations in the Middle East or the Mediterranean, be sure to give our individual recommendations a try. Finally, as a global e-grocer that carries food products from all around the world, neither Titan Foods nor Snuk Foods can be overlooked. They may not have an exclusive focus, but there are tons of great quality goods imports from Latin America, the Middle East, the Mediterranean, the East, and Southeast Asia waiting to be found.
Some Middle Eastern ingredients simply have no substitute. After all, you can't make manaqish without Za'atar, and halva or malabi wouldn't be authentic without rose water. The same goes for Mediterranean staples like mastiha gum for Greek ice cream and taramokeftedes calling for ever-so-elusive tarama.
Fortunately, each of the sixteen best Middle Eastern/Mediterranean online specialty grocery stores reviewed here carry everything a cook could seek out and ship their goods nationwide across the USA. We've got an overview of all the best e-grocers for each type of relevant ethnic cuisine coming up.
Best Middle Eastern Online Specialty Grocery Store Comparison
| | | |
| --- | --- | --- |
| | Kalustyan's | Kalamala Persian Grocery |
| Specialization | Middle Eastern, Mediterranean, Indian Groceries | Israeli, Persian & Judaic Groceries |
| Supplier Network | Self-Maintained Product Selection (No External Suppliers Just Self-Stocked Brands) | Self-Maintained Product Selection (No External Suppliers Just Self-Stocked Brands) |
| Product Catalog | Retail & Wholesale Available – 1000+ Products | Retail Only – Hundreds Of Products |
| Location | New York, United States | Chicago, United States |
| Physical Store/s | Yes – 123 Lexington Ave, New York | Yes – 15922 Strathern St #12, Los Angeles |
| Free Shipping Threshold | No Internal Free Shipping Threshold But Free Local Delivery For First 30 Days When Ordering Through Mercato | No Free Shipping Threshold – Flat Rate Shipping Instead |
| Shipping Charge | USPS UPS Or FEDEX Shipping Rates Relative To Order Location & Package Size | $7.99 Flat US Shipping Charge |
| International Shipping | No – USA Shipping Only | No – USA Shipping Only |
| Return Policy | Full Refund Offered On Unsatisfactory Items Queried Within 24-Hours of Receiving Package (Excluding Shipping Charge) | 7-Day Money Back Guarantee On All Unsatisfactory Purchases (Excluding Shipping Charge) |
No Free Shipping Threshold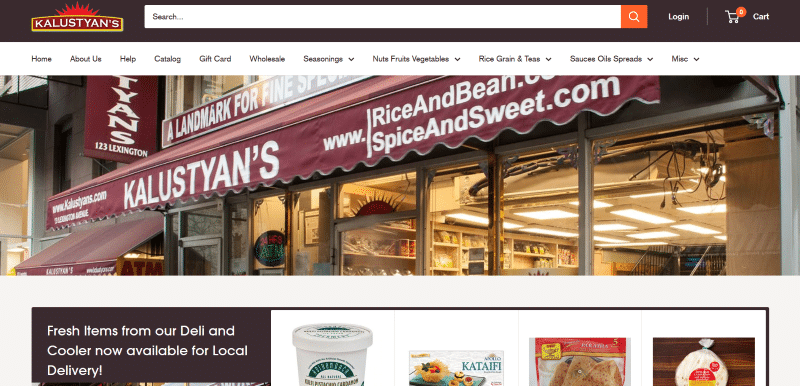 Since 1944 from the very same storefront, Kalustyan's has supplied a diverse range of ethnic groceries and spices. What began as an Indian specialty store is now considered to be the best place to shop for hard-to-find international ingredients of almost any kind. Few other stores can compare to its range of reasonably priced goods. If it's from the Middle East or the Mediterranean, you'll find it at Kalustyan's. The catalog is so much better than its competitors that certain US-based stores source their products for resale directly from Kalustyan's itself. From Al-Kabsa spice for Saudi Arabia's famous Kabsa rice dish to Za'atar for Lebanese Manakish and more, you'll never be forced to substitute when shopping here.
The store, inclusive of a cafe, is a must-visit for anyone in New York and should always be consulted when shopping online. Kalustyan's has a focus on Mediterranean, Middle Eastern, and Indian cuisine, but there are many other countries represented. Customers will find groceries from South Africa, Belgium, Bulgaria, Holland, South America, and Vietnam, to name but a few regions covered. Online shopping presents a well categorized, searchable web store, and orders typically arrive well within within their stipulated delivery time.
$7.99 Flat Nationwide US Shipping Fee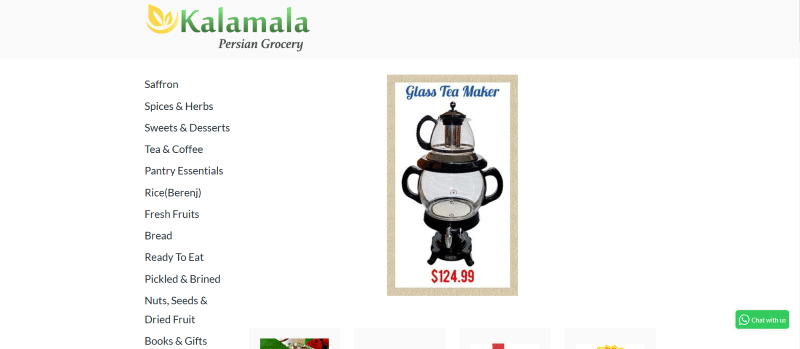 Kalamala Persian Grocery carries a broad selection of Persian, Kurdish, Armenian, Turkish, and Afghani groceries. Since 2007, Kalamala has been shipping its selection of hundreds of different foods and beverages to customers worldwide from its head office in Los Angeles. From staples like berenj, lapeh dir paz, and saffron to ready-to-eat Persian treats like ajil shoor, badam limoo e, and baghlava, Kalamala has it all at highly affordable prices. Even the flat shipping rate hints towards the immense bargains found here, and there's no minimum order imposed.
No Free Delivery Threshold
Weight Based Shipping Cost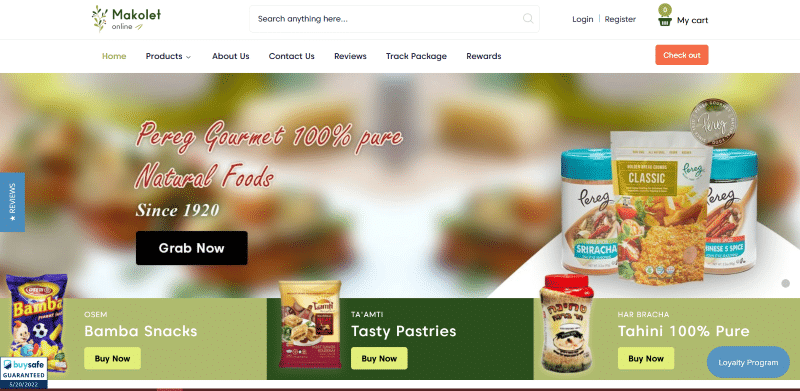 For the widest variety of affordable Israeli groceries and Judaic products, look no further than New Jersey's Makolet Online. All food products are covered, from 100% pure tahini to kosher GeFilteFish and tasty treats like halva to HamanTashen. It's all there. Makolet also keeps a range of items of interest to Jewish shoppers, such as hand-painted menorahs, Chanukah candles, Shabat candles, and various imported cleaning and household supplies. The quality across the board is outstanding. Shoppers will even find the OU-P symbol indicating Kosher goods and the Rabbinical seal on various products such as coffee and spices like ground black pepper.
It's not only an excellent selection of products at brick-and-mortar store prices to look forward to. The family-owned grocer also quickly dispatches goods, translating to speedy delivery times no matter where you're ordering from. Since 1920, Makolet has remained one of the most trustworthy suppliers of Israeli groceries in America. Frequent shoppers are advised to take advantage of the rewards program – just signing up awards a significant discount on any future purchase.
Free Shipping On Orders Of $100 Or More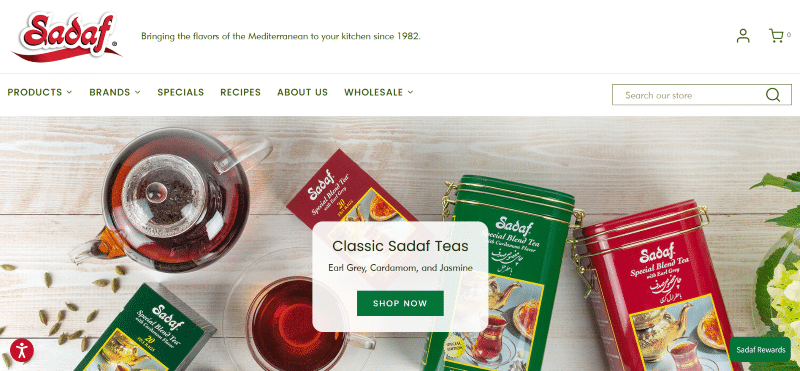 Sadaf Foods is an online grocery store based in Los Angeles specializing in Iranian and Mediterranean cuisine. With over 1000 imported products from fifteen different countries, it's an e-grocer that leaves shoppers truly spoiled for choice. The selection of Iranian goods is exceptionally well-stocked. Challenging to procure items like rosebuds, ghormeh sabzi herb mix, and ash reshteh are readily available, and the prices are generally pretty close to what you'd find at a face-to-face in-person grocer.
Cooking up an Iranian stew and looking for authentic flavor? Forget the sumac substitutes — Sadaf has just about every Middle Eastern spice out there. From ground gol par to dried lime, nothing is lacking, and the affordability will surprise you over and over again. Be sure to navigate to the specials for prices that scream "buy me." There's also a Sadaf Foods wholesale webstore offering considerable discounts on bulk purchases. This is one e-grocer that may well become your next go-to for Persian groceries of all types.
Free Delivery For Orders Above Either $59 or $99 Depending On Customer Location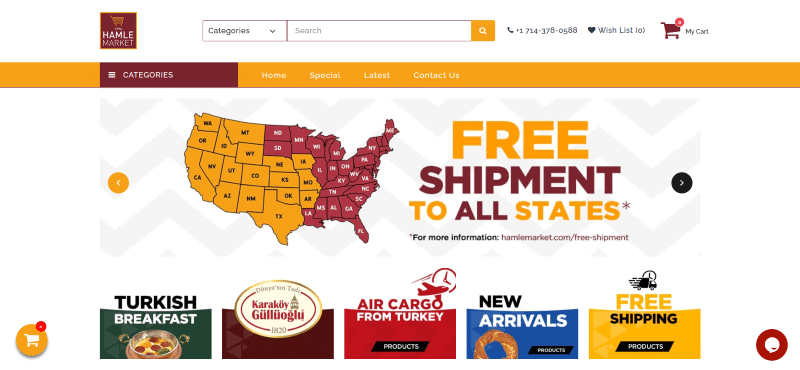 Instead of offering a selection of groceries from its own distribution center like most other e-grocers reviewed, Hamle Market connects shoppers to Turkish grocers in their area. US shoppers simply need to select their state, and Hamle instantly lists all of the groceries, food, and other Turkish products available from nearby markets and online stores. There's no easier way to source ingredients like sour plums, green almonds, rosewater, Sucuk, Kasar, Borek, and Lahmacun, to name but a few of the many sought-after products kept here. There's even fresh produce, baked goods, and pre-prepared food available to shoppers in certain localities.
Delivery is charged at either $59 or $99, depending on where the order is coming from in the US. It may not be as low of an order threshold as certain other suppliers but the scope of choice offered by Hamle Market's Turkish goods is unparalleled and the general pricing is very reasonable.
Free Shipping On Orders Of $50 And Above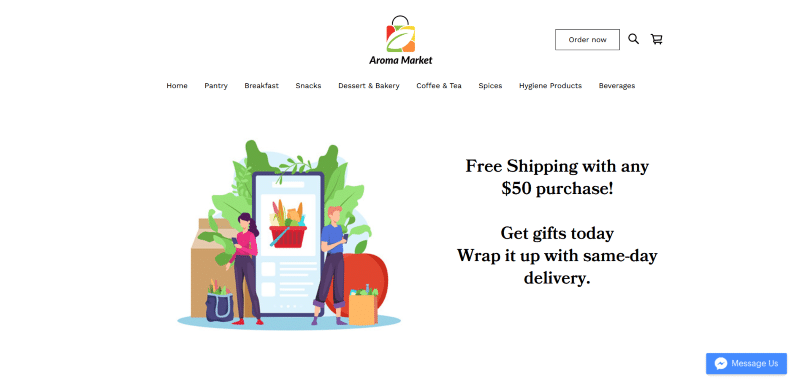 Aroma Market is a Mediterranean online grocery store with a particular focus on Turkish goods. Pickup is available from the company's 42nd Avenue store in San Francisco. Otherwise, a range of various delivery options is provided. There's even same-day delivery available for gifts and other urgent purchases. Expect to find popular imports from Turkey like bulgur, Baldo rice, Oncu pepper paste, Mehmet Efendi Turkish coffee, various teas, and spices like Biber chili flakes from the isot pepper and sumac, to name but a few of the scarcer products seldomly found elsewhere. The groceries at Aroma Market are priced toward the higher end of the scale but still remain far more affordable than most competing gourmet foods retailers, but when one factors in the first-buy discount and free shipping, there's excellent all-around value to be found.
No Free Shipping Threshold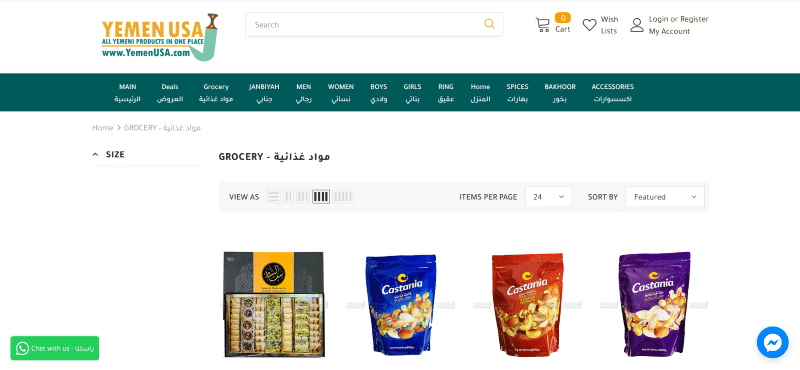 Yemen USA is an online-only store that delivers an assortment of Yemini products to shoppers all around the world. Global shipping of a complete range of imported products from Yemen is available. Yemen USA stocks a comprehensive selection of ethnic groceries, including but not limited to Yemeni ghee, White Oudi honey, Jallab syrup, oshar spread, and some of the most decadent blends of coffee from the region seen. The selection is so authentic that expats will be happy to find all product descriptions detailed in English and Yemeni Arabic for convenience.
Yet, it is not only the all-encompassing range of food products that make this store the best purveyor of goods from Yemen out there. There's kitchenware, home appliances, jewelry, and fashion on offer as well. Looking for a Maswan of the highest quality at a great price? How about an ultra-soft thobe or Arabic unisex perfume? It's all waiting at Yemen USA with ample options to pick from. Each order is trackable, and while there is no free shipping threshold, the low, low prices certainly make up for it.
Free Shipping On Orders Of $50 And Above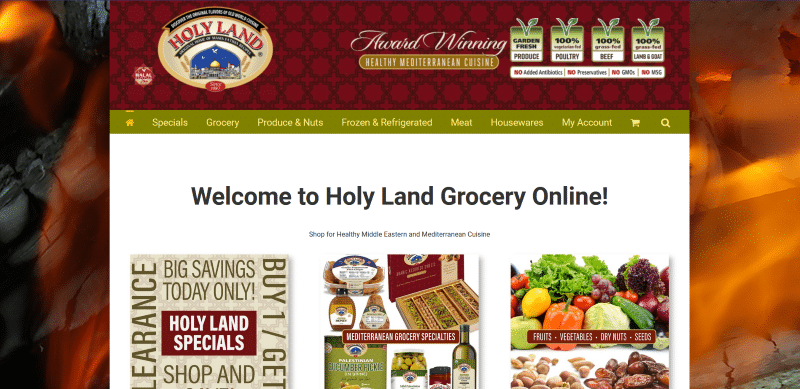 The Minneapolis Middle Eastern deli, grocer, and restaurant, Holy Land, is a must-visit for anyone in the vicinity and an excellent place to shop online for healthy Middle Eastern and Mediterranean cuisine. All groceries offered contain zero preservatives, no GMOs, and no MSG. Produce is certified to be garden fresh. Beef, lamb, and goat are 100% grass-fed, while poultry is 100% vegetarian-fed. It's one of the best places to buy Halal meat in terms of both affordability and quality.
Holy Land boasts prices so low you'd think you're shopping offline at an in-person market or specialty store no matter what you're shopping for. Produce like Palestinian olives, Medjool dates, and watermelon seeds are readily available and reputed to always be fresh, while stock of specialty ingredients like freekah, maftoul, and chilli pepper shatta are sure to keep expats and gourmet cooks happy. The company also claims to have the biggest selection of Mediterranean sweets on sale anywhere, and judging by their current selection, Holy Land may well be right.
No Free Shipping Threshold
7% Order Discount For New Customers When Using Coupon 'PNEW7F'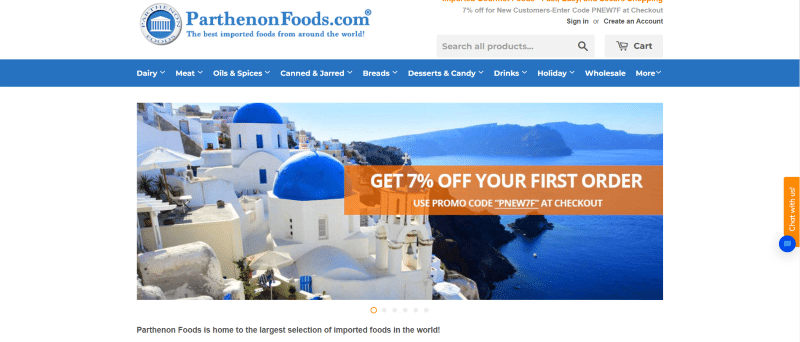 Do you have a hankering for gyro meat, sudzuka, or pastarma? How about hard-to-find ingredients like Petimezi grape syrup, Tarama caviar, or the superfood Mastiha? No matter how specific or prevailingly popular the Greek food you may be looking for, Parthenon Foods has you covered with multiple offerings available for even the scarcest foods. The Wisconsin e-grocer specializing in imported foods boasts a selection of over 4000 different products from over 45 different countries but holds a distinct focus on Greek groceries.
Parthenon Foods ships worldwide. While perishables are well-packaged and quickly dispatched to prevent spoilage, customers are responsible for selecting the appropriate delivery method to guarantee freshness. The shipping method is entirely at the discretion of the shopper. There's no minimum order that qualifies for free delivery. Still, new customers are entitled to 7% off their order when using the complimentary coupon. The general rates are well-matched to competing local grocery stores, which makes most goods a bargain and well-worth ordering online.
No Free Shipping Threshold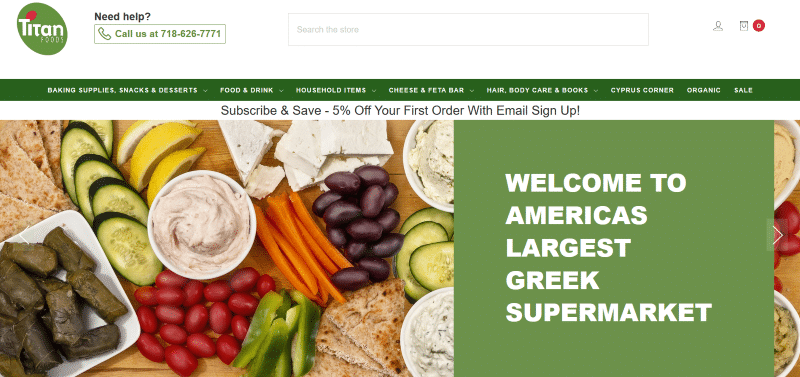 Titan Foods claims to be the largest Greek online grocery store in the USA and it certainly appears to be correct. The mammoth selection of Grecian groceries certainly matches that of Parthenon Foods, but unlike its counterpart, Titan also carries imported household goods, beauty items, health products, and religious and spiritual items like brass censors, vigil lamps, and boxes of incense. What sets New York-based webstore apart from other Greek grocers is its 'Cyprus Corner' that specifically stocks groceries and other products from Cyprus. There's Cypriot coffee, nisiastos, tahinopita, all sorts of sweets, and local treats like afroza sherbet and mosfilo jelly. Whether for Greek or Cypriot supplies, we strongly suggest giving Titan Foods a look. The company even ships to international locations, not just the US alone.
No Free Shipping Threshold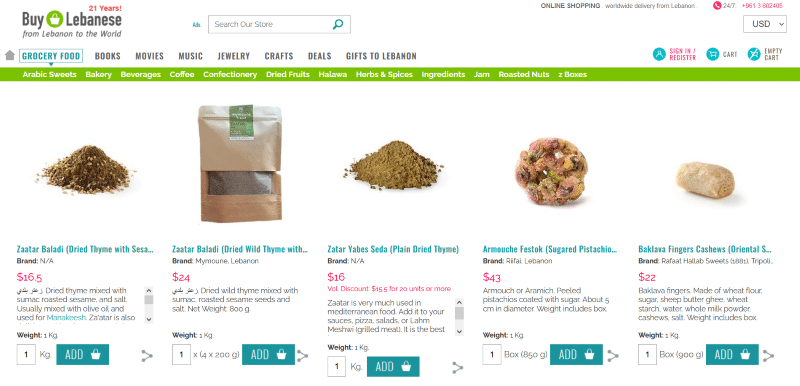 Buy Lebanese is an online retailer based in Beirut that specializes in a range of carefully selected Lebanese goods. Since 2000, BuyLebanese has been offering its groceries, books, movies, music, jewelry, wine, tableware, gifts, and crafts to shoppers all around the world. Customers should expect to pay considerably more than they would in a local brick-and-mortar store but still within the average range of most gourmet grocers. This being said, the quality of the brands and goods held in stock is superlative to almost all competing products found elsewhere, and shipping is lightning-fast.
Despite being based outside of the US, BuyLebanese charges affordable shipping rates, and products arrive from Lebanon within two to five working days. Orders up to 3 kilograms or less are billed at $24 for the first kilogram, $4 for the second kilogram, and $20 for the third. Orders over 3 kilograms are charged at $24 for the first kilogram and $9.99 for each additional kilogram thereafter. Service is nothing short of outstanding, with testimonials praising everything from fast follow-ups on each order to the freshness and quality of groceries received.
Best General Middle Eastern & Mediterranean Online Specialty Grocery Stores
There's no shortage of excellent Middle Eastern & Mediterranean online grocery stores available to shoppers in the USA. Here are general e-grocers that'll impress you with their range, competitive pricing, and reliable customer service.
$75 Minimum Order Imposed
Mandatory 2nd Day Or Overnight Shipping On Perishables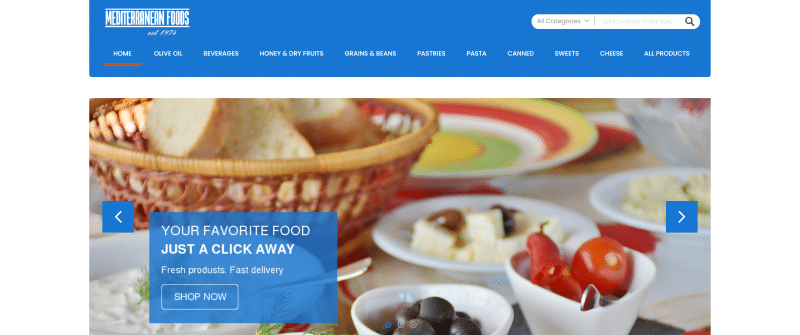 As the name suggests, Mediterranean Foods has been a grocery store that specializes in Mediterranean gourmet foods since 1974. While a complete range of groceries spanning the whole of the Middle East can be found online and in-person at the Astoria storefront, the overwhelming majority of products are Greek. There's Greek honey, over twenty different types of feta, various balsamic vinegar creams, and all sorts of ancient grain stone-ground flour. The selection of Greek cheeses will blow you away, and the snacks and sweets are just as plentiful. If you're shopping for several high-quality Grecian ingredients or multiple gourmet components of a Mediterranean diet, Mediterranean Foods will serve you well. Just wait until you take a look at what all is available – the minimum order threshold sure fills up fast.
Shipping Charged At $5.95 Flat Rate Regardless Of Order Size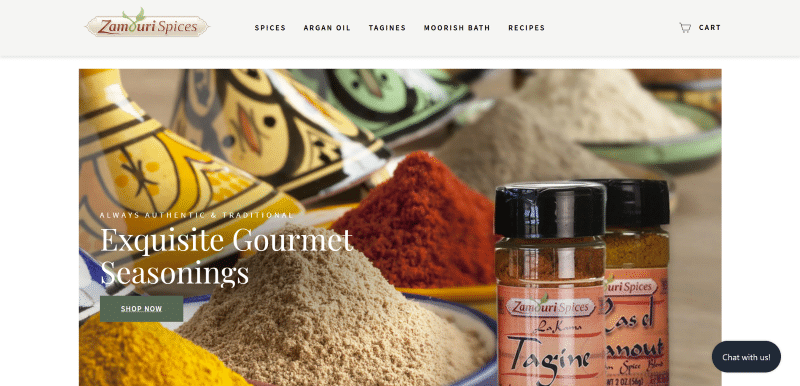 Since 2013, Zamouri Spices has been supplying a carefully selected range of Moroccan spices, oils, Tajine earthenware pots, and Moorish bath and beauty products. The Kansas retailer's catalog is very limited when compared to other similar ethnic e-grocers, but only the highest quality products are held. There are over one hundred different spices from all around the Middle East, with no Moroccan seasonings left out. Zamouri sells both culinary argan oil and argan oil for the face, body, and hair and, as mentioned, a limited selection of other health products like clay powder, amber musk resin, and hibiscus powder. Give Zamouri Spices a look when you're searching for Moroccan products specifically and spices of a superior quality that you're struggling to find elsewhere.
Free Shipping On Orders Of $59 And Above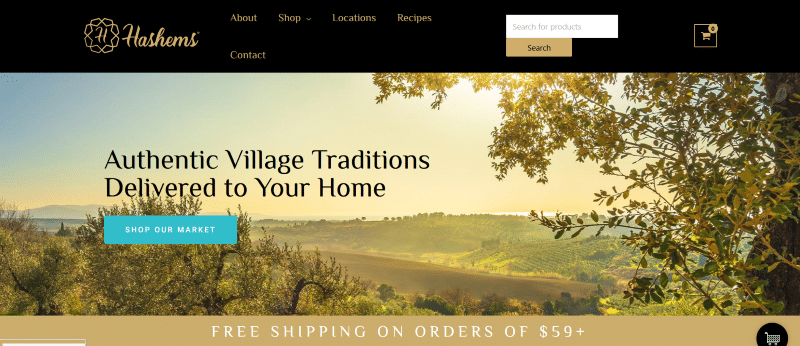 Hashems carries a range of over one-thousand Arabian products and distributes its goods from one of three brick-and-mortar stores in Michigan while sourcing imported goods directly from Lebanon. There's a broader variety than is found at most e-grocers, but one has to keep in mind the shipping time before expecting fool-proof freshness on each delivery. Unlike many other retailers, there's no limitations as to which method of shipping can be picked regardless of what the customer may be ordering. There's even Facebook shopping for all the most popular products like fresh lavender, mahlab, oregano leaf, black olives, Yemini green raisins, and even specialty goods like Kaak with dates and Chilean jumbo prunes.
Free Shipping On Orders Of $60 Or More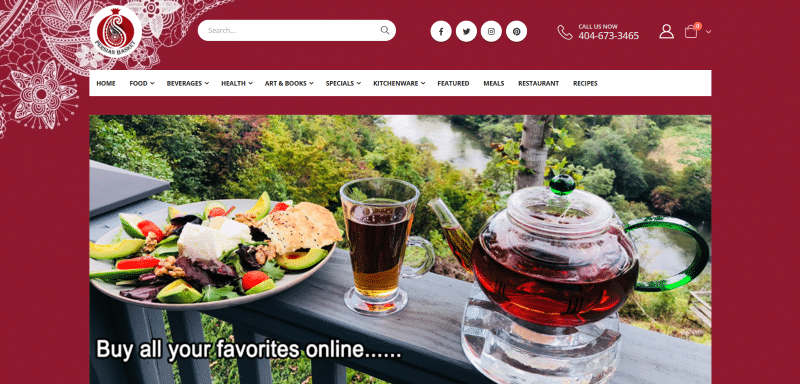 Persian Basket caters specifically to shoppers from the United States. Those from other regions are barred from even viewing the homepage, so don't make the mistake of thinking the company's site is down. American shoppers can, however, look forward to one of the broadest selections of Persian and Iranian products available online. There's not only food and groceries but health products, art & books, kitchenware, and several promotional items relevant to each season waiting. Bestsellers include top-quality roasted Persian pistachios, freshly baked sangak bread, Shirinini Nokodchi baked chickpea cookies, and Limu Shirin jumbo sweet lemons, to name but a few of the awesome imports sold here.
Free Shipping On Orders Of Over $65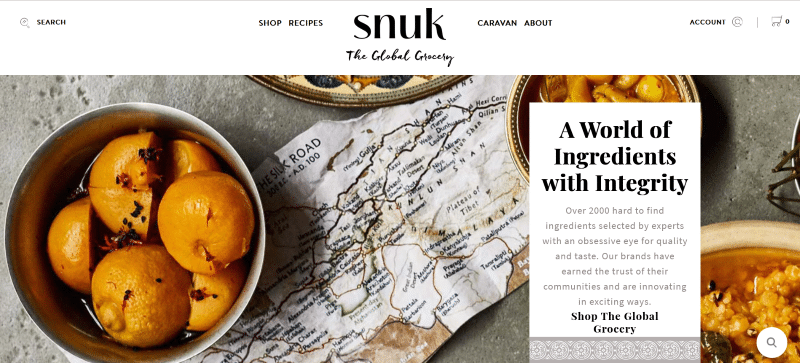 Unlike most of the other retailers reviewed, Snuk Foods doesn't focus solely on Middle Eastern or Mediterranean cuisine but instead stocks an enormous range of foods from across the world. Shoppers will find over 10,000 different ingredients from various countries. That's over 400 spices and dried herbs, twelve different types of couscous as an indication of the massive variety of dried goods waiting, and every condiment and sauce a cook could hope for. Many of the Middle Eastern groceries are sourced from premier third-party suppliers like Kalustyan's, but the company still has certain select hard-to-find treasures on offer like cured sumac, cardamom coffee, and verbena petals, to point out a few popular picks.
---
Recent Recipes