Easy Capesante Graten (Scallops in the Shell)
Capesante is Italian for scallop. Scallops are bivalve mollusk shellfish that use their shells to swim by clapping them. They have meaty yet delicate white flesh and a fresh sweet flavor when eaten raw or cooked. Scallops, especially sea scallops, are considered a fine dining ingredient.
There are many ways to cook scallops. They can be seared in fat, grilled, or baked. You can also add them to fish stew. The most important thing about preparing scallops is not to overcook them. If you do, they will be chewy and tough. Once cooked, it is best to serve them immediately.
Scallops can be cooked and served right in their shells. However, you do want to remove the scallops from the shells, remove the tough muscle, and rinse the sand and grit out of the shells. You can buy the scallops already out of the shell and ask the fishmonger for enough shells for cooking and serving. You can also buy scallop shells at specialty culinary or craft shops.
The recipe here is for Capesante Graten or scallops gratin in the shell. Gratin is a culinary technique in which an ingredient is topped with a crust that is baked or cooked under a broiler until golden brown and delicious (GBD). Gratin is usually prepared in a shallow dish of some kind. The shells are a great vehicle for doing this.
In this case, the scallops are seasoned well with onions, parsley, sea salt, and butter. They are coated in breadcrumbs and baked for just a few minutes until the crumbs are lightly browned and crunchy. This dish is incredibly simple to make and extremely delicious.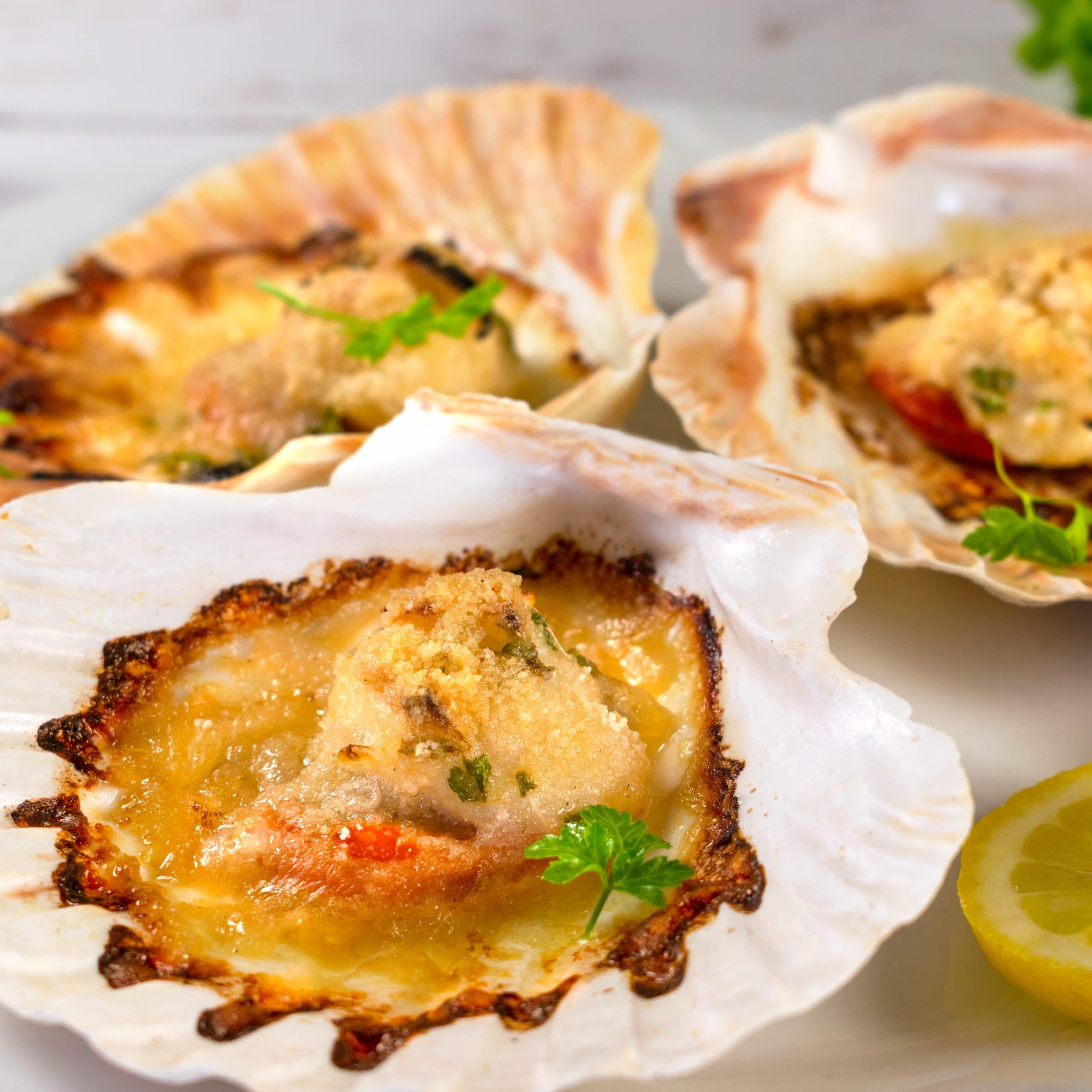 Ingredients
12

fresh sea scallops

12

scallop shell halves

well cleaned

Sea salt

12 pinches

1

medium white onion

1

bunch fresh flat-leaf parsley

7

Tbsp

butter at room temperature

softened

3/4

cup

fine breadcrumbs
Instructions
Rinse the scallop shells well under cold running water to remove any sand and grit. Set them aside to drain and dry.

Preheat your oven to 390°F.

Place the softened butter in a mixing bowl. Mince the onion and add it to the butter. Mince the parsley leaves and add them to the bowl. Using a fork, mix the butter, onions, and parsley to combine well.

Place a scallop inside of each shell half. Season each scallop with a nice pinch of salt. Top each with a spoonful of the onion and parsley butter.

Cover each scallop with breadcrumbs.

Place the filled scallop shelves on a sheet tray. Place the tray in the oven and bake for 8 minutes until the breadcrumbs are golden brown.

Serve the scallops immediately while hot.
Video
Nutrition
Calories:
329
kcal
|
Carbohydrates:
20
g
|
Protein:
14
g
|
Fat:
21
g
|
Saturated Fat:
13
g
|
Polyunsaturated Fat:
1
g
|
Monounsaturated Fat:
5
g
|
Trans Fat:
1
g
|
Cholesterol:
74
mg
|
Sodium:
660
mg
|
Potassium:
272
mg
|
Fiber:
1
g
|
Sugar:
2
g
|
Vitamin A:
637
IU
|
Vitamin C:
2
mg
|
Calcium:
55
mg
|
Iron:
1
mg
Notes & Tips
My biggest tip is for purchasing the scallops. Scallops are usually sold by the pound at 10 sea scallops per pound. You can get them at most fish counters in better markets. However, it is best to go directly to your first market for the freshest scallops.
Pre-packaged scallops are either wet-packed or dry-packed. Dry-packed is the better choice because wet-packed scallops are sitting in a milky phosphate solution that you will need to rinse off. You are paying for that solution in the weight of the package. "Diver" scallops are ones that are wild and harvested by hand. Use scallops within a day or two after purchasing.
Frozen scallops are also available. Allow them to defrost overnight in the refrigerator before using. If you can only find bay scallops, use about 4 in the recipe for every 1 sea scallop and bake for a little less time.
This is an elegant presentation with the scallop shells. It is also a little bit fussy if feeding a crowd. You can prepare this dish in a shallow baking dish and skip the shells. This allows you to make a large gratin, almost like a casserole, that can feed many.
Substitutions & Additions
I used to think that all gratin dishes were prepared with cheese. In fact, I thought that was what gratin meant. Then again, I was probably 10 when I tasted my first gratin and it was thinly potatoes slices with a ton of cheese and breadcrumbs.
Many scallop gratin recipes do include either cream or parmesan cheese or both. Great seafood chefs are purists and will tell you that cheese and fish shall never marry. I don't mind a little sharp cheese with my shellfish. If you want, add a little Parmigiano-Reggiano to the breadcrumbs.
If the butter in this recipe seems a bit too rich, by all means, use a good extra virgin olive oil instead.
Scallops and bacon are actually a lovely pairing. Crisp up some bacon and crumble it into the breadcrumbs. Don't use so much that it overpowers the delicate flavor of the scallops. Just 2 or 3 slices of crispy bacon will do.
As for the herbs, I like all fresh herbs with shellfish, with the exception of mint. You can swap out the parsley for basil, cilantro, or sage. I would simply use a little less than you would with a milder herb like parsley.
How To Serve Capesante?
We didn't have very fancy meals growing up. My mom did like to entertain and would pull out all the stops for her guests who would eat in the dining room. We kids were relegated to the kitchen table with simpler fare. On occasion, she would make a special meal for us and treat us like kings and queens. One of those was her scallops in the shell. She would serve this as an appetizer so she didn't break the bank serving it as an entree. When you think about it, this makes good sense. After the lovely scallops, we had filling pasta or a casserole with ham and potatoes. It worked.
After serving your scallops gratin, you could follow this with polenta lasagna that you can make ahead or pesto stuffed shells. I would add a salad of bitter greens with a lemony vinaigrette to complement the starch.
Our meal often ended with Neapolitan ice cream. That is layered 3-flavor ice cream. Ours was always (store-bought) strawberry, vanilla, and chocolate. It looked elegant and tasted superb.
---
Recent Recipes