Sicilian Chocolate & Ricotta Cassatelle
Cassatelle are small crescent-shaped dough filled with sweetened ricotta cream. They are like a dessert ravioli. While they are traditionally fried, they can be baked for a lighter version.
In Sicily, these treats are eaten during Carnevale, one of the biggest Italian holidays. Carnevale is the Italian equivalent of Mardi Gras. It is pretty much the final day of partying and indulgence before lent and the restrictions that come with it. Carnevale literally translates to "goodbye to meat" (and anything else related to flesh).
Cassatelle is made with some type of fortified wine, generally Marsala wine. The wine not only adds a little sweet flavor but also helps the dough to get a nice golden color when fried. This recipe does include the Marsala wine.
The dough for this cassatelle recipe is handmade. I think that really makes the recipe authentic. No Sicilian grandmother would think of using store-bought dough. It is a small labor of love for the best results.
One thing I will suggest upfront is that you want to use a dryish ricotta. One that is too watery or runny might leak out of the dough or make it wet so it doesn't fry well. If your ricotta is too watery, wrap it in cheesecloth, place it in a sieve or colander over a bowl, and refrigerate for 2-1/2 hours or even overnight until the liquid drains into the bowl.
When I was in Italy, I would sit in the village piazza (square) and have cream or fruit-filled pastry with a hot cup of espresso every morning. It was a great way to start the day. Cassatelle are the perfect morning pastry to enjoy with coffee. The addition of chocolate in this recipe makes them special.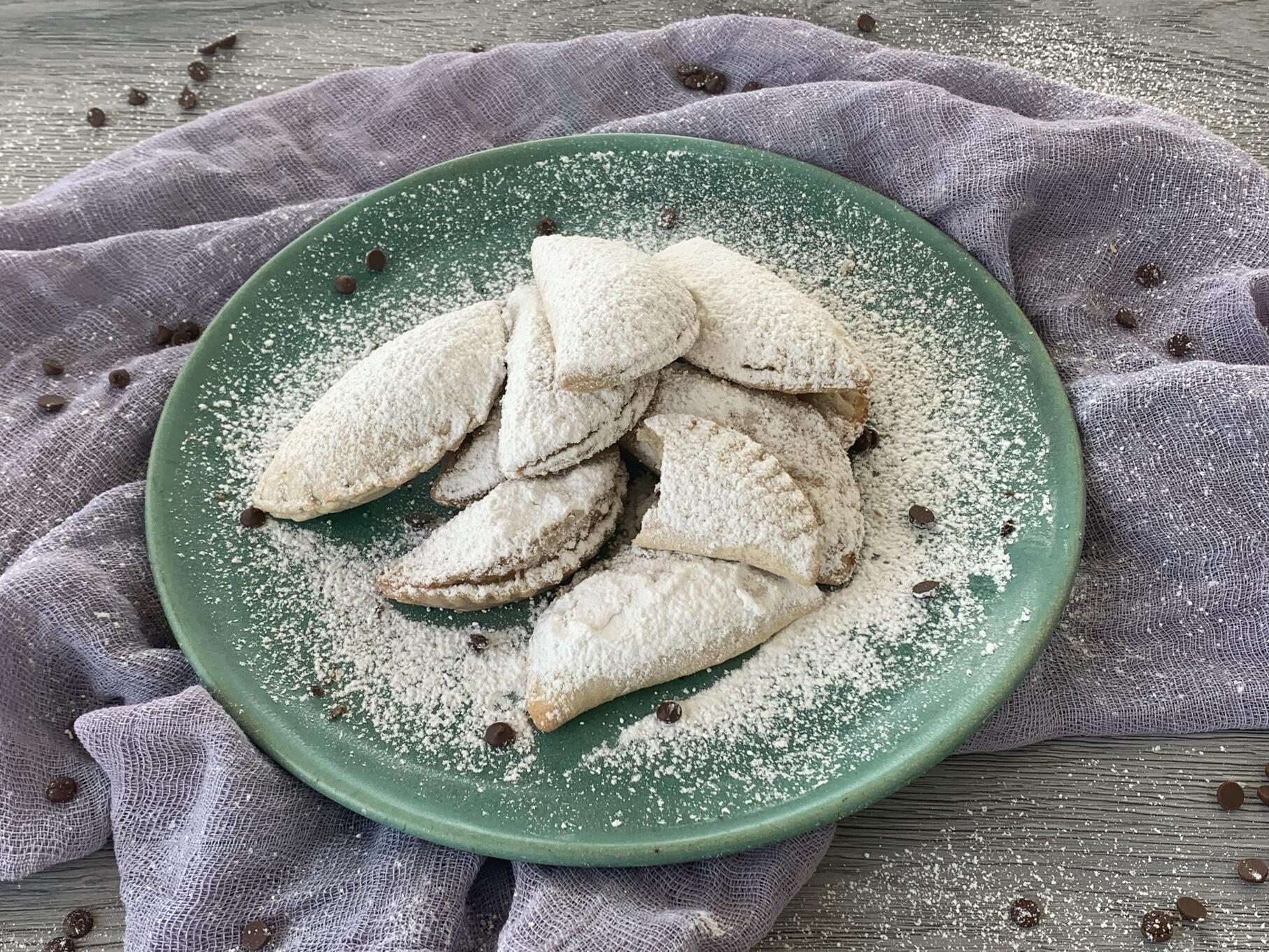 Ingredients
1-3/4

cups

+ 2 TBS all-purpose flour

3

TBS

granulated sugar

1/8

tsp

sea salt

1

tsp

orange zest

2

TBS

cold butter

cubed

1

TBS

+ 1 tsp Marsala wine

1/2

cup

+ 1 TBS water

more or less

1

cup

ricotta cheese

drained

1/4

cup

powdered sugar

1/4

cup

dark chocolate chips

Neutral vegetable oil for frying

grapeseed or canola

Powdered sugar for serving
Instructions
Assemble the ingredients!

At least 2 hours before starting the recipe, place the ricotta cheese in cheesecloth inside a sieve over a bowl. Put the bowl in the refrigerator to drain the water from the cheese.

In a large mixing bowl, whisk together the flour, sugar, salt, and orange zest. Add the cubed butter and mix with your fingers until the mixture resembles a coarse meal.

Make a well in the middle and add the wine. Gradually add the water a little at a time and mix with a fork until you start to get a smooth and compact dough that you can knead for a couple of minutes with the heels of your hands. Form the dough into a ball and wrap it in plastic wrap. Place in the refrigerator to chill for 30 minutes to 1 hour.

Place the drained ricotta in a medium bowl and mix together with the powdered sugar until creamy. Fold in the chocolate chips and set them aside or place them in the refrigerator while you roll out and cut the dough.

Remove the dough from the refrigerator and place it on a floured work surface. Roll it as thinly as possible without tearing it. Using a biscuit cutter, glass, or yogurt container, cut the dough into 3 to 4-inch circles.

Place a heaping teaspoon of filling on one half of the dough circles (more if the circles are large). Fold over the empty half to cover the filling and form a crescent or empanada shape. Seal the edges with a little water. Using the tongs of a fork, press the edges to completely seal the cassatelles. Place them on a lightly floured sheet pan until ready to cook.

In a deep skillet or pot over medium-high heat, bring 2-inches of oil up to 340°F. Fry 3 or 4 cassatelle at a time for approximately 2 minutes per side or until golden brown. Remove with a slotted spoon to a paper towel-lined platter or sheet pan to cool.

Dust the cooled cassatelle with powdered sugar and serve.
Video
Nutrition
Calories:
70
kcal
|
Carbohydrates:
7
g
|
Protein:
2
g
|
Fat:
4
g
|
Saturated Fat:
3
g
|
Polyunsaturated Fat:
1
g
|
Monounsaturated Fat:
1
g
|
Trans Fat:
1
g
|
Cholesterol:
10
mg
|
Sodium:
42
mg
|
Potassium:
33
mg
|
Fiber:
1
g
|
Sugar:
5
g
|
Vitamin A:
100
IU
|
Vitamin C:
1
mg
|
Calcium:
37
mg
|
Iron:
1
mg
Notes & Tips
Try not to put too much filling in the cassatelle. 1 to 2 teaspoons are plenty. If they are too full, the dough could break and the filling will leak out. Be sure to crimp the edges well to form a tight seal.
You don't have to fry the cassatelle in oil if you prefer a lighter pastry. You can bake them in a 350°F oven for 20 minutes until golden.
To check the temperature of the oil, it is best done by using a candy thermometer. Otherwise, just make sure the oil isn't boiling. You will have to keep an eye on the heat so the cassatelle don't burn or aren't undercooked. Just like pancakes, you might try one to see if the oil is at the right temperature.
Substitutions & Shortcuts
This dough has butter in it. I like that it makes the pastry flaky. You could use extra virgin olive oil if you like.
The Marsala wine in the dough gives the cassatelle a nice golden color and a tad more sweetness. If you don't have Marsala on hand, you can substitute port wine, brandy, or grape juice.
Some cassatelle recipes call for eggs in the dough. If you do use eggs, reduce the amount of water.
The only shortcut that I can think of is to buy pre-made pastry dough. This is a pretty easy dough to make, so give it a shot.
---
Recent Recipes