Osso Bucco is a saucy veal shank dish made with fresh tomatoes and other delicious ingredients to enhance its flavor, originating from traditional Italian cuisine. It takes your classic lasagna to new levels from the shredded saucy shanks and its bone marrow, giving your palette an unimaginable pleasure.
You can use the traditional Osso Bocco dish in several recipes as part of continental cuisine. Adding it to lasagna brings you a combination of wholesome, tasty, tender, and cheesy goodness comfort food.
Osso Bucco translates to "bone with a hole" in Italy. That reference is directed to the bone marrow in the center of the veal shank (calve leg) — which is a significant part of the flavor in the lasagna.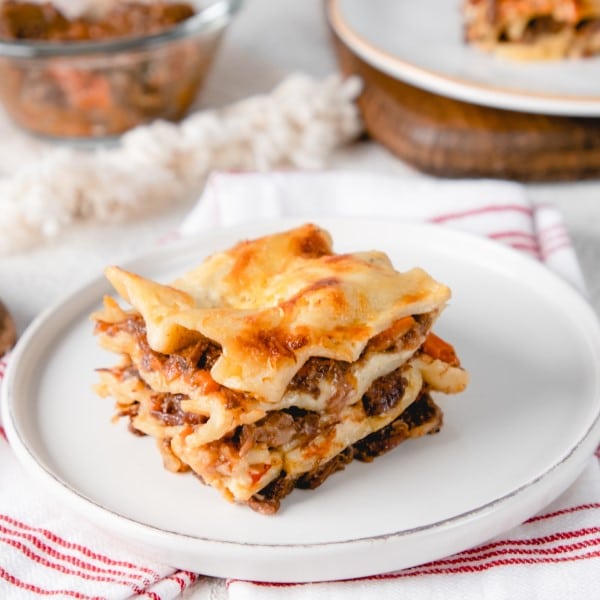 Ingredients
Osso Bucco
3

lbs

Osso Bucco meat

veal shanks

2

medium carrots

roughly chopped

2

medium celery stalks

chopped

1

large onion

roughly chopped

2

medium garlic cloves

minced or thinly sliced

4

medium tomatoes

peeled and crushed

2

Tbsp

tomato paste

4

Tbsp

olive oil

3-4

fresh basil leaves

1

tsp

ground black pepper

1

fresh rosemary sprig

¼

cup

all-purpose flour

Zest of 1 lemon

1

cup

red wine

1

cup

beef stock

Pinch

of sugar

Salt to taste
Lasagna
12

dried lasagna sheets

½

cup

mozzarella cheese

broken up or grated

½

cup

parmesan cheese

grated

½

cup

gouda cheese
White Sauce
3

Tbsp

butter

2

Tbsp

plain flour

1½

cup

milk

A pinch of nutmeg

½

cup

cheddar cheese
Instructions
Osso Bucco
Preheat your oven to 300°⁰F.

Roughly chop all your veggies and keep them aside.

Blanch your tomatoes in boiling water for 3-4 minutes. Remove and place into cool water or leave aside till you can touch it. Peel the skin and crush the tomatoes with a fork.

Mix the 3 types of cheeses and keep them for later.

Roughly chop your basil leaves and keep them aside.

Place the flour into a plate or bowl and lightly dip each veal shank piece into the flour, allowing it to coat each side.

Heat your flameproof casserole pot or pan.

Drizzle 3 Tbsp olive oil in the pan.

When the oil is heated, add your veal pieces to the pan. Let them fry for 3-4 minutes on each side until golden brown to lock the juices in and enhance the flavor.

Remove the meat and transfer them to a plate.

Drizzle the other 1 Tbsp olive oil in the same pan.

Add the onion, celery, and carrots, allow it to cook while occasionally stirring for 5 minutes until the onion softens.

Add the garlic and braise for another 1-2 minutes until the vegetables begin caramelizing.

Add the tomatoes, tomato paste, and a pinch of sugar. Cook for 1 minute while stirring.

Add the beef stock and red wine, scraping the bottom of the pan with a silicone spatula or wooden spoon to lift all the flavor into the sauce and bring it to a boil.

Transfer the veal back into the pan, with the pepper, lemon zest, basil, rosemary sprig, and salt to taste.

Turn the heat off, close the lid, and put it in the preheated oven for approximately 2 hours. The meat should fall off the bone.

Remove the pan and allow it cool for 5-10 minutes.

Using 2 forks, pull apart the meat from the bone marrow, shredding it.

Use the back of a teaspoon to get the meat from the bone marrow out into your Osso Bucco dish – it adds a delicious flavor. Discard the bones.
White Bechamel Sauce
Prepare the white sauce while your Osso Bucco is cooking in the oven.

Melt the 3 Tbsp butter on medium heat in a saucepan.

Add the flour, stirring it into the butter. Allow it to cook for 30-40 seconds. Do not stop mixing, or it will burn.

Pour the milk slowly while whisking the mixture to help smoothen it out.

Continue to whisk until the mixture is smooth and starts to thicken.

Add the nutmeg and cheese, mix it in and remove it from the heat.

Set the white bechamel sauce aside until you assemble the lasagna.
Assembling The Lasagna
When you remove the Osso Bucco from the oven, increase the heat to 350°F.

In your casserole lasagna dish, spread a third of the Osso Bucco at the bottom.

Layer 4 lasagna sheets and a third of the white sauce over. Then sprinkle a third of the cheese mix over.

Repeat these steps until you use up all the Osso Bucco. Remember to cover the lasagna sheets well to prevent them from getting crispy and dry.

Put a piece of aluminum foil to cover the dish and bake it in the oven for 30-35 minutes.

Remove the foil and leave it in the oven for an additional 5 minutes for the cheese to get golden brown.

Remove and serve with your side of your choices, such as salad and garlic bread. Check out some options here.
Video
Nutrition
Calories:
865
kcal
|
Carbohydrates:
63
g
|
Protein:
68
g
|
Fat:
34
g
|
Saturated Fat:
13
g
|
Polyunsaturated Fat:
3
g
|
Monounsaturated Fat:
14
g
|
Cholesterol:
223
mg
|
Sodium:
784
mg
|
Potassium:
1481
mg
|
Fiber:
4
g
|
Sugar:
11
g
|
Vitamin A:
4629
IU
|
Vitamin C:
16
mg
|
Calcium:
526
mg
|
Iron:
4
mg
Notes & Tips
Always check your Osso Buco after 1 hour in the oven, and add more stock or wine if needed.
Don't add too much liquid. You don't want it to become runny, but you want it to be saucy.
You can prep the lasagna ahead of time, for example, the day before or the morning before, and bake it before 30-40 minutes before serving.
If you do make-ahead freezer meals, add your Osso Bucco Lasagna to this list. Ensure you close it well with foil and plastic wrap before freezing. Thaw it before baking for the best results.
You can freeze leftovers. Put the leftover lasagna in an airtight container to freeze. Remove it a few hours before serving to thaw, warm it in the oven for 5-10 minutes or in the microwave and enjoy.
Substitutions & Alternatives
You can use crushed canned tomatoes instead of fresh ones for convenience and fewer dishes.
Replace the olive oil with butter or any other oil of your choice.
Corn flour and arrowroot powder are excellent substitutes for flour.
Use seasonings as you desire, such as thyme and chili flakes if you want more of a kick.
White wine works if you don't like red, and if you want to avoid alcohol entirely, replace it with apple juice, cranberry juice, red or white grape juice. You could even skip all of those and stick to a stock of your choice.
If you want more meat, add 1 lb of ground beef. Brown it when frying the veal and follow the same process after.
Have you jumped on the keto train or followed a gluten-free diet? No problem, substitute ingredients such as flours with arrowroot powder, wheat lasagna sheets with gluten-free ones or spinach sheets, etc., as necessary with your diet-specific ingredient replacements. You can look at gluten-free options here.
You don't have to use 4 different kinds of cheese as mentioned in the recipe. You can use 1-2 of your favorites.
---
Recent Recipes