Delicious Cuban Mojo Chicken Tacos
Don't let the name deceive you; Cuban mojo chicken tacos is much simpler than it sounds. Mojo is a style in Cuban cooking and consists of a marinade made of garlic and citrus.
Cuban mojo chicken tacos are chicken breasts marinaded in mojo marinade and cooked to your liking. Cuban mojo chicken tacos can be filled with almost anything; the secret is garlic and zest. Anything from mango to cabbage will be delicious in a Cuban mojo chicken taco.
The perfect combination of sour, tangy, and garlic, simple to prepare and delicious, Cuban mojo chicken tacos are mojo marinade, chicken, and tacos. Easy enough? Let's cook!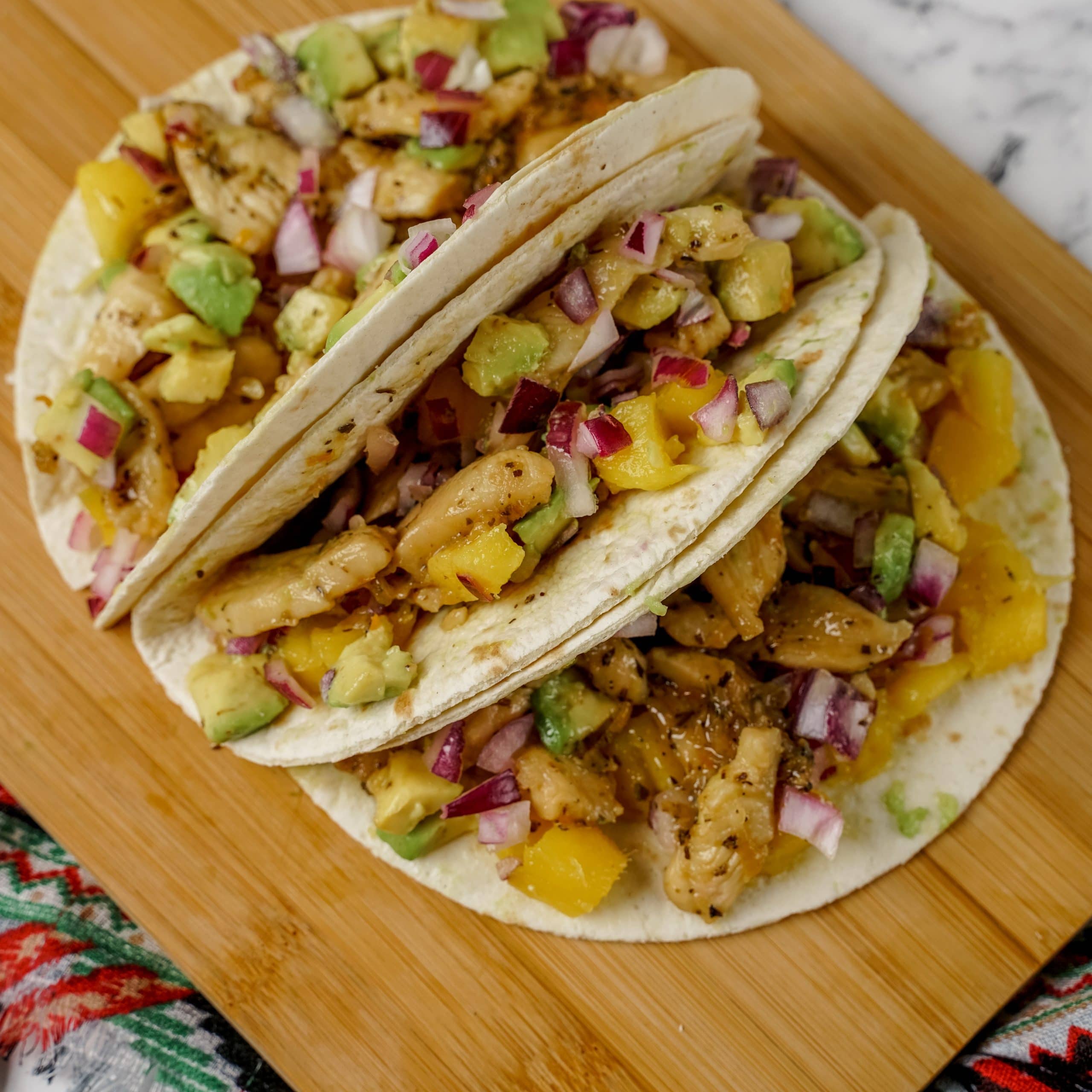 Ingredients
For the Mojo Marinade
1

clove

garlic

⅓

cup

white onion

finely chopped

1

Tbsp

oregano

dried or fresh

½

cup

fresh lime juice

1

cup

fresh orange juice

Salt and pepper

to taste

1

Tbsp

orange zest

½

cup

fresh lemon juice

⅓

cup

extra virgin olive oil
For the Mojo Chicken Taco
1

lb.

chicken breasts

boneless and skinless

Marinade

Tacos

six corn tortillas

1

mango

peeled, pitted, and copped

1

avocado

peeled, pitted, and chopped

1

Tbsp

fresh cilantro

(optional)

1

cup

purple onions

chopped
Instructions
Chop or grate the onion. With a garlic crusher, crush the ten cloves of garlic.

Add the garlic, onion, lime juice, lemon juice, orange juice, salt, pepper, zest, oregano, and olive oil in a Mason jar or any jar with a lid. Shake well until combined. Remember to shake marinade before every use.

Ingredients can be adjusted to taste, and onion and garlic can be processed finer to desired consistency.

Cube the chicken breasts.

Peel the mango and the Avo and remove the pits; cut into small bite-size pieces.

For warm tacos, place the six corn tortillas in the oven at 350⁰F for eight minutes.

Two hours before cooking, place the chopped, deboned chicken breasts in a bag and cover it with the Mojo marinade.

Begin by heating 1 tsp olive oil in a medium frying pan, lower the heat, and lightly fry the chicken strips.

Coat the chicken with the remaining marinade in the bag throughout the cooking process—Cook, the chicken for 10 minutes.

Fill the tacos with the mojo chicken, mango, Avo, and top with cilantro and purple onions.

Add additional salt if desired. Enjoy your Delicious Cuban Mojo Chicken Tacos!
Video
Nutrition
Calories:
313
kcal
|
Carbohydrates:
20
g
|
Protein:
18
g
|
Fat:
19
g
|
Saturated Fat:
3
g
|
Polyunsaturated Fat:
2
g
|
Monounsaturated Fat:
13
g
|
Trans Fat:
1
g
|
Cholesterol:
48
mg
|
Sodium:
93
mg
|
Potassium:
694
mg
|
Fiber:
4
g
|
Sugar:
11
g
|
Vitamin A:
562
IU
|
Vitamin C:
56
mg
|
Calcium:
44
mg
|
Iron:
1
mg
Notes & Tips
The Mojo marinade can last in the fridge for two weeks and can also be frozen for one month.
Lemon and Lime juice can be replaced by vinegar. If 1tsp lime juice and 1tsp lemon juice are used, 1 tsp vinegar can replace both.
Parsley and Coriander can be added to the mojo marinade to create an entirely different flavor profile.
For better flavor, marinate the chicken for 8 hours or overnight.
Marinated chicken can be frozen and defrosted before cooking
Marinated chicken can also be cooked in the oven at 350⁰F for 25 minutes.
Additional fillings for Cuban Mojo Chicken tacos can include pineapple, spring onion, feta cheese, and cucumber.
Mojo Chicken tacos can be served hot or cold.
Mojo Marinade can be made in advance and will last in the fridge for up to 2 months.
Use a garlic crusher for the garlic. This way, you will avoid large garlic pieces in your marinade.
If you don't have a mason jar, you can easily use a food processor. Just be sure to add garlic cloves and onion whole to the food processor. This method will also skip a few steps making it more manageable.
If you don't like the strong taste of white onions, you can instead use spring onions in your Mojo marinade.
To obtain that nice brown color on your cooked chicken breasts, ensure that your oil is hot before adding the chicken.
To prevent watery chicken strips, don't cover the chicken while cooking if you notice that your chicken is becoming watery, turn up the heat.
To enhance the flavor of the Mojo marinade, squeeze some lemon juice over the cooked chicken.
Substitutes
Luckily, this recipe has no allergies like dairy, egg, and nuts. Most traditional corn tacos are also gluten-free. Cuban Mojo Chicken tacos can be prepared with vegan substitutes as well as vegetarian substitutes.
Vegan substitutes include:
Eggplant
Mushroom
Tofu
Potatoes
Other plant-based products to substitute chicken:
Fry's Chicken Style Strips. These strips can replace chicken breasts—cooking times may vary. Follow instructions on the packaging to cook the chicken-style strips.
No Evil Foods offers a plant-based chicken product that can be used in almost any dish.
Can I Use Other Proteins With Mojo Marinade?
Yes, Mojo marinade will work well with pork, chicken, or any vegan substitute you prefer. Just be aware that if a different protein is used cooking times may vary. You can even go as far as using any chicken taco recipe and just use your mojo marinade. For example, you can use this adobo chicken recipe and make it your own.
Can I Use Other Cooking Methods When Cooking My Marinated Chicken?
Yes, you can place your chicken on the BBQ and marinate them throughout the cooking process. Just place the whole chicken breasts on the BBQ and only cut them after the cooking process.
Is It Necessary To Baste The Chicken With The Marinade Throughout The Cooking Process?
No, it is not necessary to baste while cooking, but doing so will ensure loads of extra flavor being added to the tacos.
Do I Have To Add Garlic To My Marinade?
No, it is up to you, but without the garlic, it won't be Mojo marinade. if fresh garlic is not your thing you can use garlic powder, but it won't have the same flavor profile.
How Do I Store Leftover Mojo Chicken?
Once the chicken is marinated and still raw you can freeze the chicken and use it within two months. Note that some of the flavor may get lost if frozen. If the marinated chicken is already cooked, you can store it in the fridge for two to three days.
Can I Serve Mojo Chicken Tacos With a Sauce?
Yes, aioli or mayonnaise will complement the flavors. Just be sure not to add an overpowering sauce, as the flavor of the marinade will get lost.
---
Recent Recipes