Best Ground Chicken Lasagna
Chicken lasagna is satisfying comfort food that not many can resist. Although the usual protein used in lasagna is beef, people are constantly coming up with tasty, delicious substitutes and alternatives. Ground chicken lasagna is one of them.
Who doesn't love a rich tomato meat sauce with lots of cheese? Here's a wonderful recipe with a healthy option.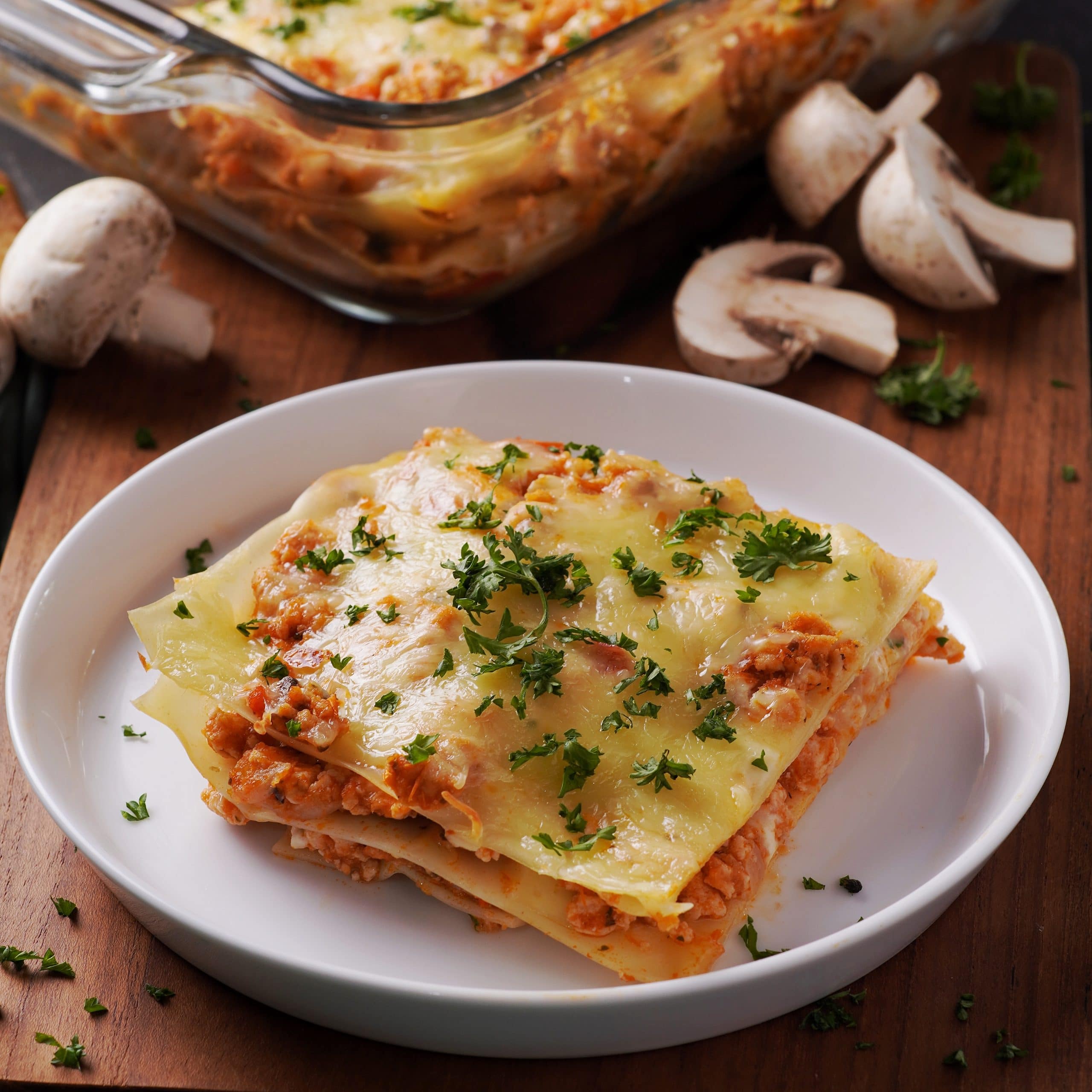 Ingredients
12

lasagna sheets

13 x 9 inches pan

2.20

lb.

Ground chicken

3

Tbsp

oil

2

medium onions

chopped

1

Tbsp

heaped crushed and chopped garlic

1 ½

can tomato sauce

2

Tbsp

tomato paste

2

tsp

salt

or to taste

1 ½

tsp

red crushed chili

1 ½

tsp

black crushed pepper

1 ½

tsp

dried oregano

1

cup

chopped peppers of your choice

½

cup

chopped mushrooms

optional

Handful finely chopped parsley

2

Tbsp

butter

2

Tbsp

all-purpose flour

2 ½

cup

milk

½

tsp

white pepper powder

1

cup

mozzarella cheese
Instructions
All ingredients ready? Let's begin!

Before you make the lasagna, make sure the oven is preheated at 350°F.

Boil lasagna sheets as per the pack's instructions.

In a pan or pot of your choosing, heat the oil on medium heat. Add chopped onions and garlic, and sauté well for 1 to 2 minutes

Add ground chicken and sauté until the mince changes and becomes light in color. Occasionally stir so the meat cooks evenly.

Now add 1 ½ salt, crushed red chili, and crushed black pepper, and stir for 1 to 2 minutes to ensure that the spices are incorporated into the meat mixture.

Pour the tomato sauce on the mixture in the pan and add the tomato paste for added tomato flavor. Mix well before covering the pan and letting the ingredients cook for 10 minutes.

Add in the chopped capsicum, mushrooms, dried oregano, and parsley. Allow the ingredients to cook for 2 to 3 more minutes before removing the pan from the heat and setting it aside.

In a different pan, add 2 Tbsp butter and wait for it to melt on medium heat. Add the all-purpose flour and mix the two well.

Gradually add milk while stirring to avoid lumps from forming.

Add ½ tsp salt and white pepper powder once the milk, butter, and flour have mixed well to form a smooth sauce.

Get the pan off of the heat once the sauce has thickened.

In a 13 x 9-inch pan, evenly spread some chicken sauce at the bottom.

Lay four lasagna sheets on top of the chicken sauce.

Add 1/3 chicken sauce on top of the lasagna noodles.

Pour half of the cooked white sauce evenly on the chicken filling and sprinkle ½ cup mozzarella cheese.

Repeat the process by laying another four lasagna noodles on top of the first layer. Follow up with ⅓ cup chicken sauce and the remaining white sauce.

Lay the final layer of lasagna noodles and put the remaining chicken sauce on top.

Spread the remaining mozzarella cheese evenly on top of the layers.

Bake for 25 to 30 minutes at 350°F.

Broil the lasagna for an additional 5 to 10 minutes or until the cheese has the desired golden-brown color.

Remove from the oven and wait for 5 to 10 minutes for the dish to cool.

Garnish as preferred and serve.
Video
Nutrition
Calories:
506
kcal
|
Carbohydrates:
43
g
|
Protein:
34
g
|
Fat:
22
g
|
Saturated Fat:
7
g
|
Polyunsaturated Fat:
4
g
|
Monounsaturated Fat:
9
g
|
Trans Fat:
1
g
|
Cholesterol:
128
mg
|
Sodium:
816
mg
|
Potassium:
1060
mg
|
Fiber:
3
g
|
Sugar:
8
g
|
Vitamin A:
939
IU
|
Vitamin C:
29
mg
|
Calcium:
205
mg
|
Iron:
2
mg
Notes & Tips
Ensure that you place the oven-ready lasagna sheets in boiling water for 30 minutes to soften them up so that they do not end up being too dry and cracked once the dish is cooked.
If you do not wish to place the oven-ready lasagna sheets in boiling water, make sure that you add ½ cup water to the sauce or marinara and leave some space between the noodles for moisture.
You can choose to use your favorite store-bought marinara sauce if you cook and season the ground chicken beforehand and incorporate the sauce at the end.
What Can I Garnish My Lasagna With?
To garnish the cooked lasagna after cooking is optional but often done to add freshness, color, brightness, or texture. You can choose to garnish the lasagna with fresh herbs like parsley, basil, spring onion, cilantro, etc. Edible flowers like Pansies are also added at times.
Another garnish that would work well is cherry tomatoes cut in half for added freshness. Sauces can also be used, although they may not be a good idea if they clash with the overall dish unless it is the leftover lasagna sauce/marinara.
For texture, you can use nuts. Finely chop the nuts you would like to use as garnish and sprinkle some on top for a crunchy factor. Nuts like walnuts or cashews work well as long as they go with the dish's overall taste.
Do I Have To Use Ground Chicken?
No, you don't have to use ground chicken. Ground turkey will work just as well in this recipe. The chicken can be store-bought ground chicken, or you can buy frozen or fresh chicken breasts, finely chop them and run them through a meat grinder.
Alternatively, you can use a sharp knife to finely chop the chicken breasts so that they turn out into minced bits of chicken. The chicken meat does not have to be a chicken breast. It can be any other piece of meat like the thigh or drumstick removed from the bone and shredded. Ultimately, it is up to you if you do not mind having larger chicken bits in your lasagna.
What Other Lasagna Noodle Options Do I Have?
If you are looking for vegetarian-like lasagna, many options will work well with the chicken lasagna recipe. Using vegetables like zucchini, eggplant, or even butternut is an excellent idea as these vegetables can be successfully turned into thin slices that resemble lasagna sheets.Vegetable sheets can be done using a vegetable peeler, a mandolin kitchen appliance, or a sharp knife. Your meal will still have the yummy well-loved lasagna texture. Want to find out more about vegetable lasagna? Check out All About Lasagna.
---
Recent Recipes