Homemade Pastelón (Puerto Rican Lasagna)
Want to add some spiciness and exotic flair to your weekly meals? It's easy with this appetizing Latin lasagna.
Pastelón de Plátano Maduro (Ripe Plantain Casserole) is a popular layered casserole of sliced fried plantains, ground beef and vegetable sauce, and cheese. Often referred to as a Puerto Rican lasagna or Dominican lasagna, it is the perfect representation of the amazing Central American and Caribbean cuisines. Plus, it's gluten free.
In Puerto Rico, there are two version of the dish: one is called pastelón and comes from the Eastern and Northern regions while the otheris known as piñon and is made in the Western and Southern regions. The main difference between them is that the piñon has an added layer of green beans (and sometimes kidney beans), and the plantains are boiled and mashed before layering.
Depending on your personal taste and preferences, you can create your own version of pastelón by substituting the ground beef with ground turkey, ground pork, or chopped cooked chicken. You may use your favorite mild shredded meltable cheese, such as mozzarella, cheddar, Monterey Jack, or Mexican cheese blend.
As a short cut, while keeping the traditional taste, we recommend the following seasoning blends (available in the spice section at most grocery stores as well as at Latin markets):
Sofrito (Recaito): a flavoring base made with onions, garlic, peppers, and cilantro. Puerto Rican Sofrito doesn't contain tomatoes.
Adobo: a seasoning blend of garlic powder, onion powder, chili powder, dried oregano, and black or white pepper
Sazón: a seasoning blend of salt, granulated garlic, pepper, and cumin.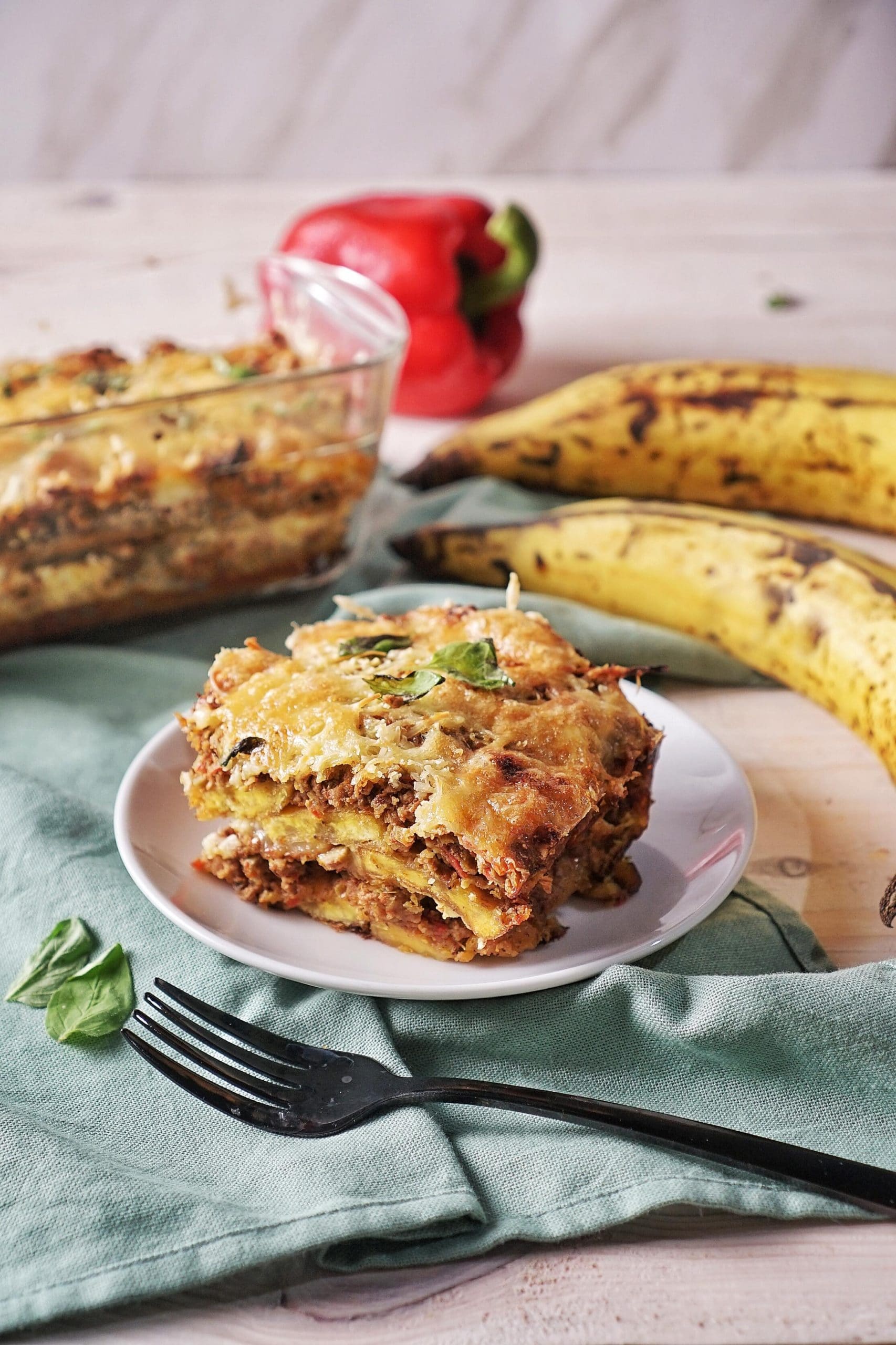 Ingredients
Plantains:
6

medium-ripe large plantains

cut lengthwise into 4 slices

1/2

cup

canola or avocado oil
Sofrito:
1

medium yellow onion

peeled and chopped

2

cubanelle peppers

or 1 green bell pepper, seeded and chopped

1

medium red bell pepper

seeded and chopped

4

large garlic cloves

chopped

4

ajíes dulces

or mini sweet peppers, chopped

½

bunch fresh cilantro

chopped
Picadillo:
2

tablespoons

olive oil

1 ½

pounds

lean ground beef

1

teaspoons

ground cumin

1 ½

teaspoon

ground coriander

1

teaspoon

dried oregano

2

cups

chopped tomatoes

2

tablespoons

tomato paste

½

cup

vegetable broth or water

as needed

1/3

cup

Spanish green olives

such as manzanilla, chopped

2

tablespoons

raisins

optional

1

teaspoon

capers

optional

Salt and pepper

to taste
Other Ingredients:
1

tablespoon

unsalted butter

2

large eggs

lightly beaten

3

tablespoons

milk

¼

teaspoon

baking soda

1

cup

shredded mozzarella

1

cup

shredded mild cheddar
Instructions
Line a large baking sheet with paper towels and set aside.

Heat the oil in a large heavy skillet and over medium-high. Fry the plantain slices in batches until golden brown, turning halfway through (2-3 minutes per side). Transfer the fried plantains to the prepared sheet and set aside.

Add all sofrito ingredients to a food processor and blend to a course paste.

For the picadillo, heat the oil in a large heavy skillet over medium, add the sofrito and cook, stirring often, until it thickens, about 5 minutes. Add the ground beef and cook, stirring occasionally until the beef is cooked (no trace of pink), about 6 minutes. Stir in cumin, coriander, and oregano and continue cooking for 1-2 minutes, until aromatic.

Add the chopped tomatoes and tomato paste and cook, stirring occasionally, until the liquid has reduced (about 10 minutes), adding a splash of broth or water if needed. Stir in the olives, raisins, and capers, season to taste and turn off the heat.

Heat the oven to 375°F/190°C and lightly spray a 9-in x 13-in (or 9-in x 9-in) casserole dish with cooking spray.

Whisk the eggs, milk, and baking soda; season lightly, and set aside.

Layer the bottom of the casserole dish with half the fried plantain slices. Top with a layer of half of the picadillo mixture, gently smoothing it with a spatula to cover the plantains. Sprinkle half the cheese on top. Cover with a layer of the remaining plantains and top with the remaining picadillo. Pour the egg mixture evenly over the picadillo and sprinkle the remaining cheese on top.

Bake the pastelón for about 25 -30 minutes, or until set and the cheese is melted and golden.

Remove from the oven, let sit for 5 minutes, before cutting into squares and serving.
Video
Nutrition
Calories:
615
kcal
|
Carbohydrates:
54
g
|
Protein:
30
g
|
Fat:
34
g
|
Saturated Fat:
11
g
|
Polyunsaturated Fat:
3
g
|
Monounsaturated Fat:
18
g
|
Trans Fat:
1
g
|
Cholesterol:
124
mg
|
Sodium:
505
mg
|
Potassium:
1317
mg
|
Fiber:
6
g
|
Sugar:
25
g
|
Vitamin A:
2594
IU
|
Vitamin C:
76
mg
|
Calcium:
236
mg
|
Iron:
4
mg
Notes & Tips
Pastelón can be served as a main dish with a green salad and other sides (such as rice or beans), as well as a side dish.
To reheat, drizzle a little milk on top of the lasagna before placing in the microwave or the oven. The milk will prevent it from drying out.
If using green unripe bananas, the easiest way to peel them is to cut off about an inch from the ends then run the tip of the knife along the sides and carefully lift the skin off.
If you are not a fan of frying, boil the plantains until soft, and then mash before layering the lasagna.
Reserve any leftover picadillo to serve as a delicious quick meal with fried plantains, fried eggs, salad, or rice. It also makes a tasty empanadas filling.
Storage
To refrigerate, let the lasagna cool down completely, then cover with foil or plastic wrap before refrigerating for up to 5 days. To freeze, place in a freezer-safe airtight containers for up to 3 months.
Common Questions
How ripe should the plantains be?
Choose ripe yellow plantains (with brown spots all over) that are still firm to the touch.
How about making the lasagna with frozen plantains?
Yes, frozen plantains would be fine. You can get them in the freezer section at most grocery stores, but make sure to buy the soft ones that look like sliced bananas. No need to cook them – simply smash them slightly with a potato masher and proceed in layering the lasagna.
What other vegetables can I use instead of plantains in this lasagna recipe?
If plantains are not available or if you do not enjoy their taste, green unripe bananas might be the best substitute for plantains, although yams, potatoes, yuca, sweet potatoes, or even parsnips would result in a similar texture and flavor. The unripe bananas can be fried or baked, and you'd need to boil or bake the other vegetables before mashing and layering the lasagna.
What's a good substitute for cubanelle peppers?
Anaheim peppers are the best substitute, especially if you would like to add some extra heat to the dish, but poblano, banana peppers and bell peppers work just as well.
How can I make it vegan?
Instead of ground meat, make the filling with a vegan ground meat alternative, or use cooked drained green lentils or beans. Replace the egg mixture with 1/3 cup chickpea flour mixed in 1 cup water and make a plant-based cheese sauce with your favorite non-diary milk and some nutritional yeast.
How can I make the lasagna low carb/keto?
Substitute the plantains with low carb veggies such as sliced zucchini, eggplant, or turnips.
Can I prepare this lasagna in advance?
Absolutely! Prepare the filling and plantain slices and store in the fridge in separate airtight containers. When ready to cook, assemble the layers, pour over the egg mixture and bake. You can assemble and chill this up to two days ahead to bake before serving. Simply add 15 minutes to the baking time.
---
Recent Recipes