Festive Christmas Lasagna
Nothing warms the heart and lifts the spirit than fresh homemade lasagna just like mom used to make. Why not bring that cozy, nostalgic aura to the table this holiday season with an unexpected splash of color to spice up the family dinner or impress your coworkers for the annual Christmas party?
Pour a glass of Eggnog and turn on the Christmas tunes to get started on this festive dish.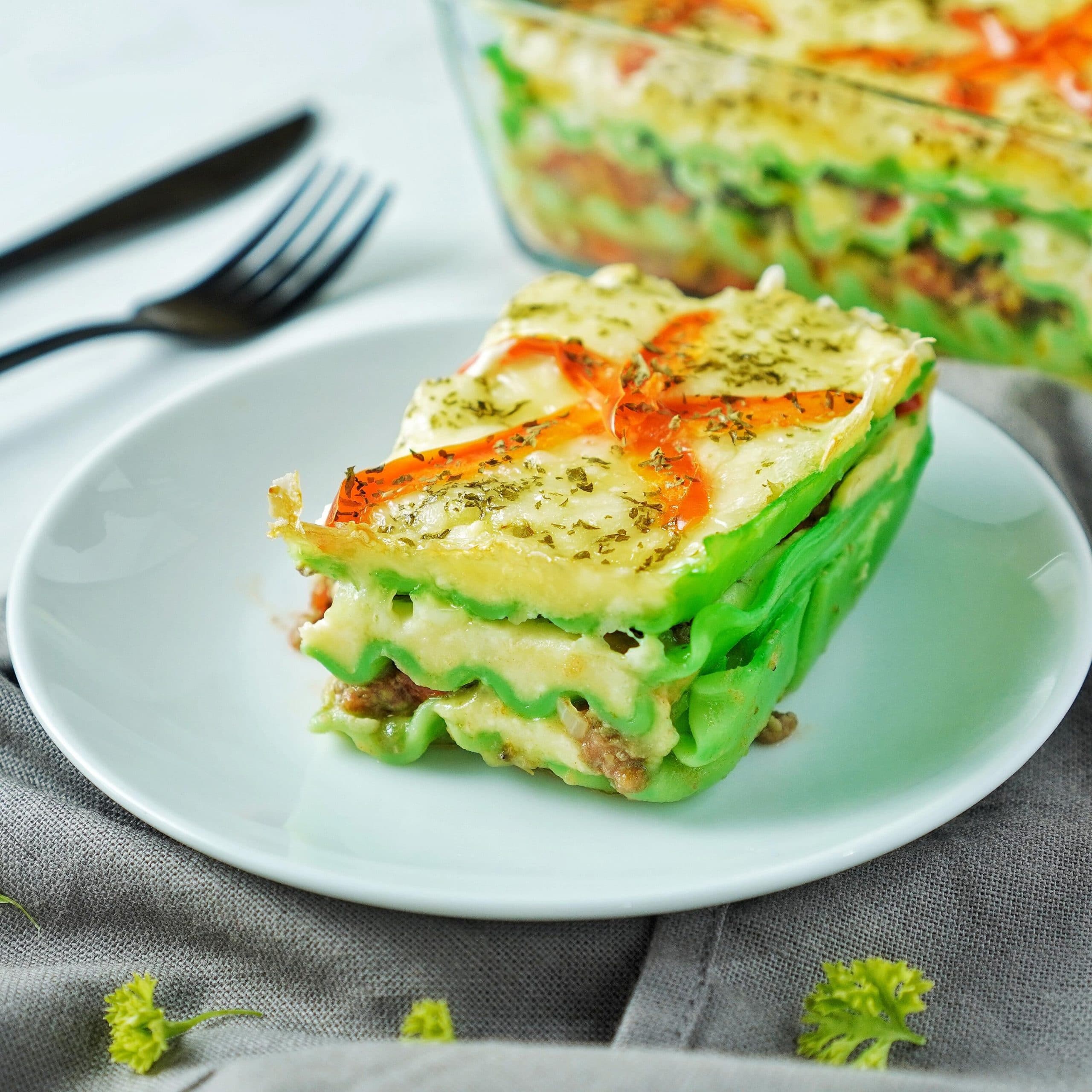 Equipment
9×2 square baking dish

Large sized pot

Medium sized pot

Medium sized frying pan

Cookie sheet with raised sides (capable of holding water)
Ingredients
4 1/2

oz

9 sheets of lasagna noodles (it's essential NOT to use oven ready)

6

oz

shredded mozzarella

green food coloring

1

red bell pepper
For Red Sauce:
1/2

lb

ground beef

2

cloves

of garlic

can also use 4 tbsp refrigerated minced garlic

1/4

medium yellow onion

1

red bell pepper

12

oz

one can of tomato paste

2

tbsp

Parsley

1 1/2

tbsp

basil

3/4

tbsp

oregano

or 3 tbsp Italian Seasoning

1/2

tsp

salt

1/2

tbsp

fresh ground pepper

1/2

tsp

sugar
Ricotta mixture:
1

egg

1 3/4

cups

ricotta

1/3

cup

parmesan

1

tbsp

Parsley
Instructions
Noodles Sheets:
Bring 4 cups of water to a boil in a large pot over medium heat.

Gently place 4.5 ounces of noodle sheets into the boiling water upright.

After 2-3 minutes poke the now tender noodles down into the boiling water.

Boil for 10 more minutes, stirring occasionally, then strain.
Dying the Noodles Green:
Set out the cookie sheet (with raised sides) on a flat surface. Pour ¼ cup of water onto the sheet and add 4-5 drops of green food coloring. Lightly stir to disperse color.

Lay out 3 noodle sheets into the color mixture.

Wait approximately 5 minutes, then turn noodle sheets over to their opposite side. Let soak for another 5 minutes.

Set the dyed group of noodles aside in a bowl, repeat the process in groups of 3 with the remaining noodles.
For the red sauce:
Use 1 tbsp of olive oil to coat the bottom of a medium pot and put on low heat.

Peel the 2 cloves of garlic, lying your knife flat – use it to crush each individual clove, then mince to fine pieces. Follow by dicing ¼ of a yellow onion (avoid cutting into the center to rein in the waterworks!) and slicing the bell pepper into long pieces.

Toss garlic, onion, and bell pepper into the pot and turn the stove up to a medium heat.

Lightly saute garlic and onion mixture for 5 minutes, stirring occasionally.

Combine the tomato paste, parsley, basil, oregano, salt, and pepper into the pot and reduce heat to low. If working with a gas stove, remove from heat altogether.

Bring a frying pan to medium/high heat to brown your ground beef. This will take approximately 10-15 minutes. Spend this time breaking down the beef into small chunks with your spatula.

Combine ground beef to red sauce mixture.
Ricotta Mixture:
Combine whole egg, ricotta, parmesan, and parsley in a medium sized bowl. Set mixture aside.
Layering:
Preheat the oven to 375 degrees.

Coat the bottom of a 2 inch high by 9 inch square baking dish in the red sauce mixture.

Follow with a layer of 3 noodle sheets bunched up slightly to fit the pan. This is for really getting that wavy texture and helping solidify your lasagna.

Top the noodle sheets with the ricotta mixture and sprinkle 2 cups of mozzarella to create the cheese layer.

Repeat this layering process 2 more times.

Slice remaining bell pepper into long pieces and lay across the top of your lasagna in any design you like.

Cook at 375 degrees for 20 minutes. Let cool and enjoy!
Video
Notes
Using a pre-made store bought red sauce are fine as well, just mix in your ground beef and bell pepper!
Nutrition
Calories:
483
kcal
|
Carbohydrates:
34
g
|
Protein:
30
g
|
Fat:
26
g
|
Saturated Fat:
14
g
|
Polyunsaturated Fat:
1
g
|
Monounsaturated Fat:
9
g
|
Trans Fat:
1
g
|
Cholesterol:
117
mg
|
Sodium:
1009
mg
|
Potassium:
951
mg
|
Fiber:
4
g
|
Sugar:
10
g
|
Vitamin A:
2906
IU
|
Vitamin C:
66
mg
|
Calcium:
413
mg
|
Iron:
4
mg
Storage
Lasagna can be stored in the refrigerator for up to 3 days after baking and for up to 3 months in the freezer. When freezing, don't bake. When ready to bake, take out the night before to defrost in the refrigerator or cook frozen allowing some extra time to bake.
Does food coloring affect the taste?
Too much artificial food coloring can alter the taste and texture of foods so don't go overboard on the green. Same thing goes for natural food colorings made from vegetables or fruits. However, you can choose a compatible taste – spinach for example – to enhance existing ingredients.
What's the difference between regular and oven-ready sheet noodles?
Oven ready sheet noodles are produced in a similar manner to instant rice. These noodles, having already been precooked before being dehydrated, immediately take back on their soft texture from the heat and moisture in your cooking food. Regular noodles are simply that, regular noodles, and are cooked in a normal fashion.
Are there vegetarian/vegan options?
Vegetarian lasagna is an easy task, simply remove ground beef from your sauce and you've still got a cheesy, tasty dinner. Vegan options, however, can be a bit trickier. Luckily there are other fantastic lasagna recipes that can cater to food preferences such as this completely vegan lasagna!
What kind of wine pairs well with Lasagna?
While whites and rose's are a better fit for our vegan counterpart recipes, red wine pairs exceptionally well with the classic version of this tasty Italian dish! Sweeter varieties in particular blend well with the palette. You can't go wrong with a lovely port by your plate. Check out some of the wonderful health benefits a sweet rich port can bring to the dinner table as well.
---
Recent Recipes