I like to think of myself as a confident baker. A perfectly moist brownie? No problem! Blueberry muffins with a satisfying crunchy top? Easy peasy. But for me (and plenty of other kitchen-goers I know), bread completely shatters that confidence. That is why I am a big fan of bread recipes that require no yeast.
Not every type of bread can work without yeast, but those that do are super easy to make and have few factors that can go wrong. Naan bread is a simple and delicious bread, but if you seem to attract bread trouble, take a crack at this easy, no yeast naan bread recipe.
For those bakers amongst you who are up for more of a yeast-based bread challenge, take a crack at our simple scallion bread. Or if you are looking for the perfect meal to serve your easy no yeast naan bread with, this simple gongura paneer will work great!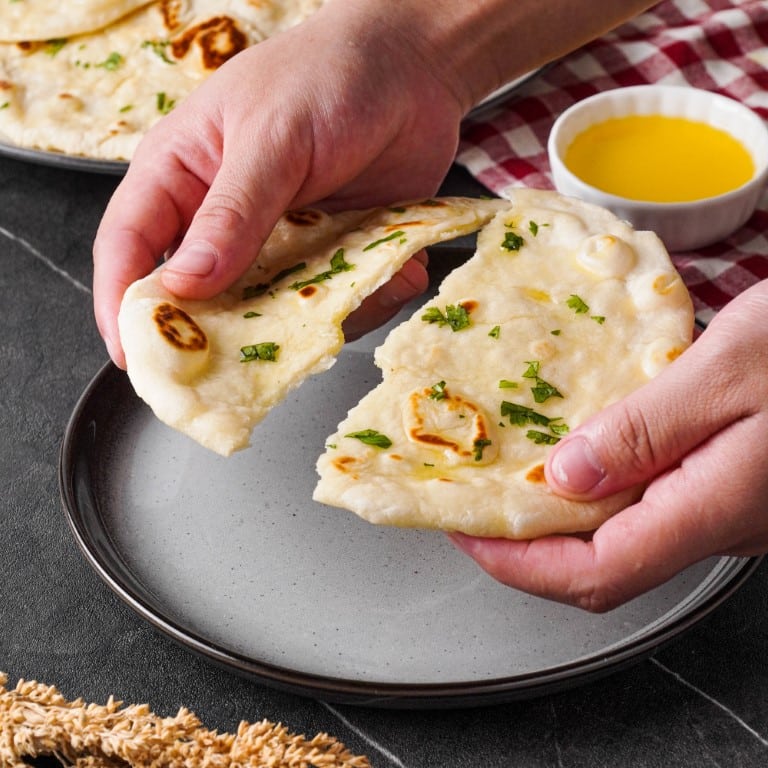 Ingredients
2

cups

self-rising flour

½

cup

Greek yoghurt

¼

cup

warm water

½

teaspoon

salt

2

tablespoons

butter
Instructions
All ingredients ready? Let's begin!

Pour all of the self-rising flour into a large mixing bowl and mix in ½ teaspoon of salt.

Next add in the Greek yoghurt. Give it a good mix until the flour and yoghurt are fully combined.

If you find the mixture to be too clumpy, add 1 tablespoon of the warm water at a time, mixing it into the dough with ever addition. You will know when the dough is the right texture if you can easily form a large dough ball. There should be some stickiness to the dough but it should be workable.

Flour a clean worktop before dumping the dough from the bowl onto the floured surface.

Start kneading with your hands. As there is no yeast in this recipe, you will not need to knead the naan bread for long, just enough to smoothen the dough out, about 2 minutes.

Once you are happy with the smoothness of your naan dough, transfer it back into your mixing bowl. Cover the bowl with some plastic wrap or a tea towel and leave it to rest for up to an hour. Again, this is not to let the dough rise – the lack of yeast means that it cannot at this stage – so don't be alarmed by the lack of change.

Add a little more flour to your worktop. Move your dough back to the worktop and separate the dough into 8 even portions. This can be done by hand or with a very sharp knife or pastry cutter. To make sure the dough is evenly cut, you can weigh each section with a cooking scale.

Take one of the portions and use your hands to flatten the dough. Do this by pushing down on the dough with your fingertips until flat enough to shape. Then place your hands in the middle of the flattened dough and gently push outwards to create a large pancake-like shape.

Set the shaped naan aside and repeat the process with the other dough segments.

Ready a non-stick frying pan by heating it to a medium heat. You do not need to use any fat to cook the naan. Carefully lay 1 of the naan in the hot pan and leave to cook for 2 minutes. Then flip the bread, leaving it to cook for a further 2 minutes on the other side.

Prepare a plate and a clean tea towel to place the cooked naan on. When both sides have been fried, cover the naan and start cooking the next one.

Repeat until all of the naan have been cooked.

Just before serving your freshly cooked naan, brush the tops with some melted butter.
Nutrition
Calories:
126
kcal
|
Carbohydrates:
23
g
|
Protein:
5
g
|
Fat:
1
g
|
Saturated Fat:
0.3
g
|
Polyunsaturated Fat:
0.2
g
|
Monounsaturated Fat:
0.1
g
|
Cholesterol:
1
mg
|
Sodium:
156
mg
|
Potassium:
36
mg
|
Fiber:
1
g
|
Sugar:
1
g
|
Vitamin A:
15
IU
|
Calcium:
26
mg
|
Iron:
0.3
mg
Notes & Tips
No yeast naan dough has a tendency to produce very dense and sickly naan, which is the opposite of what a naan should be. Our recipe goes to a lot of effort to ensure that your naan bread does not turn out dense. But for further reassurance, avoid over-handling the dough and avoid using a rolling pin to flatten and shape the dough. Too much handling will change the consistency of the dough, making it denser. Likewise, a rolling pin will eradicate the looseness of the dough after it has been rested, making it denser.
For a more traditional cooking technique, use your grill to cook your naan bread. They will take just as long to cook (4 minutes each) but the grill may produce a more desirable visual affect. You can also achieve a similar result if you heat your oven to a high broil and use an oven-safe pan (a cast iron skillet works well here). Put the naan in the pan then put the pan on the highest oven rack option for 2 minutes, leaving the oven door open. Flip the naan and repeat.
You can take your naan game to the next level with some garlic butter. Just before serving the bread, melt some butter in a microwave for a few seconds and add in some finely chopped garlic. Sprinkle a little salt to finish and brush lavishly across your cooked naan.
Substitutions
You can make this easy no yeast naan bread gluten free, but avoid using flour that has a particularly strong taste such as almond flour or coconut flour. Instead, tapioca flour or plain gluten free flour will work better. You will need to add 2 ½ teaspoons baking soda for every 2 cups of flour you use to make homemade self-rising flour.
Greek yoghurt has the ideal thickness for this easy naan bread recipe, but if you need to use a different kind of yoghurt, any plain flavored yoghurt will work fine. Dairy free yoghurts can also work so long as they are plain and have no extra flavorings.
---
Recent Recipes