Best Coffee Makers Under $50
Much talk and discussions are had about the top and middle-of-the-range coffee machines that sell from $100 or more, but under that, a vast range of good quality machines are available too!
Some of those machines that sell for under $50 include brands like Hamilton- Beech, Mueller, Gevi, Chefman, Krups, and Cuisinemart, and all of them produce good coffee at a very affordable price. Other brands like Krups, Shardor, and Mueller also have machines for this price available.
While these machines will not have the technology of their more expensive counterparts and may require a bit more manual labor to produce their coffee, they still provide a great option for people who want to start their day with a good hot cup of Joe without cracking the bank.
What Are The Benefits Of A Sub $50 Coffee Machine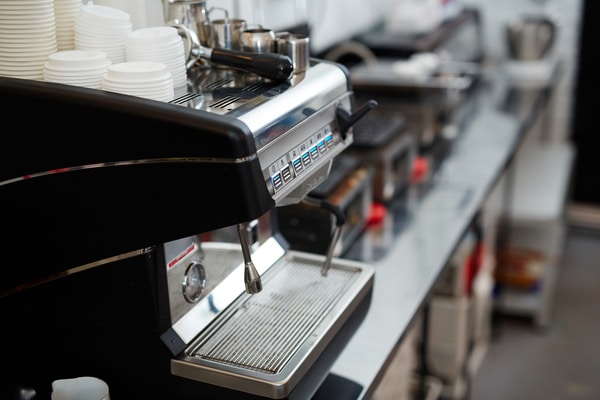 For starters, these machines are very affordable for anyone and have better brewing options than the French Press makers. They are simple to operate and maintain, and they produce coffee at the touch of a button.
They can keep coffee warm on their hot plate from 30 minutes to a few hours and can also use medium and fine ground coffee and include the water tank, the operational controls, and a glass or plastic carafe or beaker.'
While they don't come with a coffee grinder, that means that you get to control your grind to the level you want.
Should it break, you can either have it fixed if fixing it is worth the money or go and buy another one something that someone that owns a $500+ machine would probably not do.
Now, lets' take a look at some of the best coffee machines under $50 in 2021, and each will have its own best feature.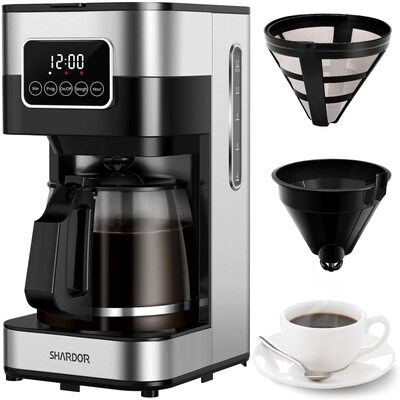 This little beauty is great for beginners as it comes with an LED touch-screen so that you can choose your start time and strength settings! You may not think that a coffee maker under $50 would have that kind of technology, but here you go!
Able to keep your coffee warm for up to two hours after brewing, the Shardor gives you control of the brew strength of your coffee, has an anti-drip function with a large capacity jug, and is also very easy to clean with the removable filter and even has an automatic shut off to save energy.
If simple and easy to use with functional features are what you are after for $49, you can bring this machine into your home today. With a 10-cup capacity, everyone can get their coffee and enjoy it simultaneously.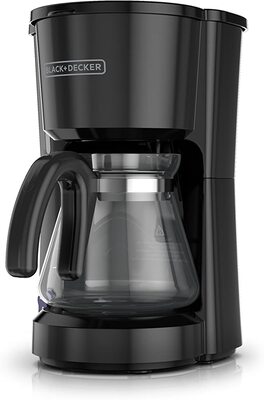 One of the few drawbacks of camping is that you either have to leave your coffee machine at home or settle for a French Press, but those coffee camping woes are over with this machine from Black + Decker.
One of the smart features of this machine is the permanent ground steel filter, so you don't need to hassle with the paper ones. That makes cleaning this machine a piece of cake even if you are camping.
It is also extremely compact, so ideally suited for small spaces like RV's and it only weighs 1.79 pounds, and the ergonomic handle makes it easy to hold and pour! For less than $22, this one is a no-brainer for campers or outdoor enthusiasts that still want to start their day on the coffee foot!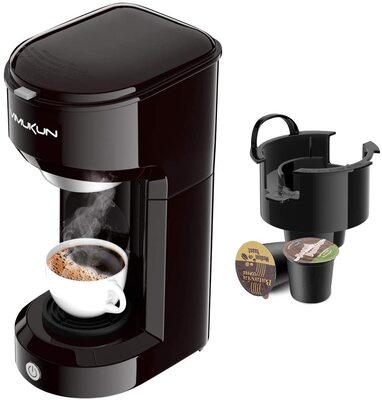 If ultra-compact and K-Cup compatibility will get you reaching for your credit card, then now is the time to bring it out and buy!
This ultra-compact coffee maker can deliver 2-4 cups in just three minutes, and all you need is to fill the reservoir and hit the button! It's also compatible with K-Cups and will heat up to temperature in three minutes or less!
It is durable and has an automatic shut-off, so you don't have to worry about switching it off.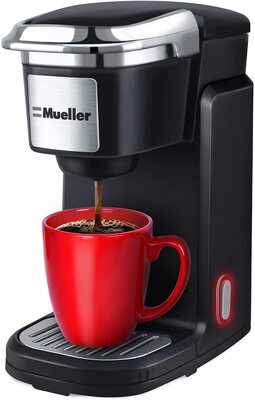 Even though this is a single-cup coffee maker, the compact design and simplicity of use, as well as the build quality, make this a great option for a coffee maker under $50. One-touch operation and auto-shut-off make this 10 ounce coffee maker a great option for any home.
This machine is designed to work with all 1.0 and 2.0 coffee capsules and can brew in just three minutes, and you'll get a great cup of coffee in record time.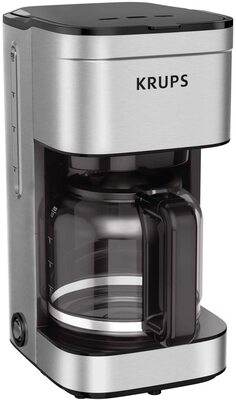 World-renowned manufacturer Krups is well known for its more expensive machines. Still, their budget end is made with the same quality materials, and this one features an all-stainless steel finish for that robust appearance.
Able to brew 5 cups of coffee at a time and keep the coffee warm for a few hours after brewing, this machine delivers a great slow-brewed cup of coffee in the glass pot, and the best news is that it is dishwasher safe.
Ideal for small families, this machine also features a 'Pause-And-Brew' feature that allows you to pour your cup of coffee during the brewing process, and for under $40, this is a great option for your home.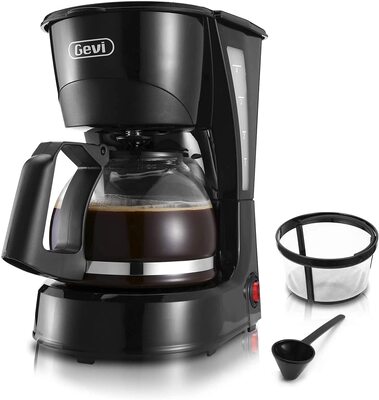 This compact yet high-capacity coffee machine can deliver four cups of coffee in a super quick time and is another great option for the family. One of the more distinct features of this machine is the front brew basket.
Easier to move and access than a top brew system commonly found on many other coffee machines, Gevi has made their machine with a swivel-out basket to make adding ground coffee that much simpler.
Stylishly designed and finished in stainless steel, this machine is easy to clean with the filter, pot, and funnel, all dishwasher safe, and comes with a reusable filter, and also has Boil-Dry shut-off protection.
This sub $40 coffee machine features a stainless steel carafe with a dripless pour spout and can produce four cups of coffee and keep it warm for a few hours afterward as well.
Another ideal machine for the small family, but robust enough and with good capacity, this machine could well be a good addition to your home. It also has the 'Brew-Pause' function and automatic shut off after 30 minutes.
The plastic body makes it light and compact, so it will not take up a whole lot of space wherever you put it.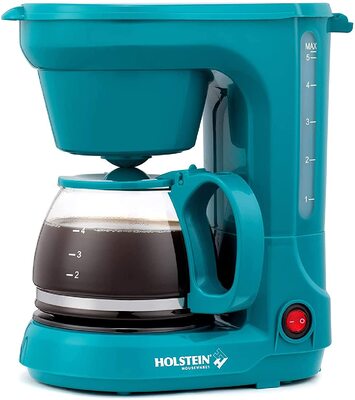 Available in bright colors and with a stow-away power cord, this machine will add some color and character to your kitchen as well as provide you with great coffee when you want it.
With a capacity of 20 ounces or five cups per brewing cycle, this is more than enough to serve a family or gathering of friends who will marvel at its compact and lightweight design. Made from polypropylene, this machine is both durable and easy to clean.
With a removable filter and measuring spoon included, this 5-cup coffee maker could be one of the better options for machines under $50!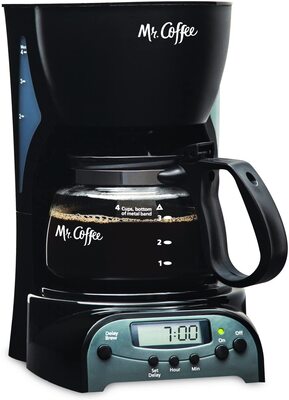 Another truly compact coffee machine under $40, the 4 cup coffee maker from Mr. Coffee, has matt black finish and is lightweight and compact yet still able to produce 4 cups of coffee!'
Highly durable and with an easy-to-clean removable filter and stain-resistant warming plate makes maintenance hassle-free, and you can auto-pause it during the brewing cycle to grab a cup when you want it.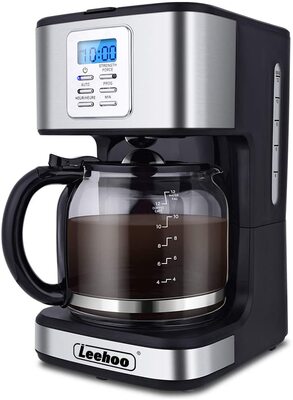 You might not think you could get a coffee maker for your office for under $50, but this LEEHOO Coffee Maker blows that theory right out of the water!
It has a fully programmable functionality so you could brew coffee up to 24 hours in advance and has a 12-cup brewing capacity, so that is certainly enough for an office or a bigger family.
A soft-touch control panel, smart timer, and easy on-off switch bring some affordable technology to this machine and all that for a high-capacity coffee maker for under $50!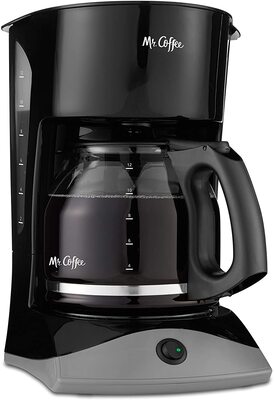 Still looking at machines for under $50 that can produce good capacity coffee quickly and easily, the 12 cup coffee maker from Mr. Coffee is another one in this category. This one is under $40 and will be hard to beat for overall value.
Robust construction with a classic coffee machine look and 60 ounce capacity with the auto-pause function so you can draw a coffee during the brew cycle makes this machine a contender if you want great coffee in quick time — and a lot of it!
Easy to clean and fill, this coffee machine over-delivers on value, considering its super-low price with simple controls.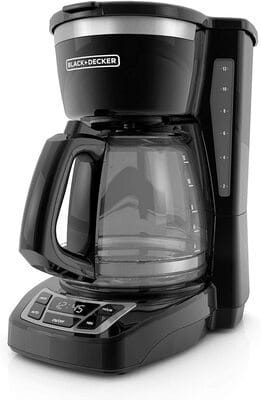 This offering from Black And Decker brings a little more technology and high capacity to coffee makers under $50. This one sells for under $45 and has some impressive features.
It has a programmable interface offering Quick-Touch programming, Sneak-A-Cup similar to the Pause-Brew functions on other machines and is super easy to clean. Not only that, but this machine also brings an optimal brewing temperature to make that cup of coffee that much better.
Another machine that has 12 cup or 60 ounce brewing capacity also has a programmable timer and auto-brew option, so it is ideal for the office or home where coffee lovers abound!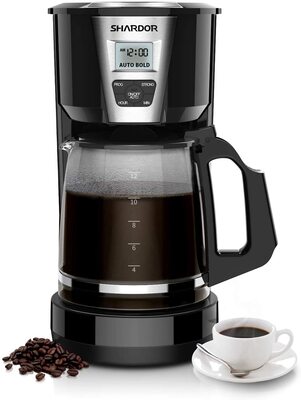 Still, in the realm of high-capacity coffee makers, the Shardor 60 ounce coffee maker can deliver 8 cups of coffee in one brewing session. It also features a 24-hour programmable timer so you can prepare coffee the day before and have it hot and ready as you wake up or walk into the office.
The machine's hot plate will keep coffee warm for two hours after brewing, and the LCD control panel allows you to set options like brewing time, brewing mode, and strength, so you can adjust the coffee quality as you need it.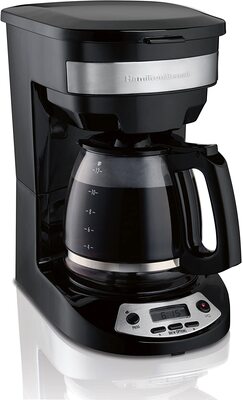 One of the better products in the large capacity coffee makers and from world-famous brand Hamilton, this large capacity coffee maker can brew 12 cups in one session. With the programmable time, you can have coffee when you want.
The front access swing-out basket makes filling and cleaning easy, and with the three brewing options and the automatic pause-and-serve function as well as auto-shutoff, this machine is ideal and safe for the home or office.
This machine does have a longer brewing time than most of around 8-14 minutes, but using the timer will make sure you don't have to wait too long for your morning cup Of Joe.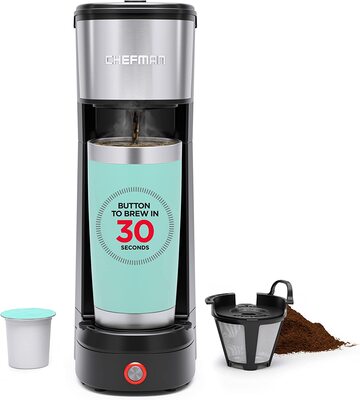 Able to prepare single-serve coffee in a mere 30 seconds from start to brew, this is one of the more compact coffee machines available for under $50 and is another option for those weekend camping trips!
This machine is ultra-slim and is K-Cup compatible, lightweight, and reusable filter included, one-touch operation and the self-cleaning feature also prevents mineral build-up over time.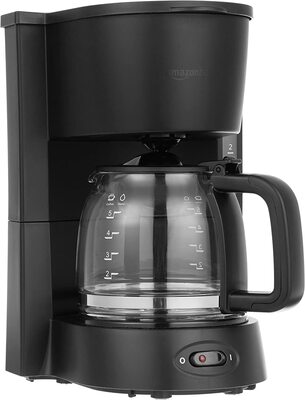 With a brewing capacity of 5 cups or 25 ounces, this little gem from AmazonBasics is a very affordable and efficient little coffee machine. Made from durable plastic and with a removable filter basket and reusable soft mesh filter, you don't need filter paper for this one.
It also features an anti-drip function to pour while brewing without making a mess, and the auto-shutoff ensures that it won't overheat if left alone. This coffee maker is easy to use, and simple to clean makes this machine worth a look at under $50.
The Last Sip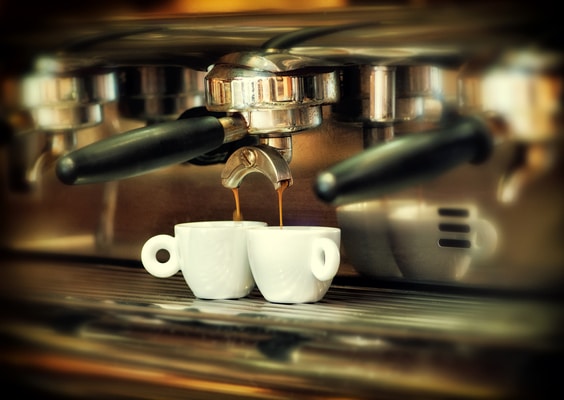 With the top sixteen coffee makers under $50 to choose from, you should have no problem finding one that best suits your coffee requirements, whether at home, with friends, or at the office.
It's amazing to think that for less than $50, you can acquire a good quality coffee maker that will give you either ground or K-Cup coffee within just a few minutes and offer you some top-end features for bottom-end pricing!
---