Homemade Instant Pot Lasagna Soup
If you love lasagna but find it an effort to make, this lasagna soup recipe is what you're looking for – here you have all the gorgeous flavors of lasagna, but with none of the hard work.
This tasty soup will quickly become a family favorite because it's wholesome and hearty but feels decadent with tangy marinara sauce, rich pork sausage, and a luscious cheesy topping.
To make your life even easier, this recipe uses a jar of ready-made marina sauce instead of canned tomatoes – it makes sense to use ready seasoned pasta sauce, full of Italian herbs and spices, for a pasta-style soup.
All you do is brown some pork sausage, onions, and garlic, then throw everything together and let the magic happen. There's no need to precook the noodles, as they will soften in the soup, thickening it and adding velvety texture.
Using an Instant Pot (IP) or pressure cooker to make this soup means it's a one-pot meal, with so much less clean up, especially if your device has a sauté function. Using a time-saving machine also means you'll have a bowl of comfort food in less than half an hour, just what you need on a chilly winter's night.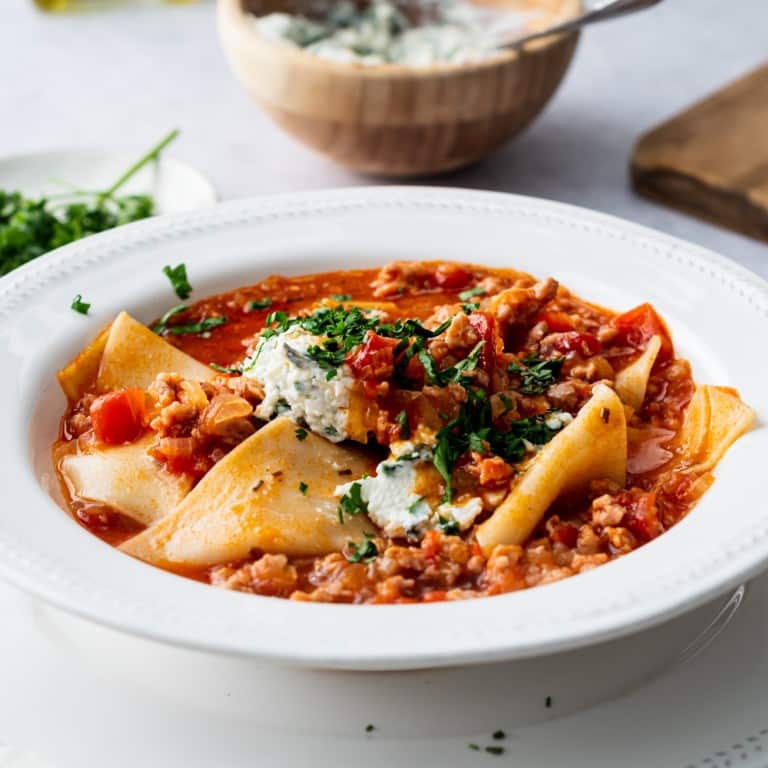 Ingredients
Lasagna Soup
2

Tbsp

olive oil

1

onion

2

garlic cloves

1 ½

lb.

pork sausage

2

bay leaves

1

tsp

dried rosemary

3

cups

vegetable stock

1 24

oz.

jar of marinara sauce

2

cups

water

Salt and pepper to taste

8

lasagna noodles
Cheesy Topping
¾

cup

ricotta cheese

¼

cup

parmesan cheese

4

Tbsp

parsley

or a combination of parsley, thyme, and oregano
Instructions
All ingredients ready? Let's begin!
Lasagna Soup
Finely dice the onion and mince the garlic. Set the Instant Pot to sauté and wait for it to heat. Warm the olive oil in the Instant Pot insert.

Remove the pork sausage from its casing and add to the pot.

Cook the sausage for 4 to 5 minutes until thoroughly cooked, breaking it up with a wooden spoon as it browns. If the sausage is very fatty, drain off some of the fat.

Add the onion, garlic, and rosemary. Fry for 4 more minutes until the onion is translucent.

Pour in the broth or stock, marinara sauce, and water.

Season with salt and pepper.

Bring the soup to a simmer.

Meanwhile, break up the lasagna noodles into one-inch pieces.

Add the broken pasta to the pot, ensuring it is submerged in the soup.

Turn off the pot by pressing "Cancel."

Put the lid on tightly and ensure that the vent or steam release knob is sealed.

Depending on your model, select the "Pressure Cook" or "Manual" function.

Program the Instant Pot for 6 minutes, using the dial or + and – buttons.

When the time is up, the pot will beep. Let the pressure release for 5 minutes before pressing "Quick Release" or turning the "Steam Release" knob.

Open the lid and stir the soup, loosening any noodles that have stuck together.
Cheesy Topping
While the soup is cooking, finely grate the parmesan cheese.

Combine the ricotta, parmesan cheese, and the fresh herbs in a small bowl. Mix well.

Serve the lasagna soup topped with a spoonful of the cheesy topping melting into it.
Nutrition
Calories:
480
kcal
|
Carbohydrates:
29
g
|
Protein:
22
g
|
Fat:
31
g
|
Saturated Fat:
11
g
|
Polyunsaturated Fat:
4
g
|
Monounsaturated Fat:
14
g
|
Trans Fat:
0.2
g
|
Cholesterol:
75
mg
|
Sodium:
1389
mg
|
Potassium:
599
mg
|
Fiber:
3
g
|
Sugar:
5
g
|
Vitamin A:
947
IU
|
Vitamin C:
11
mg
|
Calcium:
122
mg
|
Iron:
3
mg
Notes & Tips
This recipe makes a very thick soup. For a thinner soup, add more vegetable or chicken broth.
Refrigerate leftover lasagna soup in an airtight container for up to four days. The lasagna noodles will soak up some of the liquid, so just add some extra vegetable broth before reheating the soup.
Because this is such a quick and easy soup to prepare, consider making an extra batch – it's always handy to keep a ready-made meal in the freezer. To freeze, allow the soup to cool, then pour it into an airtight container or freezer bag (for easy stacking). Defrost the leftovers before heating them in the microwave or stovetop. Note that you can't freeze the cheese mixture, so prepare that on serving.
If you've enjoyed making this soup using your Instant Pot, check out other Instant Pot recipes, such as Easy Instant Pot Stuffed Pork Chops and Easy Instant Pot Caribbean Pork Tenderloin with Rice and Beans.
For other nutritious and tasty pasta-based soups, try Simple Veggie Orzo Soup and Easy Ham Orzo Soup.
Serving Suggestions
Garnish the soup with fresh shredded basil.
Soak up the broth with crusty bread, breadsticks, or garlic bread.
A tomato and herb focaccia would round out the lasagna soup to a full Italian-style meal.
Serve the soup piping hot with a fresh side salad or plain steamed veggies, like carrots and snow peas.
Substitutions & Additions
Replace the pork sausage with ground pork or ground beef.
For a lower-fat version, replace the pork sausage with chicken or turkey sausage, or use ground chicken or turkey. Also, replace the ricotta with cottage cheese.
Leave out the sausage – be sure to use vegetable stock for a vegetarian version of the soup.
Increase the vitamin load of your soup by adding chopped mushrooms, grated carrots, and diced celery along with the onions and garlic. Toss a handful of fresh spinach into the soup once it has cooked and stir through to wilt.
Replace the vegetable stock with chicken or bone broth for added nutrition.
Substitute the jarred pasta sauce with homemade marinara sauce or equal amounts of tinned tomatoes (such as diced tomatoes or stewed tomatoes) and a couple of spoons of tomato paste.
Use any other pasta instead of lasagna noodles. This recipe is a good way of using broken bits of pasta or odds and ends that aren't enough to make a pasta dinner.
Use gluten-free lasagna noodles to create a gluten-free dish.
Add mozzarella to the cheese mixture for extra gooeyness.
---
Recent Recipes