Best Cuban BBQ Pork Sliders
In this Cuban pork sliders recipe, we're making the roasted Cuban pork or "lechon asado" from scratch. This is what makes these Cuban pulled pork sliders the best, most flavorful expression of the BBQ Cuban sandwich.
Cuban BBQ pork sliders are perfect for parties, family get-togethers, or outdoor gatherings. They have the perfect combination of flavors – sweet and salty, tangy and aromatic, and the indispensable melted Swiss cheese. These pulled pork BBQ sliders are sure to disappear from the table within seconds.
How to Make Cuban Pork for Cuban Sandwiches or Pulled Pork Barbecue Sliders?
The process is very intricate but quite simple. The Cuban pork shoulder spends most of the time marinating and roasting in the oven. You simply need to prepare the marinade or "mojo", rub it into the meat, and later check on it while it's baking.
What Does Cuban Pork Taste Like?
Mojo pork or "lechon asado", as they call it in Cuba, tastes like the perfect combination of garlic, citrus, herbs, and spices. It's not spicy at all, it's slightly sour and tangy, and falls apart in your mouth. The fresh citrus juice and garlic tenderize the meat as it marinates and bring out the fresh flavors while it's roasting in the oven.
Traditionally, mojo is made with sour oranges. But if you can't find them in your area, a mix of regular oranges and limes tastes just as good. Now, let's prepare this exquisite appetizer!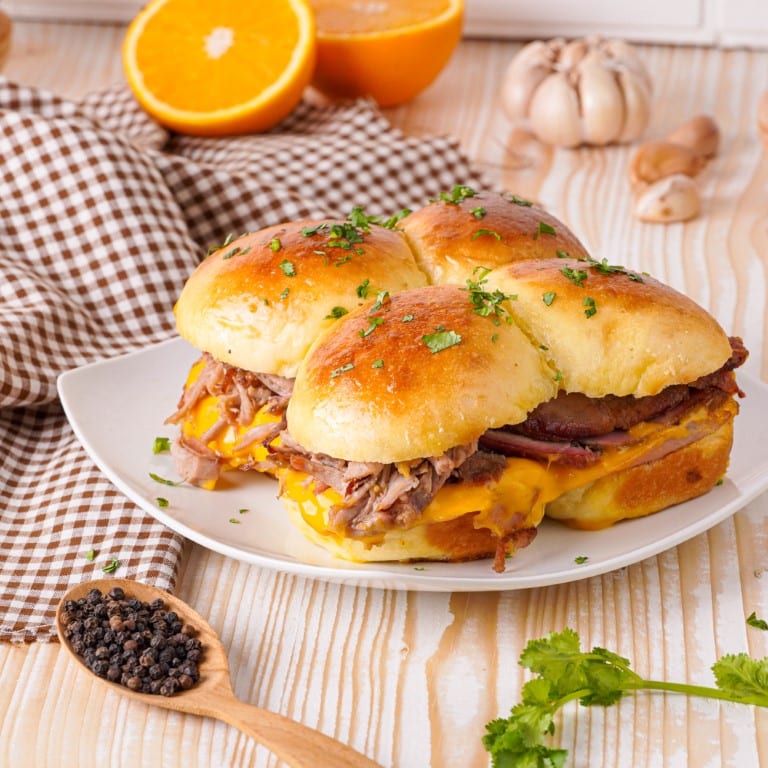 Ingredients
For the Cuban Roasted Pork Shoulder:
A 12-pound pork shoulder

12

garlic cloves

½

cup

freshly squeezed orange juice

½

freshly squeezed lime juice

4

Tbsp.

salt

2

Tbsp.

dried oregano

2

Tbsp.

cumin powder

1

tsp.

freshly ground black pepper
For the pulled pork sliders:
2

lbs.

pulled pork

14

Hawaiian sweet dinner rolls

¼

lb.

honey ham

sliced into 3×3 squares

14

slices

Swiss cheese

in 3×3 squares

2

Tbsp.

butter

melted

3

Tbsp.

BBQ sauce

Optional: ¼ bunch fresh chopped cilantro for garnish
Instructions
All ingredients ready? Let's begin!
For the pork shoulder:
Crush the garlic in a mortar with a pestle until it's creamy. Or use a food processor. Add salt, oregano, cumin, and ground pepper, and then slowly add the citrus juice, while mixing with a spoon. Set your mojo aside.

Put the pork shoulder on a baking tray with the skin side up. Pat it dry with paper towels. Sprinkle some salt on top and rub it in, then turn it upside down so that the meaty side is on top. Cut off pieces of excess skin and fat.

Pierce the meat with a knife in the muscular parts, until it reaches the bone. Now, place a spoonful of marinade into each hole you made and poke it in with your fingers. Then coat the whole pork with marinade and rub it in. Pour the rest of the marinade on top, cover it with plastic wrap and let it marinate in the fridge for at least 12 hours.

Remove it from the fridge 1 hour before cooking.

Place the pork shoulder on a separate tray and pour 2/3 of the mojo juice on it. Then place a wire rack on the initial baking tray and lay the pork shoulder meaty side down on the rack. Dry the skin of the shoulder with paper towels.

Sprinkle a tablespoon of salt on the skin, rub it well, and then pour water slowly and rub it clean.

Dry it again and cover it with aluminum foil with the shiny side down. Preheat the oven to 325F and bake for 1 hour, then turn the heat up to 350F and bake for 2 more hours.

Take it out of the oven and remove the aluminum foil. Turn the oven up to 375F and bake for 1 hour uncovered. Once cooked, measure the internal temperature. When it's done, it should be around 175F.

Remove from the oven and let rest for 15 minutes. Now, remove the top crunchy skin and place the shoulder on a cutting board. Cut it with a fork and knife into thin slivers. It'll be so soft and juicy that it falls off your fork.

Place cut/shredded pork in a large bowl and drizzle some of the mojo from the baking tray on top. Just enough to make it juicy, but not wet. Your tender pulled Cuban pork is now ready to be turned into the best Cuban BBQ pork sliders!
For the pulled pork sliders:
Preheat oven to 350F. Grease a 9×13 baking pan with oil or butter.

Cut the rolls in half to remove the top layer. Place the bottom halves in the baking pan.

Spread the BBQ sauce on the bottom part of rolls. Add a layer of ham, then a slice of cheese, and finish with the roasted pulled pork.

Place the top layer of the dinner rolls to seal the sliders. Brush tops with melted butter.

Bake for 15 minutes or until the rolls are slightly toasted and the cheese is melted. Sprinkle some fresh chopped cilantro on top for decoration and serve immediately.
Nutrition
Calories:
663
kcal
|
Carbohydrates:
31
g
|
Protein:
64
g
|
Fat:
31
g
|
Saturated Fat:
11
g
|
Polyunsaturated Fat:
3
g
|
Monounsaturated Fat:
11
g
|
Cholesterol:
208
mg
|
Sodium:
2517
mg
|
Potassium:
986
mg
|
Fiber:
2
g
|
Sugar:
12
g
|
Vitamin A:
346
IU
|
Vitamin C:
9
mg
|
Calcium:
332
mg
|
Iron:
7
mg
Notes & Tips
This Cuban roasted pork shoulder recipe yields a lot of pulled pork. I like to roast a big piece of meat and then use it in meals throughout the week or freeze it for later. Keep it in an airtight container in the fridge for 3-5 days, or in the freezer for up to 3 months.
You can use this delicious "lechon asado" for making burrito bowls, tacos, sandwiches, or nachos. Or simply serve it with rice, roasted veggies, or these Simple Savory Latin Fried Potatoes. It's a delicious protein that will wonderfully complete any meal.
When preparing the pork shoulder for marinating, cut off the large fatty pieces from the meaty side. Otherwise, those pieces of fat will dry up in the oven and get in the way of the tenderness. This will also make it easier to get the mojo inside the meat.
When adding the mojo, use your hands to help. But you can use gloves if you don't want to get your hands dirty. As long as you rub in all the juicy flavors with love.
Before roasting the pork shoulder in the oven, it's important to rub the skin with salt, wash it off with water, then pat it dry. This makes sure you'll get nice and crisp skin full of flavor. The water will evaporate in the oven and help cook the meat.
After the pork shoulder is done, you remove the crispy skin. Now, you can chop the skin into fine pieces and add it to the pulled pork to give it a little crunch and extra flavor boost. You can also save it and use it as a bacon bits substitute, add it to milk gravy, sprinkle it on pasta, or add some in cornbread to take it to new levels.
The three crucial mojo ingredients are garlic, salt, and fresh citrus juice. You can decide how much cumin and oregano to add. That is if you want to add it at all.
---
Recent Recipes