Chow yuk in Cantonese means stir-fried. This dish is a broad term for stir-fried vegetables with any protein you like. The main focus is on the variety of vegetables. The protein can be pork, beef, shrimp, chicken, turkey, tofu, tempeh, and even ham. The sauce is almost always soy sauce-based with sherry wine and chicken stock. Chow Yuk is very healthy because of all the vegetables, fiber, and lean protein.
I probably make a version of chow yuk 3 times a week. I love stir-fries for an easy weeknight meal or a quick and healthy lunch while working. My wok sits on my stovetop for a few nights. After making dinner, I clean the wok with very hot water and a strong sponge and place it back on the hot burner to dry. There is nothing easier than making a meal in one pot. Sometimes, I boil my rice or noodles in the wok first. But you can do those in a separate pot.
This chow yuk recipe calls for chicken and a bunch of vegetables and aromatics. We are using garlic, ginger, onions, mushroom, celery, red bell pepper, and snow peas. The sauce is salty and sweet with soy sauce and sugar. The sauce reduces and clings to the chicken and veggies.
Make a pot of white or brown rice just before you cook the chow yuk. It can be kept warm on the stovetop or in the rice cooker while you are stir-frying.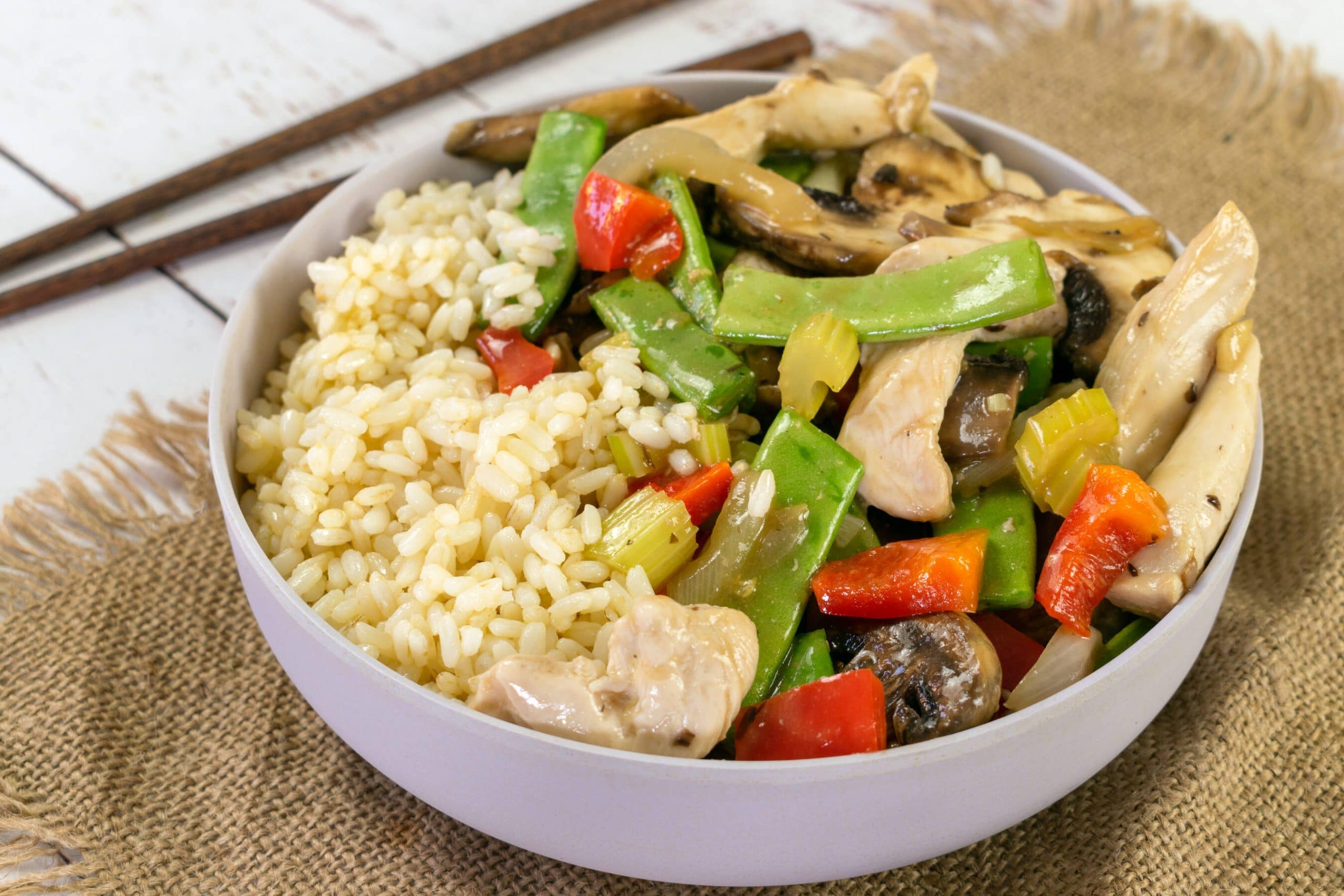 Ingredients
1/3

cup

chicken stock

2-1/2

Tbsp

soy sauce

2

Tbsp

dry sherry

1

Tbsp

cornstarch

1/2

tsp

brown or turbinado sugar

1-1/2

Tbsp

peanut or canola oil

1

pound

approximately 2 smaller boneless, skinless chicken breast, sliced into thin strips

1

large garlic clove

minced

1

tsp

grated fresh ginger

1

large white or yellow onion

sliced into thin half-moons

6

large button mushrooms

sliced

4

celery stalks

sliced on the bias

1/2

red bell pepper

diced or sliced

1

cup

fresh snow peas

trimmed

Steamed or boiled white rice for serving
Instructions
In a small mixing bowl, whisk together the chicken stock, soy sauce, sherry, cornstarch, and sugar until the cornstarch is dissolved. Set this aside.

Heat your wok or heavy-bottomed skillet over high heat. Add half the oil and the chicken strips. Sauté the chicken until it is opaque (white), stirring often, approximately 3 to 5 minutes. Using a slotted spoon, remove the chicken to a bowl.

Add the rest of the oil to the pan along with the garlic, ginger, onions, mushrooms, and celery. Cook for a couple of minutes until the garlic and ginger are fragrant.

Add the bell pepper and continue to cook for another minute.

Give the sauce another good stir. Over high heat, stir in the chicken, snow peas, and broth mixture. Allow this to come to a full boil. Cook just until the sauce reduces and clings to the chicken and vegetables, not more than 30 seconds to 1 minute.

Serve immediately over steamed or boiled rice.
Video
Nutrition
Calories:
307
kcal
|
Carbohydrates:
32
g
|
Protein:
30
g
|
Fat:
5
g
|
Saturated Fat:
1
g
|
Polyunsaturated Fat:
1
g
|
Monounsaturated Fat:
2
g
|
Trans Fat:
1
g
|
Cholesterol:
73
mg
|
Sodium:
421
mg
|
Potassium:
748
mg
|
Fiber:
3
g
|
Sugar:
6
g
|
Vitamin A:
796
IU
|
Vitamin C:
38
mg
|
Calcium:
33
mg
|
Iron:
2
mg
Notes & Tips
The sauce ingredients are best when cold or at room temperature when you add the cornstarch to it. Cornstarch will clump and become gummy if added to hot ingredients.
Make sure your wok or pan is at fairly high heat. This dish cooks quickly so that the vegetables remain a little crisp and colorful rather than limp and gray.
Don't be tempted to walk away from the stove while making chow yuk. As you cook over high heat, you need to stir the ingredients so everything cooks evenly and doesn't start to stew or steam. The goal is fresh and colorful vegetables that are al-dente.
Substitutions & Additions
I often see chow yuk recipes made with turkey breast meat or pork tenderloin. Whichever you choose, the protein should be lean. If you want to substitute chicken thighs for breast meat, try to cut away any excess fat or membrane. And, cook it a little longer than you would breast meat.
The vegetables can be almost any you like. Savoy cabbage, bok choy, carrots, baby corn, water chestnuts, and snap peas are all good options. I also like to add bean sprouts either with the bell peppers or on top after cooking everything for a little fresh crunch.
When it comes to the sauce ingredients, you can make this gluten-free by using tamari or liquid aminos in place of the soy sauce. If corn is not in your diet, switch the cornstarch out for kudzu root. It works the same way but does take a little longer to dissolve. I often use raw honey or pure maple syrup instead of sugar in my sauce.
There are chow yuk recipes that call for noodles instead of rice. Any noodle would work. See our recipe for brothless ramen for suggestions of different types of noodles.
You can make this dish completely vegan by using vegetable broth and tofu in place of chicken broth and chicken.
Garnishes
Garnishing a dish perks it up both in flavor and appearance. I like to mix up my garnishes. There are certain things I keep on hand to top my dishes, especially soups, stir-fries, and ramen bowls. My go-to garnishes for Asian inspired dishes are:
Toasted sesame oil
Sliced green scallions
Chopped dry roasted peanuts
Seaweed salad
Sesame seeds
Wasabi
Gomasio (sesame seed condiment)
Fresh cilantro leaves
---
Recent Recipes