Have you ever been to Qdoba? It's a Mexican-style restaurant that specializes in burritos, tacos, and taco bowls. It's a popular chain in the United States and a lot of people love it for its dishes and atmosphere. They even serve breakfast! Sometimes we don't know how we like certain foods until we have them somewhere else, which is why many people have become enamored with Qdoba's specific style of chicken.
Of course, eating out all the time drains the wallet, so it's wiser to find a way to make your favorite foods at home. So, if you like Qdoba but you don't like breaking the bank, you're in luck! Here I break down how to make delicious chicken just like Qdoba does, but at home in your kitchen. I don't know about you, but making restaurant food in my own house makes me feel powerful, and it's so much more affordable.
This recipe does require some time for the chicken to marinate, but you can let it sit for as little as 30 minutes if you're in a hurry to eat (I would be). Alternatively, you can prepare it and leave it to marinate in the fridge all day while you're at work, making it super easy to finish dinner when you get home. Either way, you're sure to enjoy this Qdoba-style chicken.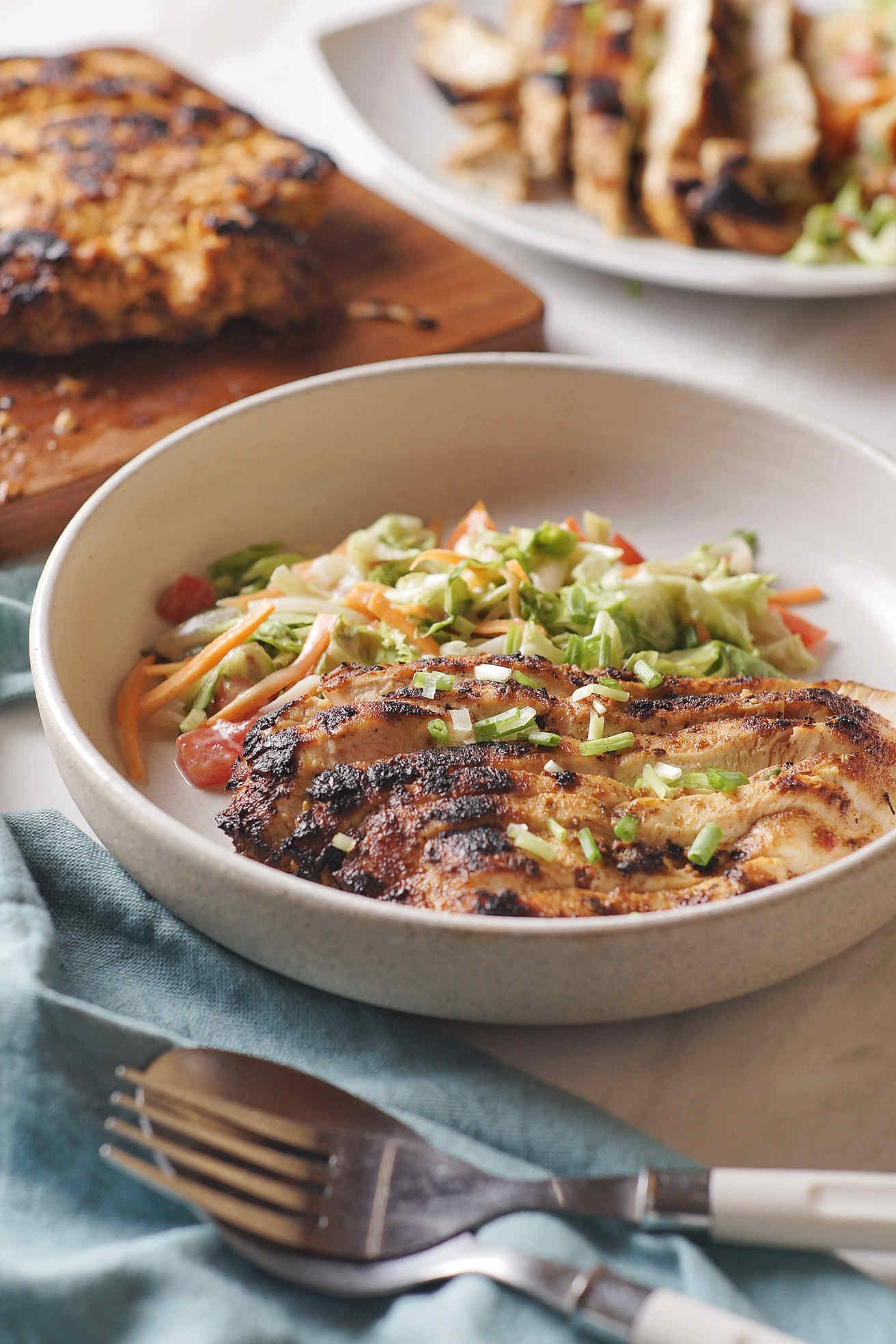 Ingredients
2

lbs

boneless chicken breasts

4

cloves

garlic

3

tbsp

olive oil

2

tbsp

adobo sauce

1

tbsp

chili powder

1

tsp

cumin

½

tsp

black pepper

1

tsp

salt

½

tsp

dried oregano
Instructions
First get all the ingredients you need together.

Pull or cut the skin off the chicken breast. You can use a knife for this, but I find kitchen scissors to be easier. You could also look in the store for skinless chicken breast.

Use a meat tenderizer (or a rolling pin or other heavy, unbreakable object) to pound the chicken breast. Pound it until it has become relatively thin, about half the size it originally was.

Finely mince the garlic and put it in a large bowl along with 2 tbsp olive oil, adobo sauce, chili powder, cumin, pepper, salt, and oregano. Whisk all the ingredients together until thoroughly combined.

Add the chicken to the bowl and make sure each piece gets coated in the sauce. Cover the bowl with plastic wrap and put it in the refrigerator for a minimum of 30 minutes.

When you're ready to cook the chicken, heat a pan over medium-high heat. Add a tbsp of olive oil and wait until it is hot.

Place each piece of chicken flat in the pan. If your pan is too small to accommodate it all at the same time, cook them in batches.

Allow the chicken to cook for about 6 minutes before turning each piece over and cooking another 6 minutes on the other side. You want it to be cooked through, so you may need to let it cook a little longer. Chicken should be cooked to at least 165F in the center.

When the chicken is done, transfer it to a cutting board. Allow it to sit for about 10 minutes, or until it is cool enough to handle. Thinly slice or chop the chicken and serve up however you want!
Video
Nutrition
Calories:
521
kcal
|
Carbohydrates:
4
g
|
Protein:
48
g
|
Fat:
34
g
|
Saturated Fat:
8
g
|
Polyunsaturated Fat:
6
g
|
Monounsaturated Fat:
18
g
|
Trans Fat:
1
g
|
Cholesterol:
145
mg
|
Sodium:
2302
mg
|
Potassium:
582
mg
|
Fiber:
1
g
|
Sugar:
1
g
|
Vitamin A:
813
IU
|
Vitamin C:
2
mg
|
Calcium:
58
mg
|
Iron:
3
mg
Notes & Tips
You can get adobo sauce by buying canned chipotle peppers. The adobo is the liquid surrounding the peppers.
Once the meat is cooked, you can store it in an airtight container in the fridge for 5 days. It also tastes great cold in salads!
If you want to prepare this recipe in advance, you can let the chicken marinate in the fridge for up to two days before cooking.
Serving Suggestions
A few classic ways of serving Qdoba chicken is in a burrito or salad. I'll break down what you need for both.
You'll want some or all of the following ingredients to add to your burrito: large flour tortillas, ½ cup chopped red onion, 1 cup diced tomatoes, 1 bunch of cilantro (destemmed and chopped), 1 finely diced jalapeño pepper, 2 cups of cooked rice, salt, a lime, 1 can of canned corn, 1 can of canned black beans, 1 cup of chopped lettuce, salsa, guacamole, shredded cheese, sour cream, and any of your other favorite toppings that I might have forgotten.
The rice should be hot and so can the corn and black beans, but they can be good cold too. All you need to do is layer everything you want on a tortilla! If you think the tortilla might burst, you can try a hack a lot of Mexican restaurants use. Lay down two tortillas and overlap one over the other, then put your ingredients on. Be careful when you roll the tortilla into the burrito shape and enjoy your extra-large, super stuffed burrito!
If the burrito sounds like too much effort, make a bit more rice and turn everything into a burrito bowl. Layer the rice in a bowl first, for the base, then add everything else. I prefer this method because it is quicker and less messy.
To use this chicken in a salad, it's pretty much the same. Instead of layering rice first, chop more lettuce and use that as the base. You can still use rice, just not as much. If you choose to serve the chicken in a salad, you get a lot more of a crispy crunch.
If you have leftover chicken, but you've been too stuffed by a burrito to consider making it again, consider using it in a Mexican-style quiche. Quiches are a great way to use up leftover ingredients and the flavors of this one will work perfectly with any leftover Qdoba chicken. You can use the chicken instead of the chorizo in the recipe, or you can use the chicken as an addition. Either way will be delicious!
---
Recent Recipes