Cutco vs. Wusthof Knives: What's The Difference?
Is it time for you to update your kitchen knives? If you've been using standard kitchen knives that need constant sharpening and never seem to retain their edge, you may be ready to invest in a good set of knives designed to last you a lifetime. With so many choices in kitchen knives, you may feel overwhelmed, especially when it comes to the differences in price and quality between American brand Cutco and German-made Wusthof knives.
Cutco has been making knives for 70 years, compared to Wusthof, who has been stamping and forging blades for 200 years. Chefs worldwide use Wusthof due to its high quality. Cutco is preferable if you want American-made knives with guaranteed sharpening, whereas Wusthof is a well-known German brand.
There are pros and cons to every company's products. When looking at the differences (and similarities!) between Cutco and Wusthof, it will depend on your needs, priorities, and how much you're willing to spend. While Wusthof set the industry standard for high-quality, professional kitchen knives, you may not have the budget for a set of forged kitchen knives. We'll make a comparison of Cutco and Wusthof blades so you can be confident you're making the right decision for your kitchen.
The Difference Between Cutco & Wusthof
A good set of kitchen knives is invaluable for food prep. No cook wants to waste their time trying to hack through food with a blade that seems to be permanently dull no matter how often they sharpen it. However, other considerations include the comfort of using the knife, the blade's durability, and how much it costs.
Cutco knives are 'stamped blades,' meaning the entire blade is stamped out of a single billet of metal, while forged knives are made using a traditional method of shaping metal. Forged blades tend to be strong than stamped and hold their sharp edge for longer, but the stamping process allows for a somewhat cheaper product to be manufactured. Cutco creates their knives by laser-cutting them from a sheet of steel.
Wusthof create both stamped and forged blades but are best known for their forged knives. If you intend to make a significant investment into a top-quality set of forged knives for the kitchen, then Wusthof is a more likely choice, but if you are happy to use stamped blades, the comparison becomes a little harder to make.
Other factors to consider are the shape and material of the handle, the weight of the blade and what material it uses, and availability. Some design factors like bolsters, the sharpening angle of the edge, and the weight will also play into your decision process.
Both brands make high-quality knives using a full tang blade, meaning the knife steel extends from the tip through to the end of the handle, making them more secure with which to work. Wusthof and Cutco offer lifetime guarantees on their kitchen knives, and the prices reflect this; both brands are known to be quite expensive.
An American company, Cutco sells knives through single-level direct sales, though you can buy some of their products directly through Amazon. Cooking Utensil Company was initially founded in New York in 1949 and eventually became known as Cutco. This direct sales cutlery company has been around for 70 years. While their primary sales method is via in-home demonstrations, they have opened several brick-and-mortar stores throughout America.
Cutco knives are stamped blades, meaning they are laser cut in one piece from a single piece of 440A grade stainless steel. Their knives are not usually found in professional kitchens, but their decent-quality blades are suitable for the home chef.
They package their knives with a lifetime guarantee of factory sharpening and replacement. This pushes up the pricing on their knives, making them overpriced compared to other stamped blades. This can be a good deal for those who prefer not to sharpen their knives.
Cutco knife handles are made from a synthetic thermo-resin, and the blades are heat-treated before being triple riveted to the handle.
Since Cutco make only one collection line, the quality across the blades remains constant. While this means there is no range in handle materials to choose from, this does mean that all Cutco blades are dishwasher-safe.
Their handles have a unique ergonomic design meant to create a handle that is pleasing to hold, known as a Wedge-Lock handle. Some people with very large or small hands may find this handle doesn't suit them as well as traditional straight handles.
Wusthof Knives are a well-known top brand used in many professional kitchens and made in Germany. The Wusthof company has been in operation for over 200 years and has a wealth of experience. This family-run business in Solingen is praised for its top-quality knives.
Wusthof makes stamped and forged blades from a blend of stainless steel called X50CrMoV15. Combining the metals Molybdenum and Vanadium into the steel increases the blades' corrosion resistance and gives them an edge that most knives cannot beat.
Because Wusthof makes both stamped and forged blades, this gives you more scope when looking at pricing. Traditional forged blades will usually be more expensive as the forged blades are stronger, thicker, and can be shaped to provide a bolster between the blade and handle for additional safety.
Stamped blades tend to be lighter, thinner, and less durable than forged. However, whether stamped or forged, Wusthof's knives are always full tang in style, making them less likely to break.
Pricing on forged lines of blades can vary considerably depending on other factors, such as the size and style of the blade itself and the handle's material. Budget lines will often use synthetic handle material, while higher-end lines have handles carved from various woods. Despite this variation, the quality of the actual blade remains the same, so it's up to you what handle type you prefer.
Blades
Metal hardness is measured by its resistance to an applied force and pressure, known as the Rockwell number. A higher number means the metal is harder and more resistant to dents and scratches.
Wusthof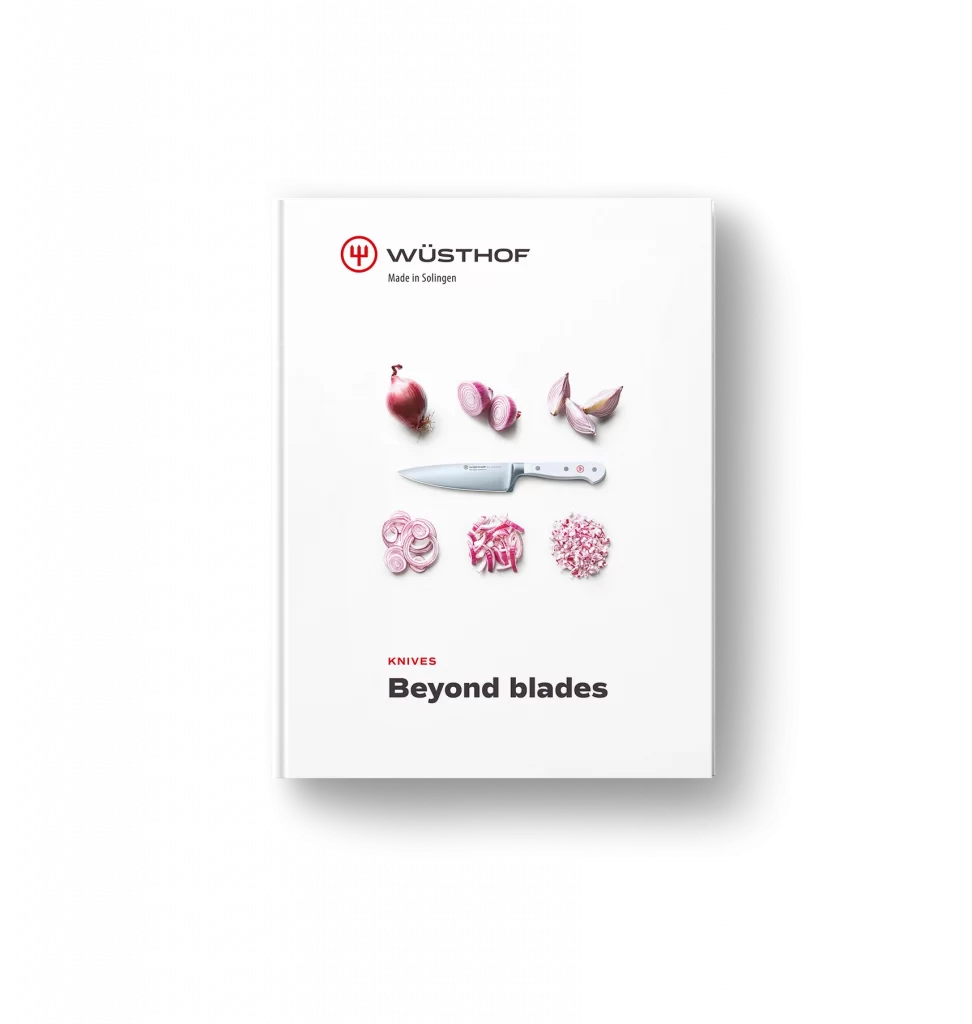 Wusthof use X50CrMoV15 steel for their blades, including the additions of carbon, chromium, vanadium, and Molybdenum. Their blades have a Rockwell hardness of 58.
These materials all add to the quality of the blade and help give the knives a sharp edge that stays unblunted for longer. Wusthof blades are known for
sharper cutting edge
strength and thickness
stain resistance
corrosion resistance
durability
Wusthof blades have been honed to an angle of 14 degrees on each side, giving this blade its well-known sharpness. The spines of the knives are ground down to keep them smooth and prevent any nicks that would make the knife unsafe to use.
Wusthof offers a vast range of styles and collections, which gives you plenty of choices when building your kitchen knife collection. They have knives in traditional Western and Eastern styles, so depending on what blade you need, Wusthof will have one to suit.
Cutco
Cutco knife blades are stamped from stainless steel, which is then heat-tempered, which changes the properties of the steel, making the metal tougher, harder, and better able to hold its edge.
The company uses Type 440A high-carbon stainless steel, including chromium, carbon, Molybdenum and manages. This blend gives Cutco blades the following properties
sharper cutting edge
lightness and flexibility
stain resistance
corrosion resistance
durability
Straight-edge Cutco blades have been sharpened to an angle of 15 degrees on each side to provide lasting sharpness. Cutco also has Double-D recessed edge knives with only one sharpened side. This Double D design features small dips in the cutting edge along the length of the blade. This design allows the points of the cutting edges to remain sharper for longer. Cutco blades will have a hardness of 56-60 on the Rockwell scale.
Bolsters
Traditional western forged blades can be made to include a bolster, which is a piece of thickened metal between the knife blade and handle. This bolster provides additional protection, helps weight the knife, and gives it better balance.
Wusthof forged blades are always made with bolsters, whereas Cutco stamped blades do not have a bolster section; the handle meets the edge directly. Some people prefer the lightness of a knife without a bolster, while others like the heft it gives. The choice in bolsters or not will be down to your personal preference
Handles
Wusthof has a range of blades with different handles. While all the blades are full tang and extend throughout the knife, the varying handle materials affect the ultimate cost of the knife. The quality of the blades remains the same regardless of what material handle you choose.
Wusthof
Wusthof have synthetic handles for cheaper ranges and wood handles for their more expensive ranges. The type of wood used for the handle will also affect the price. If you have a preference for synthetic blades due to their ease of cleaning, you may find that Cutco handles are preferable to Wusthof's synthetic grips.
Cutco
Cutco knife handles are made with a propriety design style pioneered by the textile designer Thomas Lamb. He created the Wedge-Lock handle for Cutco in 1952. The hand was designed to provide raised wedges with a firmer, more ergonomic grip. After 1072, further refinements to the design were made, and the new grip was called the Universal Wedge-Lock handle.
Some people love the grip of the Cutco handles, while others find it gimmicky. Again, this will come down to your preference, so try to experience holding a Cutco knife for yourself before making a final decision.
The synthetic handle is made from a product known as acetal copolymer thermo-resin. This plastic compound was chosen for its strength, durability, and ability to withstand heat, allowing the Cutco knives to go through the dishwasher. The resin can be sanded to a high shine, which many plastics cannot do.
Weight
Due to their manufacturing process, Cutco blades are lighter and more flexible than Wusthof blades.
Sharpness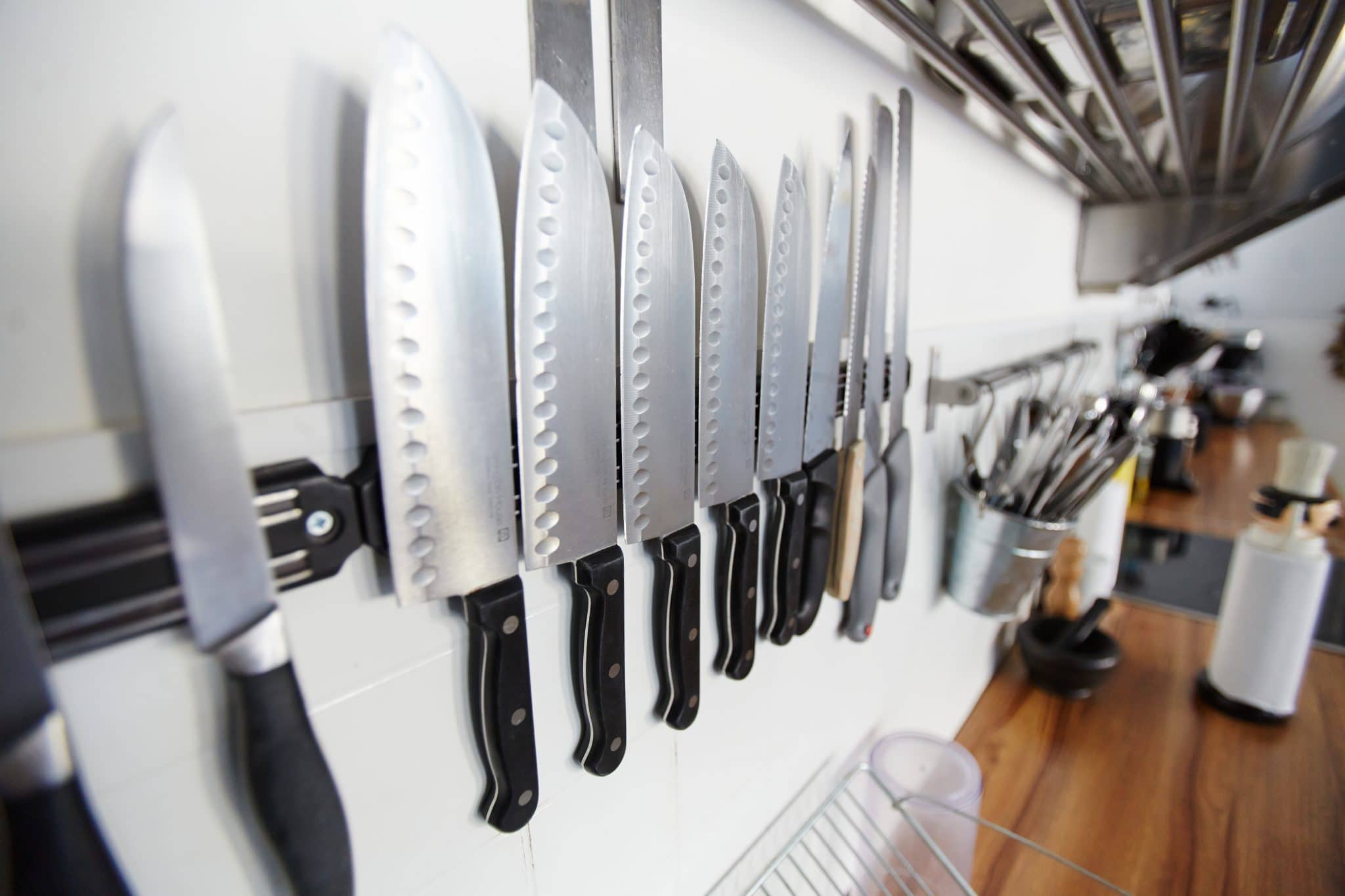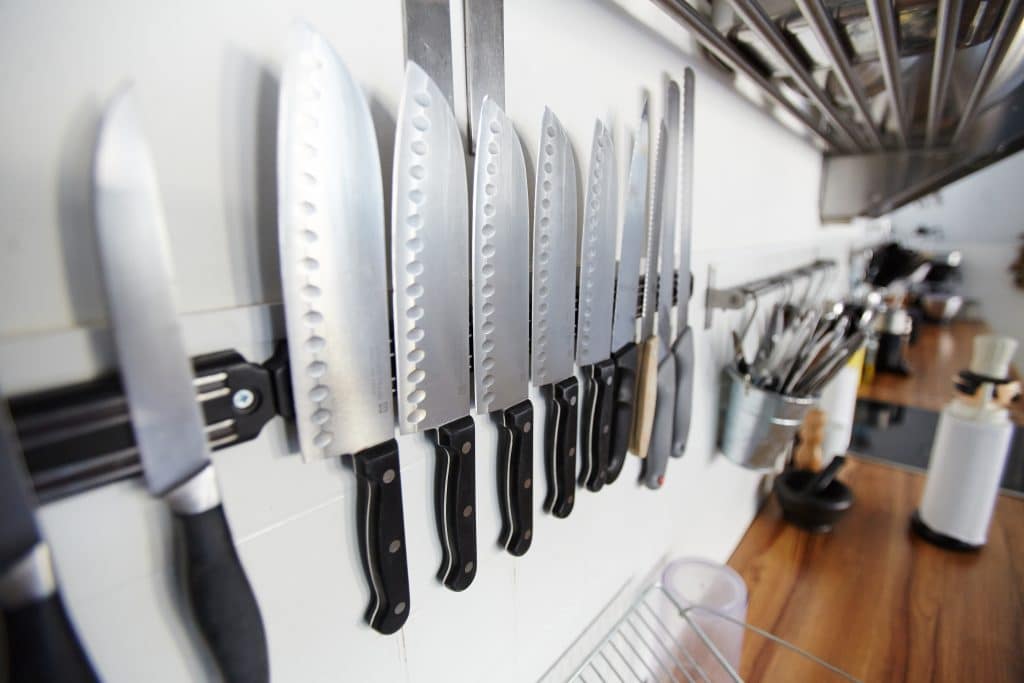 Cutco and Wusthof are both known for their sharp blades and the durability of their edge. Due to Cutco's exclusive Double-D recessed edge, their blades retain their sharpness for longer than straight-edge knives.
Wusthof knives are sharpened to an angle of 28 degrees (14 on each side), while Cutco straight-edge blades are sharpened to 30 degrees (15 on each side), except the cleaver blade, which has a total angle of sharpness angle of 35 degrees.
The Double-D recessed edge blades in Cutco's range are only sharpened along one edge to an angle of 27 degrees, excluding their cheese knives, where the cantle angle is 12 degrees.
Wusthof knives need to be honed regularly with a whetstone or diamond knife sharpener, depending on how often you use them for heavy-duty jobs.
Cutco knives have lifetime factory sharpening included in their price. This is part of the Cutco appeal for some people as they do not like to or know how to sharpen their knives themselves.
Cleaning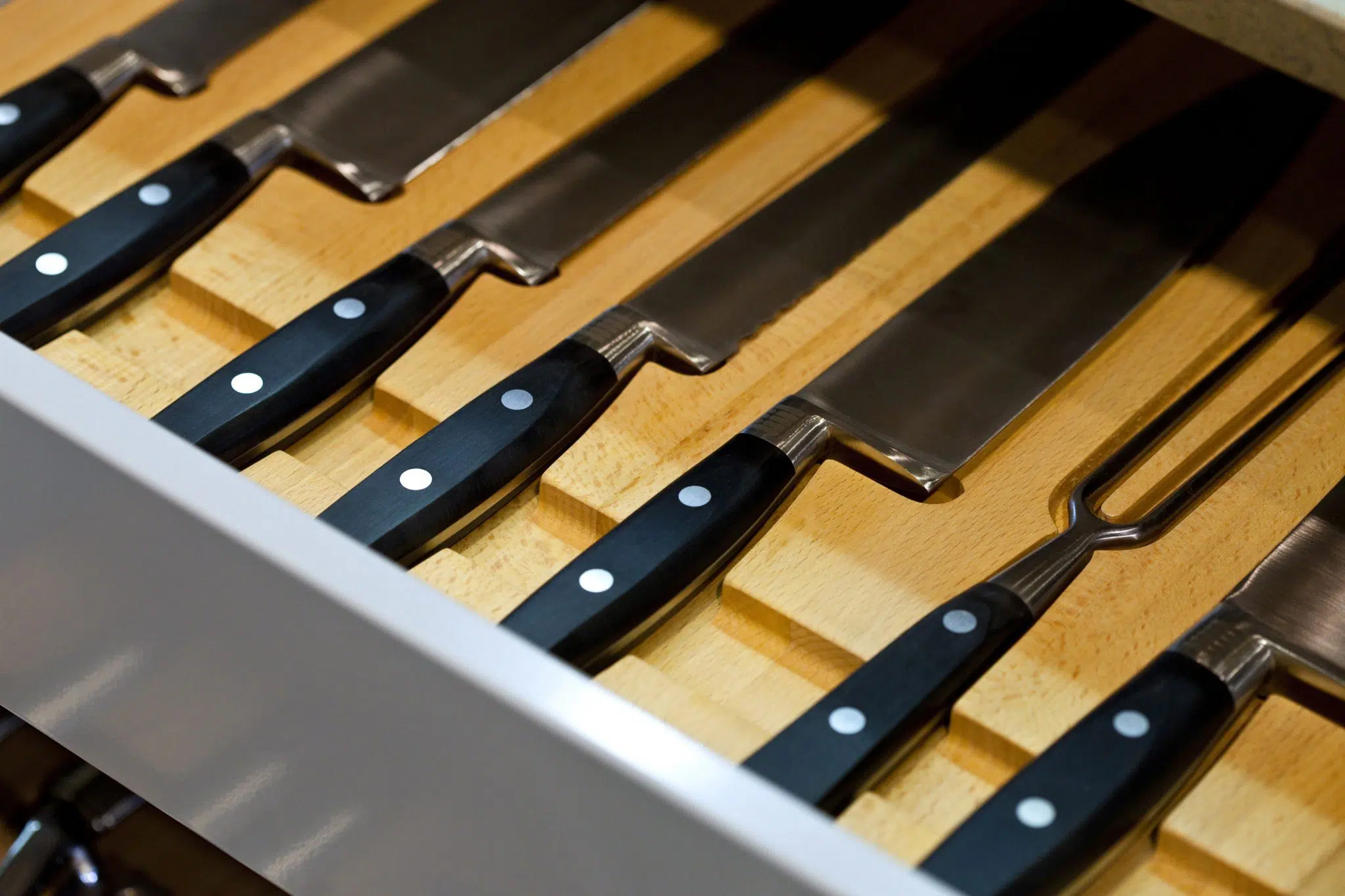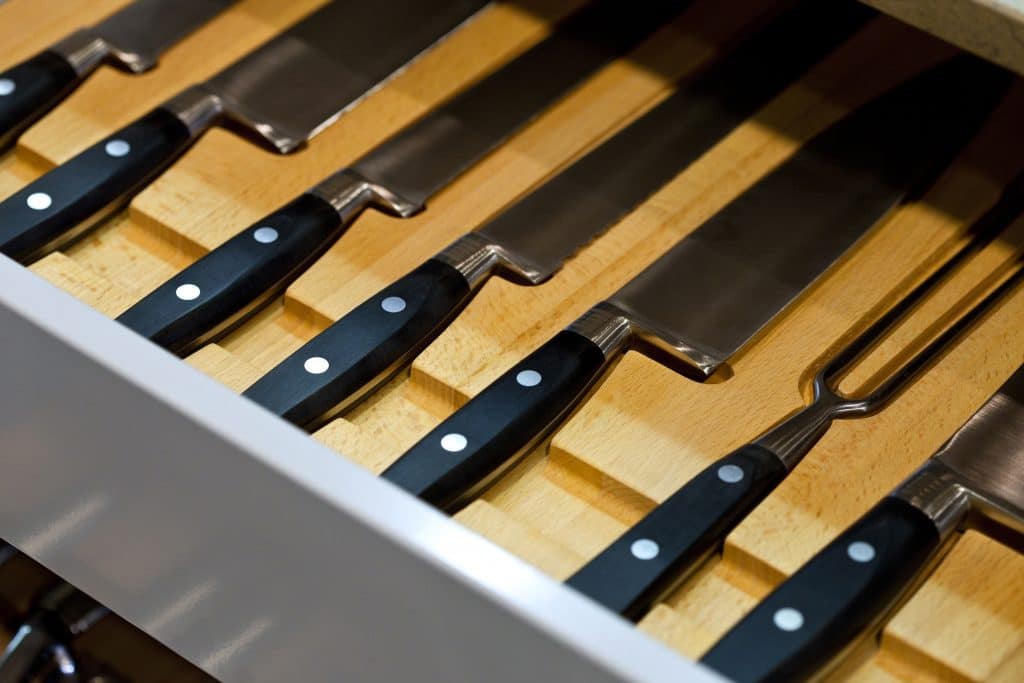 Wusthof knives should be cleaned by hand and thoroughly dried, and this is especially true for wood-handled blades.
Because Cutco designed their knives to go through the dishwasher, they can be more appealing.
Durability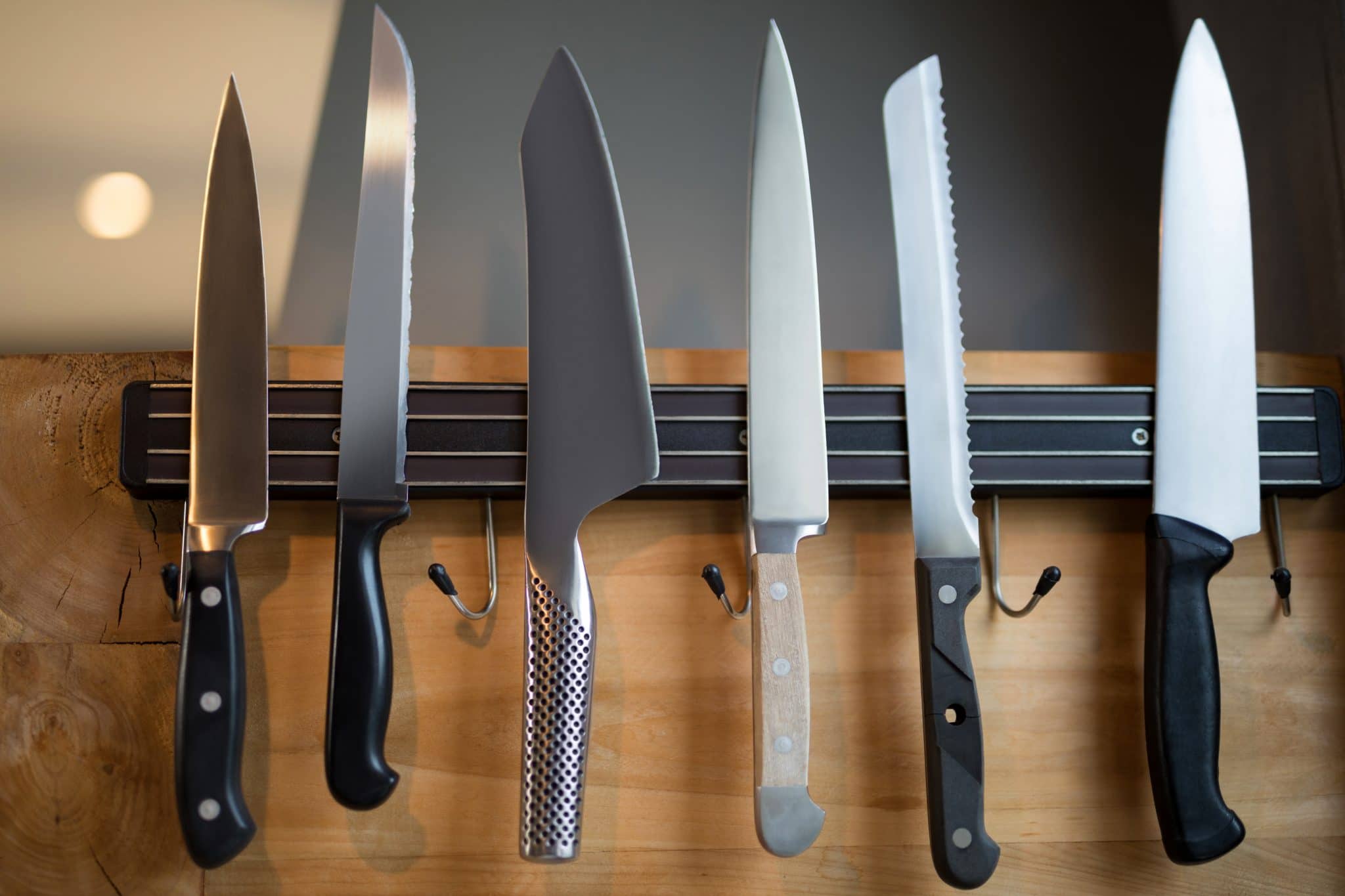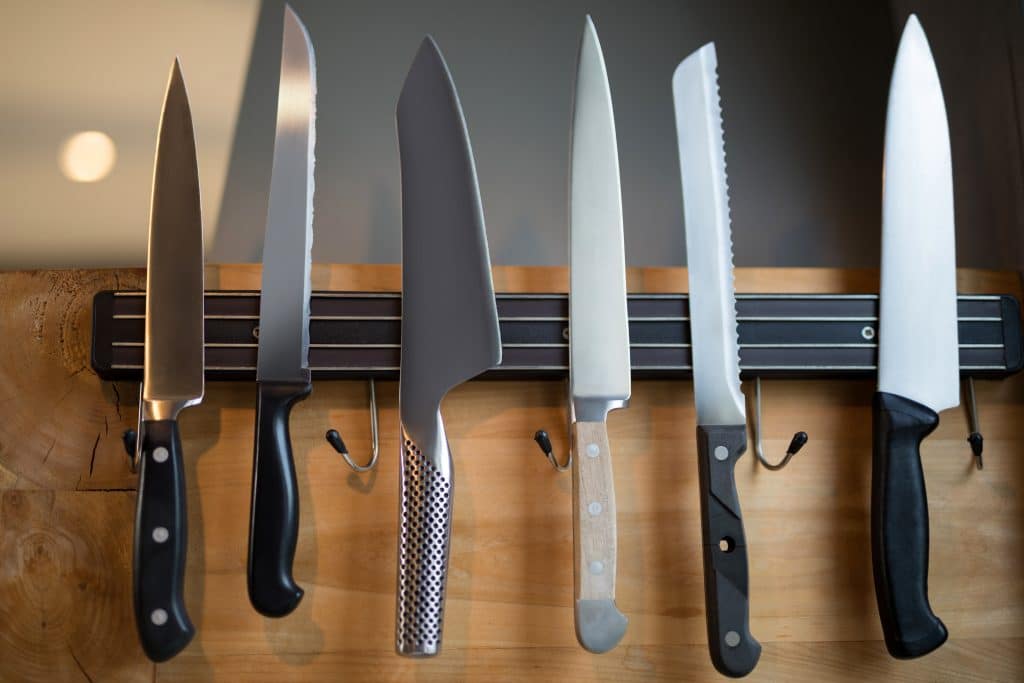 Wusthof blades are designed to last for many years, if not decades, and carry a limited lifetime warranty against manufacturer defects.
Cutco also offers lifetime guarantees and total replacements if the blades do not last as promised.
Pricing
Wusthof knives carry a premium price tag, as expected from a respected company known to produce high-quality professional kitchen knives. However, they may work out less expensive than Cutco knives. You can buy Wusthof knives from many suppliers, including Amazon and other online kitchen and cutlery retailers.
Expect to pay about $170.00 for an 8-inch Wusthof Classic Cook's Knife.
In comparison, Cutco's 7-5/8″ Petite Chef Knife will currently set you back about $202.98 on Amazon.
Cutco is a direct-marketing brand and is available via in-home demonstrations and sales, and it may be harder to source them online.
So, What's The Difference Between Cutco & Wusthof?
Cutco is a high-quality American home kitchen brand with a reputation for crafting very sharp knives that come with a lifetime replacement guarantee. However, they can be harder to buy online and cost more initially. Wusthof knives are professional-quality chef's knives manufactured in Germany and are a top-level international brand. Cutco offers a lifetime replacement and factory sharpenings, which Wusthof does not.
---
Recent Recipes